What.a.night.
I probably made a mistake by trying to go to sleep a little too early (9:30) the night before, but dang… restful sleep was just not in my cards. You know those nights where you wake up every couple of hours absolutely convinced that it's time to wake up, when the reality is that it's only 10:30 PM? Then 1 AM? Then 3? That was my night. Needless to say, I was more than ready to jump out of bed when I eventually woke up [again] at 5.
After puttering around the house for a little while, my stomach decided that a little breakfast was in order. What to make was a no-brainer, since oats are pretty much always on the top of my menu…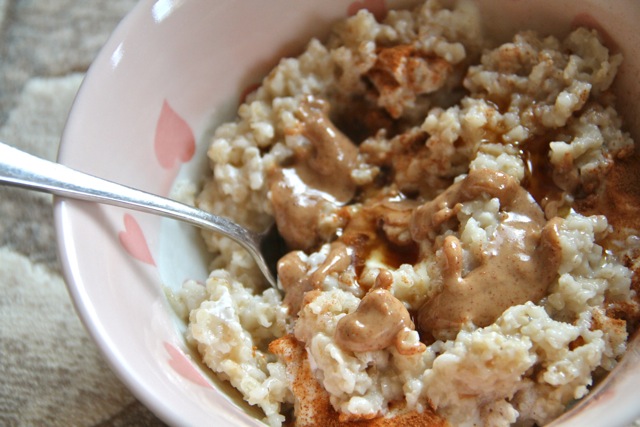 (recycled picture because the lighting was horrible and I was too hungry to fight the camera)
Yes, I start pretty much every day with a bowl of oats, but that's because a) I love them, and b) I'm not the best when it comes to making novel decisions… especially before the sun comes up. Case in point… I had an impossibly difficult time trying to decide which of Justin's almond butters I wanted to dress my oats with — maple or vanilla?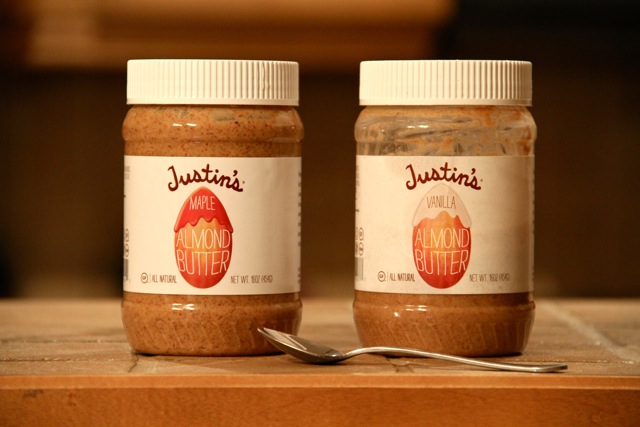 I went with maple in the end, and also tossed in some coconut flour and orange zest on a whim. Coconut flour because it makes my oats so wonderfully cakey, and orange zest because I'm kind of obsessed with the flavour in the last batch of cookies I baked. And speaking of those cookies, I may or may not have had a few pieces of the failed batch (aka: melted cookie bark) along with my morning coffee…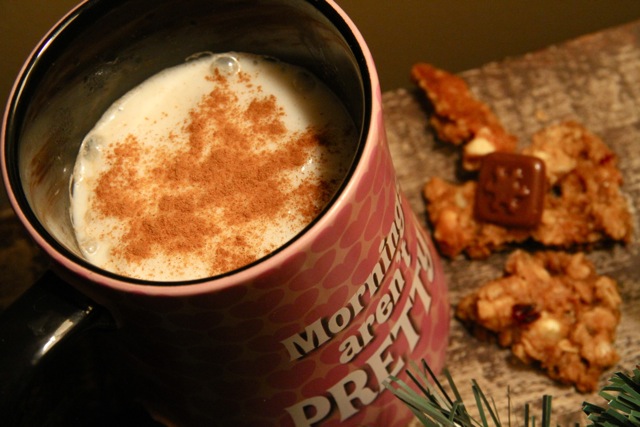 … which left me feeling so buzzed up on caffeine and sugar, that I took it as a perfect opportunity to get in a good power walk at my building's gym. Well, that and I needed a way to kill some time while the coconut oil mask I had in my hair made me feel like a grease ball worked its magic.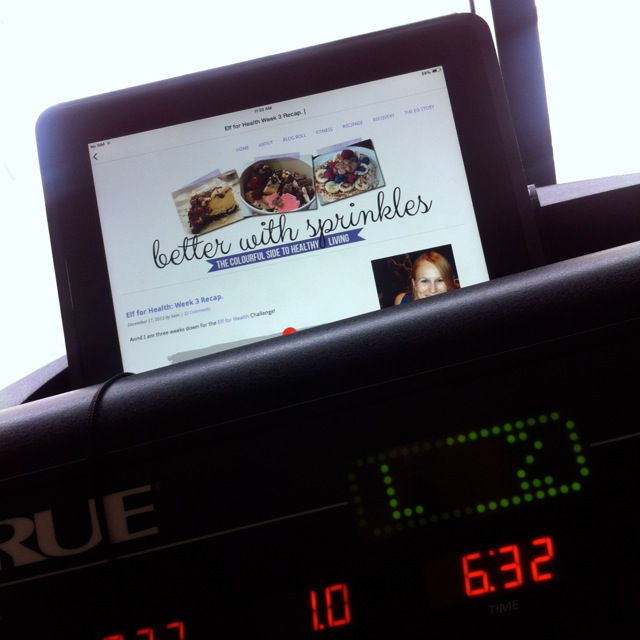 I don't imagine this would work well for runners, but taking my iPad with me and catching up on some blog reading while walking on the treadmill made 40 minutes go by in the blink of an eye. Before I knew it, I was back home in the kitchen whipping up a snack…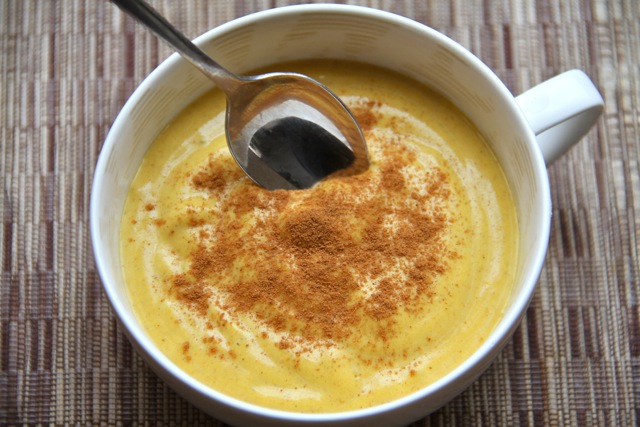 Remember that kabocha pudding I told you about last week? I finally got around to figuring out more-or-less what the ingredients were, so here's the recipe for those who asked!
[yumprint-recipe id='5′]
I guess that kind of makes it more like a kabocha protein pudding, but I just really love the creamy consistency that the cottage cheese gives it… and it's another way to get more kabocha in my system, so I consider it a win all around.
Another win? Snack plates for lunch…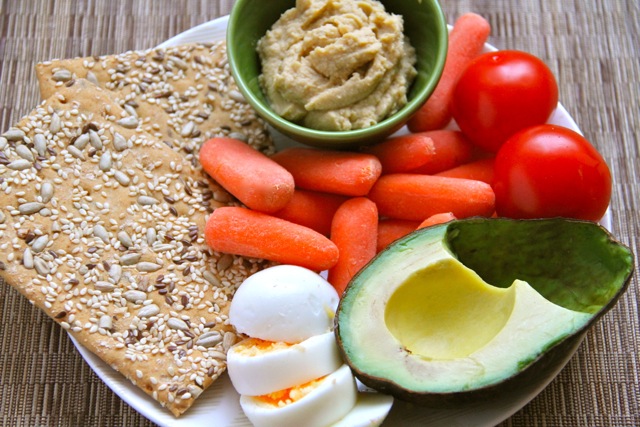 It's probably no secret that lunches are my least favourite meal of the day, so I'll try to play them up by eating things I know I'll enjoy (breakfast foods, smoothies, ABJ sandwiches, snack plates…). This plate of random marvellousness had on it: a couple Dr.Kracker Klassic 3 seed flatbreads, hummus, half an avocado, baby carrots, cherry tomatoes, and a hardboiled egg. Simple, satisfying, and substantial enough to keep me going through an afternoon of work-related errand running.
By the time I got home, I was feeling frazzled and in desperate need of some comfort. Enter cookies…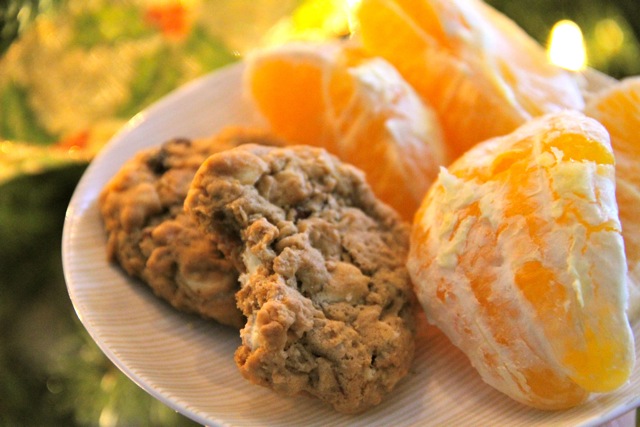 … (and an orange for good measure). I know they say it's not good to turn to food when you're feeling stressed, but I'll be honest… I do it anyways. Food is one of life's simplest pleasures, and I figure that as long as I'm not going overboard, there's nothing wrong with getting a little bit of extra comfort from cookies. And speaking of comfort, dinner was the epitome of it…
Quinoa cooked in coconut milk and topped with dried cranberries, Justin's maple almond butter, and Eden Foods apple butter. It's been a while since I've had quinoa, and I honestly forgot how much I enjoy it — but here's the part where I admit that it wasn't my first dinner choice. I originally planned on having buckwheat kasha with chicken and veggies, but I guess I must have fudged up the kasha cooking process because it came out as a gloopy paste instead of a light and fluffy grain. Fail. At least I still managed to get the veggies in 😉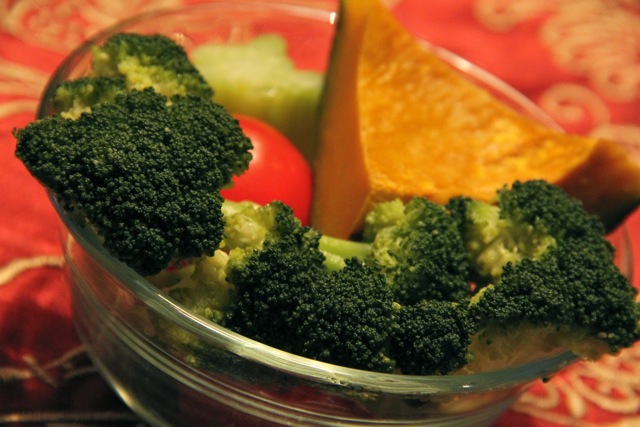 And to eventually end the night, a snack bowl of plain Greek yogurt with original Puffins and a spoonful of Barney Butter cocoa coconut almond butter.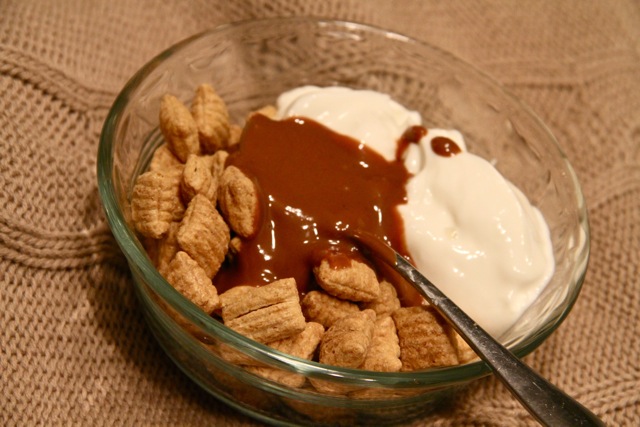 And that, friends, is What I Ate Wednesday Tuesday. Looking back at my eats, I can say that it was very much an Amanda-type day… Oats, cereal, nut butters, coffee, cookies, snack plates, brinner… those are the foods that I naturally gravitate to. I try to get a little more "grown-up" variety in my diet, but I have to admit that it usually takes a pretty conscious effort to do so.
And on that note, I'm going to wish you a happy Wednesday and remind you to get those random thoughts together for the Thinking Out Loud linkup happening tomorrow!

What would be on your ideal lunch snack plate?
What's your favourite comfort food?
Breakfast, lunch, and dinner — what's a very "you" type day?