Hey, hey, hey! It's What I Ate Wednesday!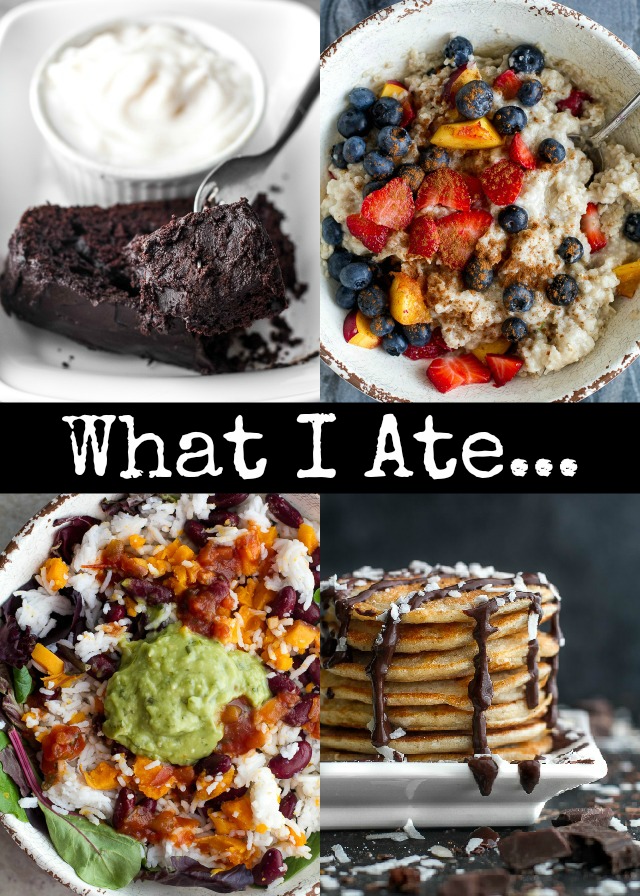 So it's been a hot minute since we've done one of these, eh? And by "we've" I mean I've. Please don't call the men in white coats – there's just me rattling around in this old head of mine. We I promise 😉
Funny story! So back in the day, I had a serious fascination with abnormal psychology. I guess I still do, but after getting my degree and spending a good amount of time in the field, I came to realize that it probably wasn't the best career path for my highly sensitive self.
Either way, I spent so much time studying all the mental disorders and the abnormal behaviours and thought patterns that go with them, that I'm pretty sure I developed something akin to medical students' disease. Forget psychoanalyzing friends and family – I was psychoanalyzing myself and constantly paranoid that I either had or was going to get one of the disorders I was learning so much about. OCD. GAD. Schizophrenia. Bipolar. It was good times 🙄
And in case you're wondering, no… my little story has nothing to do with today's post. So what's say we switch gears and get to the food?!?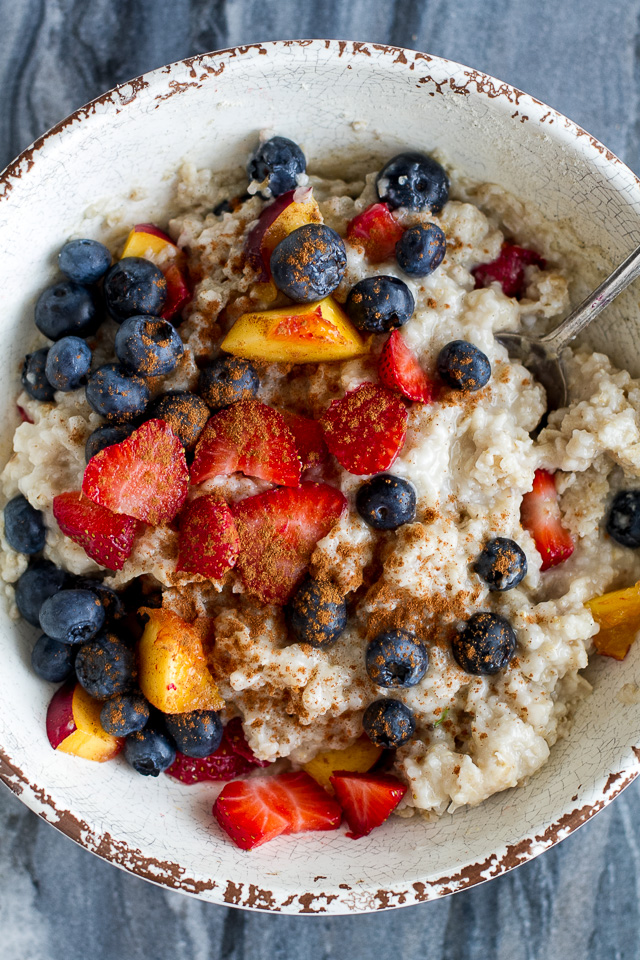 [Breakfast] 1 cup of dry oats cooked in a mix of canned coconut milk and water. 1/2 scoop of cookies 'n' cream protein powder, a nectarine, blueberries, strawberries, and cinnamon added post-cook.
Oh man, oh man. I missed my oats while I was gone. We stayed at the Bellagio while we were down in Vegas, and as much as I love that hotel, I hate that they don't even have in-room coffee makers, because no coffee maker means no hot water, and no hot water means no in-room oatmeal for Spoons (aka: me).
I ended up getting oatmeal from the cafes a few times, but is was pretty basic stuff with just raisins and sugar, and the portion was so small compared to what I normally have, that I started getting hungry about an hour after I finished. And let's not even talk about how much it cost. Next question! Or… uhm… meal.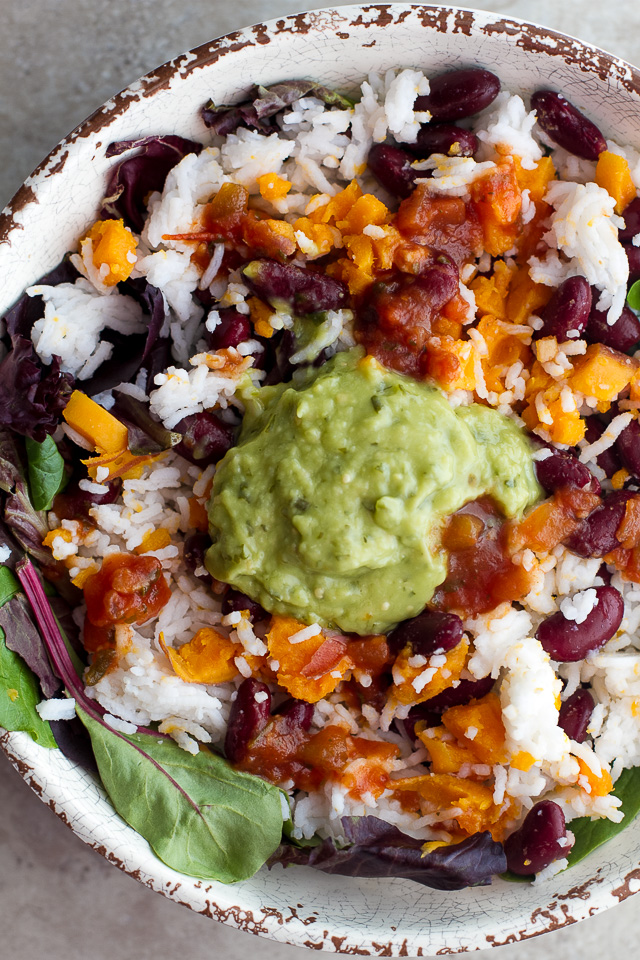 [Lunch] a smorgasbord of mixed baby greens, coconut basmati rice, kidney beans, steamed sweet potato, guacamole, and salsa.
It's not a smoothie! 😲 Shocking, right?
I'm pretty sure this is the first time since I started doing WIAWs again that I haven't had a swampy chocolate smoothie for lunch, but I was planning on testing a new pancake recipe in the afternoon which meant breakfast for dinner was inevitable. And while I have no qualms with eating breakfast foods for all 3 meals, I figured I should probably get some extra nutrition in after my trip.
And no chocolate for lunch meant chocolate in the afternoon, obviously…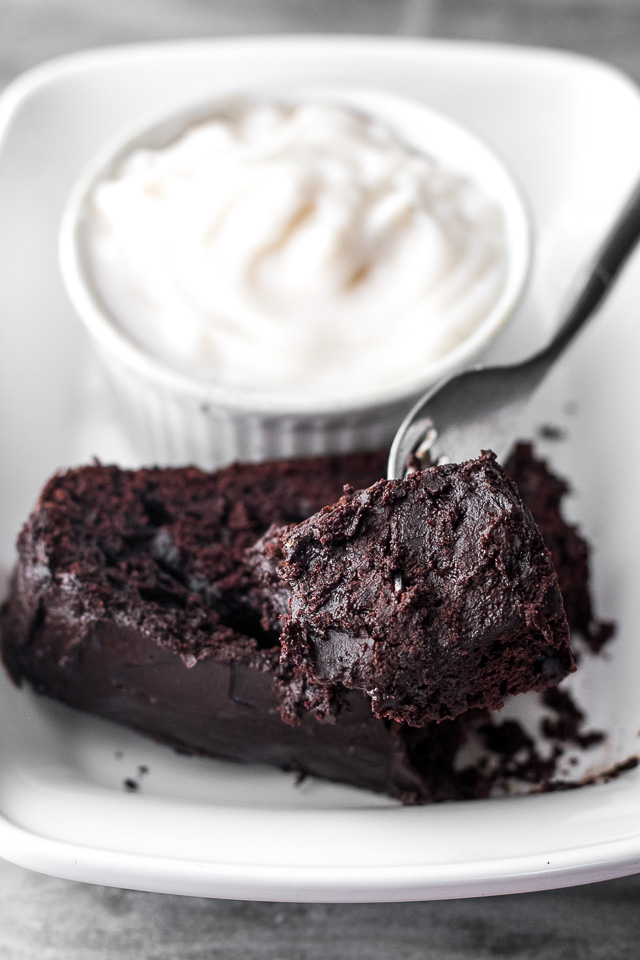 [Afternoon Snack:] a chunk (slice?) of Mom's chocolate zucchini cake and some So Delicious vanilla coconut milk yogurt.
You know… I can't even remember the last time someone other than me did the baking. So thank you, Mom, for this tasty chocolate bread/cake. She was even pretty adamant about making sure I knew there was zucchini in there… possibly after reading this post 😂
Also, I'm not sure if I told you guys this yet, but I've really eased up on dairy over the past little while… hence the coconut yogurt. Remember my crazy bad eczema? I put myself on a bit of an elimination diet a while back and figured out that dairy was a pretty huge contributor to it. And while I can still handle the small amounts that I use in baking since I'm not eating the whole thing in one go, I've pretty much cut it out everywhere else.
Is it a pain? Sure, but eczema is an even bigger one.
And on that note… [breakfast for] dinner!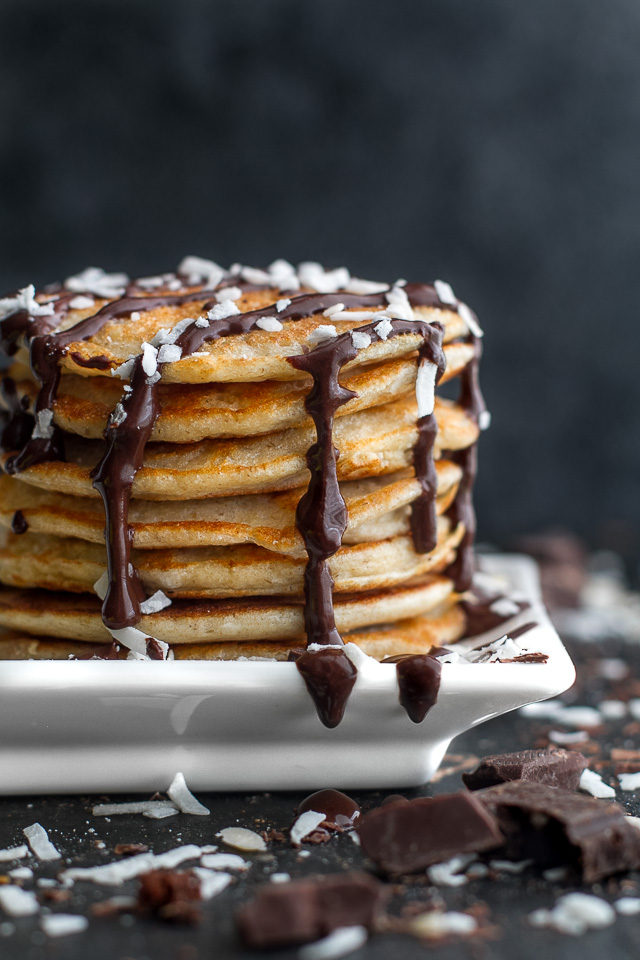 [Dinner]: quite possibly my favourite pancake recipe that I've ever posted (or will post) here on Spoons. Look for it on Saturday!
Best way to end the day, yeah?
I ended up eating a batch and a half since I had extras lying around from testing, and it hit the spot juuuuuust right. Also, I think my pancake flipping skills are improving 👌🏻
And that's that! My beloved oats, chocolate cake, breakfast for dinner… a good day of eating, if I don't say so myself.

Let's chat!
What's one dish you only like if you make it yourself?
What's for lunch today? 
More places to find me!
E-mail — [email protected]
Twitter — runwithspoons
Facebook — runningwithspoons
Pinterest — runwithspoons
Instagram — runwithspoons
Bloglovin — runningwithspoons
Snapchat — runningspoons