Blogging has been good to me.
Friendship. Inspiration. Motivation. Creativity. It's gotten to a point where it's hard to imagine my life without it. Unfortunately, with the good comes the bad; and the bad in this case is the fact that blogging has also left me with a pantry that's become not only cluttered, but cluttered with foods that I'm not quite sure what to do with.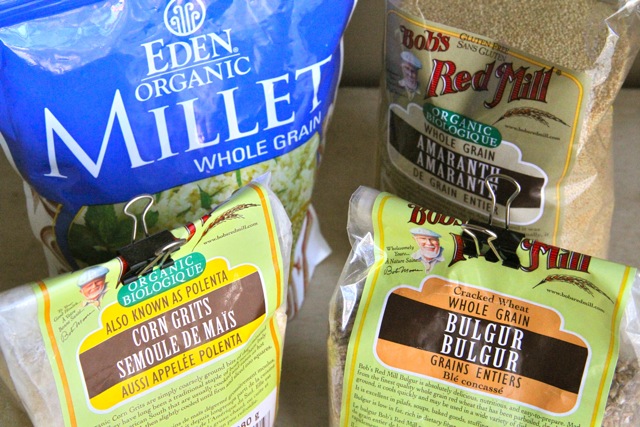 Millet – Amaranth – Polenta – Bulgur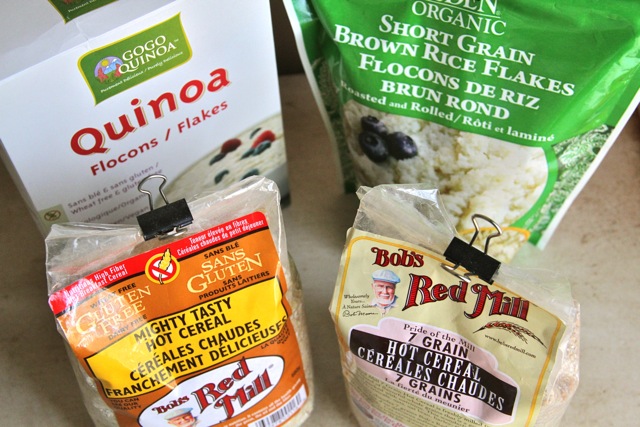 Quinoa flakes – Brown rice flakes – Mighty tasty hot cereal – 7 grain hot cereal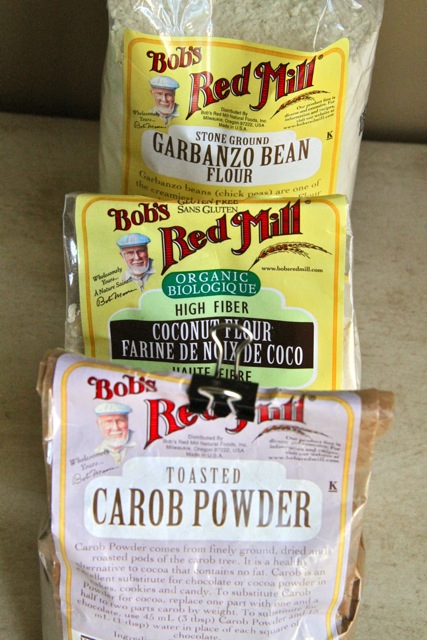 Garbanzo flour – Coconut flour – Carob powder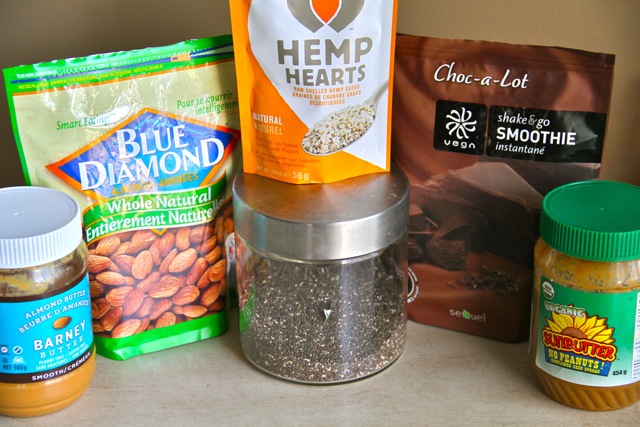 Almonds – Barney Butter – Sunbutter – Chia seeds – Hemp seeds – Vega  smoothie mix
We've all been there, right? We see something splashed across the pages of the blog world and then rush out to buy it only to discover that we're not really all that crazy about it? And there are like 823.9 servings in the bag? Yeah. I'm looking at you, chia seeds *stank eye* So our unfortunate purchase sits forgotten, getting pushed to the back of our pantry while we continue to stock up on more misses, until we eventually find ourselves waist deep in "what-the-heck-do-I-do-with-this"…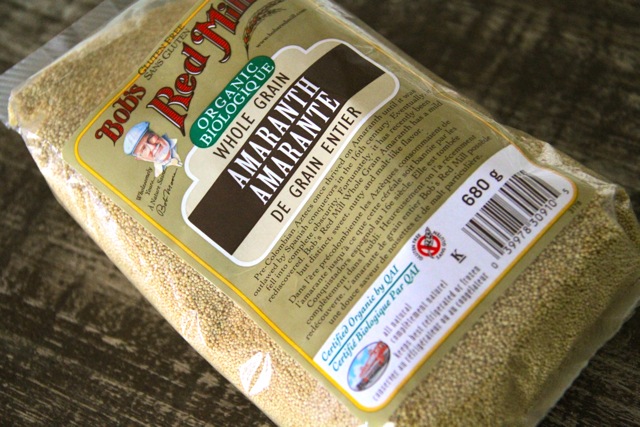 I bought that bag of amaranth over 6 months ago and haven't even opened it yet. I don't know if I like amaranth or not… all I know is that I heard great things about it (typical) so I picked up a bag only to spend some more time thinking about it and coming to the conclusion that… I'm not sure if I'd like the texture – the individual grains are so tiny! But see, I remember thinking the same thing about steel cut oats before I finally tried them, and they're now my favorite variety…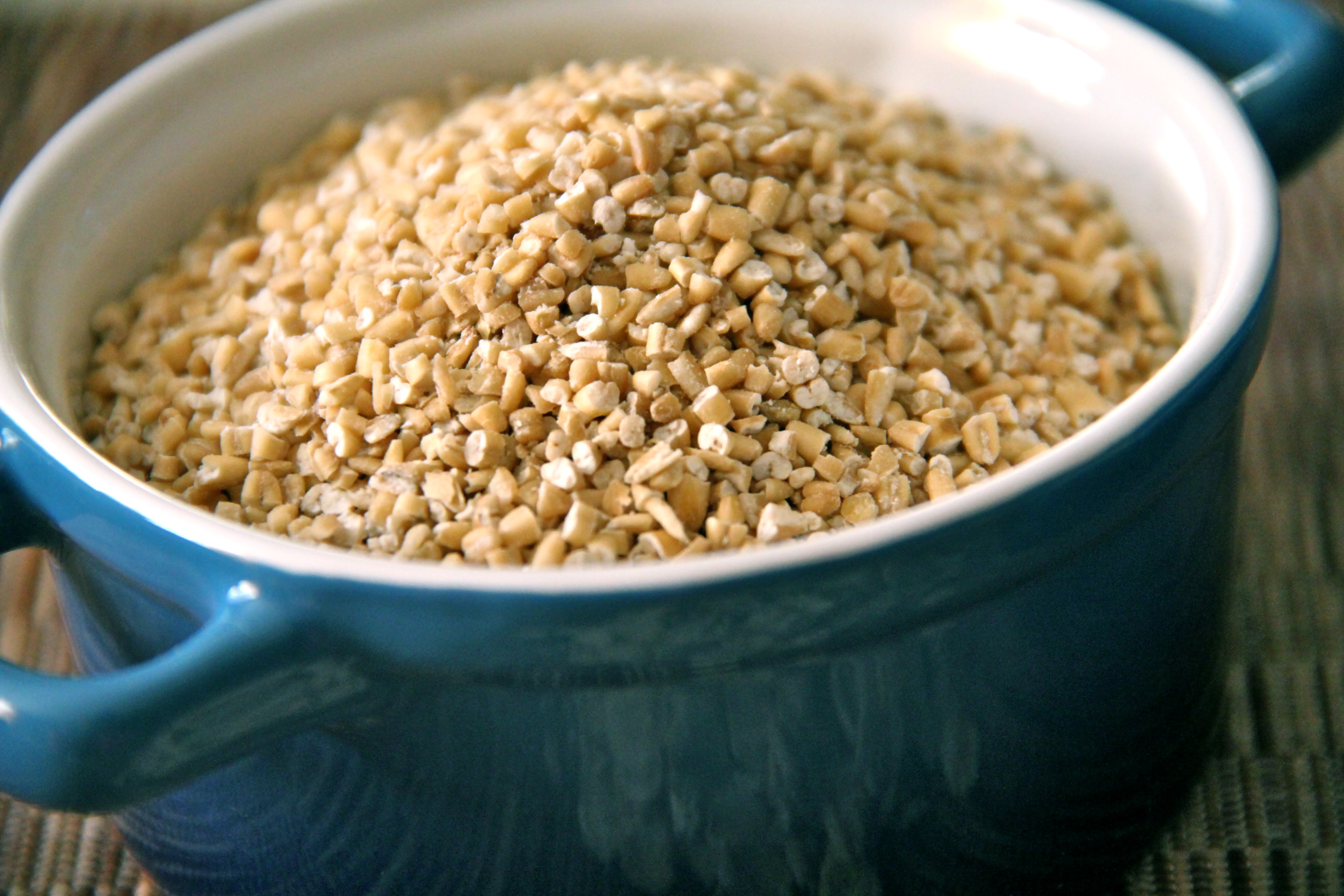 But we'll address amaranth later. I guess I'm just afraid of not liking something and forcing myself to eat it anyways; but really… who would actually enjoy that? I've choked down all manner of nasties in the name of health and I'd really prefer not to do it anymore… But you gotta do what you gotta do, and I gotta spring clean my pantry. Since the garbage bin isn't really an option and I can only pawn off so much of my "new age rabbit food" onto my parents (they're old-fashioned "meat and potatoes" kind of Europeans), I need to come up with tasty alternatives. So that's what I've been doing…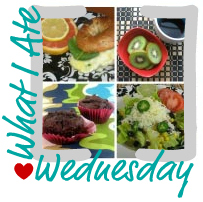 Normally, I don't like to mess with breakfast. It's my favorite meal, a lot is riding on it. I mean, why risk starting out the day on a sour note? Because we're a clean freak on a mission…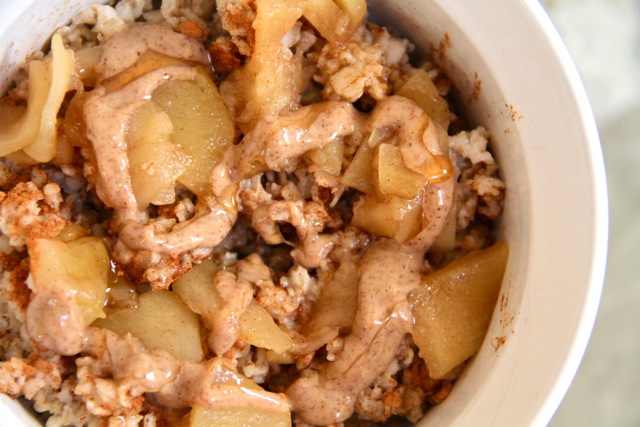 A combination of quick oats and quinoa flakes to make eggy banana oats, topped with homemade applesauce, roasted almond butter, and cinnamon.
I'll admit to only going 50% on this one – 50% oats and 50% quinoa flakes. Verdict? What quinoa flakes? I honestly couldn't even tell they were in there. Maybe this won't be so painful after all. But really, with the right toppings, anything becomes edible.
Snack time. I've mentioned before that I'm not the biggest fan of eating nuts on their own – too dry and unsatisfying. Solution? Combine them with tastier things like dates, oats, and chocolate…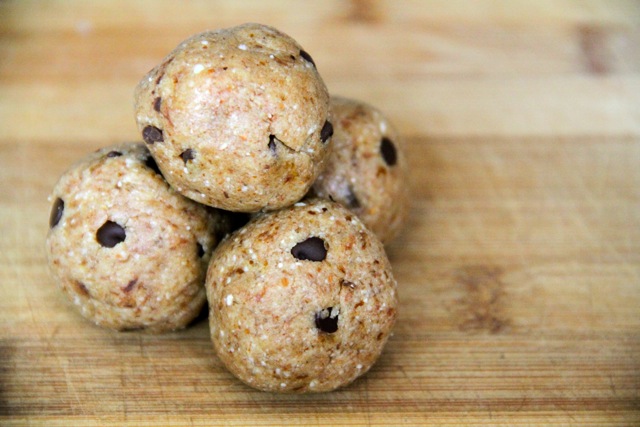 Chocolate chip cookie dough bites.
And yes, chocolate is completely acceptable at 9:30 AM. Acceptable and highly recommended. Bonus points for being able to sneak it in to lunch, too…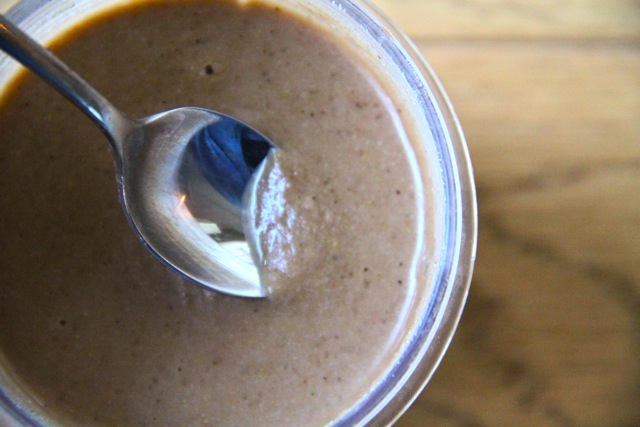 Into the blender: 1 cup milk, ½ banana, 1 serving Vega choc-a-lot smoothie mix, 1 Tbsp. coconut flour, 1 Tbsp. cocoa, 1 Tbsp. almond butter.
I've stopped relying on protein/supplement powders in my daily diet, but I still have a decent collection of them left over from back in the day, and I've been trying to sneak them in here and there in an effort to get rid of them. Shakes are a perfect way to do that, in addition to being a great opportunity to get rid of some unloved almond butter…
Barney Butter, I don't like you – you taste and feel like plastic. You don't hold a candle to my beloved Maisie Jane's, and it pains me to realize that I still have a full jar of you sitting in my pantry.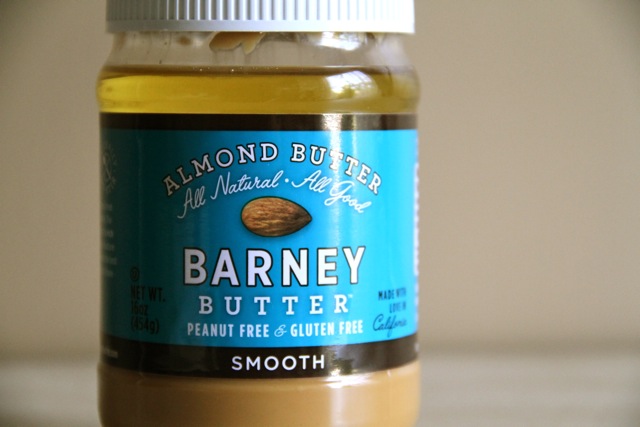 Stank eye, Barney Butter… stank eye.
But a spoonful of sugar blueberry jam makes the medicine Barney Butter go down…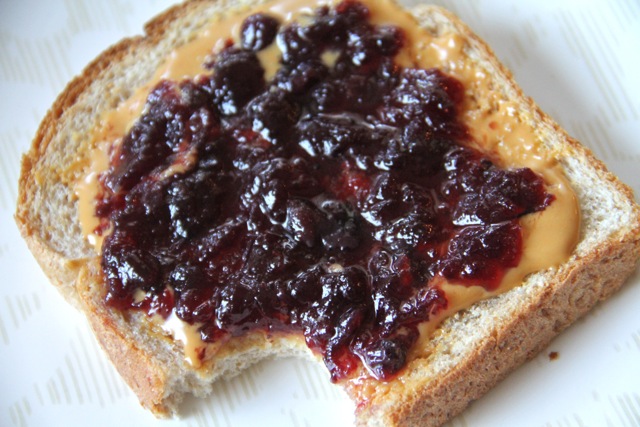 As does chasing it with my beloved coffee…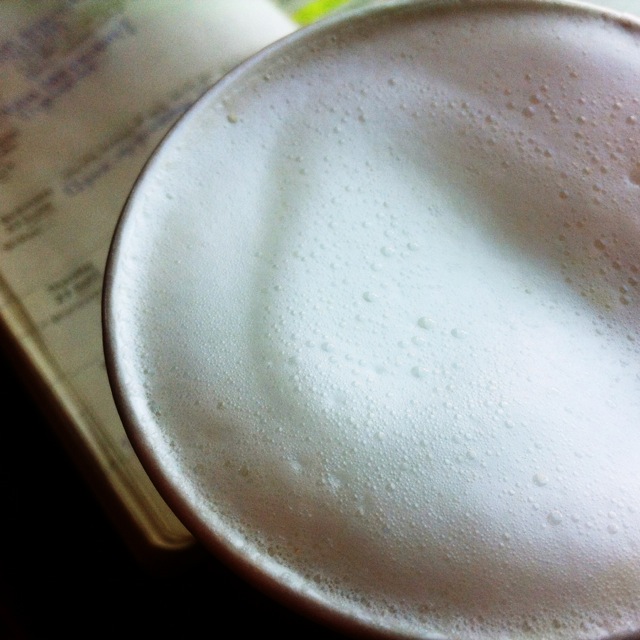 Dry cappuccino.
Dinners are tricky. Mostly because I'm pretty tired when I get home from work and not really willing to get all that creative with my meals. All I can say is thank goodness for leftovers and pre-cooked batches of grains…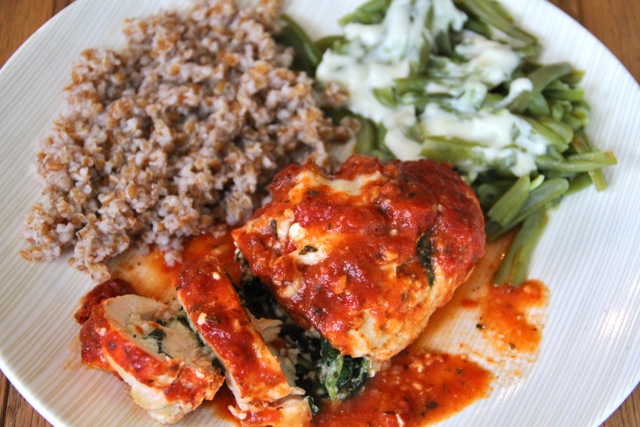 I always forget how much I love bulgur – it has a wonderfully chewy texture accompanied by a wonderfully nutty taste. I paired it with an Italian stuffed chicken breast that I made on the weekend and some steamed green beans covered with a simple alfredo sauce. Delicious. Well, aside from the fact that the beans were a little freezer burnt… but I guess that's to be expected when you keep them buried in the depths of the freezer for a few months too many. Ahh well… again, nothing a healthy helping of toppings can't fix.
Last but not least, I've been ending my days with a big bowl of mixed cereal and milk…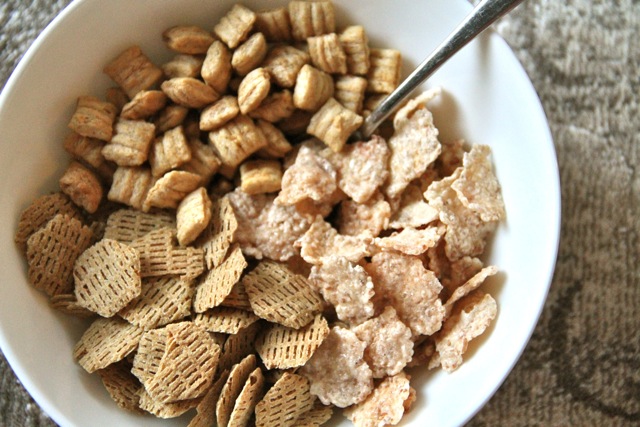 Kashi Honey Sunshine – Kashi Flakes & Berries – Barbara's Shredded Spoonfuls.
My cereal collection is getting a little out of hand… I currently have something like 8 open boxes in my pantry, and while I go through my favorites like nobody's business, the ones I don't care for end up sitting around and going stale. I've been picking away at them slowly but surely, and while they're not as good as my beloved Cinnamon Harvest or Puffins, cereal is still cereal (read: I can't complain).
And that, my good friends, is a little glimpse into my pantry cleanup what I've been eating lately. Now head on over to Jenn's to see some more delicious eats, and I'll see you again tomorrow!
. – . – . – .
What are some blog world inspired misses for you? I have quite a few, but I'm happy to no longer be investing in all of the crazy expensive superfoods and powders I used to buy 😯
What's one thing sitting in your pantry right now that you don't know what to do with?
Have you tried bulgur or any of the less popular grains like amaranth, millet, buckwheat, etc?