[What I Ate] Wednesday already? No complaints! 😀
So each week I give you guys a little glimpse into my daily noms… wait… did I really just say noms? I can't stand that word. But I digress. Let's start again…
Each week I give you guys a little glimpse into my daily eats. I show you a few meals and snacks because a) I like to talk about food [sometimes], and b) it's a great way to inspire and be inspired with some new ideas. I can't even tell you how many of my favourite foods and combos I've discovered through blog reading, but with every handful of hits is bound to be a few misses… and I'm not only referring to those in the taste department.
I'm sure you guys know what I'm talking about… Those foods that are toted as the be-all-end-all and promise to do this, that, and the other thing. Those foods that are supposed to be healthy and do amazing things for your body. Those foods that, if you're really being honest with yourself, just don't work for you and you're actually better off without them. You've got one in mind, don't you? Yup… me too. A few, actually.
We're all so different, and what works for one person isn't necessarily going to work for another. You might thrive off drinking a glass of lemon water first thing in the morning, while the same thing might give me heartburn (true story). The point is, it's all fine and good to try new things, but not to take everything you see and hear out there as absolute truth. Experiment with your diet, keep what makes you feel good, and ditch what doesn't — don't cling to a sinking ship!
And before this intro gets any lengthier, let's take a look at what does work for me…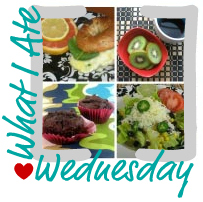 What worked for breakfast… something sweet.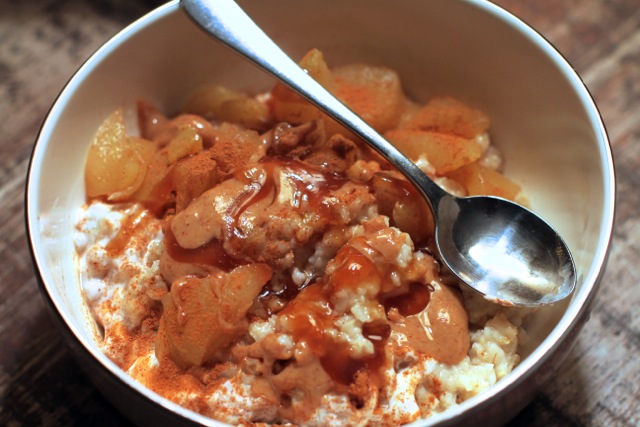 Eggy bananafied oats layered with plain Greek yogurt and topped with homemade applesauce, honey, cinnamon, and almond butter.
I know a lot of people say that eating a sweet breakfast makes them crave sweets for the rest of the day, but I've always found that a little bit of sweetness in the morning [and throughout the day] helps keep my sweet tooth in check and keeps me from wanting to gorge myself on ALL the sweets. There was a time where I tried to cut back on sugar, and yeah… it did not end well for me.
What worked for my morning snack… a substantial one.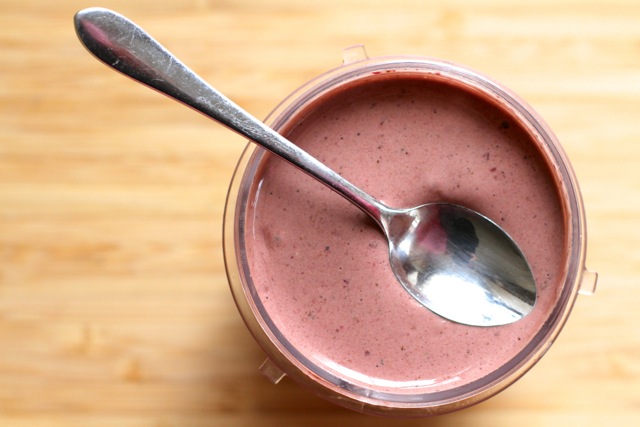 My thick & creamy chocolate smoothie with extra almond butter and some added frozen berries.
My appetite is usually the biggest in the morning and tends to taper off as the day goes on. There's no way I'd make it from breakfast to lunch without something to hold me over, and my "something" of choice lately has been smoothies, mostly because of how easy they are to customize depending on how hungry I happen to be. Yesterday saw me a little on the hungrier side, so I added an extra spoonful of almond butter and a handful of frozen berries to end up with a smoothie that was basically as thick as pudding. Bliss.
What worked for lunch… plain old white bread.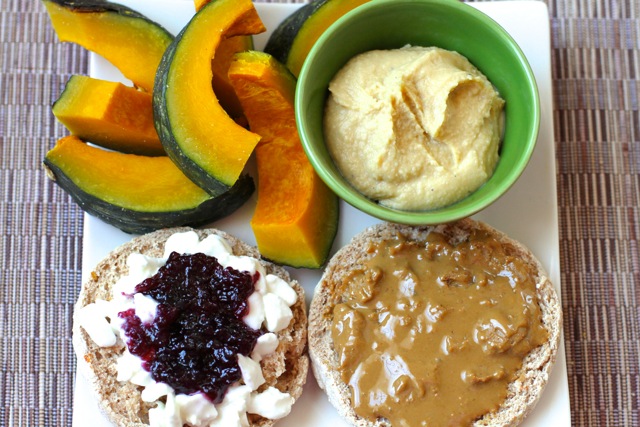 A Rudi's English muffin [with cottage cheese & jam // almond butter], classic hummus, and roasted kabocha.
There was a time where I avoided bread like the plague, buying into the belief that it lead to weight gain, bloat, and the end of the world as I knew it. I started missing sandwiches, though… and toast… so I broke down and dipped my toes back into the land of loafy and doughy goodness. But the only kind of bread that I ate for the longest time was the sprouted and grainy kind because it was supposed to be healthier and easier to digest than plain old white or even whole wheat bread. Not so. Not only did it leave me looking like I was 6 months pregnant, but it gave me acid reflux and all sorts of other less-than-pleasant sensations. I made the switch over to simpler bread and… no more problems.
What worked for my afternoon snack… going with my cravings.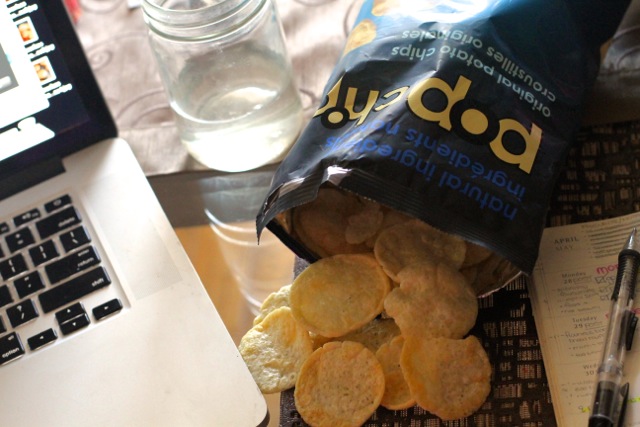 Original flavour Popchips.
We've all come across the idea of smart snacking, right? The idea that the snacks we eat should have a nice balance of carbs, proteins, and fats to allow for maximum energy and satisfaction until our next meal? It's not a bad idea, but what if we don't always want a properly balanced snack? What if that banana with almond butter just doesn't sound appealing? Don't get me wrong, you guys know how much I love that combo, but there are times where all I honestly want is some chips or chocolate, and past experience has taught me that I won't be satisfied if I ignore my craving and go with the "smarter" option instead… So I had my chips and they lasted me just fine until dinner.
What worked for dinner… white rice.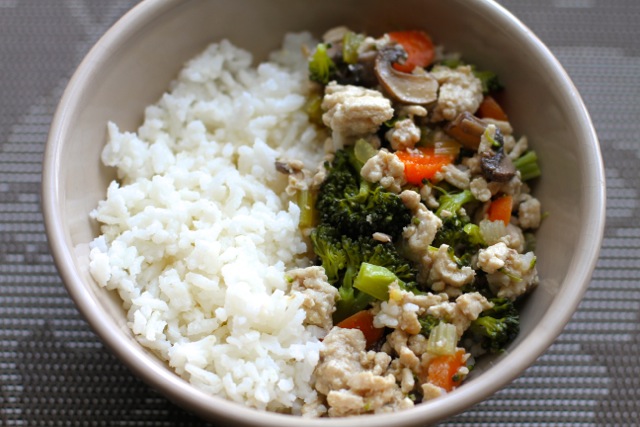 Leftover sesame chicken stir fry with random veggies and basmati rice cooked in coconut milk.
I've made it no secret that I prefer white rice over brown. It's what I grew up on, what I prefer the taste of, and what my stomach has an easier time digesting. I switched over to brown rice when I started reading about how it was supposedly so much healthier than white rice, and while it didn't destroy my stomach or anything drastic like that, I definitely noticed a lot more bloating and discomfort compared to when I was eating white rice. I dismissed it at first because… it was brown rice! It was supposed to be healthier! But no… I'm back to white and happy as a clam.
What worked for my evening snack… chocolate.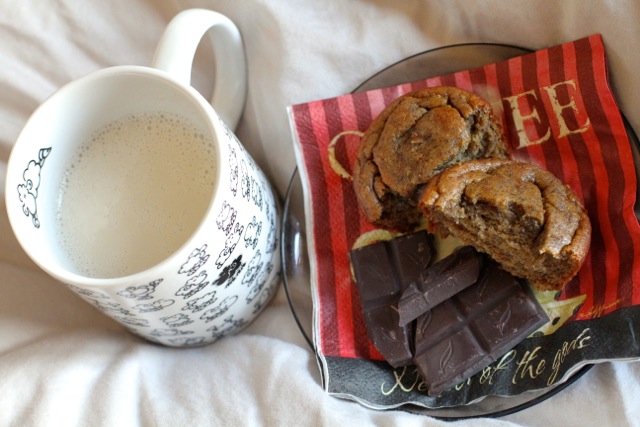 A flourless banana bread muffin with a side of chocolate and warm vanilla almond milk.
Because… well… chocolate! Can you believe there was a time in my life where I managed to convince myself that I didn't like the stuff? Yeah… I'm not quite sure how I did that either. Thankfully the madness has passed and I'm back to enjoying chocolate on a daily basis… and baked treats! Because there's nothing more comforting than a homemade muffin, cookie, or… anything, really.
And before this gets any wordier (sorry!), I just have one more thing to say… Don't eat like me — eat like you! Do what works, ditch what doesn't, and remember that there are no absolutes where it comes to what or how you should eat.
See you guys tomorrow for Thinking Out Loud! 😀

Have you ever eaten things that didn't necessarily work for you just because you felt like you should?
What are some things that you know don't work for you?
More places to find me!
E-mail — [email protected]
Twitter — runwithspoons
Facebook — runningwithspoons
Pinterest — runwithspoons
Instagram — runwithspoons
Bloglovin — runningwithspoons