Happy What I Ate Wednesday, friendly faces!
A day where you get a little sneak peak into what I've been eating, and I get to rant about anything food-related that's been on my mind. Or share some food-related pearls of wisdom. Snort.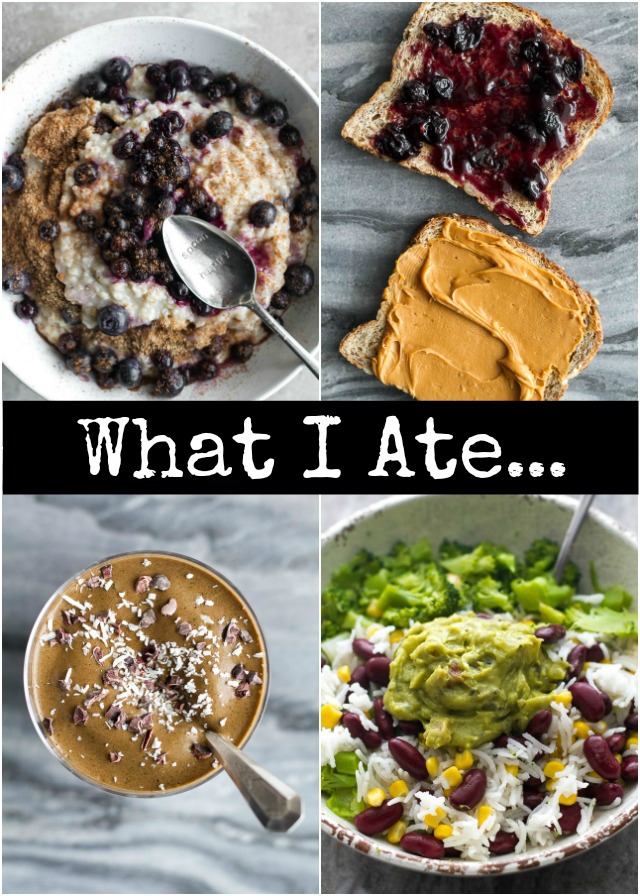 Truth be told, I have a hard time giving any kind of diet advice outside of the 1-on-1 work I do with people because we're all so different that it's basically impossible to make generalized statements that will be true across ALL cases. That's why it drives me crazy to see absolute statements like "you MUST eat X to be healthy" or "you MUST avoid Y to be healthy." Like… yes AND no. It depends who you are. Heck, even fruits and vegetables aren't healthy for everyone.
Case in point: a few years back, we discovered that my mom has a sensitivity to salicylates… which are natural preservatives that most plants produce to protect themselves from diseases, fungi, and insects. They're not a big deal to most people, but if you have a sensitivity, they can cause a tonne of chronic problems that include things like asthma, depression, hyperactivity, sinusitis, headaches, and a general feeling of malaise.
SO, to someone like my mom, "healthy" foods like berries (and most fruit, tbh), almonds, sweet potatoes, coconut oil, spinach, and avocado do the opposite of what they promise, while a more basic diet that's built around white rice, white potatoes, beans, meats, and small amounts of dairy makes her feel great. It "shouldn't" be that way according to all the popular health advice we're constantly bombarded with, but there ya go.
I have another example for you guys too, but I'll share that one in a sec because I think I've wall-of-text'd you enough, so let's get to the food! Aaaaaaaand a little commentary about what I've found works for me, because you guys know I love my themes…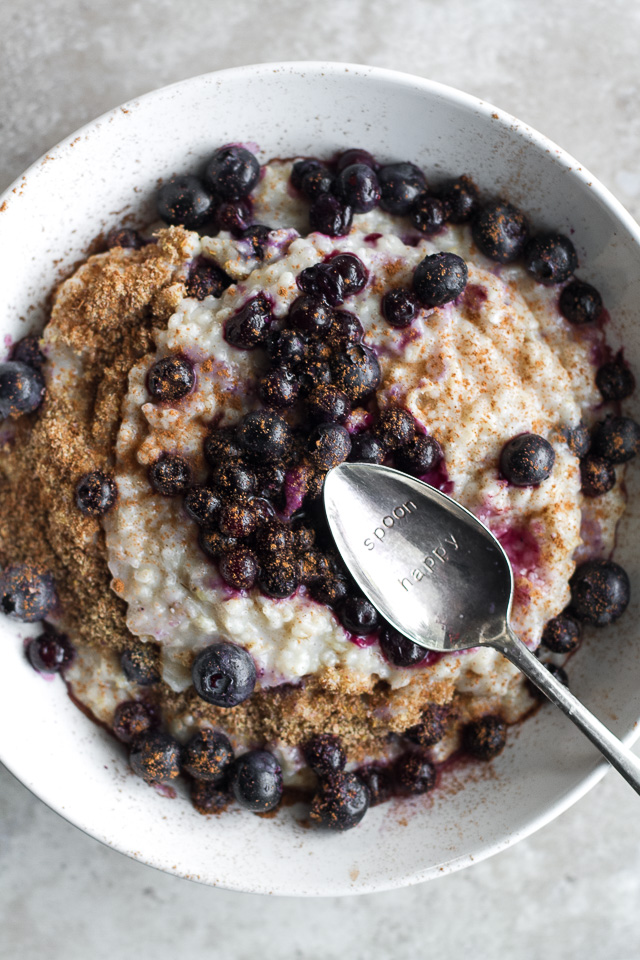 [Breakfast:] 1 cup of oats with a banana cooked in. 1/2 scoop vanilla protein powder, 2 spoonfuls of ground flax, a handful of blueberries, maple syrup, and cinnamon added post-cook.
A Big Breakfast
You know the saying "eat breakfast like a king, lunch like a prince, and dinner like a pauper?" I feel like that's more or less the eating formula I stick to. I've always liked breakfast to be my biggest meal of the day, and it's become even bigger since I cut back on snacking and started eating bigger meals in general.
I just find that I need to "front-load" my calories because not eating enough early in the day will make me insatiably snacky in the evening… and that's just a crazy annoying feeling to have. That and it's nice to eat and not think about food for a good 4 or 5 hours.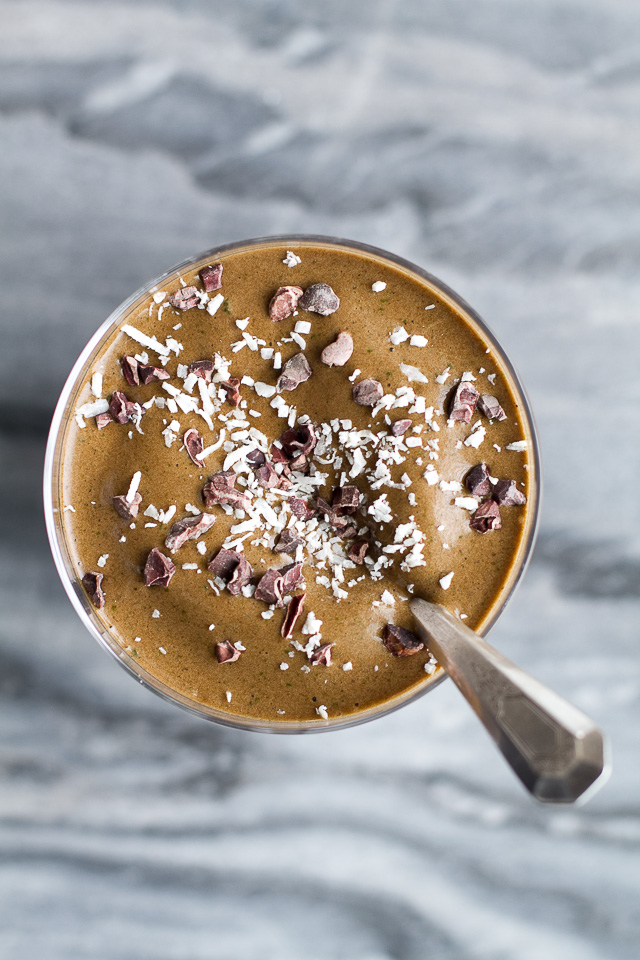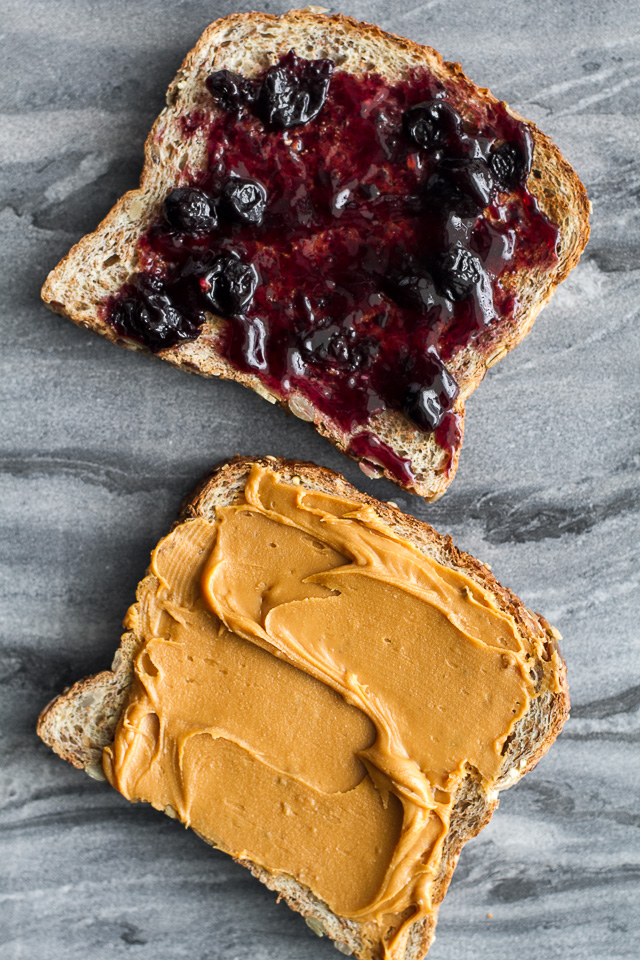 [Lunch:] typical swampy chocolate smoothie (2 frozen bananas, 2 Medjool dates, big fistful of spinach, 1/2 scoop protein powder, 2 spoonfuls of cocoa, and cashew milk) and an almond butter and [blueberry] jelly sandwich.
An Easy-to-Digest Lunch
Notice how, besides the spinach in my smoothies, my lunches are usually completely devoid of veggies? It's not because I don't love the big salads and buddha bowls, but because I find that eating a tonne of bulk in the middle of the day will put me in the BIGGEST energy slump in the afternoon… to the point where I'll basically have to take a nap and sleep it off. I actually eat a smoothie/sandwich combo daily, just because I've found it's one of the best ways to avoid that.
And that brings us to the issue of fibre -> We're constantly being told to eat plenty of it and load our plates with veggies, but even that isn't a great thing for everyone.
Case in point: there are a lot of damaged guts in the health and fitness community. A lot. I don't think most people realize how much long-term damage things like undereating and overexercising can do to your digestion, but your body is a lot smarter than your brain, and it doesn't care that you want to be a size 2 if you're not meant to be that way naturally. All it cares about is keeping you alive, and it's equipped with tonnes of handy dandy mechanisms that'll help it do that when your brain is being stupid and not letting you eat.
One of those mechanisms involves slowing down your digestion so that it can keep food in your system for as long as possible and extract the maximum amount of nutrients from the small amount you're giving it. And guess what's an absolute nightmare for already slow digestion? Fibre-rich meals which slow digestion even more and cause food to build up in your intestines, which leads to bloating, discomfort, diarrhoea, constipation, and basically all the other digestive complaints you can think of.
So… fiber. Not great for everyone, especially those trying to recover from disordered/restrictive eating.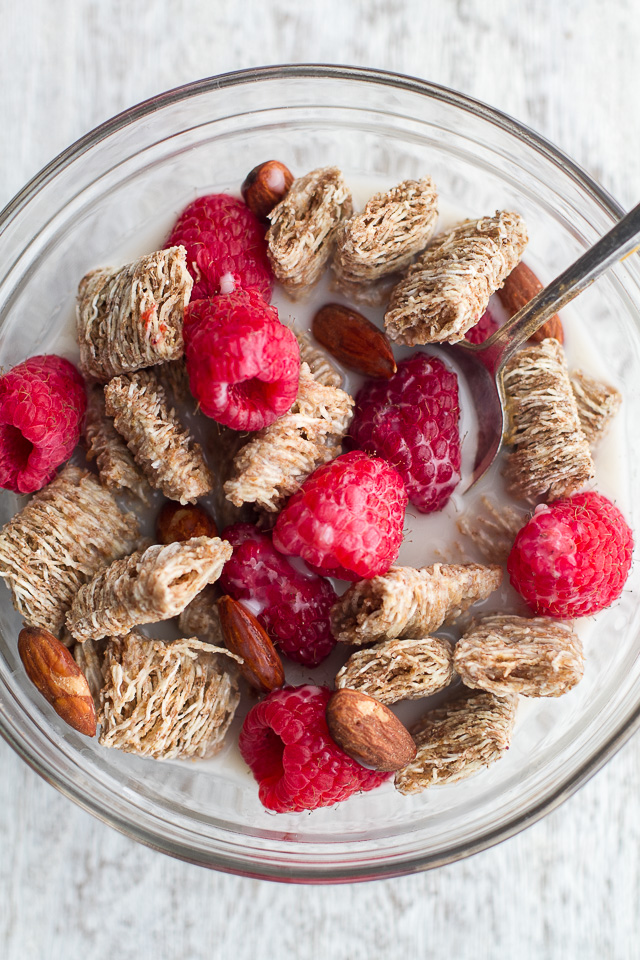 [Afternoon Snack:] Kashi Cinnamon Harvest with raspberries and roasted almonds.
No Small Snacks
I know "they" say to keep snacks between 150-200 calories, but… more often than not, those micro-meals only make me hungrier. And it doesn't matter if they're properly balanced with the right amount of carbs, proteins, and fats… It's just not enough food 😭
Maybe it's because I'm used to eating bigger meals at this point, but when I do snack in the late afternoon (that's when I find I need a little something to tide me over 'till dinner), I eat more than "they" say I should 🙊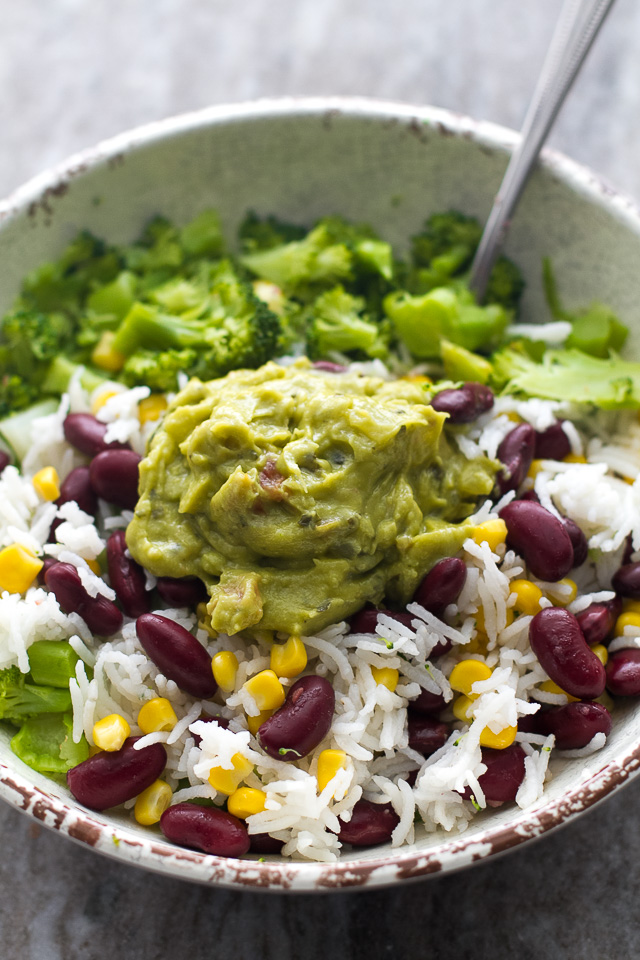 [Dinner]: burrito bowl! White rice seasoned with lime juice, sweet corn, kidney beans, guacamole, and some broccoli because #greens.
Easy Go-To Meals
Real talk -> I'm not a fan of cooking dinner or trying to come up with new meals all the time, so I have about 3 easy dishes that I cycle through so that I don't resort to eating cereal for dinner [all the time]. I'll cook up a huge batch of rice (for use in multiple meals), open up a can of beans, slop on some ready-to-eat guac, and all that's left is to chop and steam some veggies. Easy, peasy, and I never seem to get sick of it. Wins all around!
. – . – . – .
And that's that, friendly faces. A handful of eats, and a handful of things that I've found work for me. Most of the time. There are days where even the tried-and-true don't do so hot, and those are the days where you know you've just got to sleep it off and start from scratch tomorrow 😉
Speaking of tomorrow, I'll see you then for ToL!

Let's chat!
What's something you know works for you?
What's something that doesn't?
More places to find me!
E-mail — [email protected]
Twitter — runwithspoons
Facebook — runningwithspoons
Pinterest — runwithspoons
Instagram — runwithspoons
Bloglovin — runningwithspoons
Snapchat — runningspoons