Happy What I Ate Wednesday, friendly faces! 😀
Two weeks in a row! I'm on a roll here with the WIAWs. Aaaaaaand that's pretty much all I've got in the way of intros, so let's cut to the chase and start talking about the good stuff — the food.
This week's theme is: foods that make the day feel complete. You know what I'm talking about… the foods you can go without for a max of about 1 day before you start suffering the symptoms of withdrawal… Yeeeeep.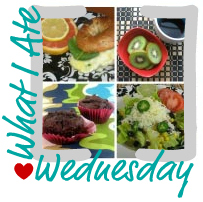 Breakfast… isn't complete without… something sweet.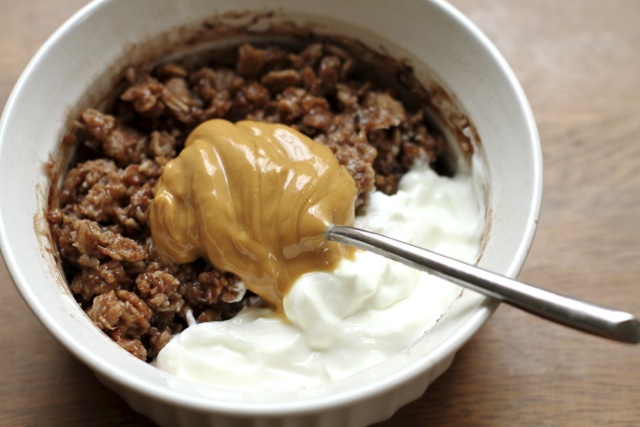 Brownie Batter Oats with some plain Greek yogurt and a spoonful of Barney Butter.
I've come to the conclusion that I will always and forever be a sweet breakfast kind of girl. I can do the savoury thing if need be, but more often than not it only results in me rummaging around in my cupboards an hour later, looking for dessert. I know some people say that eating sugar first thing in the morning sets off their sweet tooth and leaves them craving it for the rest of the day, but I've always found the opposite to be true.
Eating a sweet breakfast satisfies my sugar cravings and makes them a lot more manageable. I don't end up feeling as hungry or snacky throughout the day, and I don't finish my meal feeling like something is still missing… ya know? There are actually studies out there to back this kind of thing up… but then again, there are studies out there to back up pretty much anything. Everything works [for someone] — it's all about finding out what works for you.
Morning snack… isn't complete without… coffee.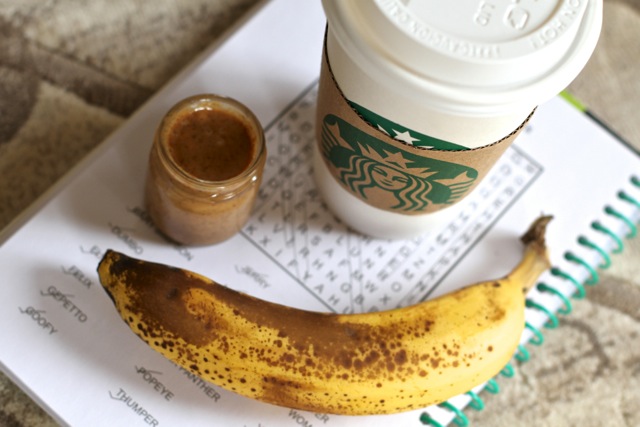 Coffee, a banana, and some maple roasted almond butter.
Coffee is a daily thing around these parts, but I rarely ever drink it first thing in the morning. Instead, I like to start the day with a cup of my favourite tea and follow that up with a coffee around 9 or 10. No specific reason why, really — just personal preference. And because I'm well past the days where I could call a cup of black coffee a snack, I enjoyed my hug-in-a-mug alongside one of my favourite snack combos… and some word searchin'.
Lunch… isn't complete without… a [sweet& salty] snack plate.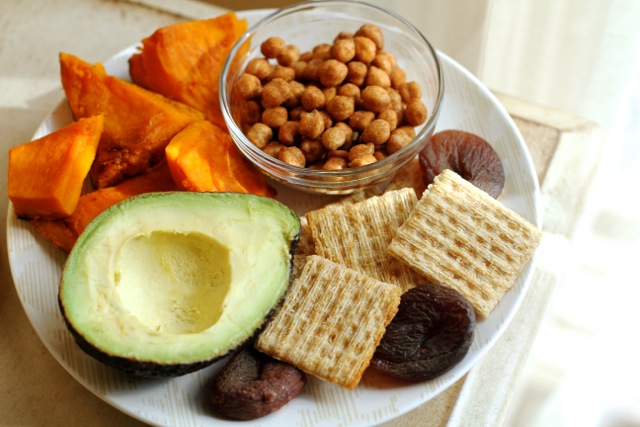 Roasted kabocha squash, half an avocado with sea salt, The Good Bean's cinnamon crunchy chickpeas, whole wheat Triscuits, and dried apricots.
I have no idea how I functioned before I stared having snack plates for lunch… but I do remember not being a big fan of the midday meal. This plate had a little bit of everything to satisfy every possible craving. Creamy, crunchy, chewy, salty, and sweet… Per.fec.tion.
Afternoon snack… isn't complete without… cookies.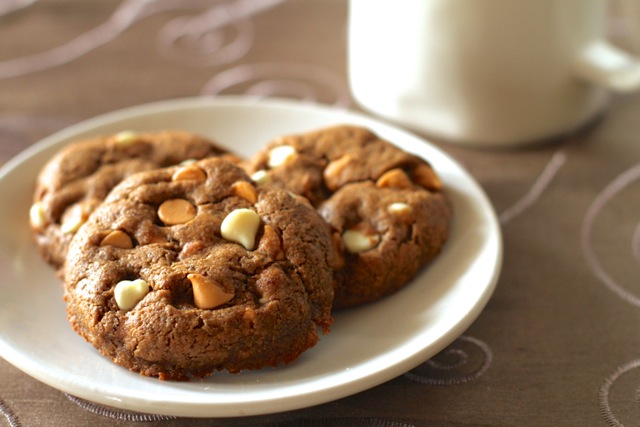 A few maple almond butter cookies — for taste testing purposes, obviously 😉
Did/do you guys have a favourite after school snack? Mine was always, always, always cookies. I did go through a Pizza Pocket stage at some point, but that was pretty short-lived. For the most part, it's been all about the cookies. Oreos, Chips Ahoy, Viva Puffs… Omigosh! Viva Puffs! I completely forgot about those! They're probably my favourite as far as store-bought cookies go. So good. Needless to say, these weren't Viva Puffs, but they were super tasty nonetheless. I'll be sharing the recipe soon!
Dinner… isn't complete without… leftovers.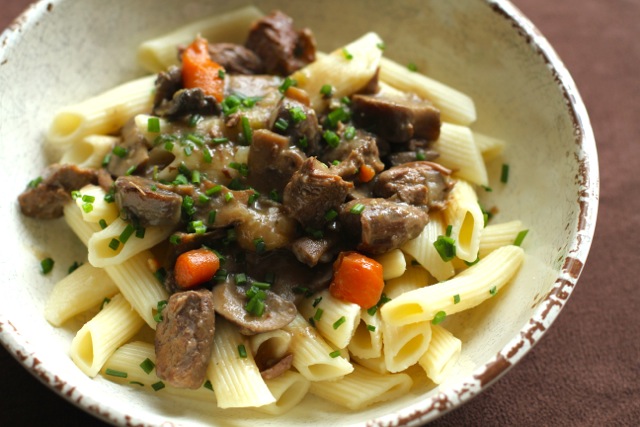 Beef stew and whole wheat penne noodles.
I'm 99.86% sure that the main reason my family insists I come over for dinner on Sundays is so that they can make sure I'm eating something other than cereal and waffles. I am, but I appreciate the leftovers nonetheless… especially when it means that I get to eat something that I don't usually cook for myself. I don't know what it is, but I've never been able to get over my fear of working with raw beef. Chicken I can do, but beef still skeeves me out. Thank goodness for moms 😀
Evening snack… isn't complete without… cereal.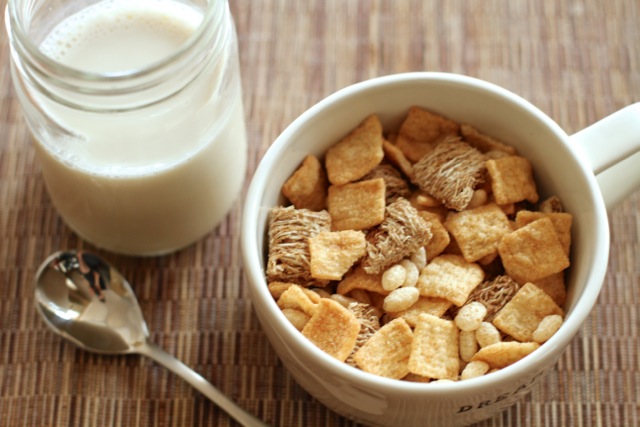 A bowl mug of Cinnamon Toast Crunch, Kashi Cinnamon Harvest, and crispy rice cereal with some vanilla almond milk.
I can think of few better midnight snacks than a bowl of cereal… or cereals as it were. I don't know about you guys, but I'm never satisfied with just putting one type of cereal into my bowl — I need to mix up a few different kinds. It's a taste and texture kind of thing. That being said, a combo I'm currently loving is: Cinnamon Toast Crunch, Kashi Cinnamon Harvest, and crispy rice. CTC by itself is a little too sweet for me, but pairing it with more hearty, wheaty, bland cereals brings it down to just the right level of sweetness. Perfection.
And just like that, my day feels complete 😉 See you guys tomorrow for Thinking Out Loud!

Your turn! A day isn't complete without ______.
What's your favourite store-bought cookie? Favourite after school snack?
Is there anything you don't like working with when baking/cooking?
More places to find me!
E-mail — [email protected]
Twitter — runwithspoons
Facebook — runningwithspoons
Pinterest — runwithspoons
Instagram — runwithspoons
Bloglovin — runningwithspoons