Happy What I Ate Wednesday friendly faces! 😀
Despite the fact that I create recipes and devote a blog post every week to sharing an entire day of meals with you guys, I don't actually spend that much time thinking about food or analyzing my meal choices. Long gone are the days where 90% of my thoughts revolved around food, and where I'd spend hours a day planning my meals to try to achieve that perfect number of calories and macros — I just can't do it anymore, and I think I've spent enough time doing it to generally know what works for me and what doesn't.
This is why I sometimes find it a little difficult to write my WIAW posts, especially on days like yesterday where I couldn't really identify a rhyme or reason to my meals. I mean, what am I supposed to say in those cases? That I ate this or that just because I felt like it? Actually, that's not a bad idea….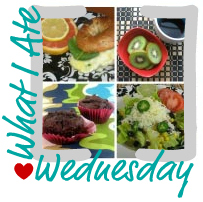 Breakfast… Just because I felt like… not thinking about it.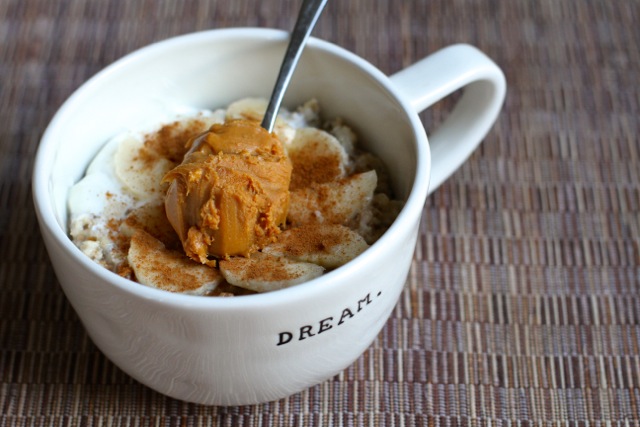 Oats in a mug! Quick oats cooked with ~1 Tbsp. chia seeds, then layered with plain Greek yogurt and topped with banana slices almond butter, and cinnamon.
I tend to eat a pretty similar breakfast on a daily basis, and that's mostly because I've fallen into the habit of starting to prep it without really giving it much of a second thought. Wake up, put oats on the stove, make tea, go about my business — that's my morning. I'll switch up the toppings depending on what I might be feeling on any given day, but it's always oats, fruit, nut butter, and yogurt in some form or another. Oh! I did swap out the regular bowl I eat from with a favourite new mug — that's something, right? 😆
Morning snack… Just because I felt like… something sweet with my coffee.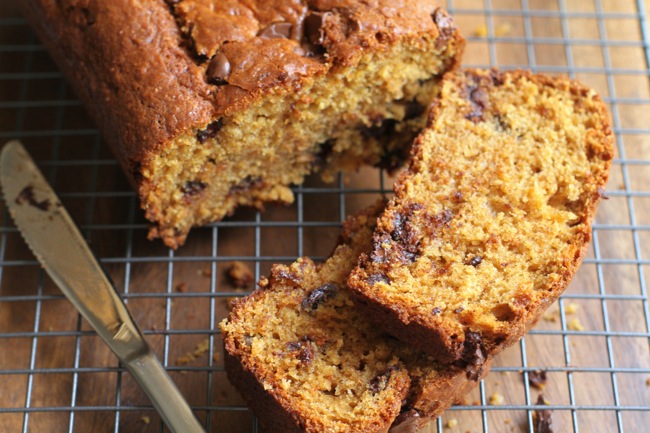 A slice of Chocolate Chunk Orange Bread <– check out my recipe on Savory Style!
I used to operate under the idea that sweeter things should never be eaten before lunch, but I've come to discover that I enjoy my morning coffee so much more when it's accompanied by a baked good of some sort, and it makes me more productive 😉 Besides, if I deny my craving and go with something that I think I should eat instead, I run the risk of eating that, not being satisfied, and going back to eat half my kitchen before I finally decide to eat what I originally wanted. Better to skip all that, eat, enjoy, and move on!
Lunch… Just because I felt like… dipping.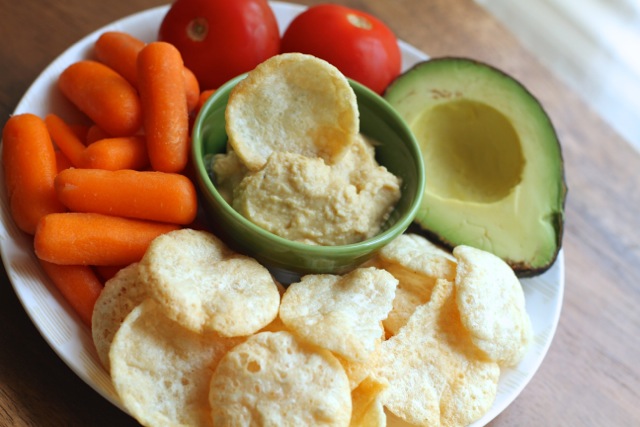 Snack plate made up of half an avocado, plain Popchips, Tribe classic hummus, baby carrots, and a couple cocktail tomatoes.
The return of the snack plates! I missed them. In hindsight, I probably should have mashed up the avocado to make it easier to dip things in, but it was soft enough that it was easy to scoop out. But yeah… not too much to say about this lunch. I think I was just really looking for an excuse to eat some Popchips 😉
Afternoon snack… Just because I felt like… I needed to work on finishing off my cake.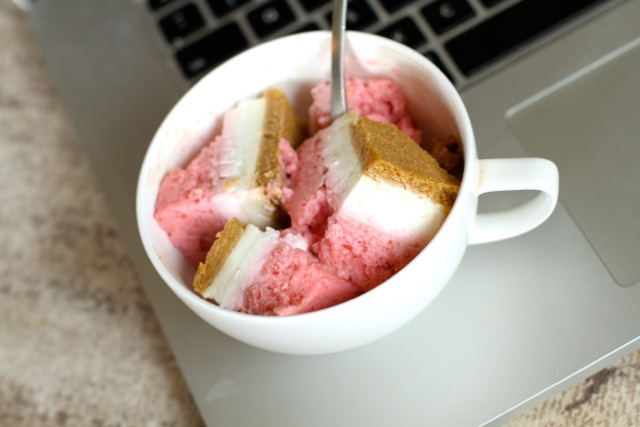 A slice of my No Bake Strawberry Cheesecake… in a mug.

I know I've mentioned it before, but when you spend a lot of time making recipes, you spend a lot of time eating the product of those recipes. Sometimes you're in the mood for it and sometimes you're not, but it's gotta be done if you want to prevent things from going to waste #foodbloggerproblems. Luckily for me, I was definitely in the mood for this one… which is probably why I went back for a few more spoonfuls after I was done. Just doing my part in waste prevention

Dinner… Just because I felt like… not cooking.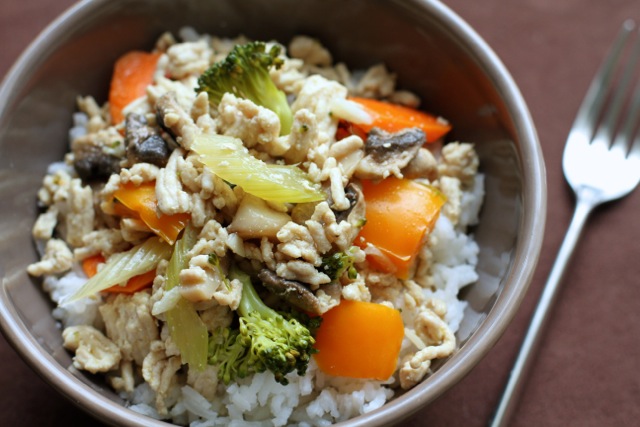 Sesame chicken stir fry on white basmati rice.
Leftovers to the rescue! Cold ones because I didn't even feel like heating them up… aaaaand I kind of prefer my leftovers cold anyways. What can I say? Sometimes I get lazy… especially around dinner time. This probably wouldn't work if I had someone else to cook for, but since it's just me, I can get away with these kind of things. Why is it so much easier to put in more effort when you're doing things for other people? Not that it's a bad thing, but daaaaang, Brain! I want some TLC too!
Evening snack… Just because I felt like… chocolate.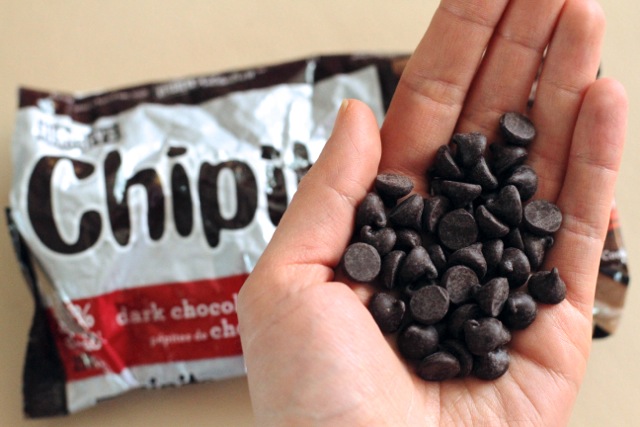 A handful of dark chocolate chips.
This one doesn't really need much of an explanation — when you need chocolate, you need chocolate. Actually, I guess I could explain the chip aspect of it…
It was late, I needed chocolate, I was all out of bars, I didn't want to go out, and chocolate chips were the only kind of chocolate I had in my possession. Well, I guess you could count the cocoa powder too, but I'm kind of over the days where I considered a spoonful of cocoa powder to be an acceptable (or palatable) replacement for chocolate. When I was younger, I'd resort to eating those squares of bittersweet baker's chocolate if nothing else was available, and I remember not even liking them but needing a fix and eating them anyways. Can't mess with those cocoa cravings.
Voila! What I Ate [on Tuesday]. See you guys tomorrow for Thinking Out Loud! 😀

Do you switch up your breakfasts or eat the same thing on a daily basis?
Do you reheat leftovers or just eat them cold?
Do you have an easier time putting in effort when you're cooking for others?

More places to find me!
E-mail — [email protected]
Twitter — runwithspoons
Facebook — runningwithspoons
Pinterest — runwithspoons
Instagram — runwithspoons
Bloglovin — runningwithspoons