Happy Sunday friends!
Did you enjoy the extra hour of sleep last night? I definitely needed it – I didn't end up getting to bed until around 1:30 last night (this morning?) for reasons that I'll probably have to go into more detail about eventually, but for now let's just say that the extra hour saved my butt. It also meant that I could finally take a decent picture of breakfast…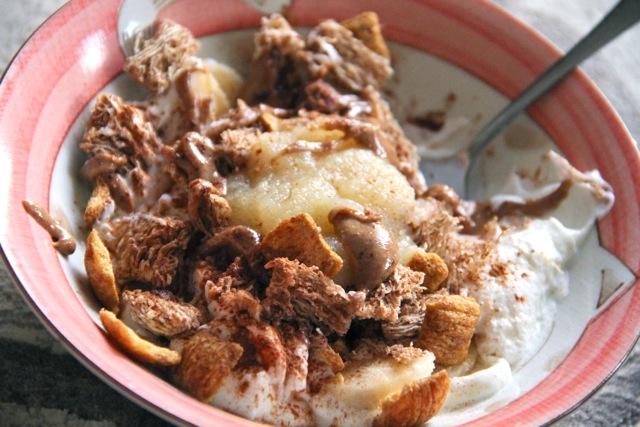 Plain Greek yogurt – banana – Kashi Cinnamon Harvest – Puffins – roasted almond butter
 … which was delicious even though I wasn't actually very hungry for it. I know… weird. Not sleeping. Not eating. I must be coming down with something 😉 Thankfully, today's NHBPM prompt is a pretty simple one – 'what's in your bag/purse/backpack every day.' I have no idea what that has to do with health, but it's something I think I can handle even in my sleep deprived state.
I should probably begin by confessing that I have way too many purses. Way too many. Some people have a thing for shoes, and I do too… BUT! I think I might love purses even more. I tend to switch up the bag I carry on a pretty regular basis, depending on whatever it is that I'm wearing, but this is the one that currently has all my junk in it so we're going to go with that.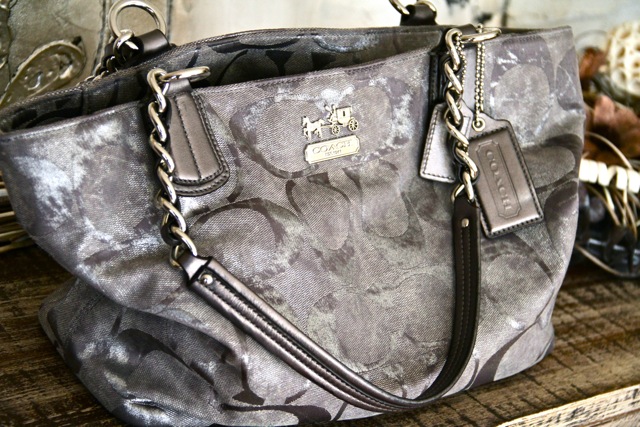 It was a Christmas present from my mom last year (I think?), and it's definitely one of my favorites. Before writing this post, I didn't think that I actually carried that many things around with me, but apparently I like being prepared…
First up, we have our basics…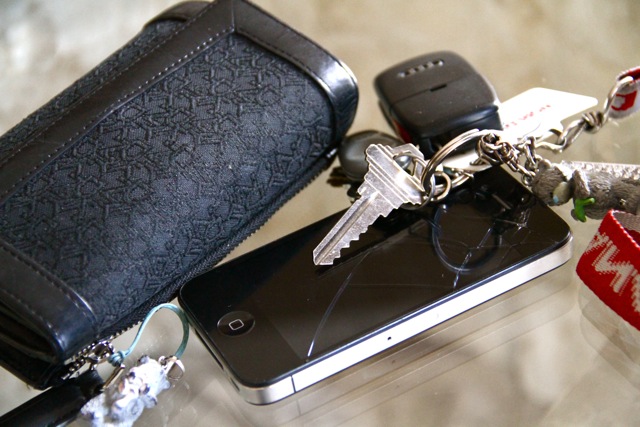 Wallet – Keys – Phone
After that, some things I'd rather not be caught without…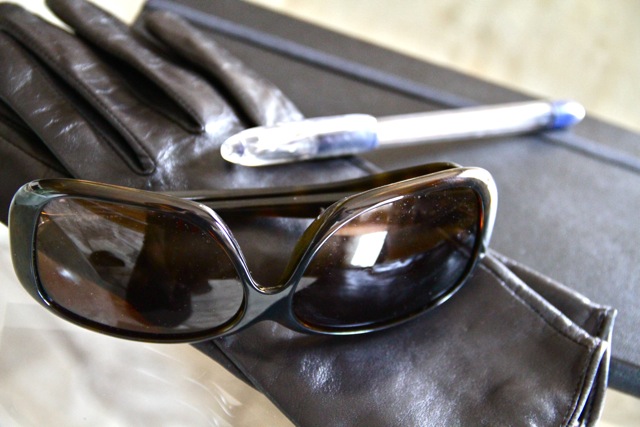 Sunglasses – Gloves (I live in Canada…) – Moleskin notebook – pen
Next up, some emergency beauty products in case I ever need to freshen up…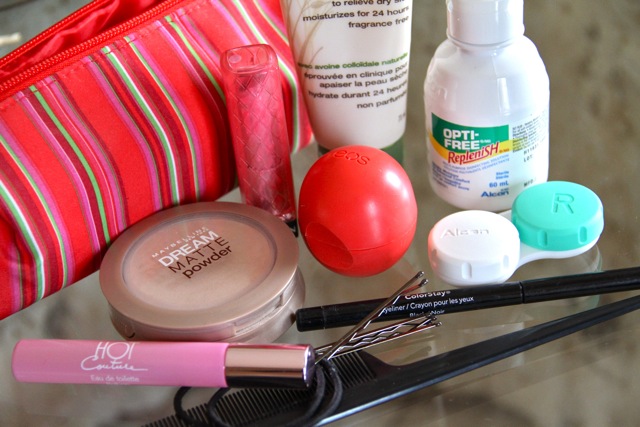 Givenchy Hot Couture perfume – Maybelline Dream Matte Powder – Revlon lip butter – EOS lip balm – Aveeno hand cream – Contact lens solution/case – Revlon eyeliner – hair ties – bobby pins – rattail comb
And finally (and perhaps most importantly) food – because you should never leave home without it…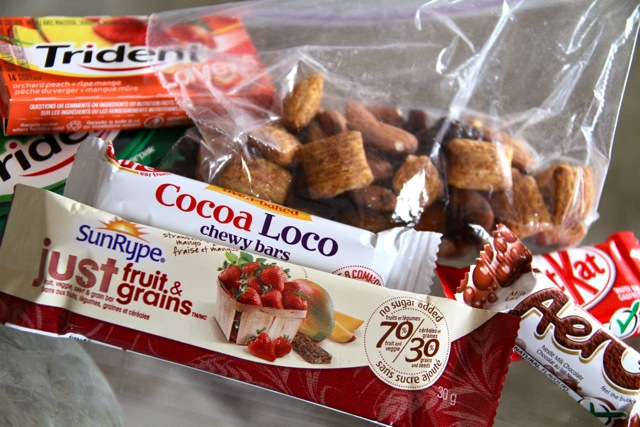 Gum – SunRype fruit & grain bar – Enjoy Life chew bar – random trail mix – candy bars
So there we have it. I'm kind of fussy about keeping my bag neat, so even though [I guess?] I carry a lot of stuff, there's no loose change, empty wrappers, or other random junk littering the bottom. I don't actually function too well in a messy environment, so I go through my bag pretty regularly to take out the useless stuff.
Before I go, I wanted to quickly apologize for the wonky posting schedule this weekend. I still don't want to go into too much detail, but other things [read: people ;)] have been taking up a little more of my time  so blogging has gotten pushed to the side. I'm starting to figure out a better schedule though, so things should go back to normal soon. Thanks for understanding. Hope you guys are having a great evening, and I'll talk to you tomorrow 😀
. – . – . – .
Do you always eat breakfast/meals, even when you're not hungry?
Do you carry a lot of stuff around with you? Is it messy or neat?