A no-bake vegan oatmeal fudge bar that uses dates, cocoa powder, and coconut oil in place of chocolate chips and condensed milk! Rich, chocolatey, and melt-in-your-mouth delicious!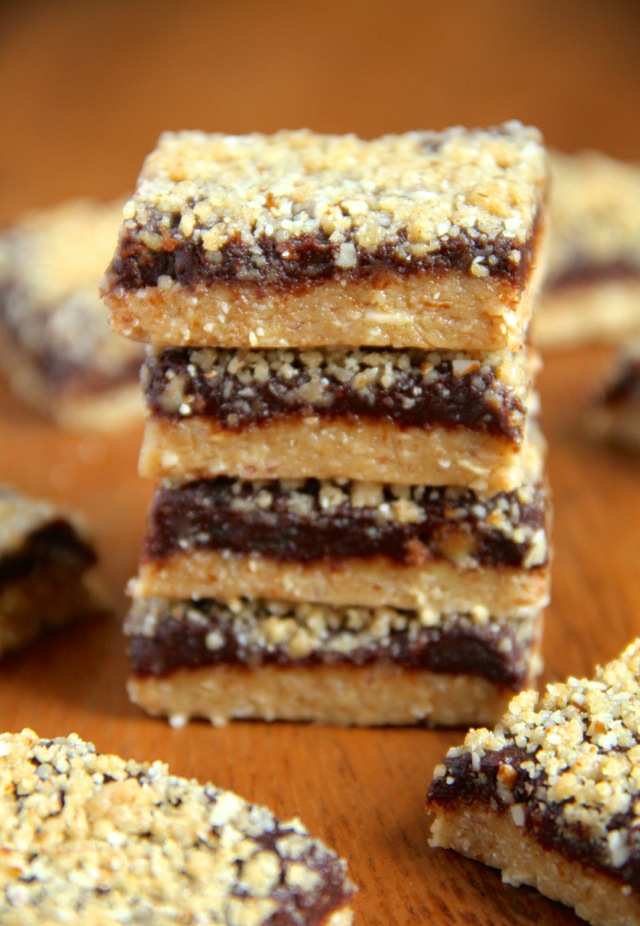 You can thank my fellow pumpkin-obsessed Edmontonians for the fact that I'm not bombarding you guys with another pumpkin recipe today. Thank them or call them mean and nasty names depending on which side of the pumpkin love/hate spectrum you fall on.
I think it's pretty obvious which side I gravitate towards, which is why I almost had a [small] fit when I was in the store the other day only to discover that they were completely sold out of my favourite brand of canned pumpkin. I even combed through the rows and rows (and rows!) of pumpkin pie filling hoping to find one stuffed away somewhere, but no such luck. No pumpkin in sight.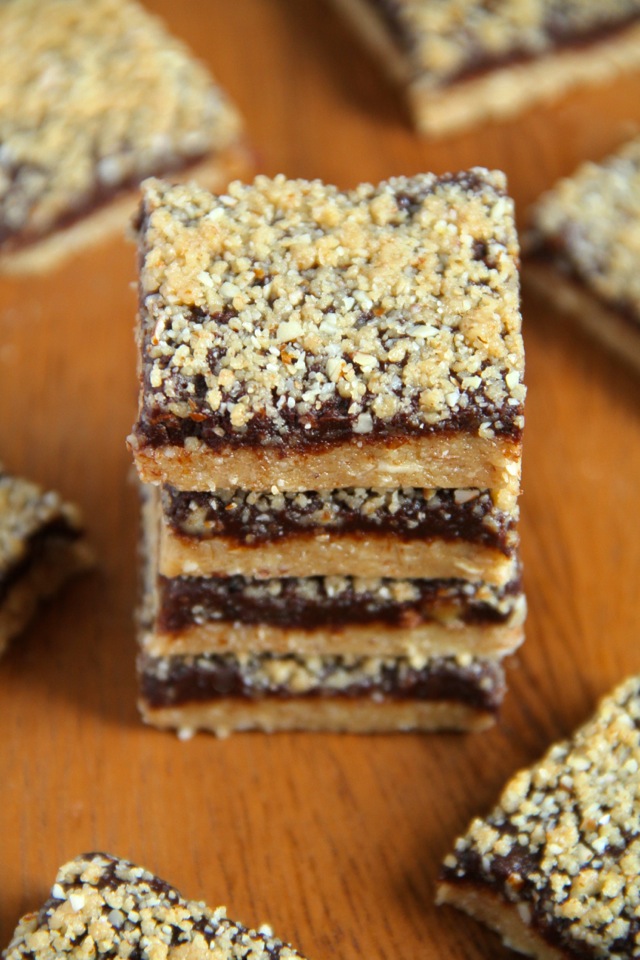 This was problematic for a couple of reasons. First, it meant that I can no longer play nice and have to start greedily hoarding pumpkin like it's my job (sorry!). But more importantly, it meant that I could no longer make the pumpkin bars that I had in mind. I mean, I guess I could have bought one of the pumpkins that was taunting me from a few feet away and roasted/pureed it myself, but that felt a little too much like work, and I wasn't that desperate… especially since I remembered that I had a 2 lb. bag of dates waiting for me at home.
Or at least what used to be a 2 lb. bag of dates… Somewhere within the last two weeks, my 2 lb. bag of dates turned into a 1 lb. bag of dates… but losing half a pound a week is a perfectly healthy rate of weight loss 😉 Aaaaand that's the story of how these No-Bake Vegan Oatmeal Fudge Bars were born #coolstorybro…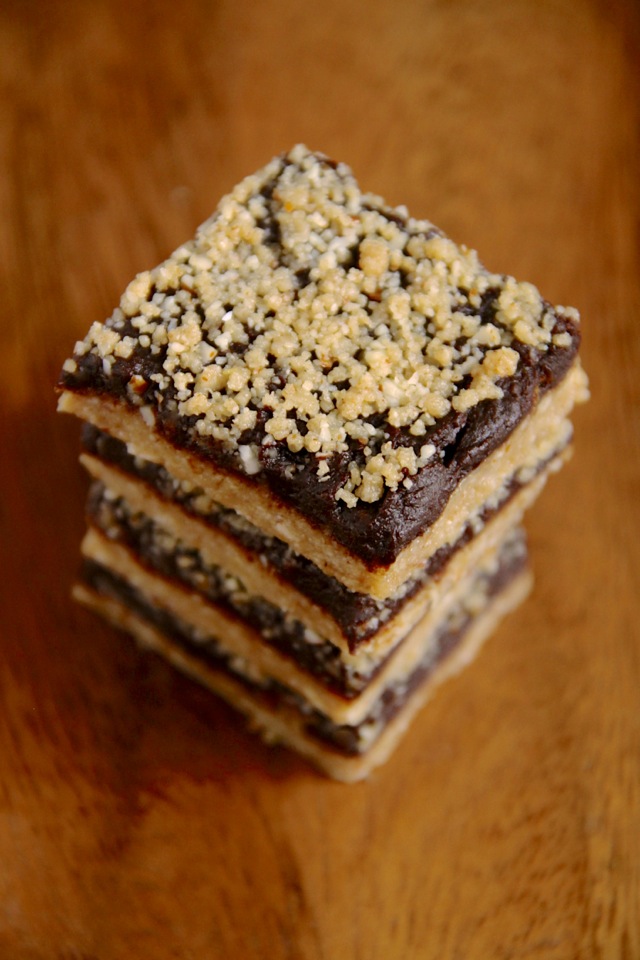 These aren't your typical oatmeal fudge bars, though… Rather than being loaded with chocolate and condensed milk, the fudge in these bars is made up of dates and cocoa. Yup, you heard me right — dates and cocoa. I was originally planning on making a plain oatmeal date bar, but when the chocolate craving strikes, you don't mess around. And if you have a hard time believing that dates and cocoa combined can make a rich, chocolatey, irresistible fudge, I'll have you know that not one person that I shared these with had any idea… not one. And I may or may not have had to whip up extra fudge because I couldn't help myself and did a little too much taste testing before I actually managed to get it from the food processor to the pan. It's that good.
As for the crust, it tastes incredibly buttery without actually containing any butter. In fact, these bars are vegan, gluten-free, and refined sugar free. They melt in your mouth and are ridiculously addictive, but full of wholesome ingredients so you don't have to feel bad about enjoying an extra square or two!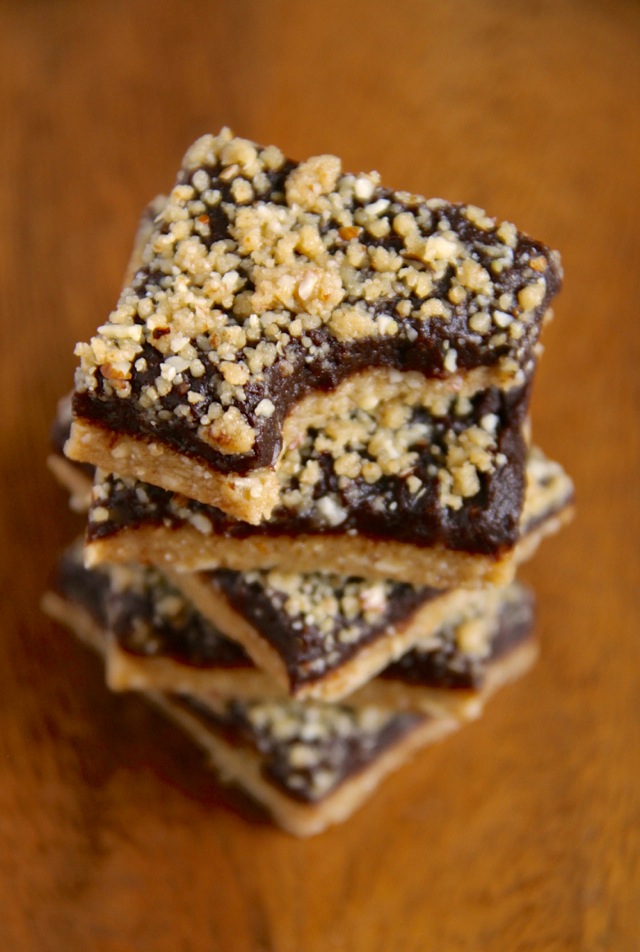 No-Bake Vegan Oatmeal Fudge Bars
Author:
Prep time:
Total time:
Ingredients
For the crust:
1 1/2 cup rolled oats
1/2 cup almond flour
1/2 cup raw almonds
1/4 tsp. salt
3 Tbsp. brown rice syrup*
2 Tbsp. coconut oil, melted
For the filling:
1 cup dates, pitted and roughly chopped
1/4 cup unsweetened cocoa powder
2 – 4 Tbsp. water**
Instructions
Line an 8×8 baking pan with a sheet of aluminum foil, leaving a few inches of overhang on the sides to allow for easy removal. Set aside.
In a food processor, process oats, almond flour, almonds, and salt until the oats and almonds have broken down and the mixture resembles a rough crumble. Add brown rice syrup and coconut oil, and continue processing until all the ingredients are well incorporated and the dough begins to stick together.
Reserving 1/2 cup of the oat mixture, transfer the remaining dough into your prepared baking pan, using your fingers or a spatula to ensure that it is pressed down firmly and evenly.
To make the filling, add the dates, cocoa powder, and water to the now empty food processor, and process until the dates have broken down into a paste. Stop and scrape down the sides of the bowl as needed, and add a splash of water if the mixture is being stubborn. You don't want to add too much, though, since you want the paste to be quite thick.
When you're happy with the consistency, transfer the date fudge to the baking pan and use a spatula that's been sprayed with cooking spray to spread it evenly over the oat mixture. Sprinkle the reserved dough over the top and gently press it down with your fingers. Refrigerate for at least 1 hour before cutting into bars. Store bars in an airtight container in the fridge.
Notes
* can sub with honey if not strictly vegan[br]** start with 2 Tbsp. and add more if needed
Looking for more no-bake recipes? Try one of these!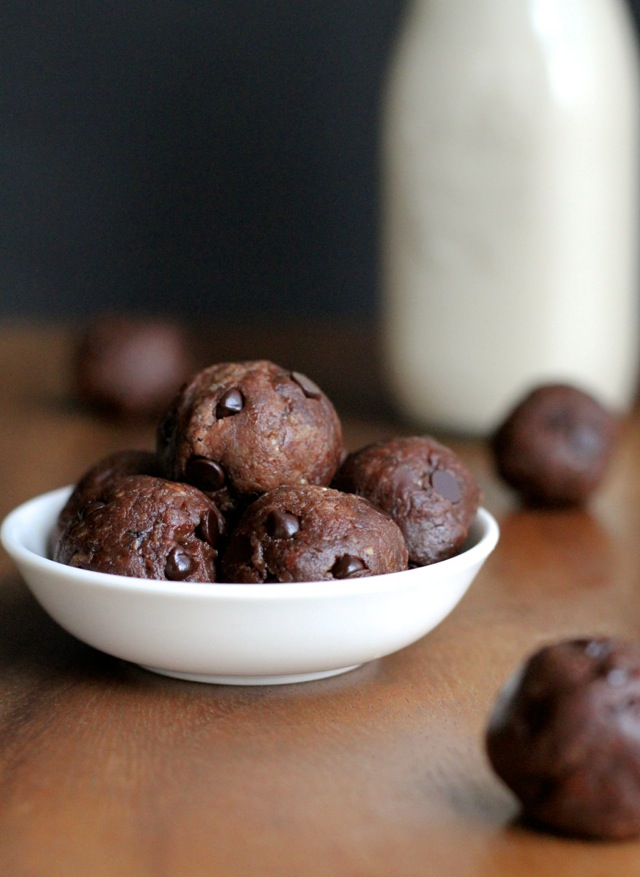 No-Bake Double Chocolate Fudge Protein Bites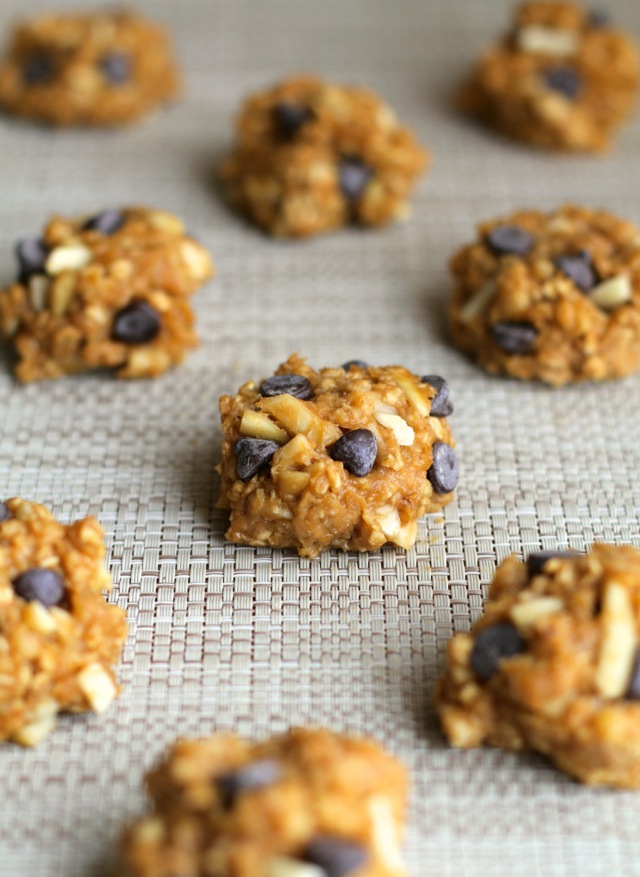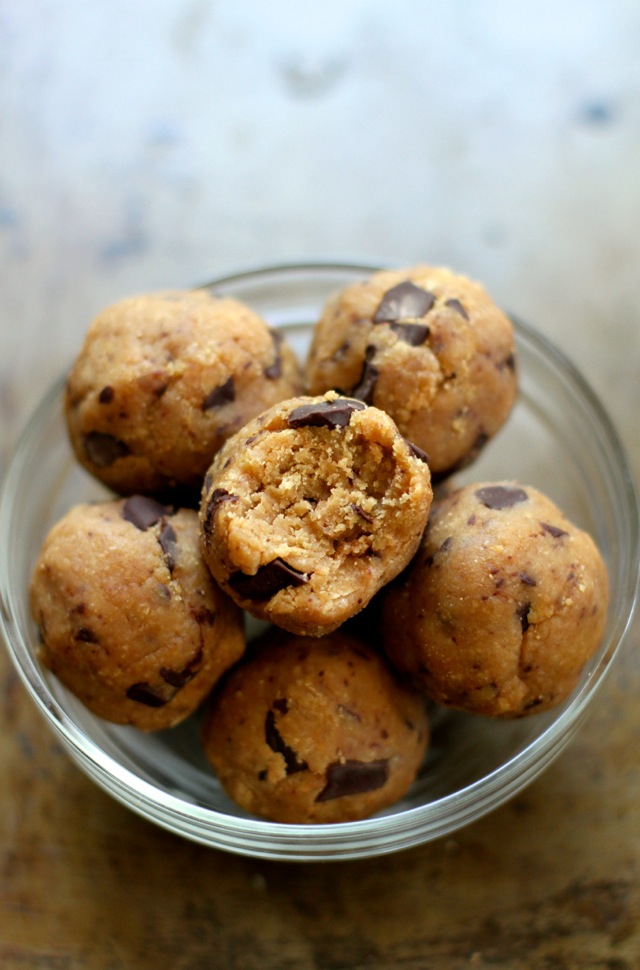 Vegan Chocolate Chip Cookie Dough

More places to find me!
E-mail — [email protected]
Twitter — runwithspoons
Facebook — runningwithspoons
Pinterest — runwithspoons
Instagram — runwithspoons
Bloglovin — runningwithspoons