A crisp chocolate shell surrounding egg-free, dairy-free, gluten-free cookie dough balls. These vegan cookie dough truffles make for a delicious, guilt-free sweet treat!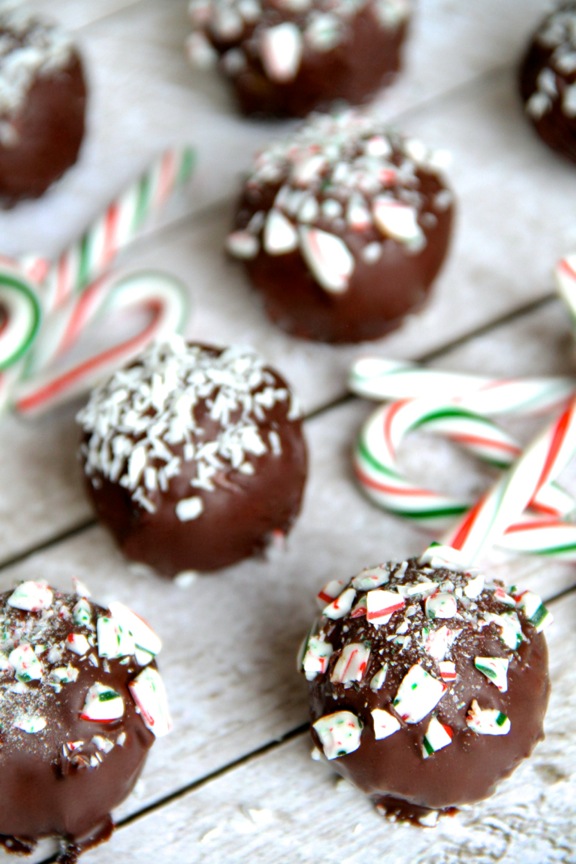 I can never quite decide which holiday flavour is my favourite. I'll have some gingerbread (the soft and chewy kind) and decide it's the best thing in the world.
But then I'll have something featuring the white chocolate/cranberry combo and decide that's the best thing in the world.
But that's before my tastebuds get a taste of the mint chocolate combo and decide… well… I think you know where I'm going with that one.
And that's saying nothing about shortbread, snickerdoodles, and chocolate oranges. I think it's safe to say that I'm a big fan of all the holiday flavours.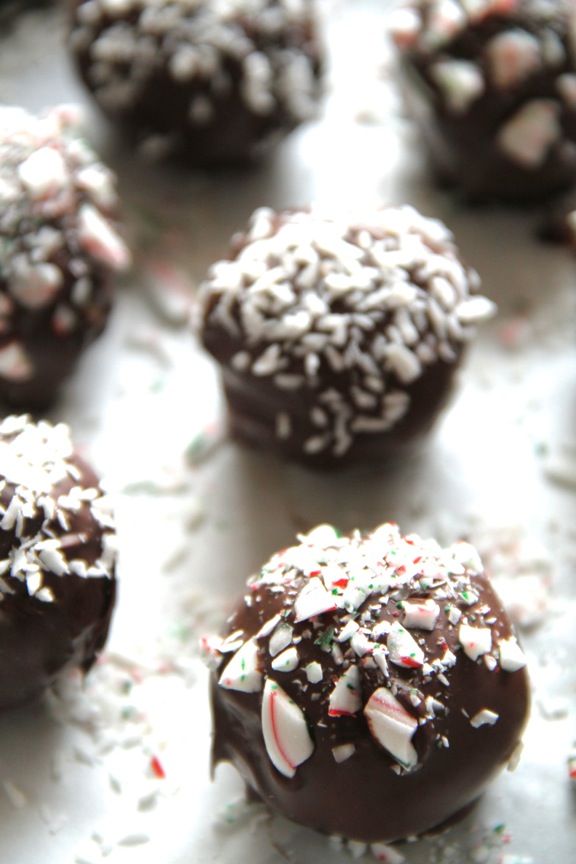 Well, maybe not all... I'm not too crazy about peppermint. I don't mind it in tea form, or paired with chocolate, but when it comes to eating it straight up in things like candy canes? Ehhhhh no. I used to eat them when I was a little kid, but that's not saying much considering I also ate bittersweet chocolate baking squares to get my chocolate fix if nothing else was available. Desperate times call for desperate measures, friends.
Oh… and I'm not too keen on eggnog either, but that has nothing to do with taste and everything to do with the fact that I can't quite wrap my head around the idea of drinking raw eggs. I mean, you're looking at a girl who has no problem resisting the sweet siren song of raw cookie dough just because it contains raw eggs.
I know, I know — you and everyone you know has been eating it for years and years with absolutely no problems, but I just can't. Love to, but can't. Vegan cookie dough, on the other hand, is a whole other story…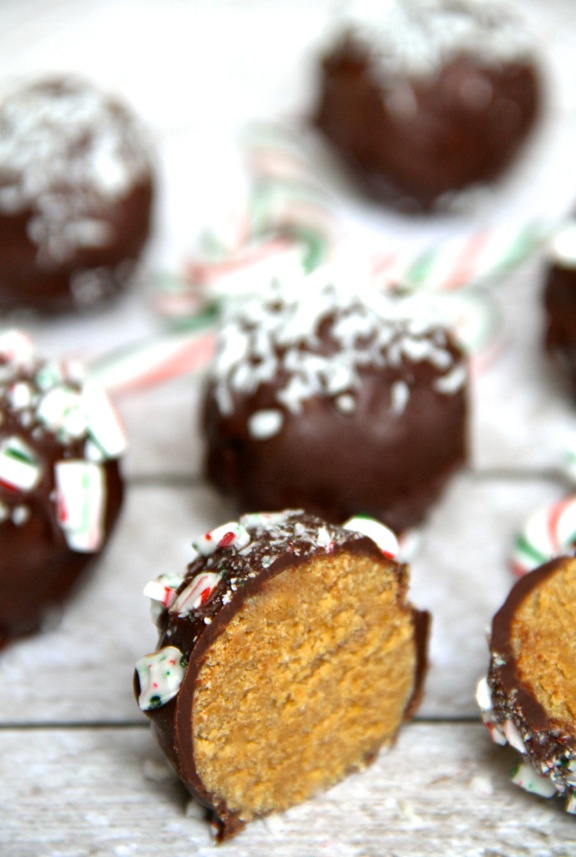 I already have a recipe for vegan chocolate chip cookie dough up on Spoons, but I wanted one that wasn't made with nut butter and had a more traditional cookie taste. Enter coconut oil and coconut palm sugar. The coconut oil gives this cookie dough a slightly more buttery flavour than a nut butter does, while the coconut sugar gives it the same subtle molasses-y taste that brown sugar does. Actually, you could easily sub in brown sugar if you wanted — I just didn't have any on hand that wasn't in solid brick form. Don't judge me.
But do, do, DO make sure to take the extra step and turn these into Vegan Cookie Dough Truffles, because while you could easily just toss a handful of chocolate chips into the dough and call it a day, having that crisp chocolatey coating give way to to a soft and buttery cookie dough filling will make you weak in the knees.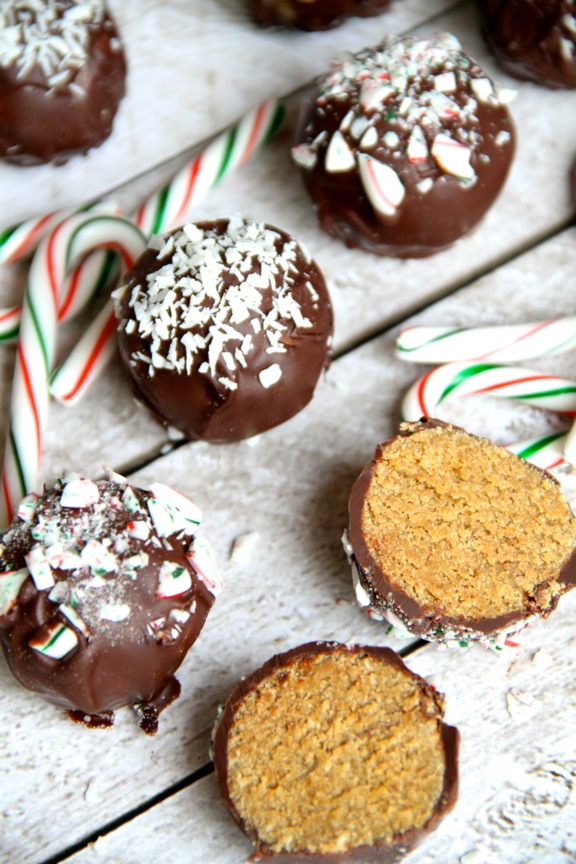 And it'll also give you a use for all those uneaten candy canes you have lying around. I mean, I know I can't be the only one who buys candy canes because "Oh! It's the holidays!" and then has no idea what to do with them. Actually, I'm pretty sure I still have some lying around from 3 years ago. Don't judge me.
And if you don't happen to have any candy canes on hand or aren't a fan of the mint chocolate combo? Some shredded coconut will get the job done just fine. Or even sprinkles! No matter how you choose to dress them, one fact remains — you'll fall in love with the simple SOMETHING of these vegan cookie dough truffles.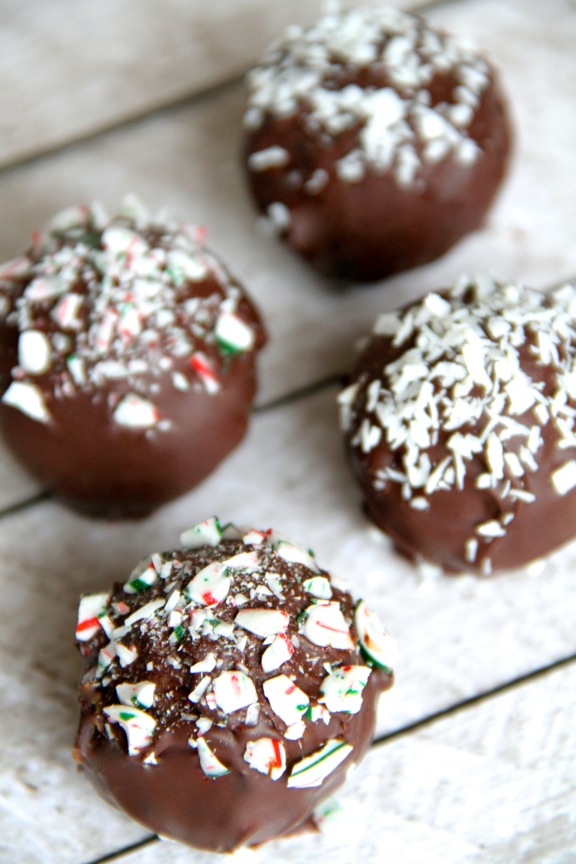 I'd love to know if you make this (or any!) recipe! Tag @runwithspoons on Instagram and Twitter, and be sure to subscribe to our mailing list to receive more healthy and delicious recipes straight to your inbox!
Print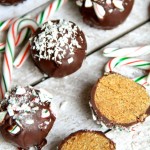 Vegan Cookie Dough Truffles
---
Author:

Total Time:

10 mins

Yield:

8

truffles

1

x
2 Tbsp

. coconut oil

4 Tbsp

. vanilla almond milk

1/4 cup

coconut palm sugar*
pinch of salt

1 tsp

. pure vanilla extract

1 cup

oat flour**

1/4 cup

coconut flour***

1/3 cup

dairy-free chocolate chips, melted
sprinkles, coconut flakes, or crushed candy canes, for topping
---
Instructions
In a small saucepan set over low heat, combine coconut oil, almond milk, coconut sugar, and salt. Heat until coconut oil has melted, stirring until until sugar has dissolved and mixture is completely smooth.
Remove saucepan from heat. Add vanilla and stir until combined. Add both flours and mix until fully incorporated. Dough should be moist and stick together when pressed. If it is too dry and crumbly, add a splash of almond milk. If it is too sticky, add a sprinkle of flour.
Divide dough into 8 equal parts and roll each part between your palms to form balls. Set the balls onto a parchment lined baking sheet and refrigerate for 30 minutes until dough has set.
When balls have set, prepare the coating by melting your chocolate in a microwave-safe bowl, stirring periodically to ensure no clumps remain.
Using a toothpick, dip each ball into melted white chocolate, gently tapping side of bowl to remove any excess. Place back onto parchment-lined baking sheet and immediately top with coconut, sprinkles, or crushed candy canes. Repeat until all truffles have been coated.
Refrigerate for 15 minutes, or until the chocolate has set. Store truffles in an airtight container in the fridge for up to 2 weeks, or freeze for up to 1 month.
Notes
* You could easily sub this for brown sugar.
** If you don't have oat flour or don't feel like grinding your own, you can easily sub in any flour of your choice.
Keywords: Christmas, gluten-free cookie dough, holiday, recipe, vegan cookie dough, vegan cookie dough truffles
Looking for more holiday recipes? Try one of these!
White Chocolate Cranberry Oatmeal Cookies
Baked Snickerdoodle Donut Holes
Flourless Chocolate Gingerbread Muffins