1. These are, hands down, the best beauty secrets that I've ever come across.
2. And speaking of beauty, I'd like to introduce you to my beautiful lip balm collection…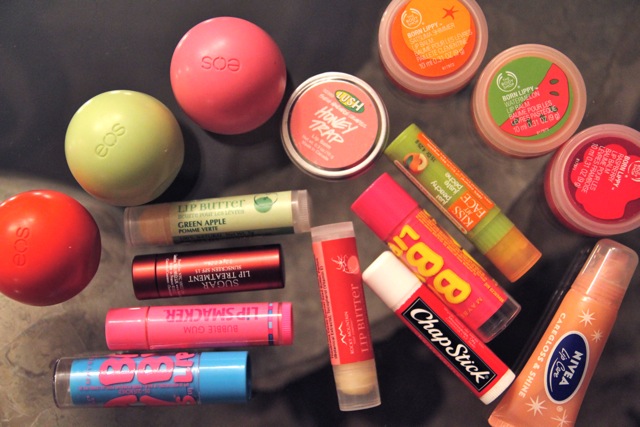 … or at least most of it. I think. A tad excessive, you say? Nay! I really, really can't stand having chapped lips, so I keep them at bay by making sure I have some lip balm within arm's reach at all times. The best way to do that? Keep one everywhere. In all my purses. In my car. In my makeup bag. In the kitchen. In my office. In my nightstand. In each bathroom. In my closet. In my jacket pockets. Ev.ry.where.
3. I have a confession to make, although you have to promise me that you won't think less of me when I shed some light on the darker side of my nature. Here goes… Whenever I see someone throw a cigarette butt on the ground, I secretly wish that I could pick it up and shove it down their throat. I really can't stand it when people litter; and as if smoking weren't gross enough on its own (sorry, but it's true), I will never understand why people feel the need to make it even grosser by tossing their butts *left eye twitch*
4. On to something a little less sinister… I have no idea what it is, but I adore the smell of tomato stems…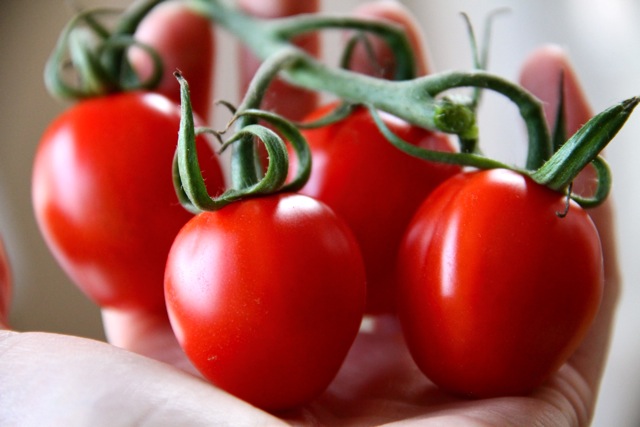 I have a slight inkling that it might be because it reminds me of summertime as a child. My mom used to do a lot of gardening when I was younger, and I remember spending a lot of time playing around the garden and breathing in all the fragrant greeny smells. Good times for sure.
5. That being said, I don't think anything will ever replace coffee as one of my all-time favorite smells.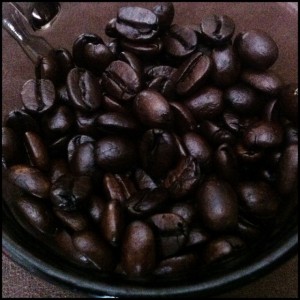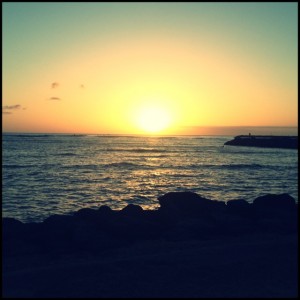 I brought some kona coffee back from Hawaii with me, and sipping on it definitely takes me back to the mornings I spent watching the sun rise over the ocean… *tears up* … Still not ready to talk about it…
6. It snowed last night; and it's currently -17ºC (1ºF). That's all I have to say about that…
7. I somehow managed to forget my wallet at home the other day when I went to volunteer, and since turning back was kind of out of the question because I was running kind of late, I took a chance and kept driving… without my license. Given my horrible luck with the police, it's kind of a miracle that I didn't get pulled over.
8. On one of my flights back from Hawaii, I somehow got sucked into watching Here Comes the Boom. The movie itself wasn't anything special, but I loved it because it reminded me of a song that I used to be absolutely obsessed with…
[youtube="http://www.youtube.com/watch?v=ufb6T-av-rU&w=560&h=315″]
9. Have you guys heard the sad news about Google Reader? Come July 1st, Google Reader will be no more. I've been using Reader for years now and I'm kind of at a loss over what to do… Looks like I'll have to start getting more familiar with Bloglovin. Bah. I'm getting too old for all these technology changes…

10.  So today is pi day (3.14) and I really feel like I should be celebrating with some pie, but the thing is… I'm not a big fan of pie 😯 That being said, I do need to do some baking because, like I mentioned in my last post, I'm suffering from serious homemade goodies withdrawal. But what to make?! I'd love to share a recipe with you guys, so let me know if you'd like to see cookies, muffins, bars, or a loaf.
. – . – . – .
Do you have any collections? Did you collect anything as a child? I have a pretty epic Disney movie collection going, and when I was younger I collected stickers, Pogs, My Little Pony, and beanie babies.
Cookies, muffins, bars, or a loaf? 😀
What do you use to follow blogs? Google Reader? Bloglovin'? E-mail? Something else?