Apples and warming spices compliment each other perfectly while Greek yogurt helps create a ridiculously soft, fluffy, and delicious quick bread!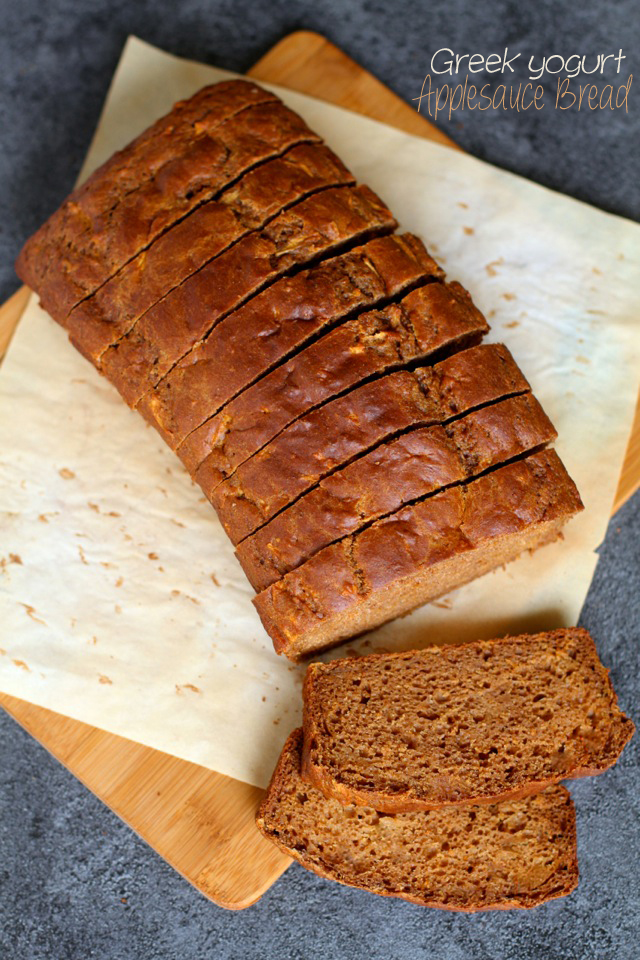 In a perfect world, all of my kitchen endeavours would go according to plan. I'd be hit with a brilliant recipe idea, execute it seamlessly, and maybe even have someone clean up the mess I [inevitably] make in the process.
This is not a perfect world.
This is a world where I burn a batch of muffins because I think I'm too cool for school to need a timer… promising myself that I'll remember that I'm baking, which works for approximately 5 minutes before I get side tracked by something else and completely forget about what's in the oven. Oops.
This is a world where I attempt to whip up a second batch of aforementioned muffins, only to realize that I used up the last of my muffin liners on the batch I just burned and I can't run out to buy more because the dough can't be left to sit out that long. Oops.
Consequently, this is a world where I end up with a loaf of bread instead of a batch of muffins…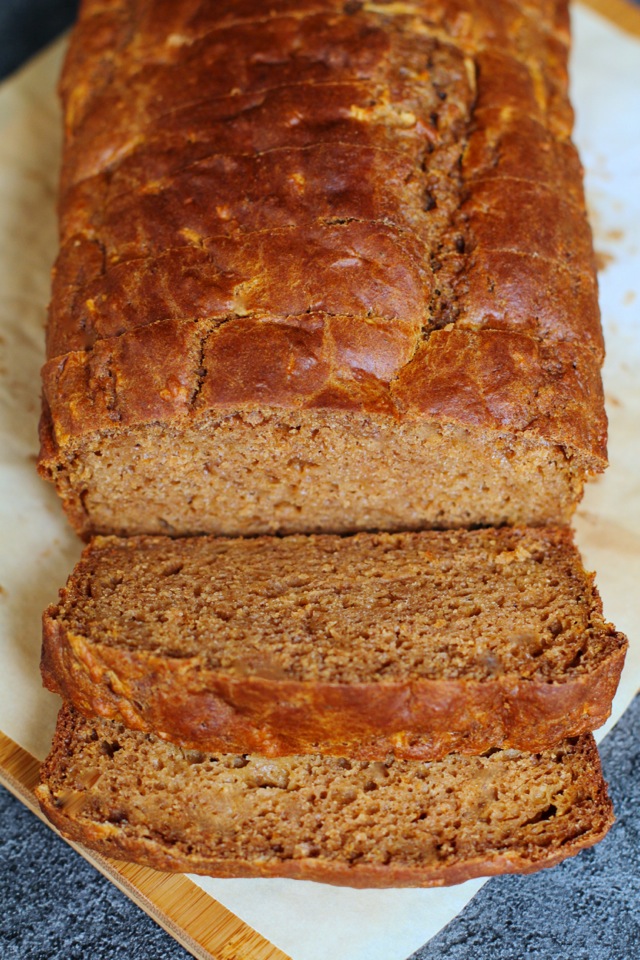 A loaf that I meant to divide into 12 hearty slices, but somehow only ended up with 11…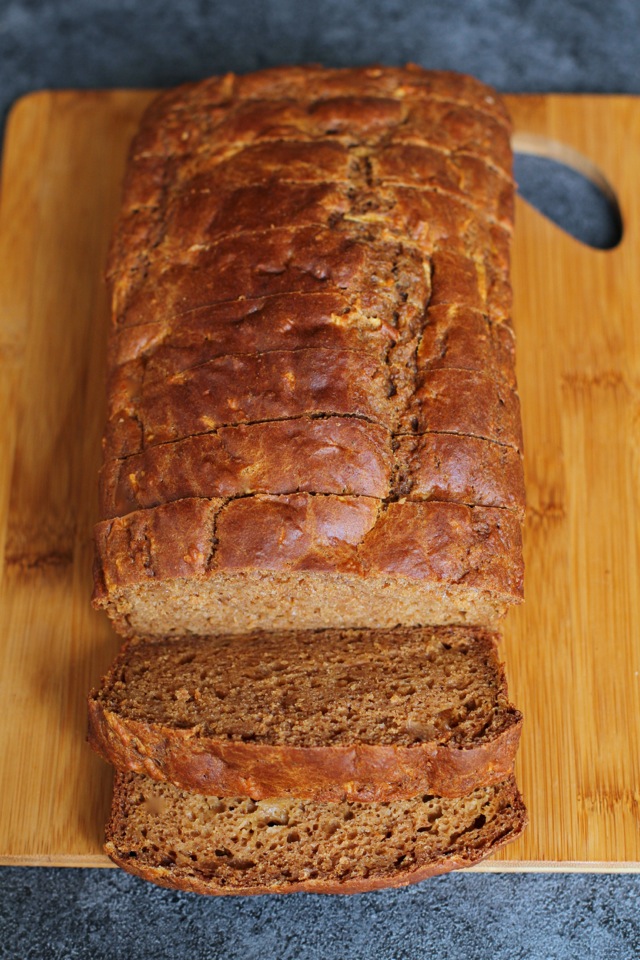 Admit it — you just counted them 😉 And no, I didn't eat one — I ate two.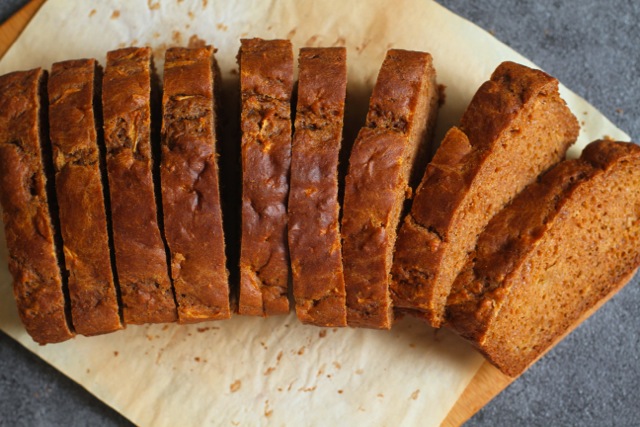 Admit it — you just counted them again 😉
But in my defense, photographing food is tiring (read: tempting) work, and it was just the butts — no one cares about those. Do they? I don't know. What I do know is that despite all the SNAFUs I ran into while whipping up this batch of muffins loaf of bread, the end result came out better than I could have imagined.
I tell ya — Greek yogurt can do no wrong; and if you've never tried baking with it, you need to change that stat…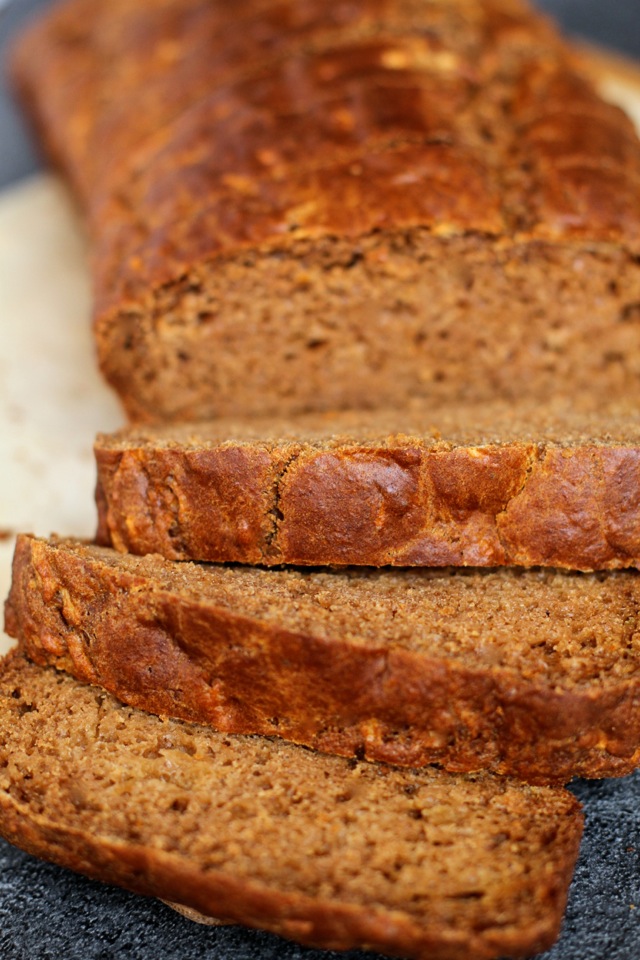 Picture this. You sink your teeth into a thick slice of subtly sweet bread with a slightly chewy exterior that gives way to a soft and fluffy interior. You immediately detect a tantalizing blend of warming spices, accented by a subtle hint of apple. The flavours mix, complimenting each other perfectly, and result in a comforting loaf of amazingness that calls to you [again, and again, and again].
This bread is almost impossible to resist, but with ingredients like Greek yogurt, apples, and coconut oil, you're more than fine with enjoying more than one slice… preferably warmed up with a slice of butter.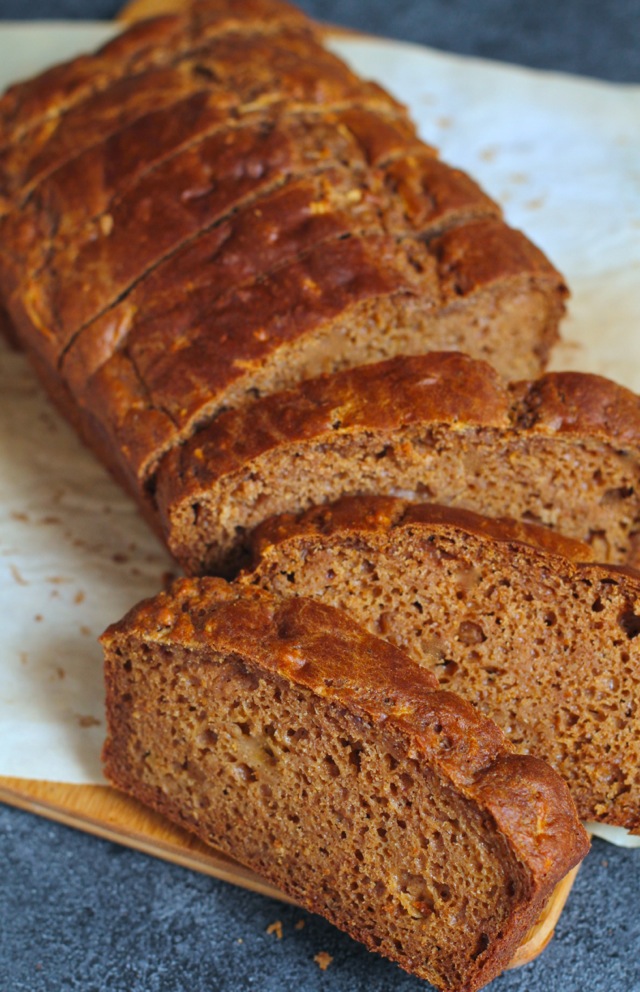 I'd love to know if you make this (or any!) recipe! Tag @runwithspoons on Instagram and Twitter, and be sure to subscribe to our mailing list to receive more healthy and delicious recipes straight to your inbox!
Print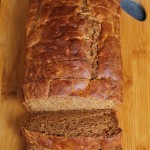 Spiced Greek Yogurt Applesauce Bread
---
Author:

Total Time:

1 hour

Yield:

12

hearty slices

1

x
1 3/4 cup

all-purpose flour

1 tsp

. baking soda

1/2 tsp

. baking powder

1 Tbsp

. ground cinnamon

1 tsp

. ground ginger

1 tsp

. ground nutmeg

1/4 tsp

. salt

2

eggs

1 cup

unsweetened applesauce

1/2 cup

brown sugar

1/2 cup

plain Greek yogurt

2 Tbsp

. coconut oil, melted

1 tsp

. vanilla extract

1

apple, peeled and grated
---
Instructions
Preheat your oven to 350ºF and lightly grease a 9 x 5 bread pan.
In a large bowl, combine flour, baking soda, baking powder, spices, and salt. Stir until well combined and set aside.
In a separate bowl, whisk the eggs until slightly frothy. Add applesauce, brown sugar, Greek yogurt, coconut oil, and vanilla extract. Stir until well combined.
Gradually add dry ingredients to the wet ingredients and stir until just combined. Do not overmix. Batter will be thick and lumpy – this is fine. Gently fold in grated apple.
Pour batter into prepared loaf pan and bake for 50-55 minutes, or until top is set and a toothpick inserted into the centre comes out clean.
Remove from oven and allow bread to cool in the pan for 20 minutes before removing and setting on a wire rack to cool completely.
Prep Time:

10 mins

Cook Time:

50 mins
Keywords: applesauce, applesauce bread, Greek yogurt, Greek yogurt bread, quick bread
Looking for more apple recipes? Try one of these!
Applesauce Oatmeal Muffins
Gluten-Free Apple Cinnamon Bread Pudding
Apple Pie Protein Smoothie