A non-traditional pizza that replaces tomato sauce with pumpkin hummus and trades in pizza dough for a simple tortilla that gets crispy on the edges and remains soft and gooey towards the centre.
Happy Valentine's Day! And if not… Happy Eat-ALL-The-Chocolate Day! And if not that either, well then… TGIF! That's something we can all agree on, right? 😀
To be honest, I've never really understood why some people hate on Valentine's so much. I mean, yes it's become too commercialized; yes love should be celebrated every day; and yes it's not necessarily the most pleasant reminder for those of us who have to spend it alone (the joys of being in a long distance military relationship #exceptnotreally), but any day that lets me get a little more excited about things is a good day in my books. And yes… I do get excited about all of the hearts, the pink, the love songs, and the chocolate… ohhhhhh the chocolate… wait, what?! 😯 Sorry, I was having a moment. Moving on.
You guys know how much I've been loving on chocolate lately, which is why the fact that I'm not posting a chocolate recipe on a day that's basically all about chocolate (read: love) makes absolutely no sense at all. But I have my reasons, which I'm sure you'll be able to appreciate if you find yourself flying solo tonight too (have I mentioned the joys of an LDR?). Or if you're just a fan of good food in general…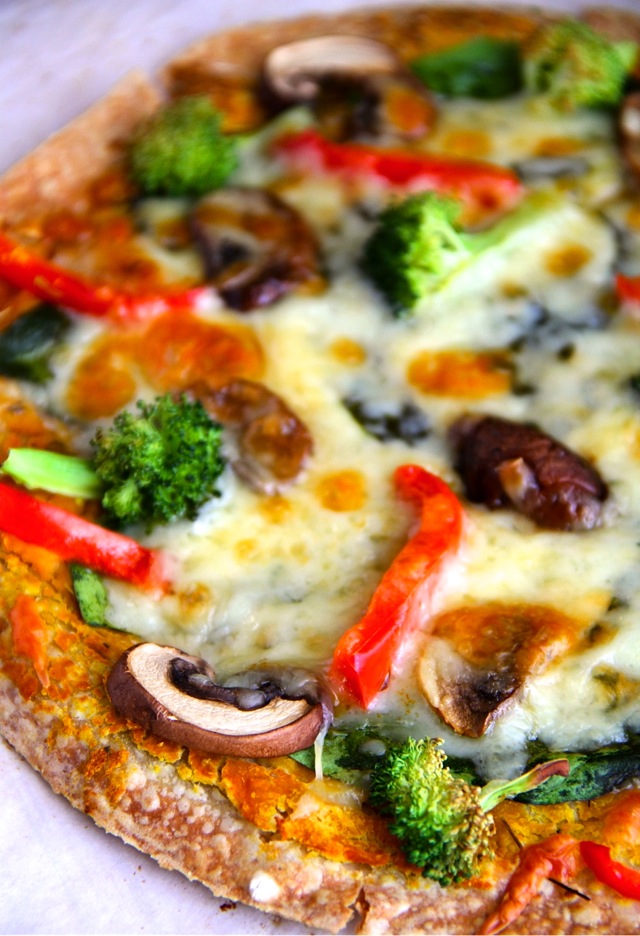 If you've been reading Spoons for a while, then the above picture probably looks pretty familiar to you. If not, then I hope it entices you 😉 This recipe has been around for almost as long as I've been blogging, but as with my oatmeal cookie dough smoothie, it's never gotten its own post and today seemed like a good day to give it one. Why? Because it's the perfect meal no matter what your status — individually sized for one, but quick and easy enough to double if you're cooking for two. It also happens to be pretty darn delicious…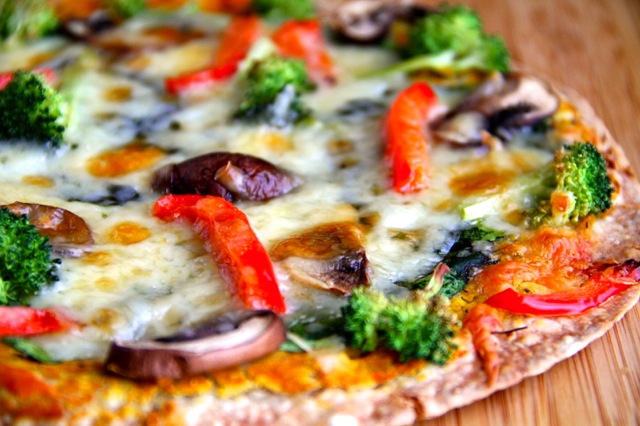 The secret? Nixing the tomato sauce and replacing it with a combination of pumpkin puree and hummus, which may sound odd at first blush, but trust me when I say it's out.of.this.world amazing. As is using a tortilla in place of pizza dough. I'm all for big fluffy crusts, but a) I'm still too intimidated by yeast to try making my own, and b) I haven't come across a store-bought version that I like, so… a tortilla it is! This may seem like a cop out, but I'm a huge fan because it gets wonderfully crispy around the edges while remaining gooey near the centre, and it really lets you taste all the toppings — which you can customize to your heart's content!
So even if you don't have anyone to celebrate this Valentine's with, treat yourself to a delicious dinner, a glass of wine, and some chocolate for dessert… and enjoy the fact that you can have an entire pizza to yourself without having to share with anyone else 😉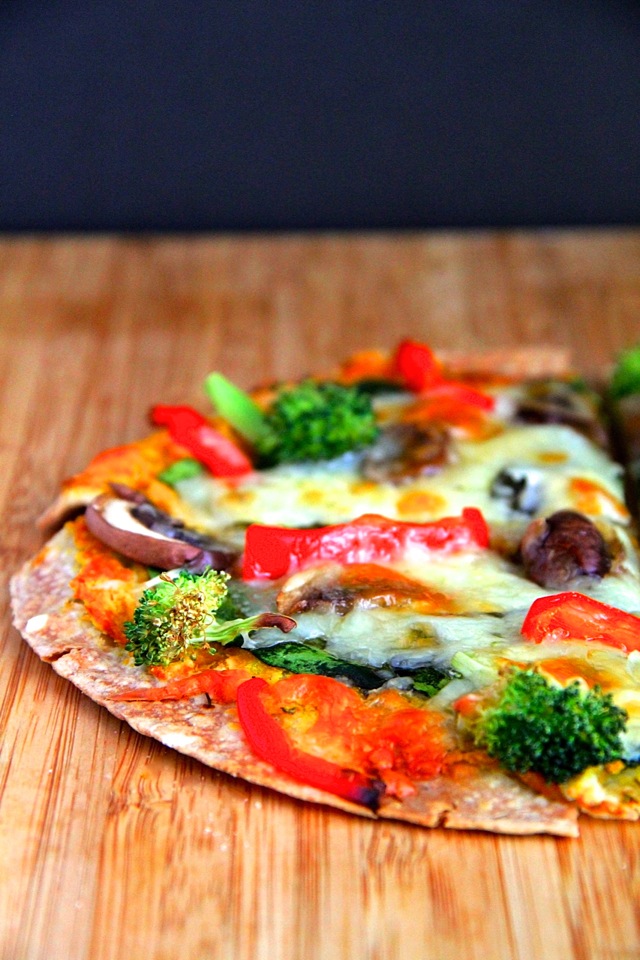 I'd love to know if you make this (or any!) recipe! Tag @runwithspoons on Instagram and Twitter, and be sure to subscribe to our mailing list to receive more healthy and delicious recipes straight to your inbox!
Print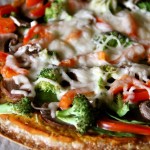 Pumpkin Hummus Tortilla Pizza
---
1

tortilla/wrap of your choice (I use a Food For Life brown rice tortilla)

2 Tbsp

. canned pumpkin puree

2 Tbsp

. hummus
spices of your choice (thyme, basil, oregano, rosemary, etc)
small handful of baby spinach leaves
your choice of chopped veggies (mushrooms, bell peppers, broccoli, etc)
your choice of extra toppings (tofu, meat, cheese, avocado, apples, figs, etc)
---
Instructions
Preheat the oven to 350°F and line a baking sheet with parchment paper.
Place the tortilla on the baking sheet, spreading it evenly with pumpkin first, then hummus, until the entire surface is covered.
Sprinkle on the spices, then create a thin layer of baby spinach leaves, discarding any stems.
Spread the veggies over the spinach, as well as any extra toppings that you choose.
Bake for 20 minutes and allow to cool slightly before enjoying.
Prep Time:

10

Cook Time:

20
Keywords: gluten-free, homemade pizza, hummus, individual pizza, pumpkin, pumpkin hummus, tortilla pizza