Soft, chewy, and allergy-friendly, these delicious no-bake chocolate sunflower seed butter granola bars are free of all the common food allergens so that EVERYONE can enjoy them!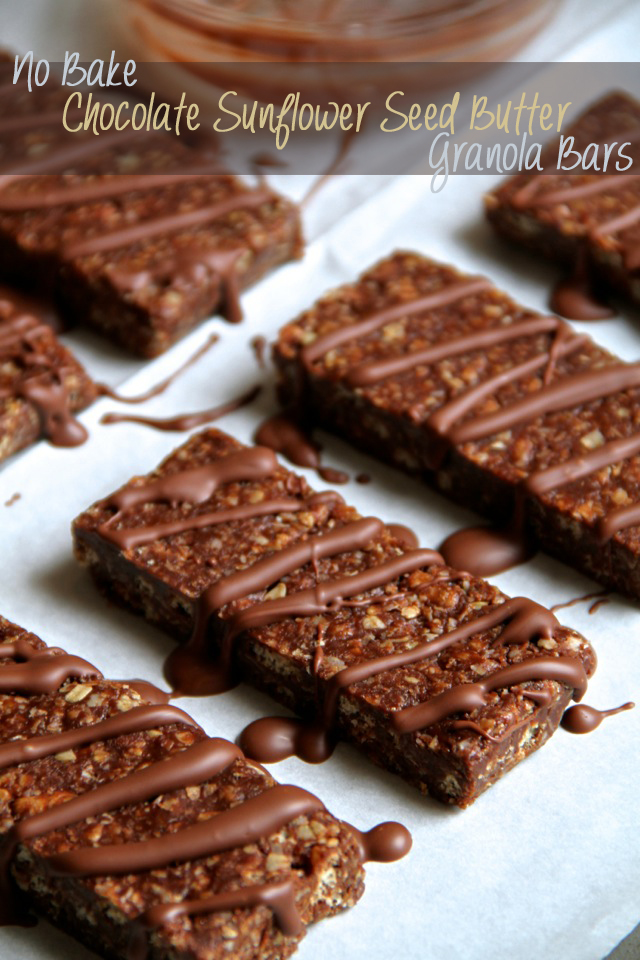 That title, though — what a mouthful. I tried to shorten it, but believe it or not, that was the best I could do without leaving out any important information
I couldn't get rid of the "no-bake" because it shows that these bars are quick and easy to make. I couldn't get rid of the "chocolate" because it means that these bars are delicious (obviously). I couldn't get rid of the "granola bars" because… well… that's kind of what these are. And while I briefly considered removing the "sunflower seed butter," I couldn't do that either because it's the most important point of all — it shows that these bars are allergy friendly.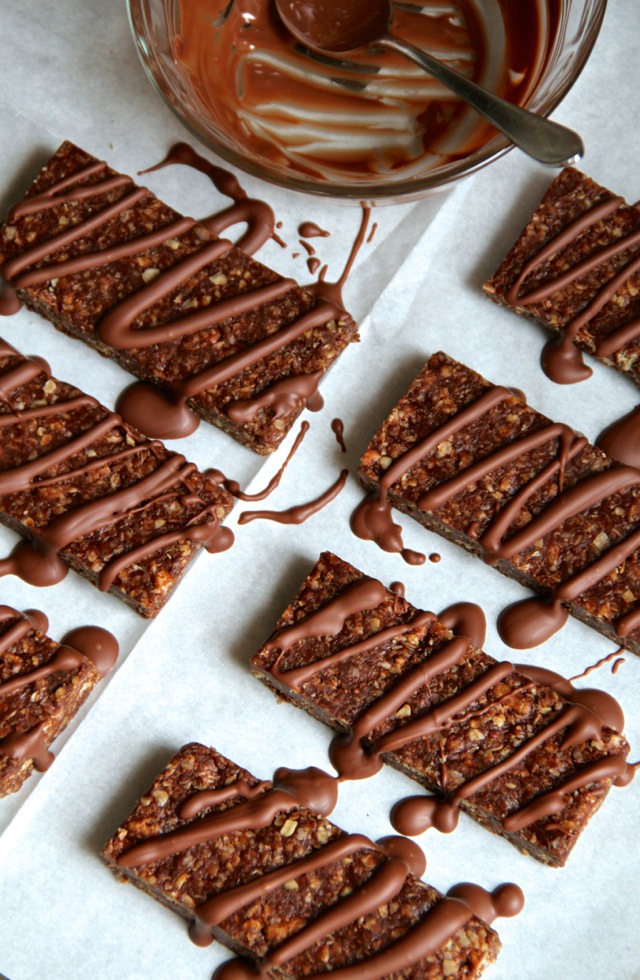 Food allergies have become a hot topic over the past couple of years. Back in my day, gluten-intolerance wasn't even a thing, and I'm pretty sure that I was the only one I knew of throughout all of my grade school years that had some kind of serious food allergy (damn you, pesky peanuts!!!).
Now, though? Even people who don't need to avoid gluten are avoiding gluten (don't even get me started on that one), and while nowhere near as mainstream, more and more consideration is being shown to those of us with nut allergies as well… which is a fact that I'm extremely happy about because back in my day (here I go again), I distinctly remember going to school and sitting next to kids who were chowing down on a peanut butter and jelly sandwich — something which very well could have killed me had I taken an innocent, curious bite.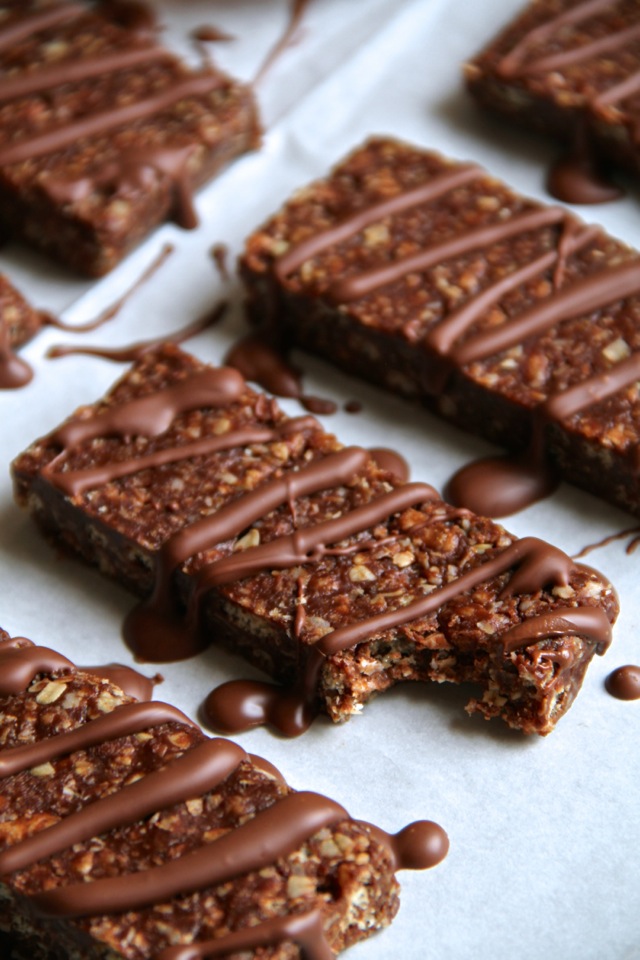 I occasionally hear people complain about the fact that more and more public places are becoming nut-free zones, and it takes all of my willpower to keep myself from shooting them with a serious stank eye and a rude retort. Like… I'm sorry you are mildly inconvenienced by something that could be potentially fatal to me. How inconsiderate of me to be born with a severe food allergy.
I kid, I kid. I don't get that worked up about it, but I'll admit that seeing nut-free labels on things/places does make me feel all warm and fuzzy inside… unlike the days where I had to pass on birthday cake at parties because I didn't know what was in it, or when my favourite candy bars suddenly started coming with a "may contain traces of peanuts" label, instantly making them off-limits (I'm looking at you, Twix!!!). It's a step in the right direction in a world where food allergies are becoming more and more prevalent.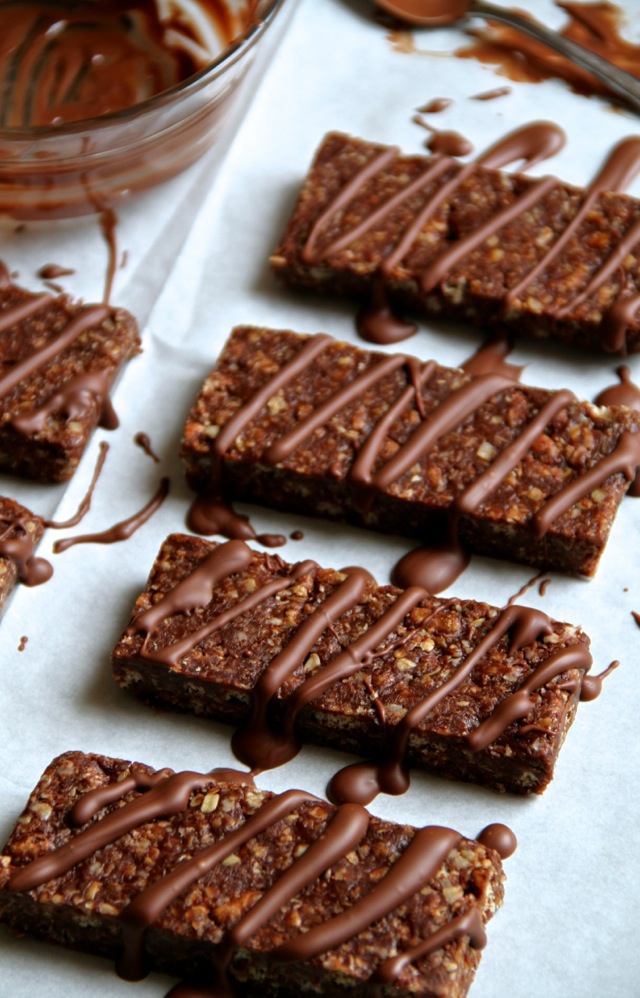 But that in itself is a whole other topic for a whole other day. I'm not going to get in to the fact that what we're doing to our food supply is sick and going to catch up with us down the road. Instead, I'm going to share the recipe for these chocolate sunflower seed butter granola bars which, despite being a mouthful, are: nut-free, egg-free, gluten-free, dairy-free, corn-free, and soy-free, meaning that everyone can enjoy.
Happy eating!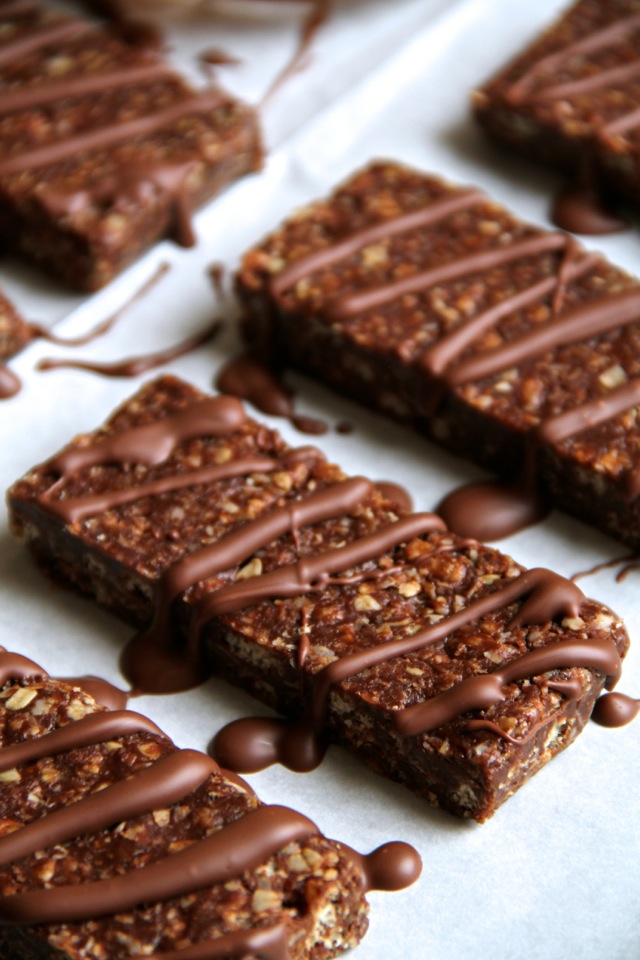 I'd love to know if you make this recipe! Leave a comment and rating down below to let me know what you think, and subscribe to our mailing list to receive new recipes in your inbox!
Print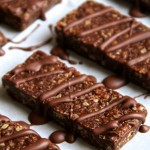 No Bake Chocolate Sunflower Seed Butter Granola Bars
---
Author:

Total Time:

10 mins

Yield:

10

bars

1

x
1/2 cup

(

128 g

) sunflower seed butter* (I like Sunbutter)

1/2 cup

(

160 g

) brown rice syrup**

1/4 cup

(

20 g

) unsweetened cocoa powder

1/4 tsp

salt

1 1/2 cups

(

102 g

) quick oats***

1 cup

(

30 g

) crispy rice cereal

1/4 cup

(

45 g

) vegan chocolate chips
---
Instructions
Line an 8×8 (20x20cm) baking pan with a sheet of aluminum foil, leaving a few inches of overhang on the sides to allow for easy removal. Set aside.
In a medium saucepan over medium heat, add the sunflower seed butter and brown rice syrup, stirring until the sunflower seed butter is melted and fully combined with the syrup. Add the cocoa powder and salt, and stir until smooth.
Remove the saucepan from the heat and stir in the oats. When the oats are well incorporated, add the cereal, stirring gently to avoid crushing it.
Transfer the mixture into your prepared baking pan, using your fingers or a spatula to ensure that it is pressed down firmly and evenly. Cover the pan with a sheet of foil and place into the fridge to set, at least 2 hours but preferably overnight.
When the bars have set, remove them from the pan using the foil overhang, and use a sharp knife to cut them into individual bars.
Place the chocolate chips in a microwave-safe bowl and microwave them on high in intervals of 20 seconds, stirring regularly to ensure they don't burn. Once fully melted, use a spoon to drizzle the chocolate over the bars and transfer them to the fridge for ~15 minutes to allow the chocolate to set.
Notes
* You can also use almond or peanut butter if you're not concerned about allergies. ** You can also use honey if you don't need these to be strictly vegan. *** This recipe requires the use of quick oats or the bars may not stick together properly. Also, make sure you use certified gluten-free oats if you need these to be gluten-free.
Keywords: chocolate, chocolate granola bars, food allergies, gluten-free granola bars, no-bake granola bars, nut-free granola bars, sunflower seed butter, sunflower seed butter granola bars

Looking for more healthy no-bake recipes? Try one of these!
No-Bake Vegan Oatmeal Fudge Bars
No-Bake Double Chocolate Fudge Protein Bites
Vegan Chocolate Chip Cookie Dough
No Bake Brownie Batter Truffles
No Bake Protein Brownie Cups