These no bake brownie bites taste and feel just like a batch of soft-baked brownies but are made without flour, oil, eggs, or refined sugar. They're gluten-free, vegan, and come together in under 10 minutes. A healthy and delicious way to satisfy those chocolate cravings!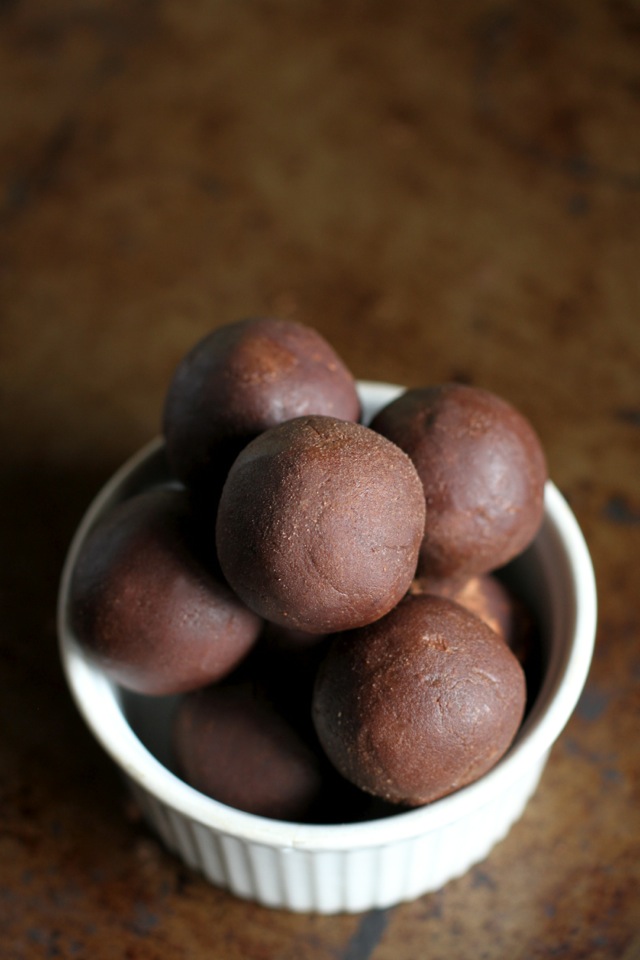 Hellooooooo chocolate cravings!
In a sea of pumpkin and apple everything, this girl has been craving chocolate. Bad. Like… "resort to eating straight up cocoa powder with a spoon if nothing else is available" bad.
I'll leave the 'Why?' up to your lovely little imaginations to decide, while I continue to cram cocoa into my body through every possible medium available… including [but not limited to] these no bake brownie bites that I recently had the pleasure of exposing my tastebuds to.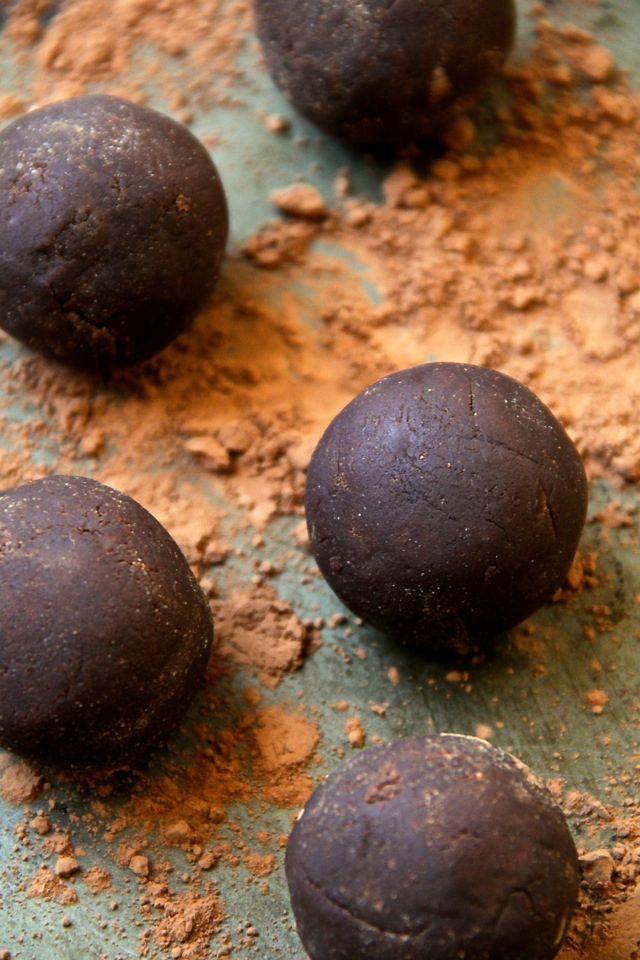 Ho.ly.cow.
I'm pretty sure that I've never used this phrase to describe anything before, but these bites are on FLEEK. And now that I've said that, I'm just going to put "fleek" right next to "bae" on the list of words that don't belong in my vocabulary and. Kids these days and their crazy made up languages — I can't even.
But before I go all "back in my day" on you, let's talk bites.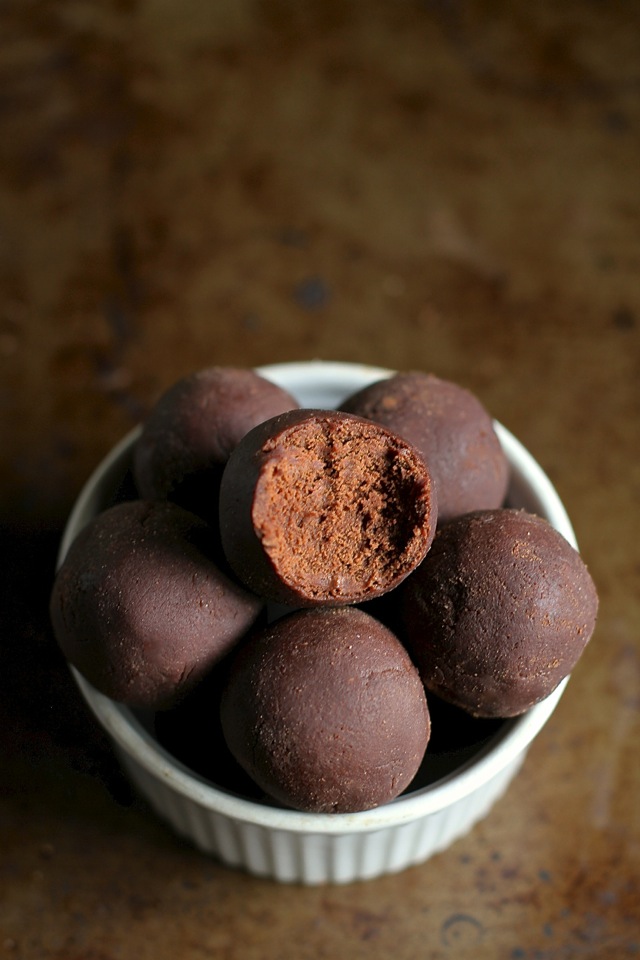 While these no bake brownie bites may not be on fleek, they are on point, with everything from their soft and fudgy texture to their intense chocolate taste reminding me of those cute little two-bite soft baked brownies you can pick up from the store. Except they're made without flour. Or oil. Or refined sugar. Or eggs. And they also happen to be gluten-free. And grain-free. And vegan. And pack a nice little protein punch.
Oi. I can't help but feel like a repetitive infomercial whenever I write my recipe posts. Most of the time I just want to bombard you with pictures and be all: "Here! Food!"… buuuuuut I figure people want to know some of the finer details of what they're committing to before committing to it, hence all the labels and cliches. And pictures showing that soft and fudgy texture.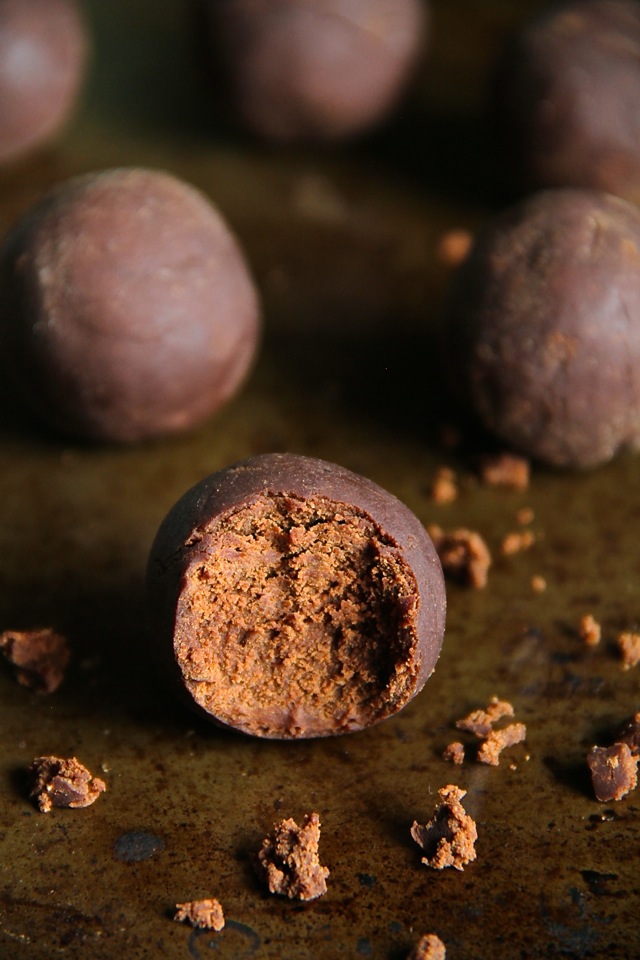 Then again, I can't help but wonder if people actually read recipe posts at all, or if they just scroll through looking at pictures and the actual recipe.
I do it. Not with every recipe or food blog I come across, but for the most part I skim, pin, and go on my merry way. There's just a lot of food blogs out there! And unless it's a friend or a blog that I've been following for a long while, there's no way I'd have the time (or desire… let's be honest) to actually read and comment on every single one. So I pick and choose my battles.
And if you've picked and chosen Spoons as one of your must-reads, then hey… thanks a bunch. Have a no bake brownie bite on the house.
Happy eating!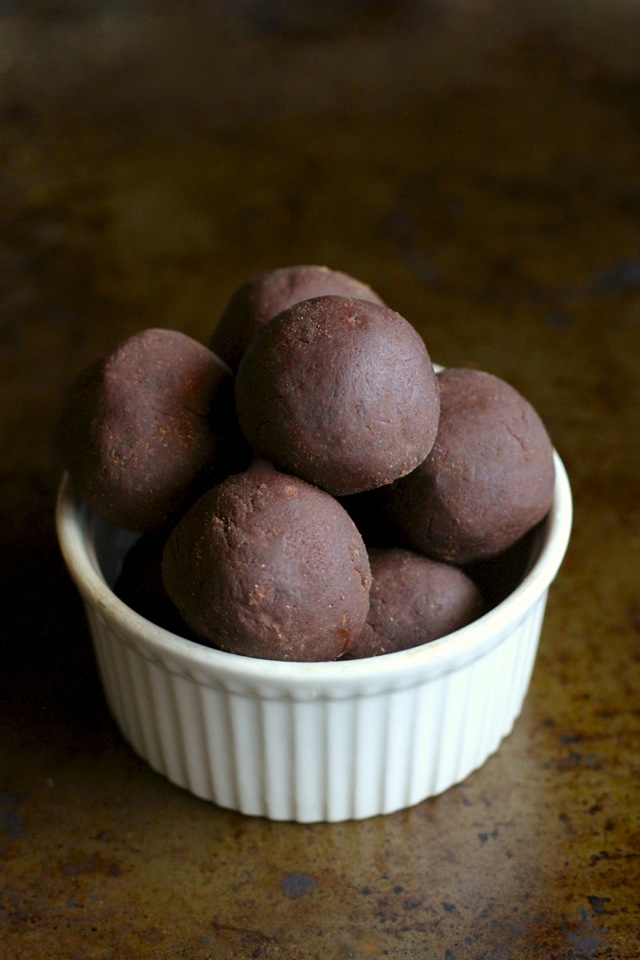 I'd love to know if you make this recipe! Leave a comment and rating down below to let me know what you think, and subscribe to our mailing list to receive new recipes in your inbox!
Print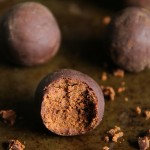 No Bake Brownie Protein Bites
---
Author:

Total Time:

10 mins

Yield:

8

–

10

bites

1

x
1/4 cup

(

28 g

) coconut flour

1/4 cup

(

20 g

) unsweetened cocoa powder

1/2 cup

(

40 g

) chocolate protein powder*

5 Tbsp

(

100 g

) brown rice syrup**

2 Tbsp

(

32 g

) nut or seed butter***

2 Tbsp

(

30

ml) non-dairy milk
---
Instructions
Add all ingredients to the bowl of a food processor or blender and process until they have fully combined to form a dough. Depending on the ingredients you used, you may need to add a splash of extra milk or a small sprinkle of coconut flour. The mixture should stick together easily when pressed without being overly sticky.
Using a heaping tablespoon, roll dough between your hands to form balls. Set aside on a plate and repeat with remaining dough. Store balls in an airtight container at room temperature, or in the fridge for extended periods.
Notes
* I used a brown rice protein to make these vegan, but feel free to use whichever protein is your favourite. Just note that different types of powders absorb liquid differently, so you might have to adjust how much milk you add depending on which you use. ** You can also use agave nectar, or honey if not strictly vegan. *** I've made these with both almond and soy nut butter (to make them nut-free), and both versions turned out just fine. The only thing I might suggest is using a no-stir butter, since the oils in the natural kind can alter the texture.
Keywords: brownie bites, chocolate, gluten-free, grain-free, healthy, no bake, no bake brownie bites, protein, recipe, vegan

Looking for more healthy chocolate recipes? Try one of these!
Healthy Chocolate Fudge Bites
Chocolate Overnight Oatmeal Smoothie
Flourless Chocolate Zucchini Muffins
Flourless Chocolate Banana Bread
No Bake Brownie Batter Truffles