Hi friends! Happy official first day of Fall!
It actually feels funny to say that, because things have been looking Fallish around here for quite some time now…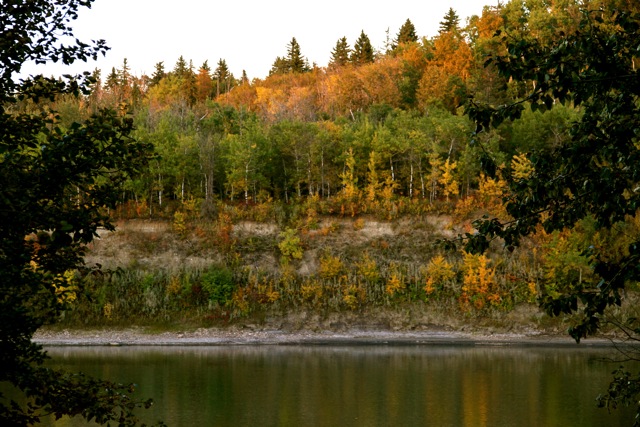 On an evening stroll through our river valley.
Has Fall started showing its colors in your neck of the woods yet? If not, you're more than welcome to come visit me up in Alberta (just warn me in advance so that I can bake up a batch of chocolate chip cookies and put on a pot of cinnamon spice coffee), because the yellows, oranges, and reds are already out in full force around here…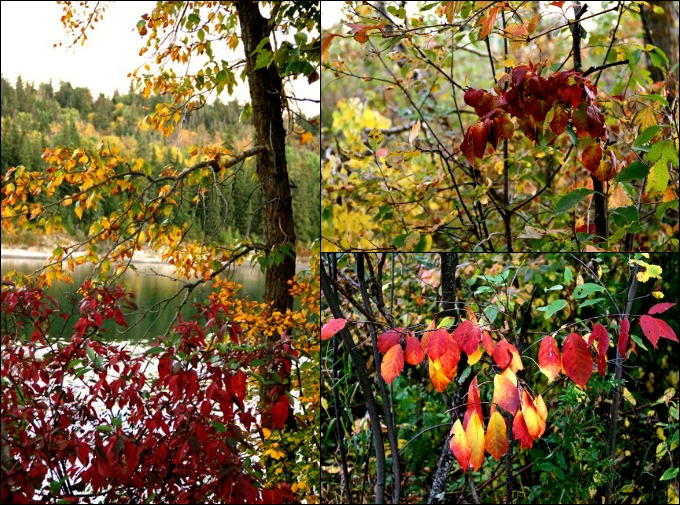 Not that I'm in any way complaining. Fall is, undoubtedly, my favorite of all the seasons. Gorgeous colors and delicious flavors aside, there's just something so peaceful about this time of the year, and there's nothing I find more relaxing than being outside on a warm Fall day taking in all of the sights and smells around me. Bliss.
Unfortunately, Fall also tends to be fleeting – it seems like in the blink of an eye all the trees are bare and it's already time to start pulling out the Christmas decorations (not that that's necessarily a bad thing). For that reason, I've been putting together a list of things that I'd like to do in the next couple of months to really help me take advantage of my favorite time of the year – a Fall bucket list, if you will…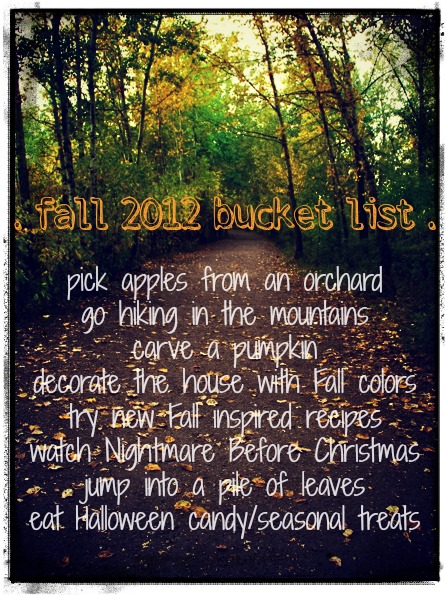 I'd have to say that the two things on my list that I'm most excited about are: going hiking in the mountains and trying new Fall inspired recipes. I live about a 3 hour drive away from the mountains, and although I've seen them plenty of times in the summer and winter, I've yet to see them in the Fall. As for trying out new recipes, I've gotten really lazy in the kitchen over the summer and basically stopped cooking/baking completely. Now that the weather is cooling down and some of my favorite flavors are coming back into play, I thought it would be a great time to get back in there and see if I can work some magic without burning the house down. Can.not.wait.
Happy Fall! Now get outside and enjoy it!
. – . – . – .
What are some of the things on your Fall bucket list?