After a hiatus of almost one.whole.year, the monthly favourites posts are back!
I can't really remember why I stopped doing these, but I think it was because I wanted to streamline them a little and only focus on blog-related things… which worked until it didn't. Those posts (At A Glance's…) started feeling a little dry after a while, and I knew it was time to switch things up when I stopped wanting to do them altogether. I started playing around with the idea of bringing my favourites posts back, and your guys' positive response just sealed the deal… #coolstorybro.
So without further ado, here are some of the things that October saw me loving. I'm still playing around with how I want to do these posts, but for now I'm sticking to my original categories of: food, beauty, odds & ends, and blog things.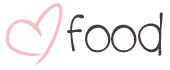 First up are cacao nibs…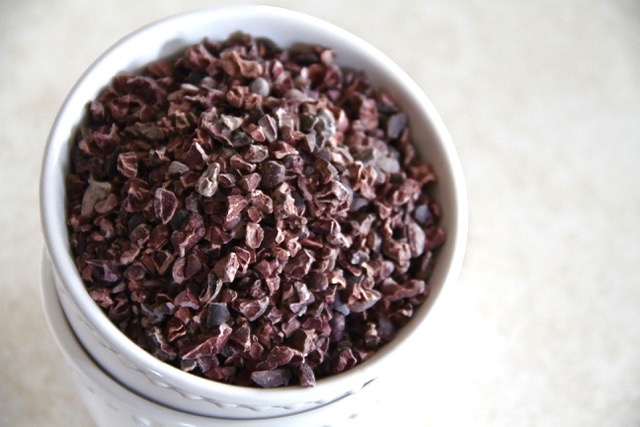 I've been using the ones from Organic Traditions, but there are plenty of companies out there that sell them — it's a good idea to try a few different ones since the flavours can vary depending on how long they're roasted (OT are not roasted).
So cacao nibs are cacao beans that have been roasted, separated from their protective husks, and broken into small pieces. They're basically a "raw" form of chocolate, and give even more health benefits than dark chocolate since they're so much less processed and closer to the original source. What kind of health benefits? Glad you asked!
Cacao nibs are one of the best dietary sources of magnesium (which is important in muscle and nerve function), as well as a great source of potassium and iron (which is essential in red blood cell production and oxygen transport).
They're also a great source of fibre (missing from more processed forms of chocolate), which not only helps keep you fuller longer, but is an important component in proper digestion.
Cacao nibs are loaded with antioxidants, which combat the free radicals in our bodies that cause damage to our cells.
They also stimulate the brain to release certain neurotransmitters that are tied to good mood, and they contain adrenal-related chemicals (phenylethylamine) and caffeine that help us stay focused and awake.
Not bad, eh? But I mostly just love them for their intense chocolate flavour and unique texture. They're not at all sweet and have slightly fruity/flowery undertones, meaning it might be a bit of an acquired taste if you're used to milk or slightly dark chocolate, but the tender brittle-like crunch is crazy addictive. I love sprinkling them on smoothies, oatmeal bowls, and ice cream, or replacing some of the chocolate chips in my baking.
And while we're on the topic of cacao nibs, this Dark Cacao bar from Alter Eco Foods is LIFE.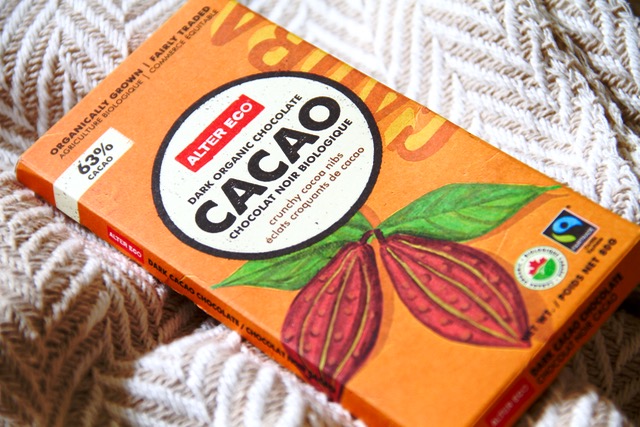 I would show you the actual bar, but… uhm… I eated it 😳
Smooth and creamy dark chocolate studded with crunchy cacao nibs. And the best part is that the bar is fair-trade, organic, vegan, soy-free, gluten-free, and non-GMO. Perfection.
In non-chocolate news, I have been LOVING this Cinnamon Apple Spice tea from Celestial Seasonings.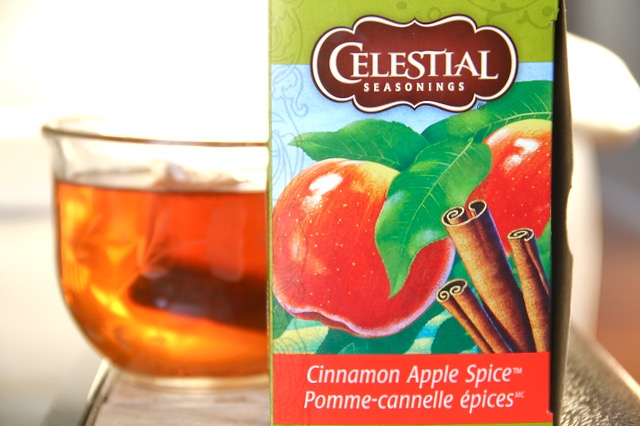 It still doesn't beat Hot Cinnamon Spice as my #1 tea, but the flavour is pretty darn close (slightly sweet with plenty of cinnamon flavour and hints of orange), and I love that it's naturally caffeine-free so I can drink it at any time without having to worry about getting buzzed.
And because I'm slightly biased, I've just gotta toss those blog recipes in there 😀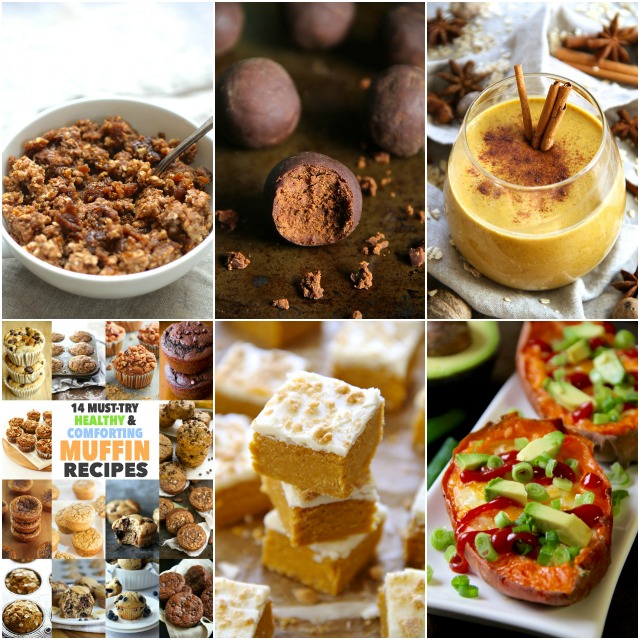 Vanilla Chai Breakfast Bake
No Bake Brownie Bites
Pumpkin Spice Overnight Oatmeal Smoothie
14 Must-Try Healthy and Comforting Muffin Recipes
Soft and Creamy No Bake Pumpkin Cheesecake Bites
Baked Egg Stuffed Sweet Potatoes

Moving on to things I put on my body, this first product is one that I've mentioned before but need to mention again because I love it that much, and that's the Magic Lumi Light Infusing Primer from L'Oreal.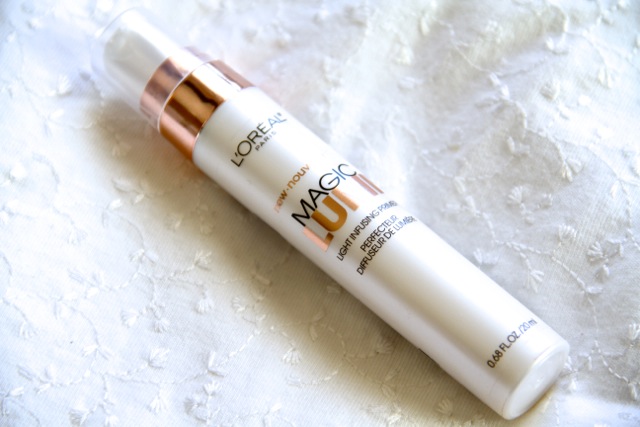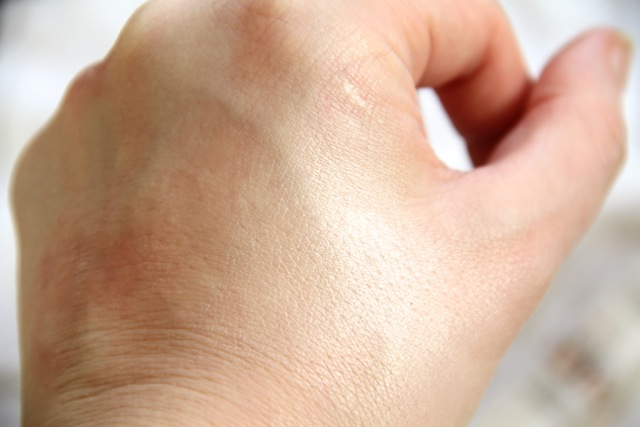 If you think that putting a primer under your makeup is just an unnecessary extra step, then I highly suggest that you reconsider and give it a go. Not only does it:
give your skin a luminous, healthy glow,
minimize the appearance of fine line and pores,
make your skin feel like silk/velvet and makes makeup go on more smoothly, and
help makeup last longer and prevent it from oxidizing/shifting around on your face,
… but it also acts as a barrier between your skin and your makeup, which can actually help prevent breakouts. I've definitely noticed an improvement in my own skin after I started using primers regularly, and I've heard the same thing from several different people. The best part is that you can pick this primer up from the drugstore and it's relatively inexpensive, so there's no harm in trying it out to see how it works for you.
Another drugstore makeup product that I've been loving is this Instant Age Rewind concealer from Maybelline.
I don't suffer from really bad dark circles, so while I can't tell you how good it is at covering those up, I can say that it's probably one of my favourite under-eye concealers because of how good it is at staying put and not settling into my fine lines. That and it does a pretty good job at brightening things up and making me look fresher and more awake. And because it's drugstore, you don't have to worry about investing a lot of money to see if you like it.
. – . – . – .
Aaaaaand because I've already rambled on for close to 1200 words (seriously?!?!), I'm going to cut it short this month and end things here. Would you guys rather have me include more favourites and say less about them? Or less favourites and say more about them? Let me know!
Disclaimer: this post was not sponsored by any of the companies mentioned above. I genuinely love all of these products, and that's why I'm sharing them with you.

What's one thing you've been loving this month?
Have you ever tried cacao nibs? What did you think?
What's your favourite tea to drink in the fall/winter?
More places to find me!
E-mail — [email protected]
Twitter — runwithspoons
Facebook — runningwithspoons
Pinterest — runwithspoons
Instagram — runwithspoons
Bloglovin — runningwithspoons