Happy Monday, friendly faces! 😀
… and welcome to the last Monday of April! The closing of an old month calls for a new monthly favourites post, and while I know that April technically has a few more days left in it, I very much doubt that I'll fall in love with anything new in that time, and since I've already got other posts planned for the next few days, April favourites gets defaulted to today…
That's all for intros! Let's jump right in to the good stuff…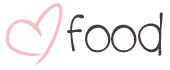 The foods of April were brought to you by the letter "C". First up, Chickpeas…
I buy the canned beans from Eden Foods because they're organic, salt-free, and come in a BPA-free can. I always have these grand notions of buying dried beans, soaking them, and cooking them up myself, but really… ain't no one got time for that! I tried it on a few occasions and after being less than impressed with the results, I threw in the towel and went with store-bought instead. Eden Foods cooks their beans in kombu, which enhances the flavour and gives them a softer texture. I can't even tell you guys how many cans I went through this month, and I've been enjoying them roasted, blended, and even straight up from the can…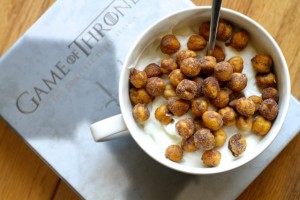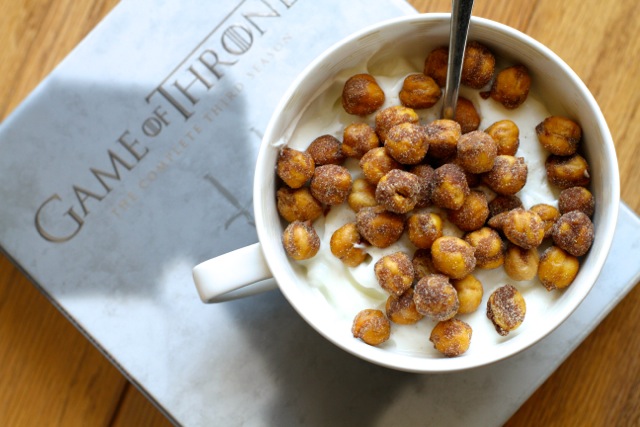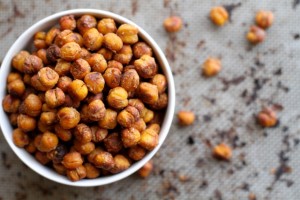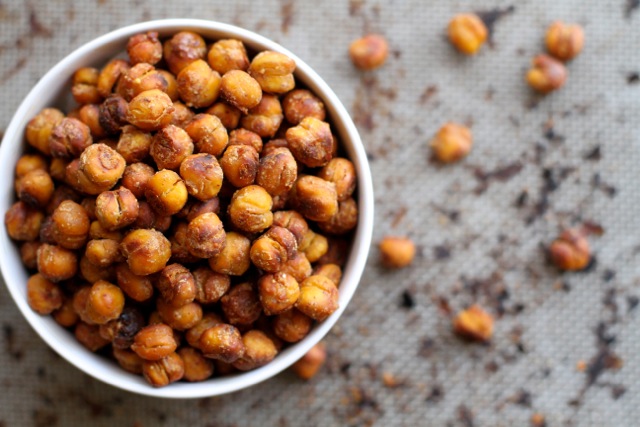 Next up? Chocolate. This one shouldn't come as a surprise considering Easter assaulted us with all things cocoa, but I was introduced to a new-to-me brand of chocolate this month that I kind of fell head over heels for…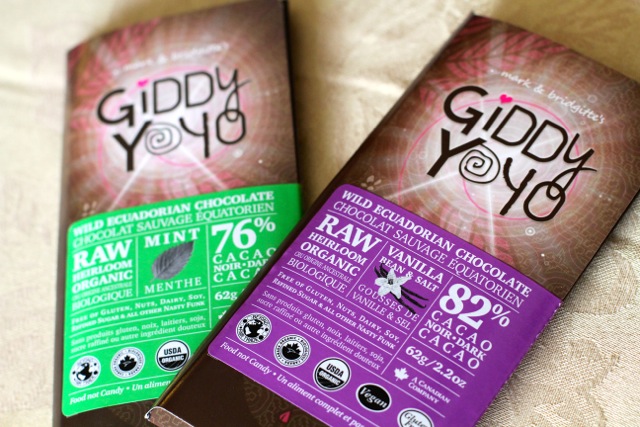 Giddy Yo Yo — organic, fair-trade, and 100% raw chocolate. Not only do the bars have an amazingly deep and complex chocolate flavour, but the company itself kicks some serious butt. They're dedicated to using the highest quality and most nutrient dense ingredients available, as well as improving the quality of life for many Ecuadorian workers. As an added bonus, their products are also free of gluten, nuts, dairy, soy, refined sugar, and "all other nasty funk" 😉
And if you need further proof that I was obsessed with both of those C's this month, just take a look at April's recipes…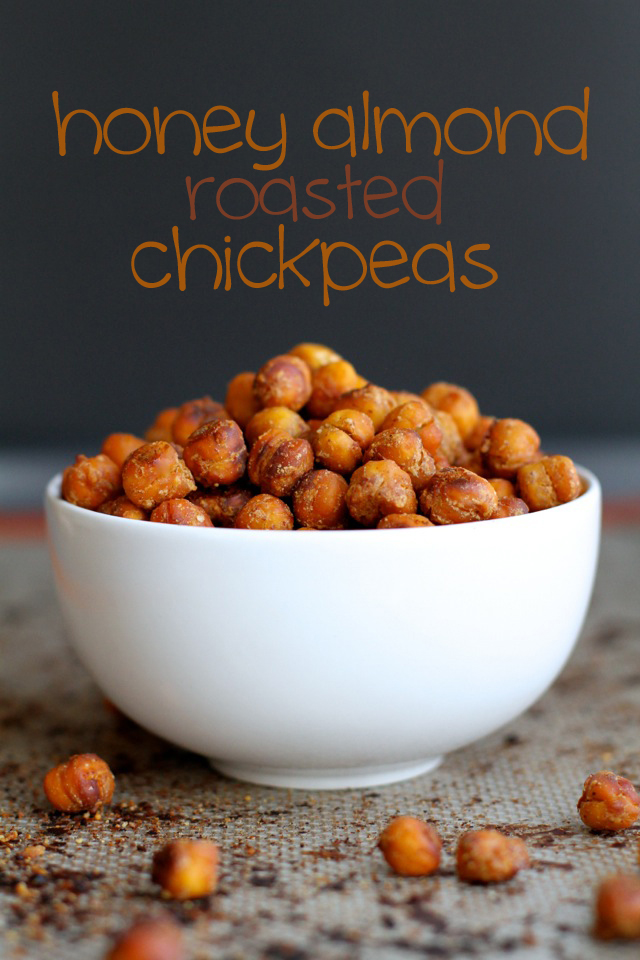 Crunchy Honey Almond Roasted Chickpeas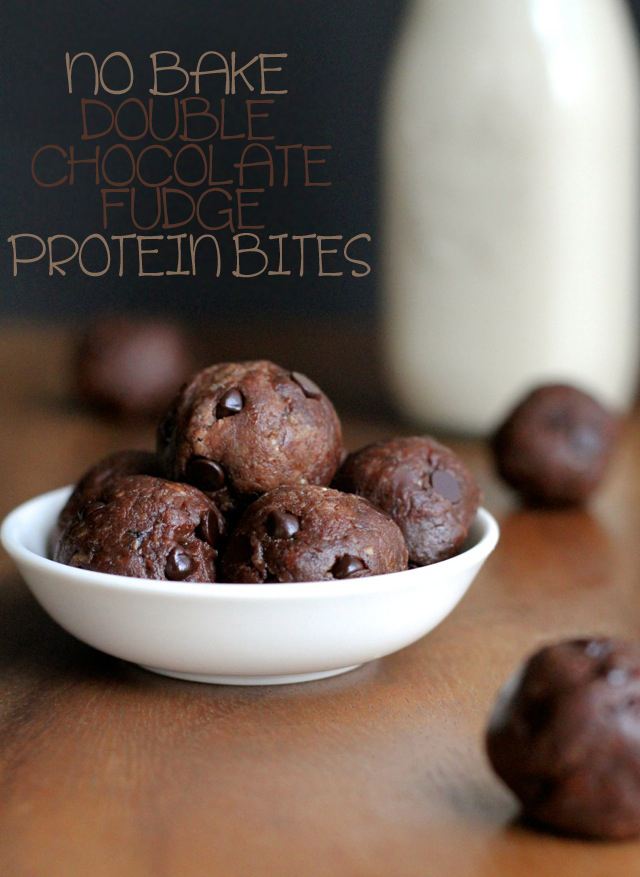 No-Bake Double Chocolate Fudge Protein Bites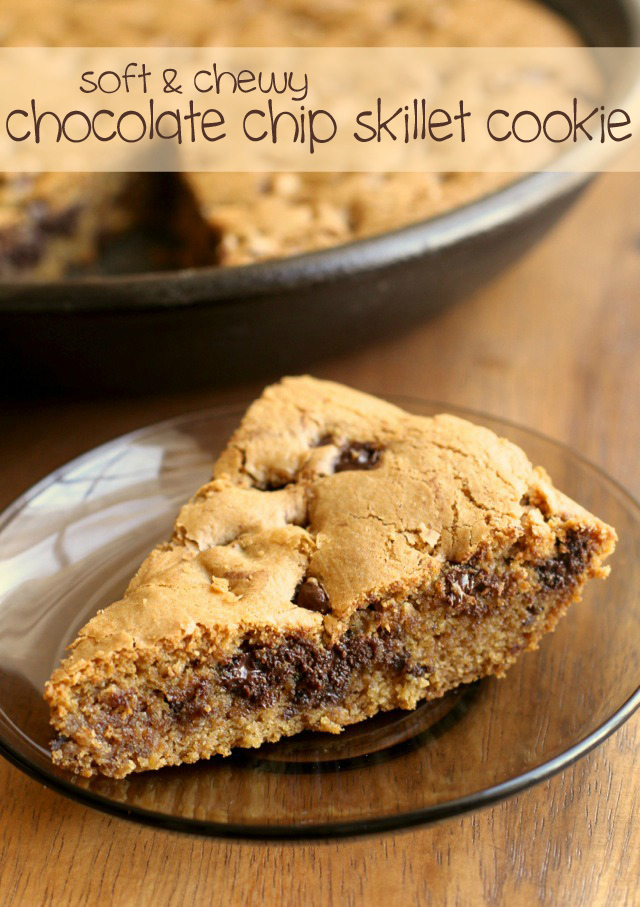 Soft and Chewy Chocolate Chip Skillet Cookie
Oatmeal Cookie Dough Breakfast Bake
Can we say chocolate in ALL the things? Apparently 😯

You guys, I think there might be something wrong with me… Remember how I didn't set foot into a Sephora in March and barely had any beauty products to share with you? Well, the same thing happened in April. I only managed one trip towards the end of the month, and only walked out with one item. That one item, though, I'm absolutely smitten with…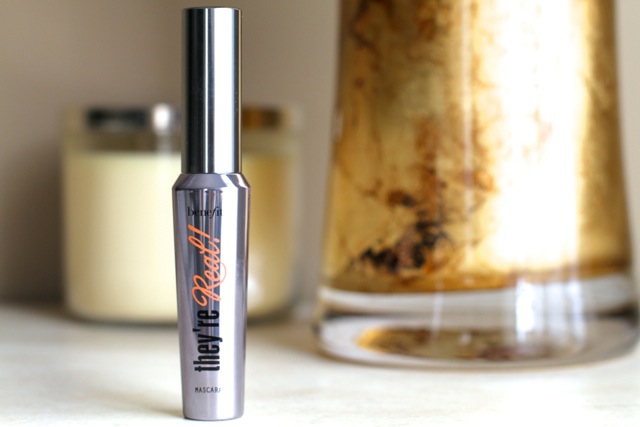 Benefit's They're Real! mascara. I received a little sample size of this mascara in a gift set that I got for Christmas, but put off using it because I didn't buy into all the hype. Cue me kicking myself… repeatedly. This stuff isn't mascara — it's magic. Not only does it add great length and volume, but it isn't clumpy, doesn't flake off, holds a curl, and stays put so that I don't have to worry about being left with raccoon eyes by the end of the day. And the brush is basically a dream…
"The specially designed brush features staggered bristles that grab close to the root, boosting length and volume beyond belief. The custom-domed tip uses precision bristles to lift, define, and curl even your tiniest lashes."
It's like a push-up bra for your eyelashes 😉 No joke!
Other than that, I only have one more beauty-related thing to share with you guys — oil pulling.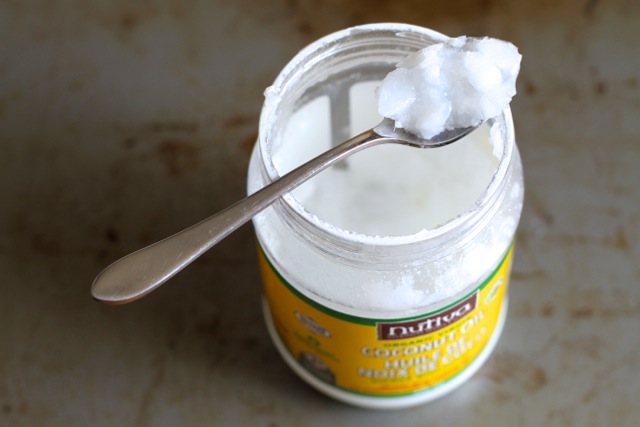 Oil pulling is an ancient Ayurvedic detoxification technique which involves swishing a tablespoon of oil around in your mouth for 20 minutes before spitting it out and going about your normal brushing/flossing routine. The oil supposedly pulls toxins out of the mouth, teeth, gums, and throat, which not only improves oral health, but affects the rest of the body as well.
I've been oil pulling on a daily basis since around the middle of March, and I would have mentioned it sooner, but I wanted to give it some time to work its magic before I offered any opinions. You guys… I love it. I don't want to go too in depth into what oil pulling is and what the benefits are, but I will say that a few improvements I noticed were: whiter teeth, a cleaner feeling mouth, better digestion, and better sleep. Obviously I can't say whether or not oil pulling is what's 100% responsible for those things, but it's a practice I'll definitely be keeping up for quite some time. Let me know if you'd like to learn more about it and I'll write up a more detailed post for you guys!

Remember my book haul from a few days ago?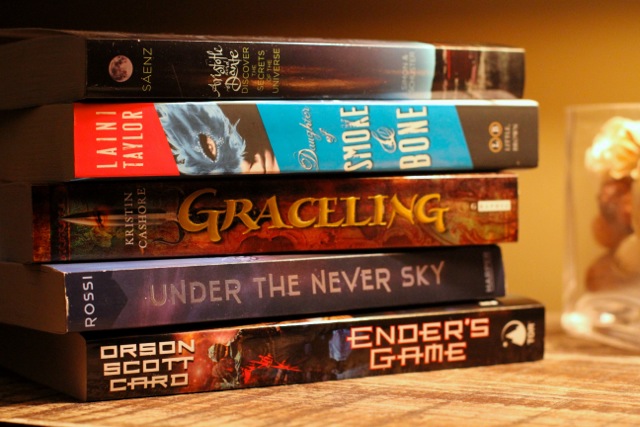 I decided to start with Graceling
by Kristin Cashore, and devoured it in about 1.5 days…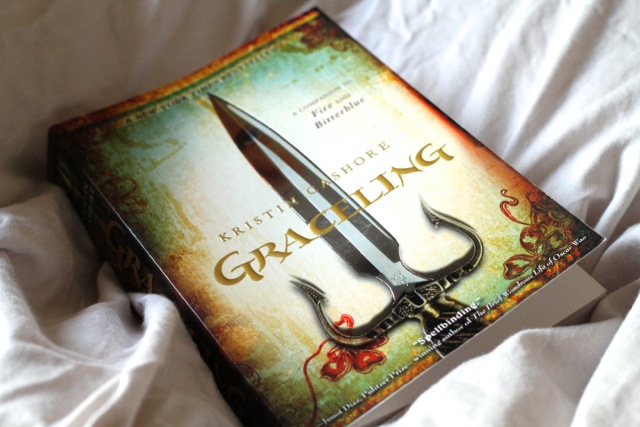 Katsa has been able to kill a man with her bare hands since she was eight – she's a Graceling, one of the rare people in her land born with an extreme skill. As niece of the king, she should be able to live a life of privilege, but Graced as she is with killing, she is forced to work as the king's thug.

When she first meets Prince Po, Graced with combat skills, Katsa has no hint of how her life is about to change.

She never expects to become Po's friend.

She never expects to learn a new truth about her own Grace – or about a terrible secret that lies hidden far away…
I'm a big fan of books that have a strong female protagonist, which is definitely one of the things I loved about Graceling. I did have a few issues with the some of the ideas surrounding womanly strength and independece that Cashore not-so-subtly puts forth throughout the novel, but overall I found it to be an enjoyable read that I'd recommend to anyone who's a fan of books like The Hunger Games or Divergent… although it errs to the side of fantasy rather than dystopia.
First off, I really liked the idea of The Graced — individuals who are born with a remarkable ability that sets them apart from "normal" people and changes their eyes so that they are two different colours. Definitely an interesting concept to build a world around.
Second, I loved the characters. Katsa drove me crazy in some regards, but she was also a character that I could really empathize with. I loved her strength, I loved her determination, and I loved that you could see her grow with some of the walls she built around herself coming down by the end of the book. Perhaps not as much as I would have liked to have seen, but enough to be content.
Po was my favourite — now where can I find myself a guy like him? 😆 He was a stark contrast to Katsa in every way, but their chemistry was absolute perfection, and their relationship made the hopeless romantic in me do all sorts of happy dances. Still gushing about it.
Overall, it was a fast paced book with a good story, an interesting world, and characters you really come to love. I definitely recommend picking it up if you get the chance.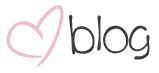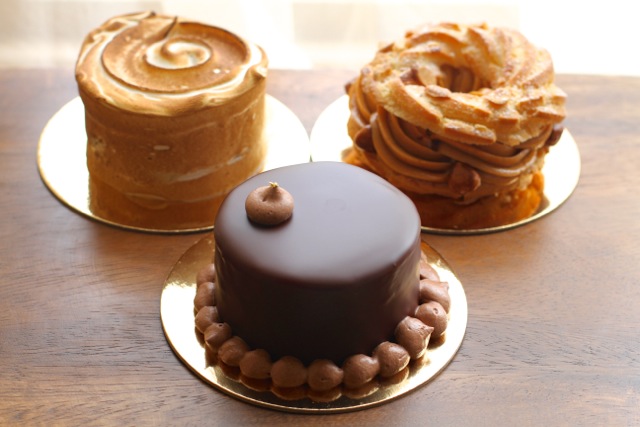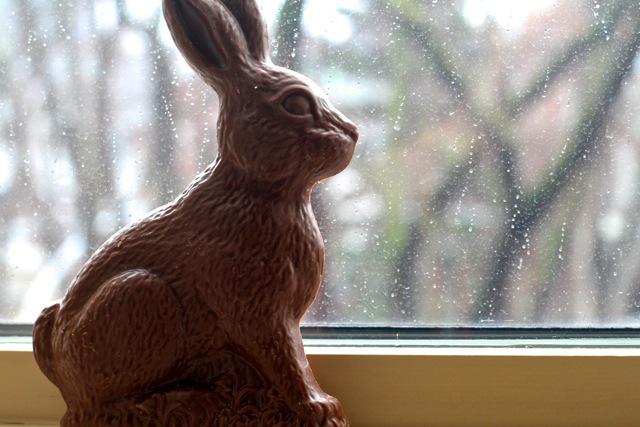 April was a blasty blast! Here's what happened on Spoons this month…
I was lucky enough to be able to take two snowboarding trips to the mountains this month, but only recapped one — as we speak style…
Birthdays! Both my mom and dad are April babies, so there was a lot of cake…
Food talk (read: WIAW) involved:
I shared some blogging tips with a post on 11 helpful WordPress plugins.
Lots of good stuff came out of my kitchen!
Aaaaaaand to close off the month, I've got a pretty awesome recipe coming up for you guys tomorrow. Stay tuned!
Disclaimer: none of the products mentioned above are sponsored — they're simply ones that I use regularly and love. This post does, however, contain some affiliate links.

Tell me 3 awesome things that happened in April!
Would you be interested in a post on oil pulling?
How about more blogging tips? Beauty tips? Health tips? Tips in general?
More places to find me!
E-mail — [email protected]
Twitter — runwithspoons
Facebook — runningwithspoons
Pinterest — runwithspoons
Instagram — runwithspoons
Bloglovin — runningwithspoons