It's been a while since we've had a more serious discussion here on Spoons, but we're having one today because it's National Eating Disorders Awareness Week, and eating disorders are a topic that's near and dear to my heart.

If you're a long-time Spoons reader, or even if you've just read my story, then you probably know that I spent a whole lot of years suffering from a serious eating disorder. In fact, the reason I started blogging in the first place was actually as a way to help me in recovery — both to keep myself accountable and to connect with others who were going through the same thing. It may not be for everyone, but I honestly believe that blogging was an invaluable part of my healing process.
That being said, the scope of Spoons has changed over the years and I don't really talk about my ED all that much anymore. In fact, I think the last time I mentioned it was during NEDA Week last year. And that's not because I'm ashamed of what I went through or because I want to keep it a secret… it just feels like a past life. Or a bad dream. One that gets harder and harder to recall as time goes on.

Of course I can still remember things like…
The anxiety and tears that came with every single meal.
The countless hours of exercise I'd punish myself with.
The happiness I needlessly stole from myself.
The indifference that came with going to sleep and wondering if I'd wake up in the morning or if my heart would stop in the middle of the night.
The pain. The cold. The exhaustion. The obsession. The depression. The guilt. The self-hatred…
Those memories are still there when I go looking for them, but they feel more-or-less the same as the memories I have of a movie I've watched or a book I've read — like they happened to someone else and not to me. Which is a good thing! I'm more than happy to close the door on that part of my life, but that doesn't mean the topic isn't something I still care deeply about.

Which is why it breaks my heart to see so many women and men struggling with eating disorders (or disordered eating)… especially because so many of them don't even seem to be aware that they might have a problem. I mean, as much as I love the food/fitness community, and as positive of an influence as I think it can have, there are so many harmful messages and behaviours out there that I can't help but raise my eyebrows at. Things like…
… Exercising way too much.
… Eating way too little.
… Demonizing entire food groups.
… Ignoring injuries.
… Obsessively counting calories.
… Weighing food.
… Eating 100% clean.
… Obsessively stepping on the scale.
… Unnecessarily following restrictive diets.
… Not getting a period.
These things aren't okay, and the worst part is that they're often promoted as being part of a "healthy" lifestyle because they've come to be seen as perfectly normal habits. They're not.

I try not to judge what I see on blogs because I know that they never show the entire picture, but there are some instances where I can't help but wonder if the person behind the screen realizes that they might have a problem, and that their healthy habits might not be so healthy after all… especially since that's exactly how anorexia crept in and took over my life.
What started out as an innocent desire to get healthier gradually turned into an eating disorder that left me fighting for my life. The beliefs I thought were healthy eventually became the same ones that were making me sick. That's not to say that exercising regularly and eating healthy foods are bad habits to have — they're wonderful! But there's a fine line between being motivated by health and being motivated by fear, and trying to convince yourself that you feel great when you clearly don't is not okay.
Eating disorders are no joke. They're serious and deadly mental diseases that ruin and claim countless lives. They sneak in gradually, root themselves in firmly, and take years upon years to recover from… with some sufferers never fully recovering at all. I never thought it could happen to me. I thought I was completely in control. And yet there I was facing the cold, hard truth — I had anorexia nervosa— and while that may be a thing of the past, those painful years are still ones that I'll never get back. So please, please be careful, be aware, and don't let yourself get into a position where you're looking back saying "I had no idea…"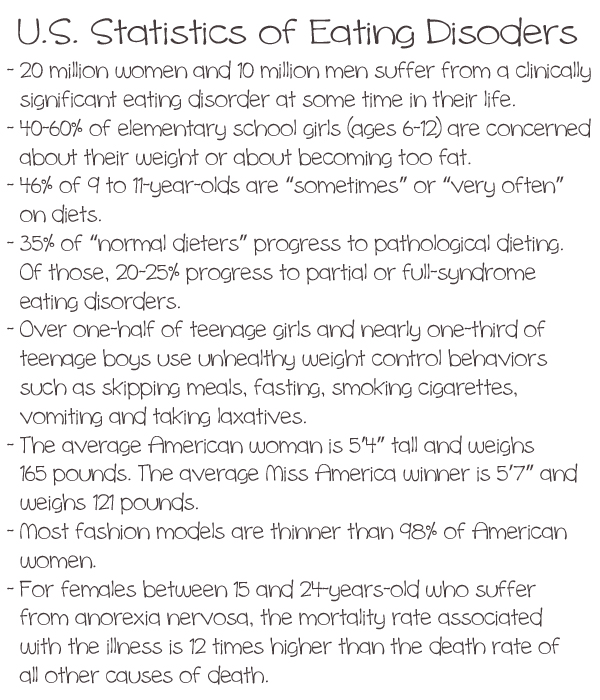 No questions, but I'd love to hear your thoughts
More places to find me!
E-mail — [email protected]
Twitter — runwithspoons
Facebook — runningwithspoons
Pinterest — runwithspoons
Instagram — runwithspoons
Bloglovin — runningwithspoons