Hey guys! Hope Tuesday has been treating you well.
Can I just start by saying how great it is to see that so many people think the whole idea of micromanagement and macro tracking is a load of shi…itake mushrooms? I always knew you guys were smart cookies 😀
Unfortunately, even the smartest of cookies aren't immune to doing dumb things on occasion, which would probably explain why so many of us have flirted with calorie counting at some point in our lives (*ahem* guilty). Now, that's not to say that calorie counting is a horrible thing in and of itself – it can be an extremely beneficial tool for those who are trying to learn how to eat properly. But let's face it, most of us know how to eat properly; in fact, we probably know far too well (which is a topic for a whole other post); and for many people, calorie counting becomes nothing more than a deep-rooted obsession, a bad habit that they just can't break.
But it's a habit that is possible to break.
Since returning to blogging (almost 2 months ago… wow), one of the most common questions I've been asked is how I made the transition from being a religious calorie counter to a [more-or-less] intuitive eater. It wasn't easy. There were tears. There were struggles. There were meltdowns. But, ultimately, there was also success. Now, I don't claim to be an expert because God knows I've made plenty of mistakes, but as someone who's been through it personally, I thought I'd share some of the things that helped me give up calorie counting for those who are struggling to do the same.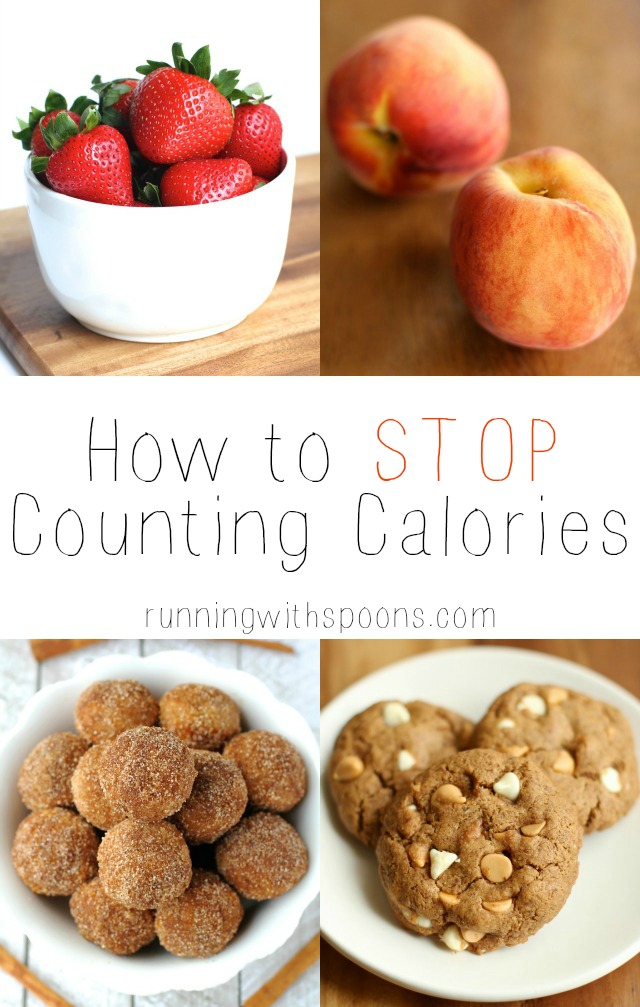 1. Start small. If the idea of going cold turkey scares you worse than death, you're probably better off sticking to a much more subtle approach. Start with not counting or measuring one meal per day. Even if it's just a snack, make sure you eat one dish per day that you don't know the calorie content of. Resist the urge to bust out the scale and measuring cups, and do your best to eyeball whatever it is that you choose to eat. Stick with that until it starts to feel comfortable, and move on to not measuring a second meal, and so on. If you're weighing your food with a scale, try switching to measuring cups/spoons instead. Also, start off with foods that you feel more comfortable with. If you're weighing all your veggies, stop. If you're counting all your fruit, stop. Take baby steps, but make sure to challenge yourself. Don't bite off more than you can chew and scare yourself back into counting obsessively, but don't let yourself get too comfortable and stagnant either.
2. Let someone else do the cooking. If you have a hard time not measuring meals that you prepare for yourself, then have someone else do it every once in a while. Go over to your parents' for dinner. Have your significant other pack your lunch. Exchange baked goodies with a friend. Focus on the love behind the food rather the than the fear of the unknown.
3. Stop checking nutrition labels. You never really forget everything you know about the calorie content of food, but it stops becoming important if you stop seeking it out and actively focusing on it. Read ingredients if you must, but try and keep your eyes from hovering towards that little white box because it really doesn't tell you a whole heck of a lot. It just reinforces the idea that calories are an important part of your life, when they shouldn't be.
4. Buy foods that you don't know the calorie count for. If you can't keep your eyes from gravitating towards labels, then try turning to foods that don't have any. I know it's difficult, seeing as pretty much everything has a label these days and whatever doesn't is easy enough to look up online, but there's still hope. Visit small local shops and farmer's markets – you can still find solace in ignorance there.
5. Change the way you look at food. Repeat after me: "Food is friend, not foe." Unless you have some sort of severe allergy (pesky peanuts… I'm looking at you!), then nothing you eat is going to kill you, so don't be afraid of it. It's just food, and although delicious, it's really not that big of a deal and doesn't deserve that much attention. Eat to fuel your body so that you can do the things you love. Eat to satisfy your mind so that you can bring a little bit of extra enjoyment to your life. Eat and move on.
6. Get pissed. And no, I don't mean drunk. Get angry. Get frustrated. Look at how big of a burden calorie counting is in your life. Look at what it takes from you. Let the utter suckiness of it really sink in – and then realize that life doesn't have to be that way. You don't have to be a slave, dammit, you can be free. Put your GRRRR face on and fight for that freedom.
7. Trust yourself. You know how to eat, you do. You were born knowing how. In fact, you probably did a whole lot better as a child than you're doing now. Your body knows what it needs and it will tell if you're just willing to shut up and listen. As unwilling as you probably are to admit it, your body is not trying to screw you over. It has no hidden agenda. All it wants is what it needs to let you live your best possible life.
8. Be patient. Calorie counting is a bad habit, and like any habit, it takes time and effort to break. Don't expect to ditch the numbers overnight, and don't beat yourself up if things aren't going as quickly or as smoothly as you'd like them to. I know the idea of giving up calorie counting is daunting, especially if you've been doing it for any extended period of time, but believe me that it is possible. You're talking to a girl who used to weigh lettuce and count the calories in gum, so if I can do it, you can do it too. Have faith and never lose hope.
. – . – . – .

Do you have any more tips on how to stop counting calories?
Do you think that anyone is able to become an intuitive eater?
More places to find me!
E-mail — [email protected]
Twitter — runwithspoons
Facebook — runningwithspoons
Pinterest — runwithspoons
Instagram — runwithspoons
Bloglovin — runningwithspoons