Hi friends!
Guess who's back home after a week and a half in paradise? And guess who completely fell out of her blogging groove while she was there? Mmm hmm. I'll be doing a full recap when I get the chance to sort through all my pictures and what not, but in the meantime, I wanted to share a special guest post with you guys while I do my best to shake the post-vacation blues and settle back into my old routine.
If you've been reading for a while, you might remember a post I did way back in the day about exercise as a physical stressor, and my experiences with giving up formal workouts and switching to a more casual approach to exercise. I know there are a lot of people out there struggling with exercise addiction who can't ease up because of a fear of gaining weight, and if you're one of those people then today's post is definitely for you.
. – . – . – .
Hey Everyone! My name is Nicole. Amanda graciously reached out to me to write a guest post on exercising and the fact that I [finally!] found balance after several years of an exercise addiction coupled with anorexia.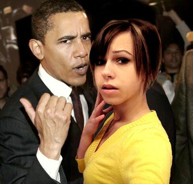 Some of you may have noticed I comment on a blog or two from time to time… I'm known for sometimes sounding bitter or judgmental (what a great introduction…) because I myself have been frustrated with not having found a comfortable balance in my life. Out of that confusion, I misconstrue other bloggers' posts sometimes or try to find something wrong with someone else other than me—please tell me you're guilty of this too! I am also obsessed with politics, but I promise I don't bicker or argue about it—I have a good sense of humor 🙂
Long story short of my ED, anorexia crept up on me in college after a breakup. I didn't think I was falling into the reins of this disorder because I simply turned to fitness for something to do with my newfound free time. I, the girl who complained about walking the mile in high school, was suddenly running for nearly an hour straight on the treadmill every day. My calorie intake dwindled as I realized how relatively easily the weight came off. It was thrilling. As many of you can relate, this morphed into an obsession, an addiction, and a dark, scary place I never thought I would get out of.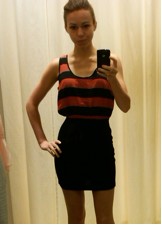 (May 2011)
For over 4 years—subsisting on salads and rice cakes, diet soda and gum—I could not imagine NOT setting foot in the gym every day. I planned my classes and my work schedule around the gym. I ran because walking was not good enough.
Fast forward to now: I have been in recovery for almost 2 years, and consider myself "pretty much recovered." Yeah, not a very technical or medical term for it 😉 Why "pretty much recovered?" While I've been weight restored this whole time and have allowed myself to eat what I want, I have consciously been engaging in a rigid exercise schedule to basically give myself permission for these new eating habits. "Sure I've been okay with eating a healthy amount! …Only because I exercise."
I think we always know deep down that we're doing something wrong. I knew I wasn't entirely recovered because of this messed-up logic that I absolutely HAVE to workout in order to eat or I'll blow up like a balloon.
About a month ago I started to really get frustrated with the fact that I sometimes didn't have enough time to workout exactly as much as I had the day before, or why the heck I was eating "so much" and thereby "cancelling out" the great workout I had, or why my weight was slowly creeping up given the amount of exercise I was doing, as well as wondering why I never felt satisfied after eating.
I realized that maybe I should take it down a notch. If food was always on my mind, and I was eating "so much" and basically gaining weight, why don't I just do what others seem to do and take it easy at the gym and just… eat? Eat without giving it much thought. Why do I have to be the exception? It's gotten to the point where people at the gym have remarked that I must be training for something! I'm not, so why do I push myself so hard and why does food have to be such a nagging mystery to me?
A couple weeks ago, I began to shave off time from each workout. 10 minutes… 15… 20. I'm at the point where I walk on the treadmill and run only once a week for only 10 minutes (down from 30). I eased into this new routine day by day. Yes, it's only been 2 weeks. But I feel so much better that I honestly can't imagine pushing myself harder again. I'm calm… relaxed! It's been so refreshing. My appetite has actually slightly increased, and oh man did I get nervous at first. Ever since I started recovering, the feeling of hunger has been so uncomfortable I can't handle it like I used to be able to. So staying hungry is not an option! But guess what? I actually went down about a pound and have been maintaining for the past two weeks… by exercising less and eating more.
While it may sound counter-intuitive to those of us who have suffered from an ED, it turns out that when you're kind to your body, it's no longer in "freak-out" mode and ends up in "ahhh-this-is-nice" mode  🙂
Just know that depending on your level of "addiction" to exercising and/or restricting, doing a 180 by exercising less and eating more (eating to truly satisfy your hunger) will be intimidating! Tough it out for your sake. Don't be a slave in your own world.
Phew, thanks for reading! Take care 🙂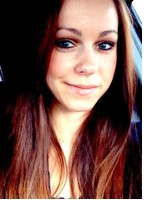 (Feb 2013)
. – . – . – .
Does anyone have any similar experiences to share?