These grain free banana bread bars taste and feel like a tender, buttery banana bread, but they're made with NO grains, butter, oil, or refined sugars. A perfect snack for those avoiding grains or watching their sugar intake.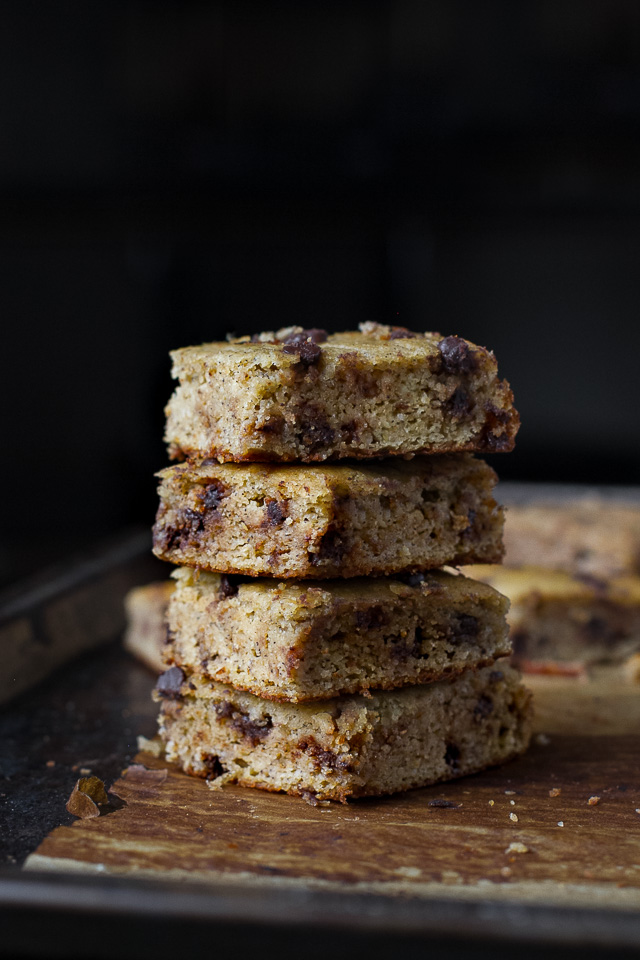 We're doing something today that I never thought we'd do… we're baking with beans!
Actually, I should probably clarify and say that we're baking something sweet with beans, since all the roasted chickpeas and Mexican casseroles I've made over the years technically count as baking with beans, too. But I digress!
If you know me, then you know I'm not a huge proponent of bean-based desserts. Or at least wasn't. I had one bad experience with black bean brownies about 7 years ago and it completely turned me off from the idea of allowing beans anywhere near my baked goods. The same thing happened with kale. I had one bad smoothie experience around the same time and I've refused to touch it since.
But time heals all most wounds, and when I came across a recipe card in my bag of sweet potatoes (random, right?) for some bars made with chickpeas, I figured it was time to get over at least one of my prejudices and give it another go.
So that's what I did…
You guys… these grain free banana bread bars are SO good. Like… next level good. And I promise you that they don't taste beany at all. I had my family and a few friends try them out, and no one could guess the "secret ingredient." Heck, even I wouldn't have believed it if I hadn't seen the chickpeas going into the blender myself.
But they're in there! And they do some pretty amazing things to these bars… even if it did take me forever (read: 3 trials) to get them just right.
Trial #1 tasted fantastic, but the bars would not stick together and you kind of had to eat them straight from the pan with a spoon… which is basically what I did for dinner that night. Trial #2 went in the complete opposite direction – way too light and fluffy with nowhere near enough of that tender, melt-in-your-mouth fudginess I was going for.
But trial #3? Perfection.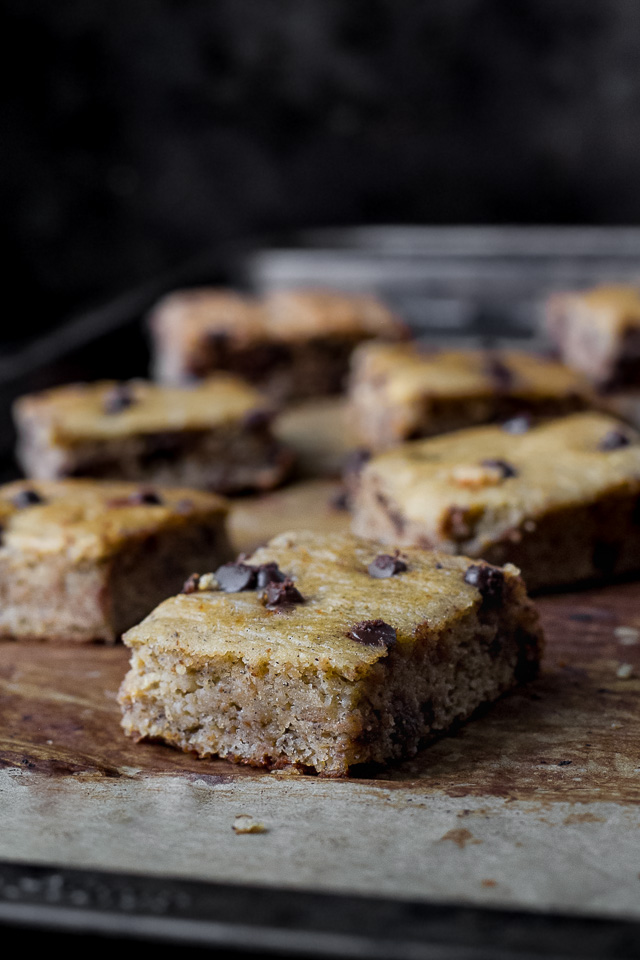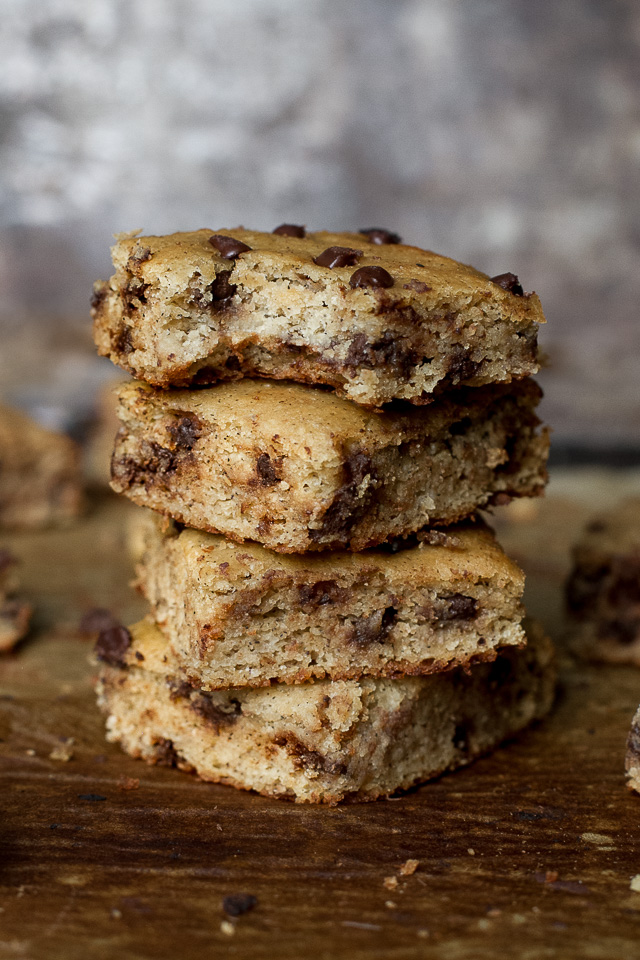 These guys taste exactly like banana bread, only they're 100% grain-free thanks to the magical powers of chickpeas. I know. I still feel weird saying it too, and to be 100% honest, I think I was kind of hoping they'd come out terrible so that I could say HA! and reinforce my former prejudices, but instead I got a perfectly sweet and tender bar that's made with NO butter, oil, or refined sugar.
That's the craziest part! They look and feel "buttery," but it's all thanks to a combination of chickpeas and almond flour. I was originally going to use oats, but I figured I may as well go all the way and make them completely grain-free instead. I tried making them vegan, but uhm… you know the aforementioned Trial #1? Yeaaaaaaah. That's how that went down. They're still dairy-free, though (provided you use dairy-free chocolate chips), and they can be refined-sugar-free if you replace the chocolate chips with dried fruit or nuts.
Okay, okay. I know I've been talking forever at this point, but I just can't get over it! Maybe that means I should give kale another shot. Or maybe not…
Happy eating!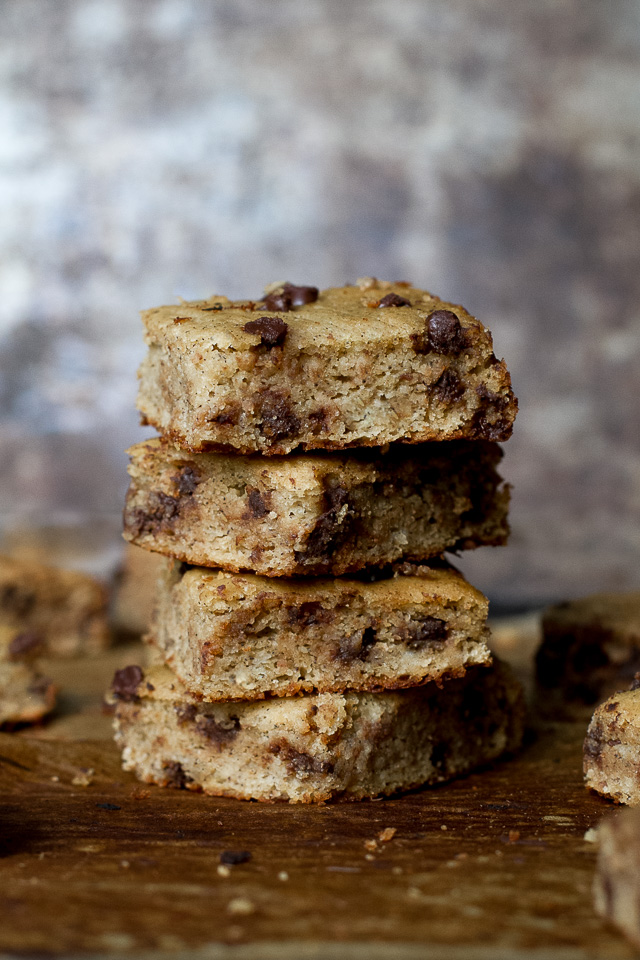 I'd love to know if you make this recipe! Leave a comment and rating down below to let me know what you think, and subscribe to our mailing list to receive new recipes in your inbox!
Print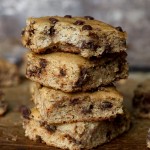 Grain Free Banana Bread Bars
---
Author:

Total Time:

30 mins

Yield:

12

bars

1

x
1

14 oz. (

398

ml) can chickpeas, drained and rinsed*

1

medium-size (~100 g) ripe banana

1/4 cup

(

60

ml) maple syrup

1

large egg

2 Tbsp

(

32 g

) nut butter**

1 tsp

vanilla extract

1 tsp

ground cinnamon

6 Tbsp

(

42 g

) almond flour

1 tsp

baking powder

1/4 tsp

baking soda

1/3 cup

(

50 g

) chocolate chips/chunks, dried fruit, nuts, etc.
---
Instructions
Preheat your oven to 350F (176C) and prepare an 8×8 (20x20cm) baking pan by lining it with a sheet of parchment paper, leaving a few inches of overhang on the sides to allow for easy removal. Set aside.
Add the first 7 ingredients (chickpeas through cinnamon) to a high-speed blender or food processor in the order listed, and process on high until the chickpeas have fully broken down and the batter becomes smooth and creamy, about 30-60 seconds. Add all the remaining ingredients except for the chocolate chips, and process until smooth. Finally, stir in the chocolate chips by hand, reserving ~2 Tbsp to sprinkle on top.
Pour the batter into your prepared baking pan, using a spatula to distribute it evenly before sprinkling on the remaining chocolate chips. Bake for 22-25 minutes, until a toothpick inserted into the center comes out clean. Remove the bars from the oven and let them cool in the pan for about 15 minutes before transferring them to a wire rack to cool completely. Store them in an airtight container at room temperature for up to 5 days.
Notes
* You'll only be using the beans for this recipe, so make sure to drain the liquid and rinse them well. It'll come out to about 1 1/2 cups of cooked chickpeas, or 250 g. ** I used a creamy almond butter for it's mild and slightly sweet taste, but feel free to use whichever nut butter you have on hand.
Prep Time:

10 mins

Cook Time:

20 mins
Keywords: baking, banana bread, chickpea bars, chickpeas, dessert, garbanzo beans, gluten-free, grain-free, healthy, recipe, snack

Looking for more healthy snack bar recipes? Try one of these!
Almond Butter & Jelly Banana Bread Bars
Double Blueberry Muffin Bars
Soft and Chewy Protein Granola Bars
No Bake Sweet & Salty Trail Mix Granola Bars
Blueberry Banana Oat Bars