Take advantage of the awesome anti-inflammatory and digestion-boosting powers of turmeric with this delicious golden milk overnight oatmeal smoothie!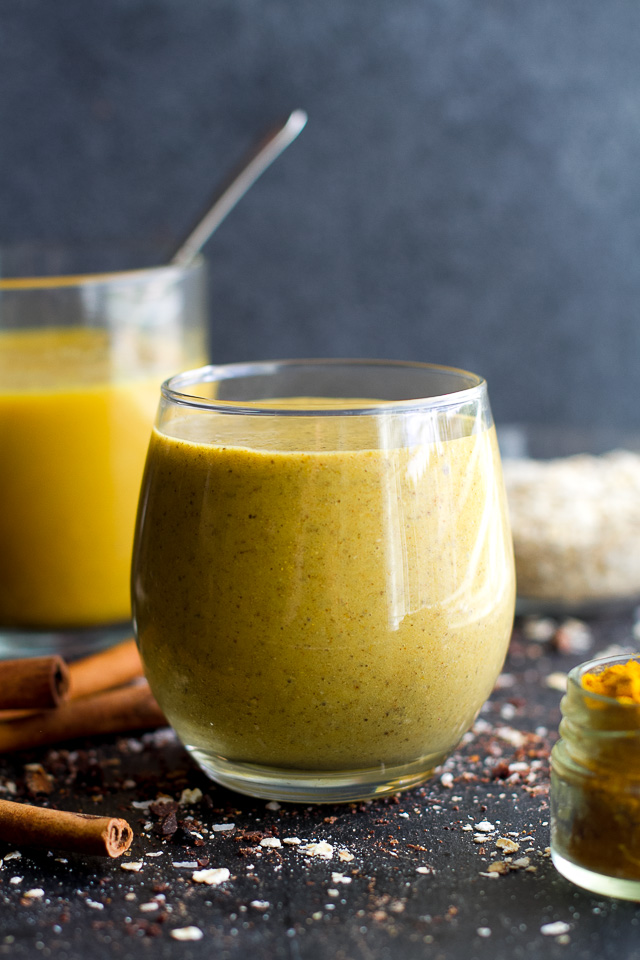 So I actually had a totally different smoothie recipe planned for today… but then golden milk happened.
What's golden milk? It's milk (usually a non-dairy variety like almond, soy, or coconut) that's been spiked with a hefty amount of turmeric and sweetened with some non-refined sweetener… and it's surprisingly delicious.
I say "surprisingly" because you better believe I was more than a little skeptical at first. I mean, sure it looked all warm and comforting, but I'm not going to sit here and pretend that I didn't expect it to taste like curry. At least a little bit.
It's gorgeously golden looks won me over, though…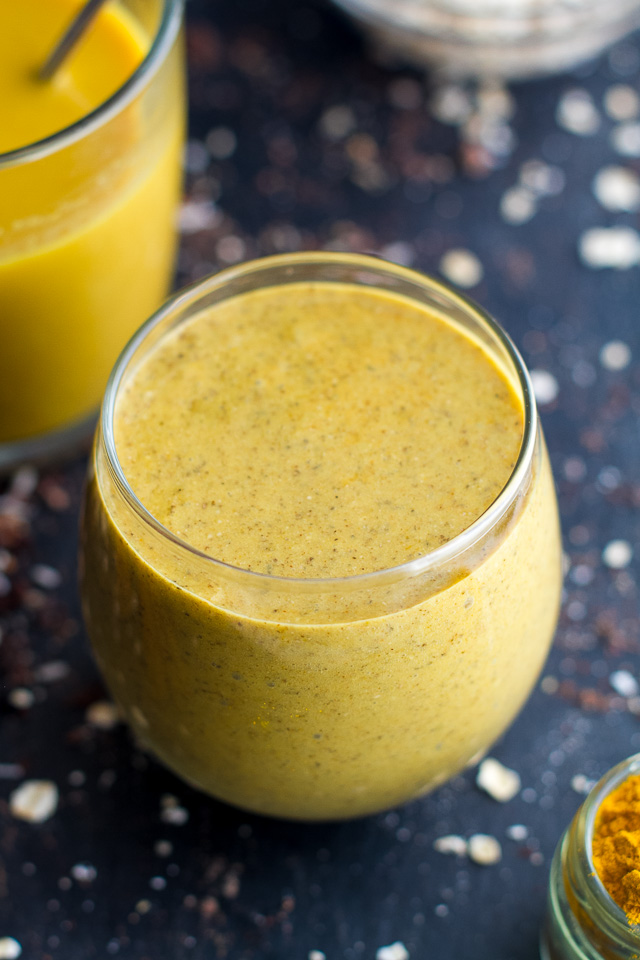 Thankfully, it doesn't taste like curry. And it's so more than just a pretty face!
I've been hearing about the health benefits of turmeric for years now, but it's always been one of those things that I just kind of brushed off because I'm not huge on curry and I didn't really know what else I was supposed to do with it…
So when I my sweet tooth learned that you could add it to warm sweetened milk to make a nice cozy drink, I decided that was my cue to give it a shot…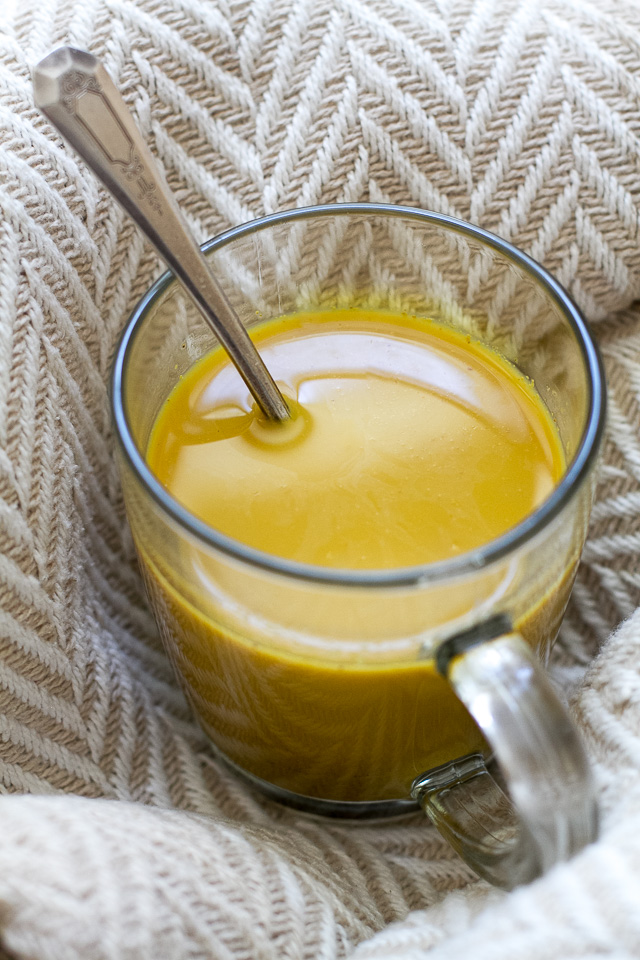 I've only been drinking golden milk (and this golden milk overnight oatmeal smoothie) for a few days now so I'm not going to go all "OMIGOSH I'M HEALED!!!!!" on you guys, but I plan to keep drinking it for a few weeks and I'll let you know what (if anything) I notice in my next What I Ate Wednesday post. Deal? Deal.
Until then, we can take a look at the crazy amount of peer-reviewed articles out there that talk about the numerous health benefits of turmeric (and its main compound, curcumin)… with the most important one arguably being its powerful anti-inflammatory properties.
Why's this such a big deal? Well, inflammation is responsible for SO many of our biggest health problems, contributing to things like: cancer, heart disease, colitis, arthritis, allergies, acne, and chronic pain. It can be caused by a number of different things that we can't always pinpoint or eliminate (food sensitivities, gut flora imbalance, STRESS, pollution, poor diet, not enough sleep, too much caffeine), so it's not a bad idea to cozy up to things that have been shown to help combat inflammation… like the curcumin in turmeric.
And then do things with that curcumin to make it slightly more palatable… like make golden milk and then either drink that golden milk straight up (so comforting!) or use it to make a golden milk overnight oatmeal smoothie…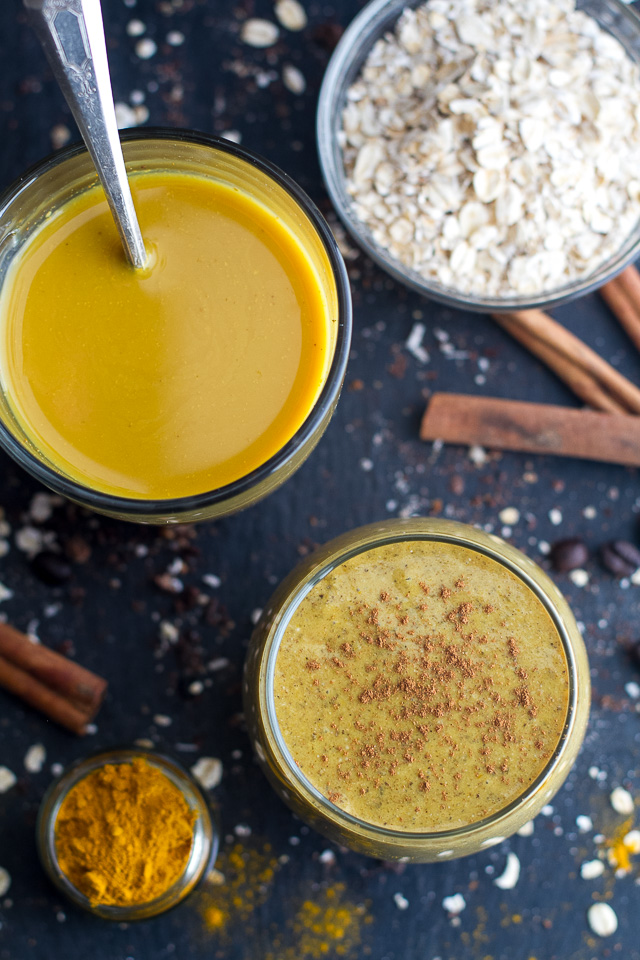 …. NEITHER of which taste like curry. I promise.
I mean, the first sip is definitely a little "whaaa?!?" but this stuff is strangely addicting and you'll find yourself at the bottom of your glass and wanting more before you even realize it. It's also supposed to be pretty great for digestion and controlling blood sugar. So there's that.
And before I send you off with the recipe, there's two important things to note. First, don't be tempted to save time and skip the golden milk brewing process. It's only 5 extra minutes, and heating the turmeric brings out the curcumin and makes it that much more potent. Second, the black pepper isn't a typo and it's not really optional… not if you want the full benefits of this drink, anyways. I know it sounds bizarre, but the human body isn't great at using curcumin effectively, and even just a tiny amount of black pepper increases the bioavailability of it by up to 2000%.
But I've been rambling for way too long, haven't I? I hope you give this drink a shot, and I hope you enjoy!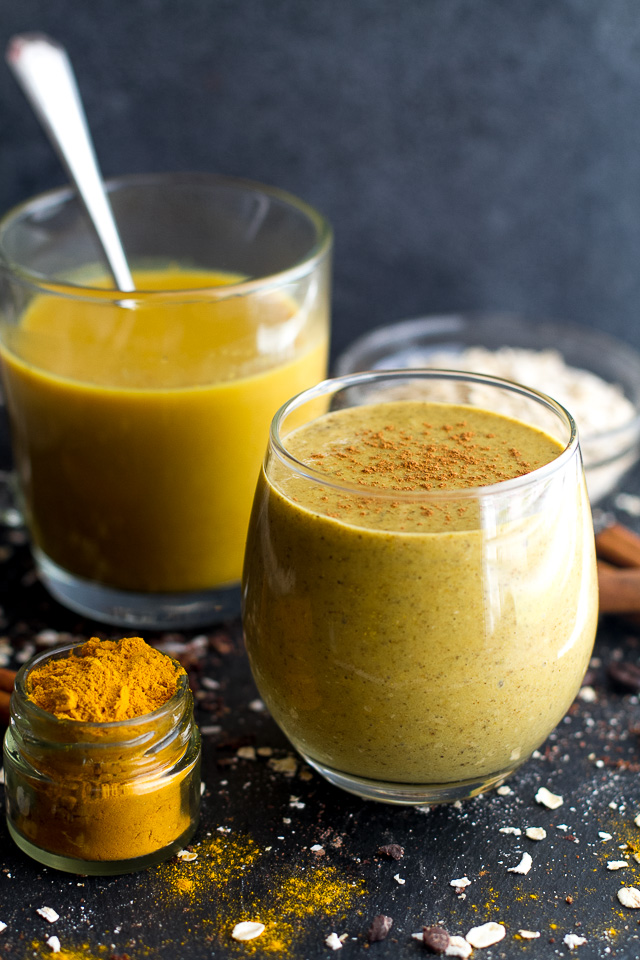 I'd love to know if you make this recipe! Leave a comment and rating down below to let me know what you think, and subscribe to our mailing list to receive new recipes in your inbox!
Print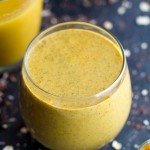 Golden Milk Overnight Oatmeal Smoothie
---
Author:

Total Time:

3 hours 10 mins

Yield:

1

serving

1

x
For the golden milk:
1 cup

(

240

ml) unsweetened almond milk**

1 Tbsp

(

15

ml) maple syrup***

½ tsp

vanilla extract

½ tsp

turmeric

¼ tsp

ground cinnamon

¼ tsp

ground ginger
pinch of black pepper
For the smoothie:
¼ cup

(

20 g

) rolled oats****

1 Tbsp

(

7 g

) chia seeds

1 cup

(

240

ml) brewed golden milk (see above)

1

medium-size banana, frozen (

100 g

)
---
Instructions
The night before, prepare your golden milk by combining all the ingredients in a small sauce pan set over medium-high heat, whisking until smooth. Bring to a boil and immediately reduce the heat to low, allowing the milk to simmer for about 5 minutes. Remove from heat, give it a good stir, and let it cool to room temperature.
Add all of the smoothie ingredients except for the frozen banana to the bowl of your blender and give them a good stir to ensure that everything is well combinted. Cover and place in the fridge for at least 3 hours, preferably overnight.
The next morning, remove your blender bowl from the fridge and add the frozen banana. Blend on high until a smooth and creamy consistency is reached, adding more milk if the smoothie is too thick for your liking. Transfer to a bowl or glass, add desired toppings, and enjoy!
Notes
* Cook time refers to chilling time. ** You can also use coconut, cashew, or soy milk. *** You can also use agave nectar or honey if you don't need this to be vegan. **** Be sure to use certified gluten-free oats if you need this to be gluten-free. You can also sub the oats with 1/2-1 scoop of your favourite protein powder or 2 tbsp (14 g) chia seeds to make this grain-free.
Prep Time:

10 mins

Cook Time:

3 hours
Keywords: anti-inflammatory, gluten-free, golden milk, golden milk smoothie, healthy, overnight oatmeal smoothie, recipe, smoothie, vegan

Looking for more overnight oatmeal smoothie recipes? Try one of these!
Chocolate Overnight Oatmeal Smoothie
Caramel Apple Overnight Oatmeal Smoothie
Almond Joy Overnight Oatmeal Smoothie
Banana Latte Overnight Oatmeal Smoothie
Pumpkin Spice Overnight Oatmeal Smoothie