These flourless pumpkin pie bars are so tender and fudgy that you'd never know they're 100% healthy and made with NO flour, butter, oil, or refined sugar!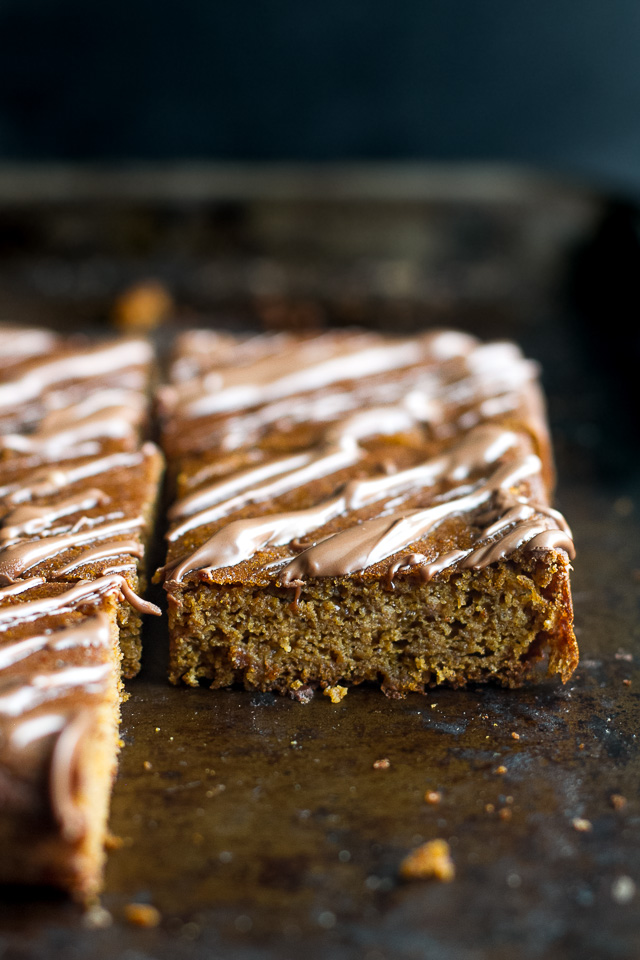 I've been dreaming about these flourless pumpkin pie bars. Quite literally.
I tested so many batches of them over the past few days, that I had a dream the other night where I was whipping up another one. Too bad it wasn't one of those prophetic dreams that would have told me exactly what kind of ingredients I should have used to make them. And too bad it didn't come a week ago. Or maybe it did and I just didn't remember it. Either way… it would have saved me a lot of frustration.
See, pumpkin, for how tasty it can be, is also a huge pain in the ass to work with. It's not so bad in things like breads and muffins, where its high moisture content means a nice moist crumb, but in things like cookies and bars? Night.mare. A cakey, spongy nightmare.
But I'm not quite ready to talk about it. It's too soon. The scars too fresh. Instead, let's talk about the winning batch, and how it [almost] made me forget about the four failed batches that came before it…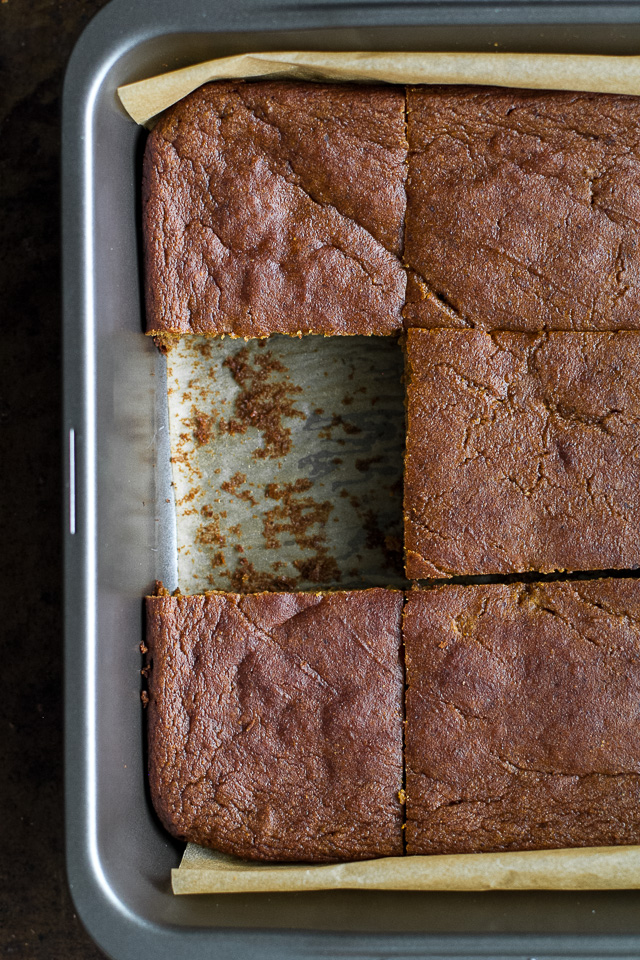 Actually, I can't even call them failed batches since they all tasted really good – it was just the texture I was fighting with.
And the most annoying part is that I wasn't even really sure what I was after, or what it was that was bothering me about every batch that came out of my oven… they just weren't it.
I knew I wanted something that resembled pumpkin pie filling, but wasn't as goopy or custard-y.
Something more grab-able, with a slightly lighter and fluffier texture that still melted in your mouth.
Something like… this!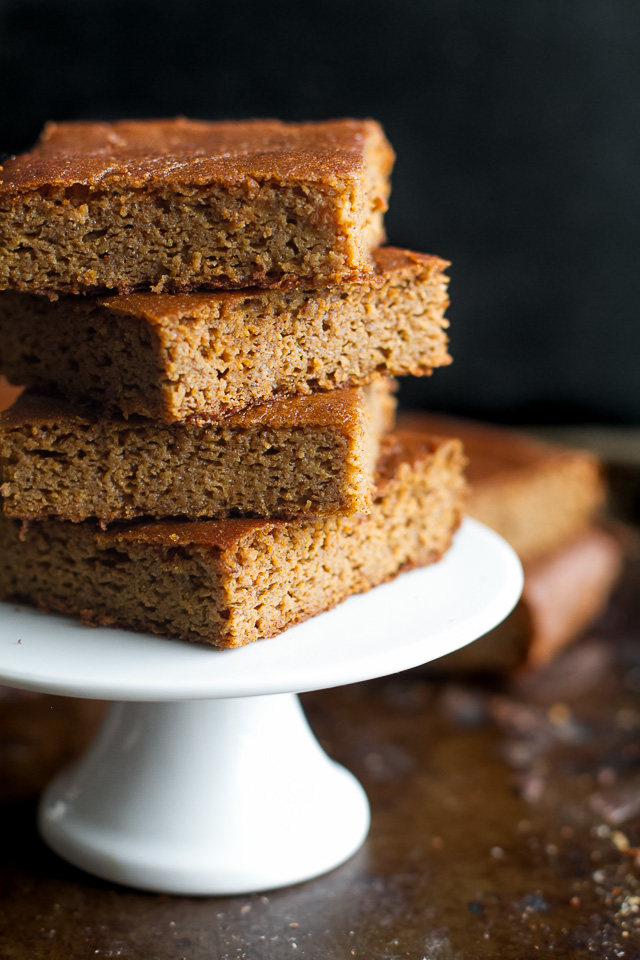 So batch #5 was basically everything I didn't even know I wanted. It was it… which is a good thing because I probably would have thrown in the towel if it wasn't. I mean, I'm stubborn as a mule, but even I know when it's time to stop beating my head against the wall and just walk away.
Thankfully it didn't come to that, and I got to walk away [from my kitchen] with a batch of ridiculously good pumpkin pie bars… which I drizzled with melted chocolate, obviously.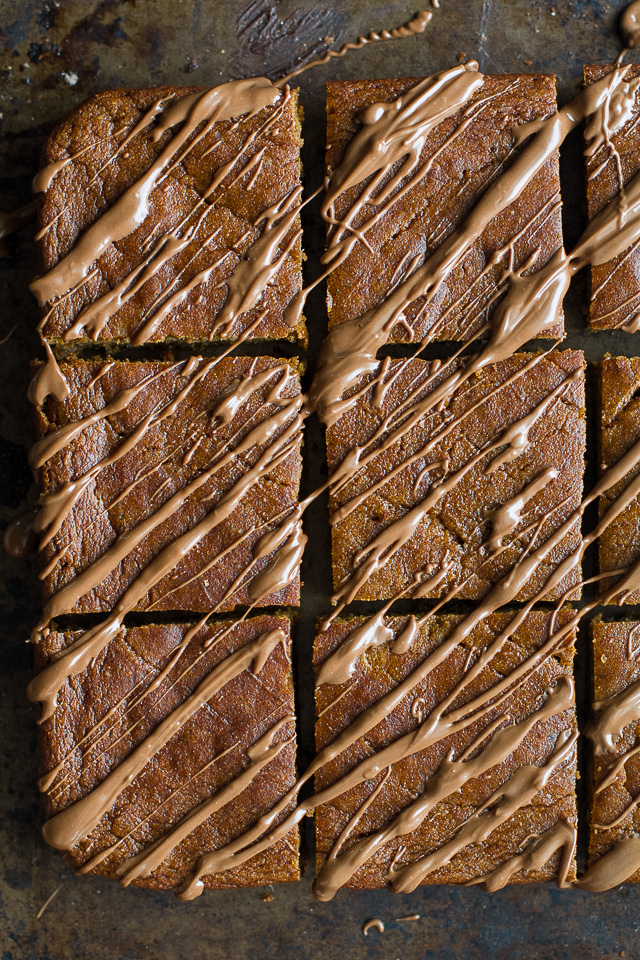 So let's talk deets!.. since I basically feel like I'm an expert on these at this point.
Ingredients-wise, we've got 3 main players: an egg, pumpkin puree*, and a natural almond butter*. Those make up the bulk of what you see, with the rest of the ingredients playing the supporting role. And yes, I know the list might seem a little long, but I couldn't get them to come out the way I wanted when I tried to keep things simpler, which is why you see things like 2 tablespoons of Greek yogurt (or applesauce) and both a liquid and solid sweetener. Just trust me on this one – they're still super easy since you're tossing everything into one bowl.
For sweetener, I kept things unrefined with maple syrup and coconut sugar. Just two tablespoons of each is plenty, especially with the melted chocolate.
Uhm… the almond butter! Okay, so the first few batches I made used double the AB, and I found they came out a little too heavy and dense for my taste. This batch only uses 1/4 cup, which makes them fluffier and lighter in more ways than one. Oh, and the AB I ended up going with was the natural kind that you have to stir. I tried a no-stir variety, but that one gave me a spongier bar that I wasn't too keen on.
Aaaaand… what else did I want to say? Oh! The Greek yogurt – that's to both fluff up and tenderize the bars, since the dairy reacts with the baking soda to do magical things. But! if you want to keep these paleo and/or dairy-free, just swap the Greek yogurt for some applesauce since it basically does the same thing. Other than that, they're flourless, grain-free, gluten-free, and oil-free.
Ok I'm done. Sorry for talking your ear(s) off, but I spent so much time with these flourless pumpkin pie bars that it's just hard to let them go…
Kidding. They're all yours.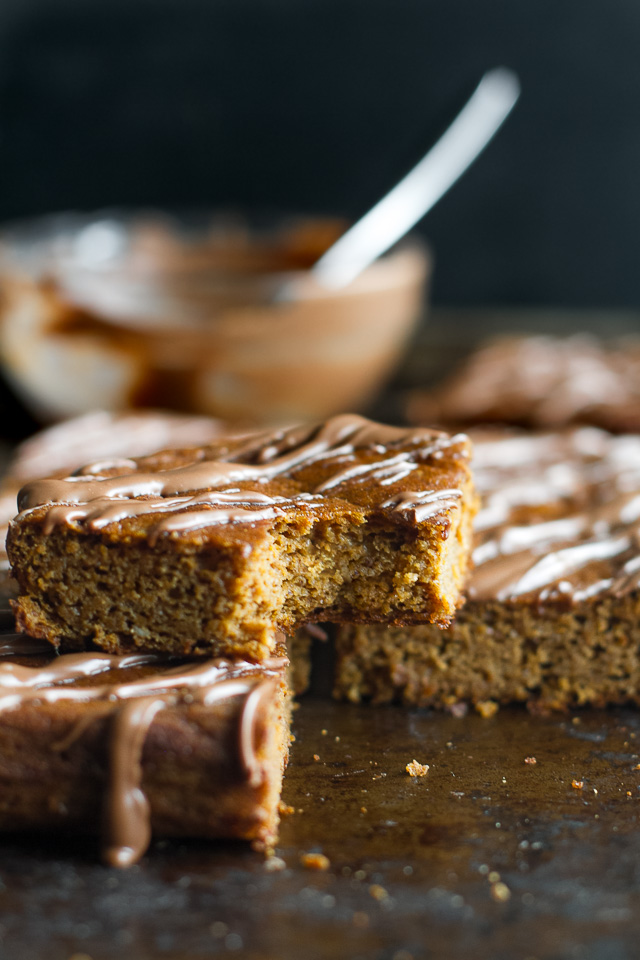 I'd love to know if you make this recipe! Leave a comment and rating down below to let me know what you think, and subscribe to our mailing list to receive new recipes in your inbox!
Print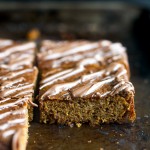 Fudgy Flourless Pumpkin Pie Bars
---
Author:

Total Time:

40 mins

Yield:

9

bars

1

x
1

large egg

3/4 cup

(

180 g

) canned pumpkin puree

1/4 cup

(

64 g

) natural almond butter*

2 tbsp

(

30 g

) plain Greek yogurt**

2 tbsp

(

30

ml) maple syrup

2 tbsp

(

25 g

) coconut palm sugar**

1 1/2 tsp

vanilla extract

1 1/2 tsp

ground cinnamon

1/4 tsp

ground nutmeg

1/4 tsp

salt

2 tbsp

(

14 g

) coconut flour

1/2 tsp

baking soda

3 tbsp

(

30 g

) chocolate chips, melted (optional)
---
Instructions
Preheat your oven to 350ºF (176ºC), and prepare an 8 x 8 (20 x 20 cm) baking pan by lining it with a sheet of parchment paper, leaving a few inches of overhang on the sides to allow for easy removal. Set aside.
In a large mixing bowl, lightly beat the egg until the yolk breaks. Whisk in the pumpkin, almond butter, yogurt, maple syrup, sugar, vanilla, spices, and salt, mixing until smooth. Sift in the coconut flour and baking soda, mixing well to ensure that it's evenly distributed.
Pour the batter into your prepared baking pan, using a spatula to distribute it evenly. Bake for 30-35 minutes, until a toothpick inserted into the center comes out clean. Remove the bars from the oven and let them cool in the pan for about 15 minutes before transferring them to a wire rack to cool completely. If you want to drizzle them with chocolate, melt the chocolate chips in the microwave in 30-second intervals and drizzle the melted chocolate over the bars with a spoon. Store them in an airtight container at room temperature for up to 5 days.
Notes
* I recommend using a natural nut butter that requires stirring. Other varieties work, but the texture comes out slightly different. ** You can replace this with applesauce to make these paleo andor dairy-free. *** You can also use brown sugar.
Prep Time:

10 mins

Cook Time:

30 mins
Keywords: baking, dairy-free, Fall, flourless, gluten-free, grain-free, healthy, paleo, pumpkin, pumpkin pie bars, recipe, snack

Looking for more pumpkin recipes? Try one of these!
One Bowl Greek Yogurt Pumpkin Bread
Pumpkin Spice Greek Yogurt Pancakes
Dairy Free Pumpkin Spice Coffee Creamer
Flourless Pumpkin Brownies
Flourless Pumpkin Pie Muffins

*Disclosure: Some of the links included in this post may be affiliate links, meaning I'll earn a small commission if you purchase through them, at no additional cost to you. I only recommend products I personally use and believe will add value to my readers. Thank you so much for helping support Spoons!