These Flourless Pumpkin Oatmeal Cookies are made without butter or flour, but so soft and chewy that you'd never be able to tell! Vegan and gluten-free, all you need is 1 bowl and 10 minutes to whip up this healthy fall-inspired snack.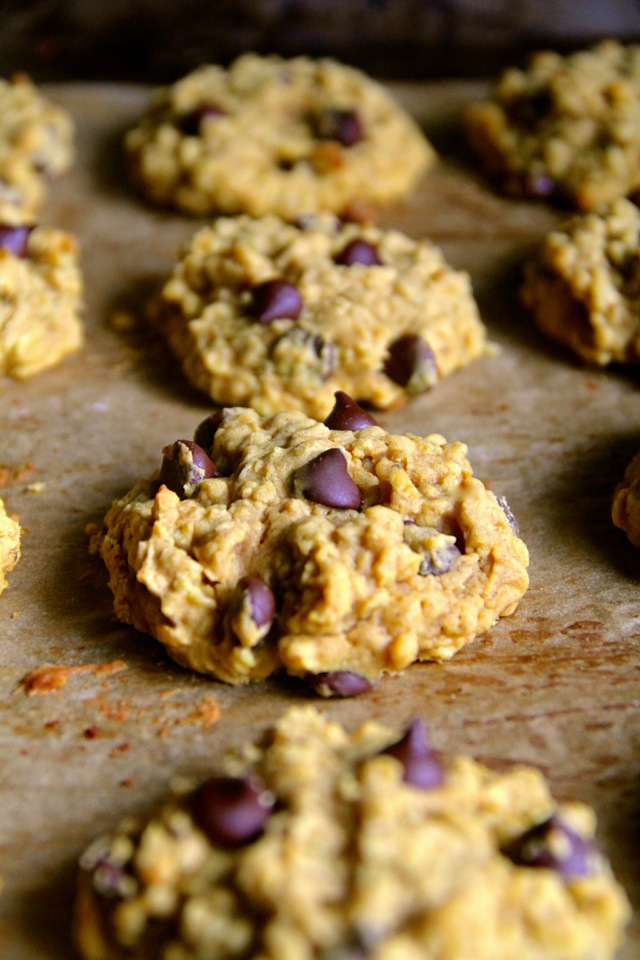 If there's one thing that can turn me into a bit of a head case, it's problems with technology. Well, that and really bad traffic, but for the purpose of this post, we're talking technology troubles.
Spoons went down for the count on Saturday afternoon, and it took me until Sunday morning to get it up and running again. See what I did just there? Running… with Spoons? Err… sorry. It's been a trying couple of days. So here's what happened…
It was a warm and sunny Saturday afternoon, and our hero (that's me) was dutifully sitting at the computer working on yesterday's Link Love post when the cruel gods of technological trickery decided to look her way.
Post done, go to preview, preview doesn't work. Uhm. Okay? No reason to panic just yet.
Go to Spoons, Spoons is 'temporarily unavailable,' and it's telling the owner (that's me) to contact her people ASAP. Okay. Now's a good time to panic.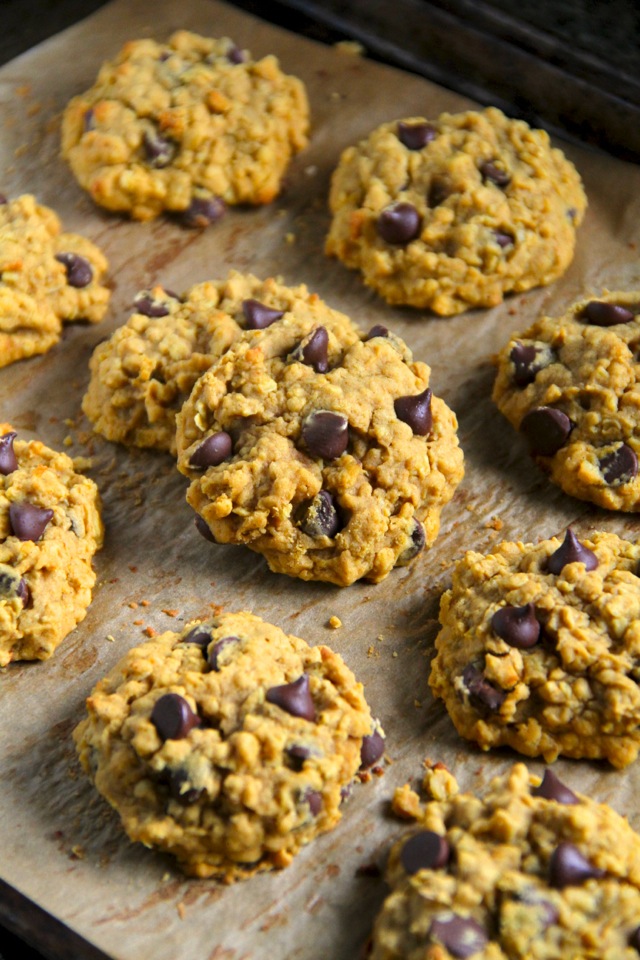 Turns out that an influx of spam comments was putting a strain on the server and causing performance issues, meaning that my account had to be deactivated until I could get the situation under control. O…kay? Delete spam comments; doesn't sound too bad. The only problem was that I couldn't actually log on to my WordPress account and had to do everything from PHP, which is a server-side scripting language that I had no idea was even a thing until about 4pm on Saturday afternoon.
But that's not even the best part. There were only two ways to fix the problem: delete every.single.comment on every.single.post that I've written over the past 3 years, or go through 2500+ pages of comments and manually remove each spammy one. Okay. Now's a good time to have a mini nervous breakdown.
Not gonna lie — I went back and forth on the idea of hitting DELETE ALL for all of about 15 minutes before I realized there was no way I was willing to lose the comments on all of my older ED-related posts, not to mention the ones on all of my recipes, so I set up camp for the night (read: surrounded myself with coffee, snacks, and loud music), and went through the painstaking process of manually removing all the spam.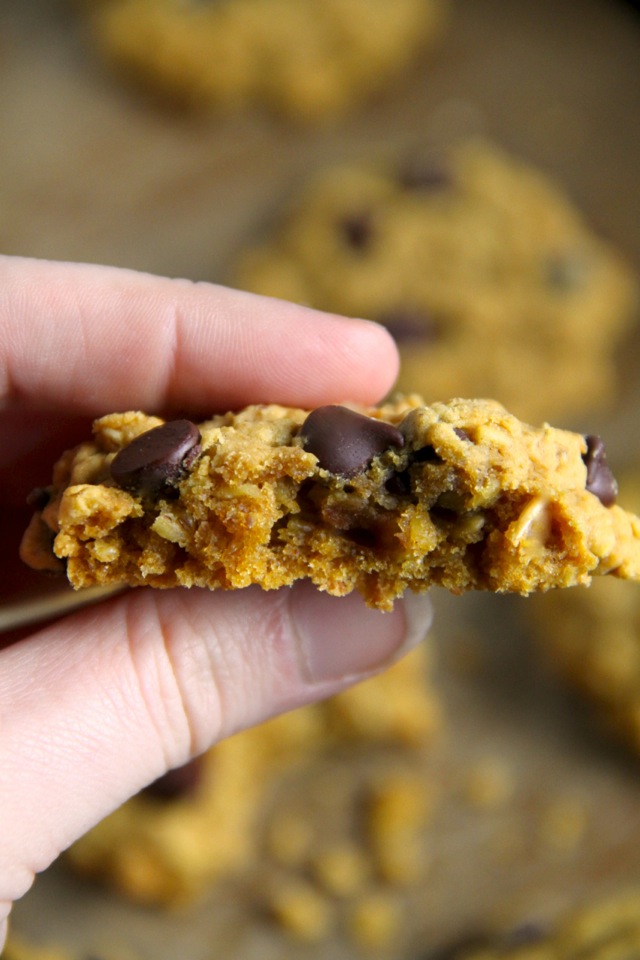 Truth be told, it wasn't even that bad. Once I figured out what I actually had to do (which took a good 1.5 hours and a couple of meltdowns), it was just a bunch of mindless 'scroll, click, confirm'… 'scroll, click, confirm'… It only took a couple of hours (as opposed to a couple of days like I thought), and I would have been back in action a lot sooner had it not been for the fact that it was the weekend and the department I needed to talk to was closed for the night by the time I finished. Womp, womp.
And if you're wondering what all this has to do with today's recipe for flourless pumpkin oatmeal cookies, the answer is not much other than the fact that they're what I called dinner on the night this all went down.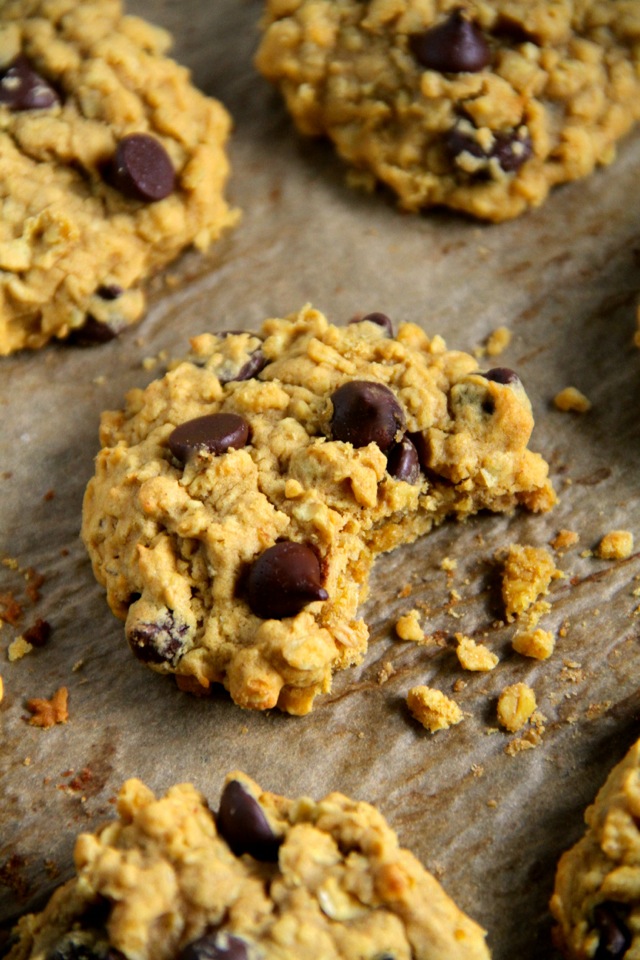 I know, I know, but there are some occasions where it's perfectly acceptable to eat cookies for dinner… especially when your cookies are of the healthier sort. And made with veggies… which sounds a lot weirder than it actually is.
But pumpkin is all sorts of awesome in cookies, if a little tricky to work with. It has a tendency to make cookies come out slightly cakey, so I made these without eggs in an effort to combat that. The result is a soft and chewy cookie that's still a tad bit cakey, but also boasts a slightly crispy exterior that gives way to a chewy, melt-in-your-mouth interior. They're vegan, as they're made without any eggs or butter, and also gluten-free, as they're also made without flour.
So if you're in the market for a delicious pumpkin oatmeal cookie, or if you're just looking for a way to use up some leftover canned pumpkin, I definitely recommend giving these a try!
Happy eating!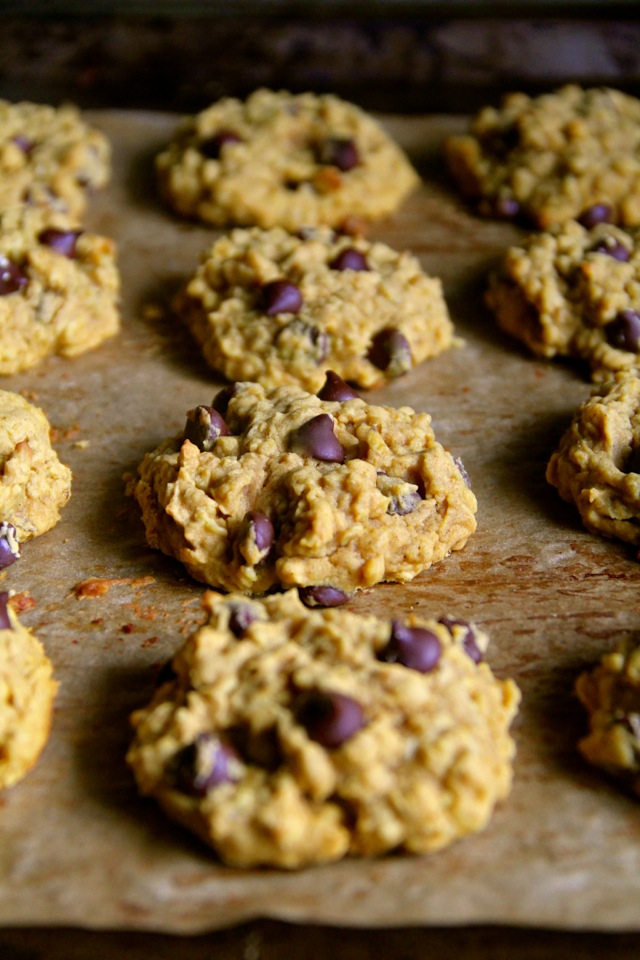 I'd love to know if you make this recipe! Leave a comment and rating down below to let me know what you think, and subscribe to our mailing list to receive new recipes in your inbox!
Print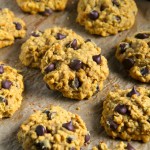 Flourless Pumpkin Oatmeal Cookies
---
Author:

Total Time:

22 mins

Yield:

12

large cookies

1

x
1/4 cup

nut/seed butter*

1/3 cup

canned pumpkin puree (NOT pumpkin pie filling)

1/4 cup

coconut sugar**

2 Tbsp

. coconut oil, melted

1 tsp

. cinnamon

1/4 tsp

. ground nutmeg

1 tsp

. vanilla extract

3/4 cup

rolled oats

1/4 cup

arrowroot powder***

1/2 tsp

. baking powder

1/3 cup

add-ins (chocolate chips, nuts, dried fruit, etc.)
---
Instructions
Preheat oven to 350F and line a cookie sheet with parchment paper or a non-stick baking mat. Set aside.
In a large mixing bowl, combine nut butter, pumpkin, sugar, coconut oil, spices, and vanilla, mixing until the sugar dissolves and the mixture is smooth. Add oats, arrowroot powder, and baking powder, mixing until well combined. Fold in chocolate chips.
Using a generous tablespoon, scoop out dough and drop it on your prepared baking sheet, flattening slightly. Dot with additional chocolate chips, if desired.
Bake for 10-12 minutes, or until the edges begin to turn golden brown. Remove from oven and allow to set on baking sheet for about 10 minutes before transferring to a cooling rack to cool completely. Store in an air-tight container for up to a week.
Notes
* I've used both almond and soy nut butters, and both turned out just fine. I do recommend using a no-stir butter, though, as the oils in the natural ones could change the consistency of the dough too much. ** Can sub with any sugar you have on hand. I haven't tried it, but you -might- be able to get away with subbing in 2-3 Tbsp. of honey or brown rice syrup instead. *** Can also sub with cornstarch.
Prep Time:

10 mins

Cook Time:

12 mins
Keywords: cookies, dessert, Fall, gluten-free, healthy, oatmeal, pumpkin, pumpkin oatmeal cookies, recipe, snack, vegan

Looking for more healthier cookie recipes? Try one of these!
Almond Joy Oatmeal Cookies
Chocolate Chip Banana Bread Oatmeal Cookies
Gluten Free Vegan Chocolate Chip Cookies
Grain Free Vegan Chocolate Chip Cookies
Flourless Oatmeal Cookies