Flourless double chocolate oatmeal cookies that are soft, chewy, loaded with chocolate, and super easy to make with only one bowl and a handful of simple ingredients! They're gluten-free and a perfect choice for when those chocolate cravings hit!
Hands up if you've ever made chocolate cookies at seven in the morning because you didn't know what else to do with yourself after waking up at the crack of dawn *raises hand* No? Just me? Well alrighty then…
So I'm not sure if I told you guys this, but my sleep schedule did a complete 180 over the past handful of months. I went from going to sleep around 10 and waking up at 4 or 5, to going to sleep around 2 and waking up at 8 (ish). Still the same amount of sleep (because I'll wake up in 6 hours no matter what time I go to bed)… just shifted a few hours later.
Well… I was feeling a little more tired earlier this week, so I decided to try to go to bed early (11pm) in hopes of catching up on some zzz's. Instead, I ended up wide awake at 4am and in the kitchen [baking] by 7. And now it's 2:30 in the afternoon, and I'm ready for dinner because it feels like 6. Please send help.
Or chocolate, which is basically the same thing.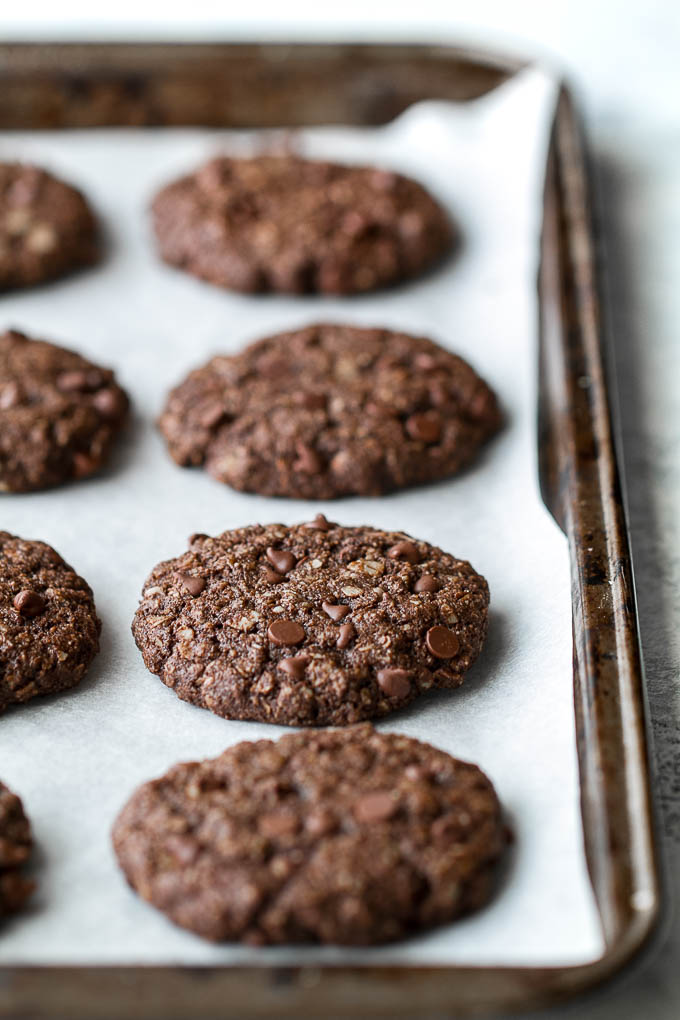 So you know how I said I was going to post nothing but chocolate recipes for all of February? Obviously it's still too early to tell since I only pencilled those in and I'm prone to change my mind at the drop of a hat, but the statement stands for at least the next week and a half – I used a marker for those ones 😉
Then again, White-Out is thing and I really do like changing my posting schedule on a whim… BUT! I can say with confidence that this recipe (obvs) and the next one are chocolate-covered. And pretty darn fabulous, if I do say so myself.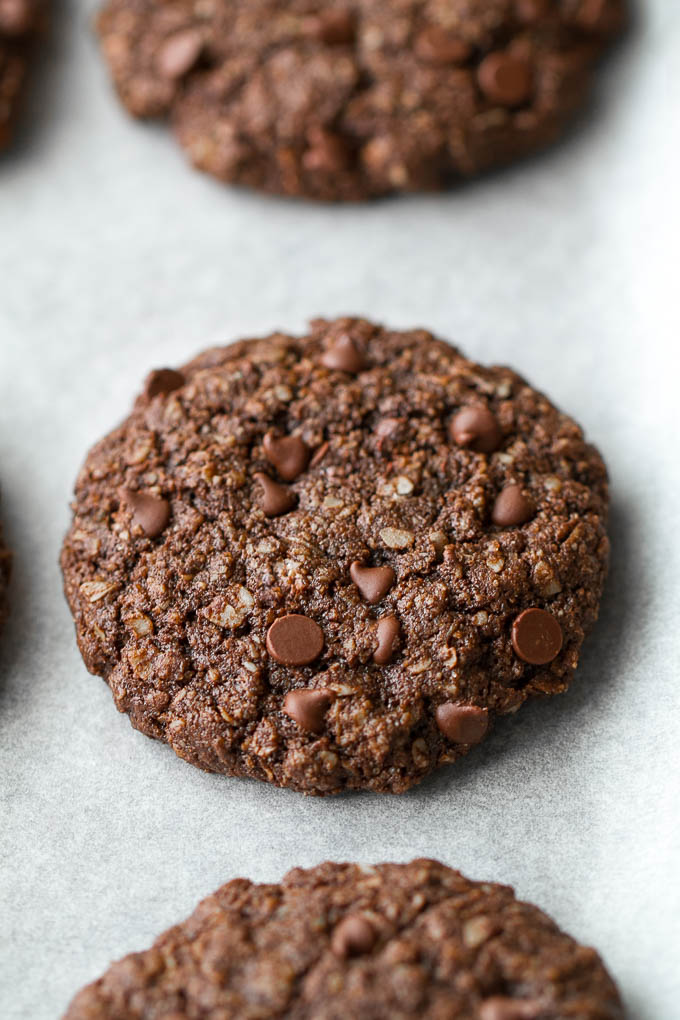 Because how can flourless double chocolate oatmeal cookies not be fabulous when every word part of their name just screams it?
First up is the flourless bit – these cookies aren't made with any. I know some people might argue that almond flour is technically flour, but it's literally just ground up almonds with minimal processing and nutrient stripping… so it's in it's own little category in my books. That being said, these cookies still aren't grain-free, as they do contain oats. And make sure to use some that are certified gluten-free if you're making them for people that have allergies.
Next up we've got double chocolate – cocoa powder mixed into the batter and chocolate chips thrown in after because you can never have too much chocolate. I like using Hershey's dark cocoa powder for a little extra chocolatey-ness, and mini chocolate chips because I find they distribute flavour way more evenly. Is that crazy? Who knows.
After that, all that's really left is the oatmeal cookies part, which I think is pretty self explanatory. They're soft, chewy, loaded with chocolate, and super easy to make with only one bowl and a handful of simple ingredients. I hope you love them!
Happy eating!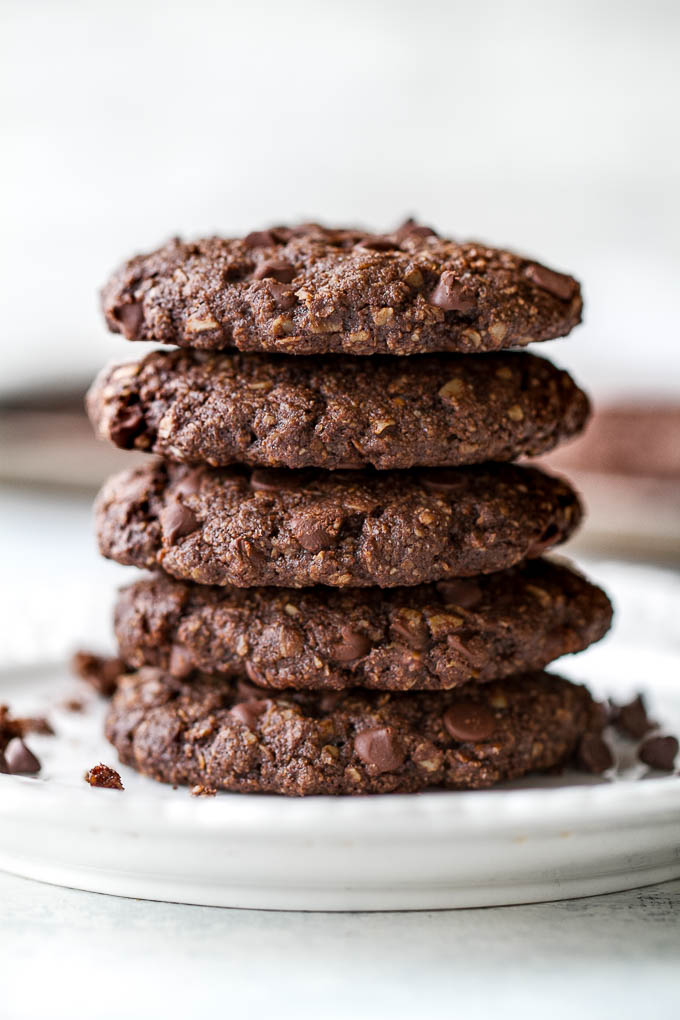 I'd love to know if you make this recipe! Leave a comment and rating down below to let me know what you think, and subscribe to our mailing list to receive new recipes in your inbox!
Print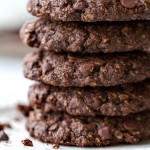 Flourless Double Chocolate Oatmeal Cookies
---
Author:

Total Time:

17 mins

Yield:

12

–

14

cookies

1

x
---
Instructions
Preheat your oven to 350ºF (176ºC) and line a large baking sheet with parchment paper or a non-stick baking mat. Set aside.
In a large mixing bowl, combine the oats, almond flour, cocoa powder, sugar, baking soda, and baking powder. Add the egg and coconut oil, and mix until fully combined. Stir in the chocolate chips.
Using a rounded tablespoon, scoop out the dough and roll it into a ball between your palms. Drop the dough onto your prepared baking sheet and gently flatten it with your fingers. The cookies will spread a little bit, so leave about 2 inches of room between them and don't flatten them too thin.
Bake for 7 – 9 minutes, until the edges begin to set.
Remove the cookies from the oven and let them cool for 10 minutes before transferring them to a cooling rack to cool completely. Store them in an airtight container at room temperature for up to a week.
Notes
* You can also use brown sugar. ** You can also use a different vegetable oil.
Prep Time:

10 mins

Cook Time:

7 mins
Keywords: almond flour, chocolate, cookies, dessert, flourless, gluten-free, healthy, oatmeal, recipe, snack

Looking for more healthy cookie recipes? Try one of these!
Chewy Flourless Oatmeal Cookies
Soft and Chewy Double Chocolate Banana Cookies
Gluten Free Vegan Chocolate Chip Cookies
Almond Joy Oatmeal Cookies
Grain-Free Snickerdoodles

*Disclosure: Some of the links included in this post may be affiliate links, meaning I'll earn a small commission if you purchase through them, at no additional cost to you. I only recommend products I personally use and believe will add value to my readers. Thank you so much for helping support Spoons!