This Flourless Chocolate Chip Banana Bread is made with NO flour, butter, or oil, but so soft, tender, and flavourful that you'd never be able to tell! It's gluten-free, low in refined sugar, and whipped up in the blender in 5 minutes flat!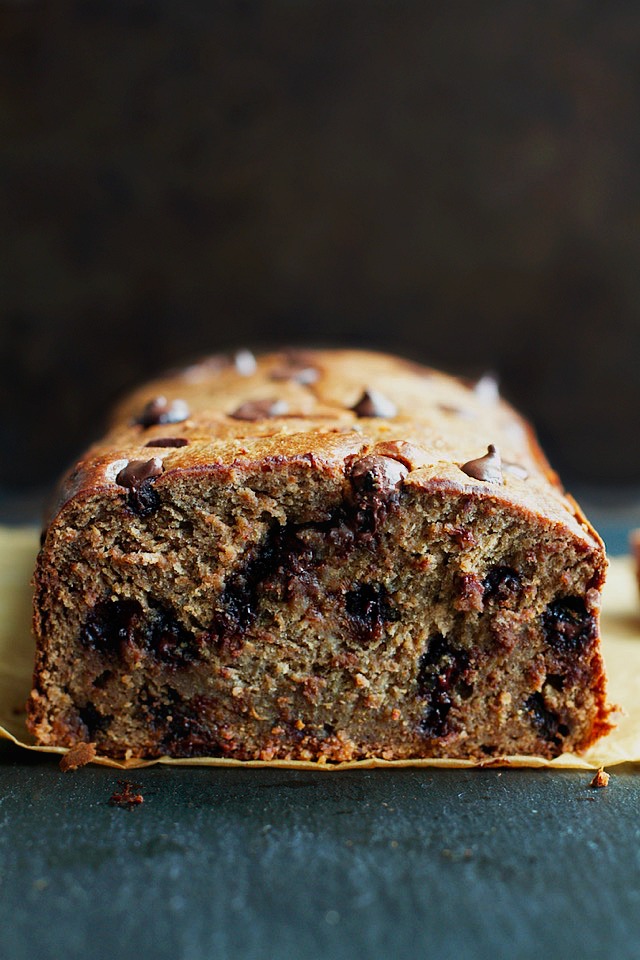 I was going to start this post with a killer opener like: "banana bread recipes are like little black dresses – everyone needs a good one in their arsenal…" but then I realized that it wouldn't necessarily apply to the handful of male readers I have (Hi! I know you're there!!), and I didn't want to be rude and exclude anyone. SO! let's modify that statement to something boringly generic like "everyone needs a good banana bread recipe in their arsenal" and talk about what brought about the LBD analogy instead.
So I was cleaning out my closet the other day (it's an obsession – I hate clutter), when I realized that 90% of my clothes were either black or dark gray. No joke – a solid 90%. I do have a tiny little section in the back corner devoted to my neglected pinks, corals, and whites, but I honestly can't even remember the last time I reached for them… and judging by the comments I get about "needing to add more colour to [my] wardrobe because [I'm] not goth or attending a funeral," it's probably safe to say that no one else can remember either.
BUT! In my defence, I do make an effort with more colourful accessories. Sometimes ?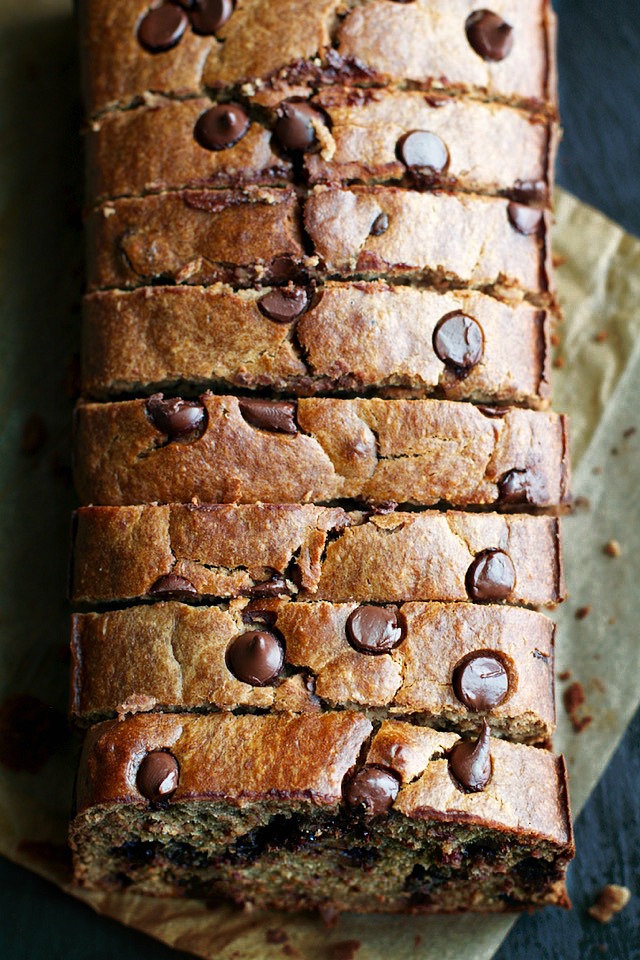 What can I say? I love dark colours and monochromatic wardrobes… and it has nothing to do with wanting to portray a certain mood or image. I love them because they're simple; and apparently I'm not alone on that.
Think about it. When all your clothes are one colour, you don't have to worry about what goes with what because everything goes with everything else. You don't have to spend time thinking about what you're going to wear tomorrow because you basically have one signature look. And you don't have to worry about sorting your laundry either ? Some might call it boring, but it actually frees up a lot of time and mental energy that you can redirect towards something else.
Don't get me wrong. I'm definitely not saying that people who love fashion and colourful wardrobes are wasting their time – I think it's awesome to be passionate about things. Fashion has just never been my thing (except o the rare occasion), so being able to remove 90% of the decisions associated with it is beautifully freeing, especially when it means that I can redirect that extra energy towards the work that I adore… like sharing healthy and delicious recipes.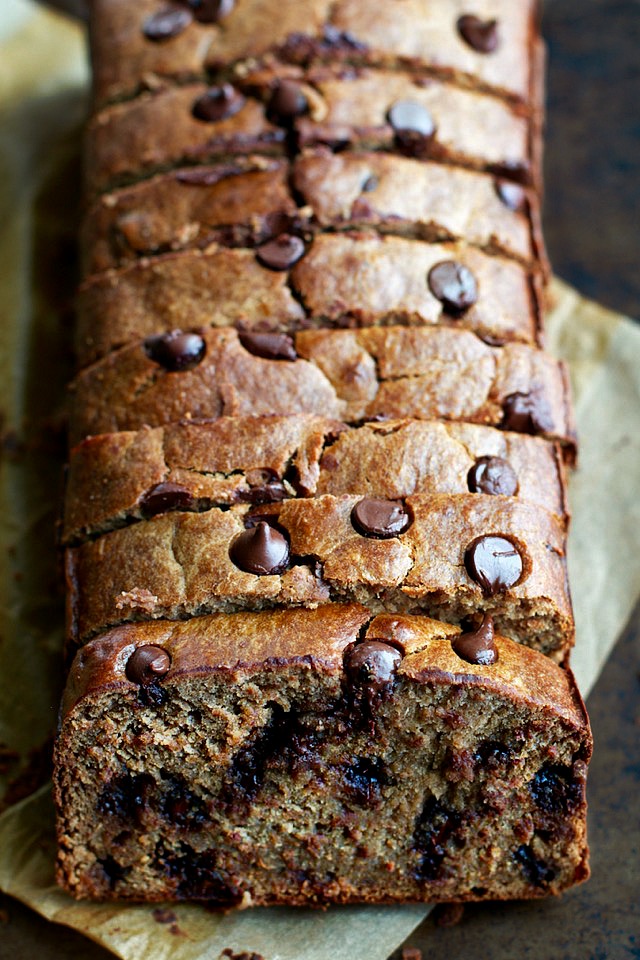 How's that for a smooth segue? ?
In all seriousness, though, my approach to recipes is like my approach to my wardrobe – I like to keep things simple. That's why the majority of my recipes use pretty basic ingredients, and also why so many of them can be made in the blender — this flourless chocolate chip banana bread included.
I meant what I said about everyone needing a good banana bread recipe in their arsenal, and if you love them super moist, perfectly sweet, healthy enough to eat for breakfast, and decadent enough to enjoy for dessert, then this recipe may very well become your go-to.
It's made with NO flour, oil, or butter, but so soft and tender that you'd never be able to tell. There's also a really minimal amount of refined sugar, no dairy, no gluten, aaaaaand… plenty of tastiness? Sorry, it's late and I'm kind of running on empty here. The point is! it's healthy, it's delicious, and it's super simple to make. Wins all around!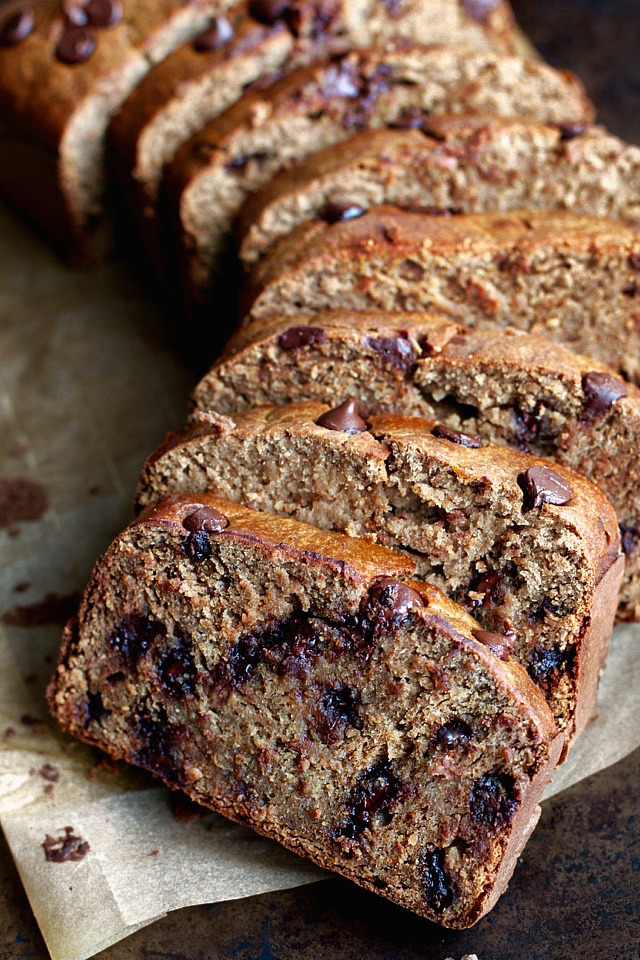 I'd love to know if you make this recipe! Leave a comment and rating down below to let me know what you think, and subscribe to our mailing list to receive new recipes in your inbox!
Print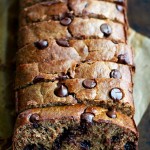 Flourless Chocolate Chip Banana Bread
---
Author:

Total Time:

1 hour

Yield:

1

loaf, 12 slices

1

x
3/4 cup

(

60 g

) oats, quick or old-fashioned

2

medium, ripe bananas (

200 g

or

1 cup

mashed)

1/4 cup

(

64 g

) nut/seed butter*

2

large eggs

1/4 cup

(

50 g

) coconut palm sugar**

1 tsp

baking powder

1/2 tsp

baking soda

1/4 tsp

sea salt

1/2 tsp

ground cinnamon

1 tsp

vanilla extract

1/2 cup

(

85 g

) chocolate chips
---
Instructions
Preheat your oven to 350ºF (176ºC), and lightly grease a 9 x 5 (23cm x 13cm) bread pan or line it with a sheet or parchment paper, leaving a few inches of overhang for easy removal. Set aside.
Add the oats to the bowl of a high-speed blender or food processor and process on high until they've broken down into a fine powder, about 2 minutes. Add all the remaining ingredients except for the chocolate chips and continue processing until the batter is smooth and creamy, about 2 minutes.*** Fold in the chocolate chips by hand.
Pour the batter into your prepared loaf pan, spreading it out evenly and topping with a few more chocolate chips, if desired.
Bake for 45 – 50 minutes, until the top of the loaf begins to turn golden brown and a toothpick inserted into the centre comes out clean. Allow the loaf to cool in the pan for about 5 minutes before removing. Store in an airtight container for up to 5 days, or freeze for up to 3 months.
Notes
* Feel free to sub this with any nut butter you have on hand, or use a soy nut butter to make it nut-free. I do recommend using a no-stir store-bought variety, however, since the natural oils can alter the texture. ** You can sub this with brown sugar. *** If you don't own a high-speed blender or food processor, you can mix this by hand by subbing the rolled oats with a heaping 1/2 cup of oat flour.
Prep Time:

10 mins

Cook Time:

50 mins
Keywords: baking, banana bread, chocolate chip, flourless, flourless banana bread, gluten-free banana bread, healthy, recipe

Looking for more flourless banana recipes? Try one of these!
Flourless Banana Bread Muffins
Soft and Chewy Banana Bread Granola Bars
Banana Oat Greek Yogurt Muffins
Flourless Chocolate Banana Bread
Flourless Vegan Banana Muffins