Happy What I Ate Wednesday, friendly faces! 😀
So I know that Wednesdays are usually reserved for sharing a day's worth of eats, and that it's been a few weeks since I participated in the foodie festivities, but I started this epic food survey on Monday, and now I've got to finish it. Got to. No other choice. Part 1 covered grains, fruits, veggies, and nuts, while part 2 is all about dairy, meats. Here we go!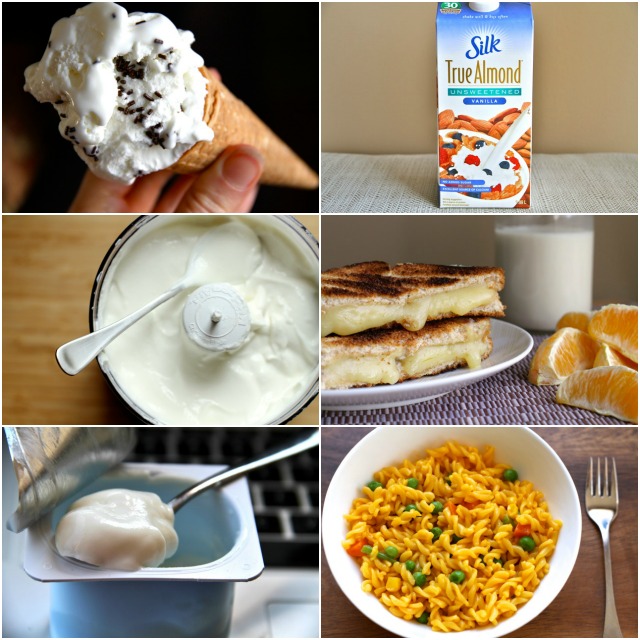 Dairy
1) do you prefer chocolate or white milk?:
If I'm just drinking it straight up? Chocolate. That being said, I'm not super crazy about milk… but when I was younger I'd drink like 4 glasses a day.
2) what's your favorite brand of yogurt?:
Oikos. More specifically, their 2% plain Greek.
3) do you think you get enough calcium?:
With all the yogurt I eat? I would hope so! I do take a calcium/magnesium supplement, though… But that's mostly because it tastes like candy. Don't judge me.
4) where do you get the most calcium from (yogurt, cheese, milk, etc)?:
Probably Greek yogurt. I go through a 500g tub about every 2 days.
5) what's your favorite type of cheese?:
Parmesan, but I also really love havarti and feta.
6) what's your favorite way to eat cheese?:
With macaroni, a la macaroni and cheese

7) what's your favorite flavour of ice cream?:
Vanilla. I know it may sound boring, but it's the perfect base for whatever kind of toppings you want to toss on it. That being said, it has to be a good vanilla, preferably with flecks of real vanilla bean.
8) when you eat oatmeal, do you make it with milk, or water?:
Usually water. I like to be able to taste the oatiness.
9) what kind of milk do you drink?:
Vanilla almond milk from Silk. I like 2% cow's milk in my coffee when I'm out, though.
10) what's your favorite thing to do with cottage cheese?:
Either mixing it with a spoonful of blubbery jam, or making a cheesecake dip.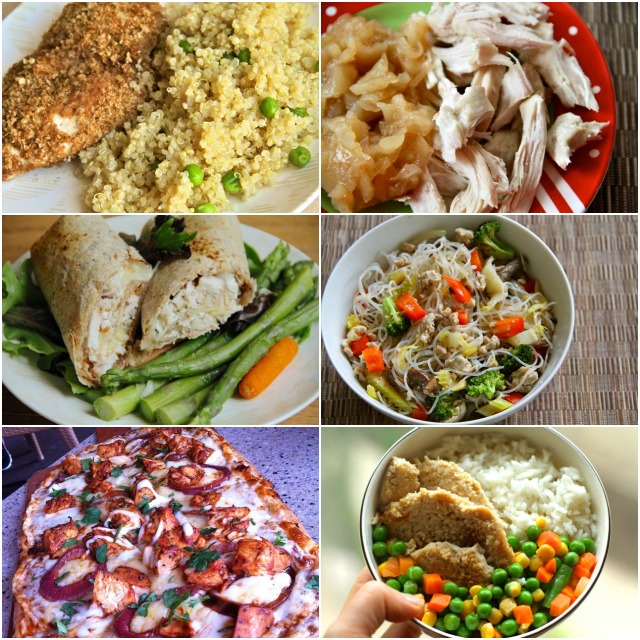 Meat
1) are you vegetarian or vegan?:
I used to be, but I'm not anymore. I don't really care much for meat and I don't even eat much of it now (maybe 3 times a week?), but I do find that I feel better when I include a small amount in my diet. My brain also doesn't do well with the idea of labelling any kind of food as being off-limits.
2) if you aren't vegetarian or vegan, could you ever be?:
Yup! I was vegan for about a year and veggie for 4, and I never found it difficult at all. Like I said above, I don't care much for meat, and mostly eat it for health reasons. If I could give it up and still feel 100%, I would — especially since I hate working with raw meat.
3) what's your favorite type of meat?:
Chicken.
4) what's your favorite type of fish or seafood?:
The kind that I don't have to eat. This girl does not like any kind of fish or seafood. I've only ever eaten fish once in my life and it almost made me gag. Cannot do it.
5) hamburgers or hotdogs?:
Hotdogs. I don't like burgers at all, and I think I've only ever eaten one or two in my entire 29 years?
6) if you have a barbeque, is it propane-powered, or charcoal?:
No BBQ. Next question!
7) what's your least favorite type of meat?:
Okay all these meat questions are making me feel a little skeevy, especially when I have to think about the kind I don't like… I don't know? Anything that isn't super well done.
8) is there a type of meat you haven't tried yet, but want to try?:
Nope!
9) what's the most exotic meat you've ever eaten?:
😯 I don't know? I've never been overly adventurous with meat, so I'm going to go with chicken nuggets from McDonald's — never know what's in those suckers 😉
10) when you eat meat, is the portion bigger than a deck of cards?:
Sometimes yes, sometimes no. And as a side note… why couldn't this section be about meat and meat alternatives?!?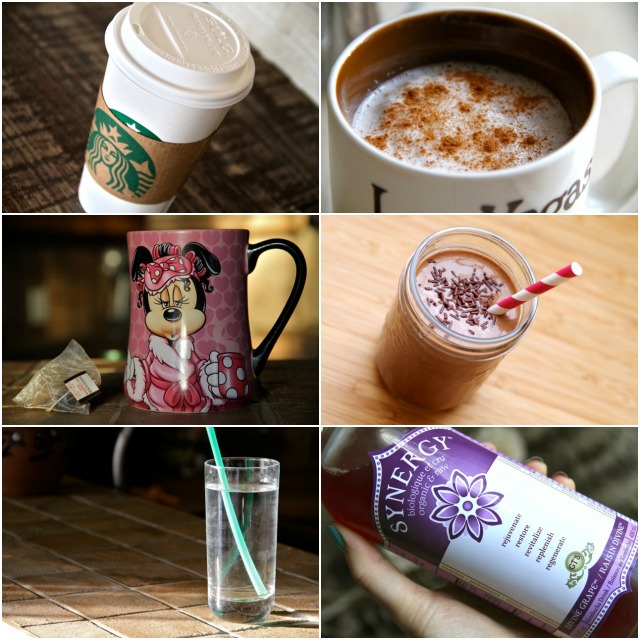 Drinks
1) what do you put in your coffee?:
My face. And a splash of milk and a sprinkle of cinnamon prior to that.
2) what do you put in your tea?:
Occasionally honey, but usually nothing. My favourite tea (Hot Cinnamon Spice from Harney & Sons) is sweet enough without needing anything extra.
3) do you like the taste of water?:
Water has a taste? I don't mind drinking water, if that's what you mean.
4) do you drink enough water everyday?:
Yup! I drink anywhere from 2-3L a day. I just find that I feel so much better when I do, so it's not that hard of a habit to keep up.
5) what's your favorite flavour of diet soda?:
I'm scared of diet soda 😯 If I'm craving something fizzy, I usually go for a naturally flavoured soda water.
6) do you think you drink too much diet soda?:
See above.
7) do you prefer to eat or drink your calories?:
Usually eat, but there are times where nothing hits the spot like a cold and creamy smoothie. Even then, though, I usually have to add something on top for crunch.
8) do you drink energy drinks?:
No. I tried a Red Bull once, and I literally thought I was going to have an out of body experience. My body doesn't tolerate energy drinks well.
9) what's your favorite smoothie recipe?:
My Thick & Creamy Chocolate Smoothie! I have one every couple of days or so.
10) do you flavour your water (lemon, crystal lite, etc)?:
Not usually. Occasionally I'll add lemon slices or frozen blueberries, though.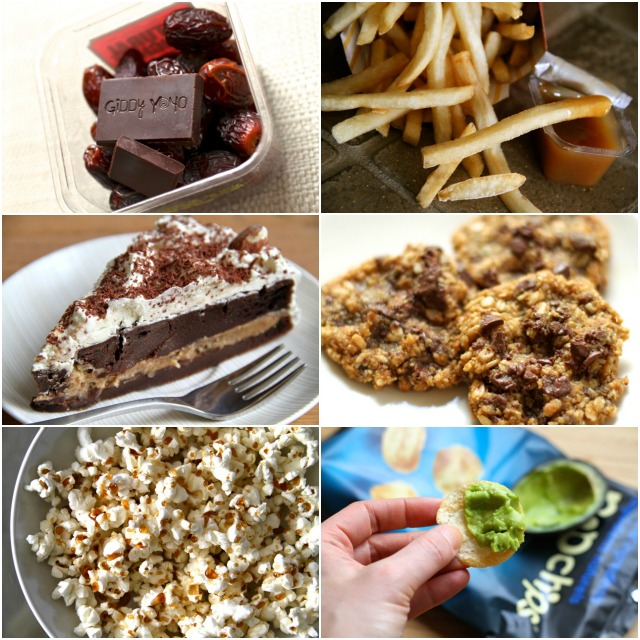 Treats
1) how often do you eat something unhealthy?:
Ignoring the fact that I don't like the way this question is worded, I have a treat on a daily basis. I find that doing so keeps my cravings in check and prevents me from getting to the point where I want to stuff my face with ALL the sugar.
2) do you prefer a sweet or a salty treat?:
Sweet, sweet, SWEET. I'll get a craving for salty foods on occasion, but more often than not it's all about the sugar.
3) what's your favorite salty treat?:
Definitely french fries… especially the ones from McDonald's, accompanied by sweet 'n' sour sauce.
4) what's your favorite sweet treat?:
I honestly can't say that I have one because it really depends on what I'm craving. Sometimes chocolate, sometimes gummies. Sometimes ice cream, sometimes cake. If it's sweet chances are that I'll like it.
5) what's your favorite brand of chocolate bar?:
I'm a huge fan of Giddy YoYo, even though I haven't been able to find it around here lately! Thankfully, Alter Eco is still around… and that's another favourite.
6) when was the last time you went out to eat?:
In Vegas, I think? To Chipotle, which I must have hit up at least 5 or 6 times while I was there.
7) what did you order?:
A burrito bowl with chicken, brown rice, guac, and corn salsa.
8) do you tend to binge on unhealthy foods around your house?:
No. That's why I make sure to eat some kind of treat daily — it keeps those urges at bay.
9) chips or popcorn?:
I love both, but I'm going to side with popcorn on this one… especially when butter and salt are involved. Or coconut oil and honey.
10) what's your favorite flavour/brand of chips?:
Sour cream and onion Popchips… especially when avocado is involved.

Are you, or have you ever been, a vegetarian?
How often do you treat yourself?
What's your favourite sweet treat?
More places to find me!
E-mail — [email protected]
Twitter — runwithspoons
Facebook — runningwithspoons
Pinterest — runwithspoons
Instagram — runwithspoons
Bloglovin — runningwithspoons