Today was… different.
Not in a bad way, but in an "Okay. Where's the real Amanda, and what have you done with her?" kind of way. It was like… did the sun rise in the west, or what?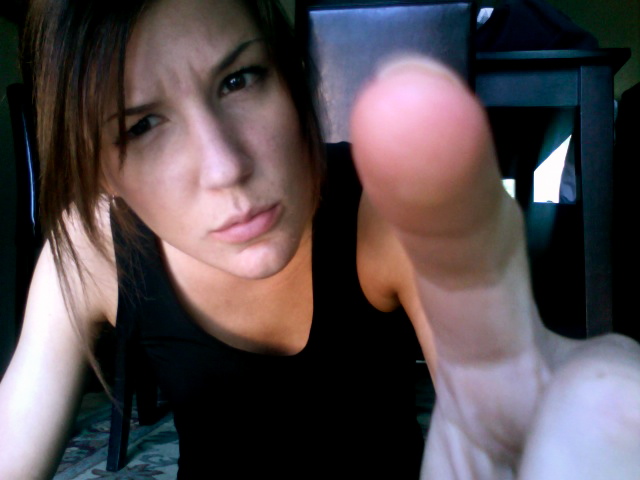 [Have you seen this goofy face? Slightly crazy, mostly harmless. Approach freely]
The strangeness started this morning, when I opened my big brown eyes, glanced at the time, and was shocked to see the numbers 6 and 30 staring back at me. I slept in. Yes, I realize that the terms "6:30 AM" and "sleeping in" don't logically fit in the same sentence (unless you need to be somewhere super early, which I didn't), but for someone who doesn't normally sleep past 5:30, that extra hour is a pretty impressive feat. Impressive, but strange; and that was only the beginning.
After getting over my initial shock, my attention was immediately drawn to a certain bodily sensation, or rather, the lack of it. And no, we're not going the bathroom humor route here – we try to keep things clean around these parts. It was my hunger – there was no trace of it. None whatsoever. I normally wake up more than ready and willing to eat, but this morning? Nothing.
I poked my stomach. I prodded. Hellloooooo? Are you in there? Silence.
I was at a loss. I can't even remember the last time I had to deal with that kind of thing, and I had no idea what to do. Do I eat? Do I not eat? I know I should eat. But I'm not hungry. Erm. Help? 😕 Eventually, I did decide to eat, which is when another strange thing happened – I didn't feel like having my beloved almond butter and chocolate pudding oats. Instead I had…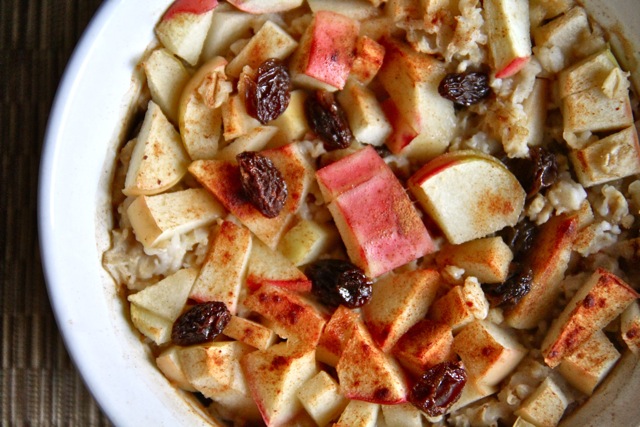 😯 By this point, I was starting to question whether my brain had been mysteriously snatched away in the middle of the night. I mean, I can understand sleeping in and a lack of hunger, but not wanting to have chocolate in the morning? Who AM I?! And while we're on the topic of food, today was the first day in I-don't-even-know-how-long that I actually craved something savory when snack time rolled around. See, in my mind, "snack time" is synonymous with "satisfy the sweet tooth time". But not today, apparently…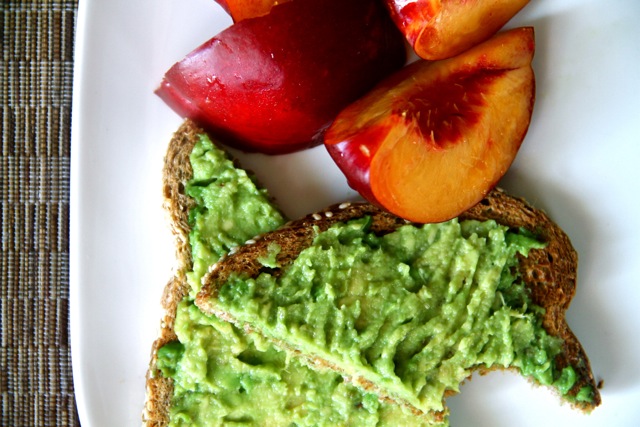 [Ezekiel sesame bread, toasted and topped with avocado and sea salt. A nectarine]
I blame Matt for this one. Just the other day, he pictured some toast topped with avocado as part of his daily eats, which reminded me how much I love the combo, so I had to have some myself. And speaking of Matt, I have him to thank for yet another reason that today deviated from the norm…
I got a package!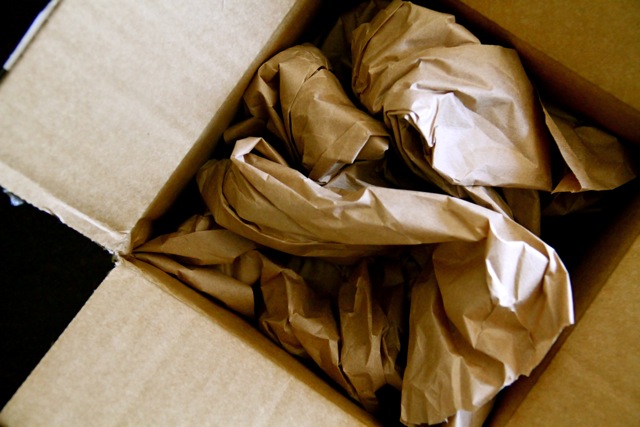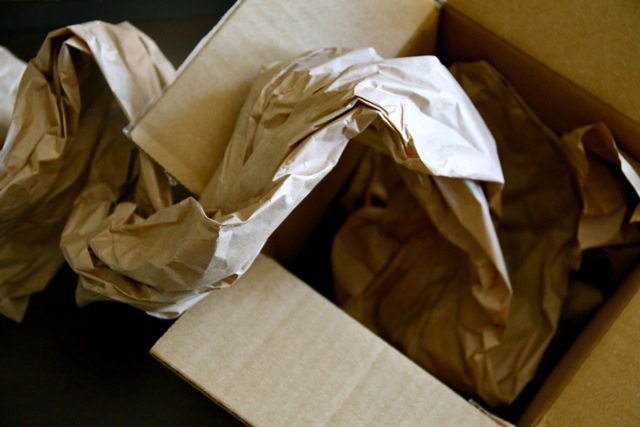 I won a giveaway that he hosted a little while back, and today I finally got my loot.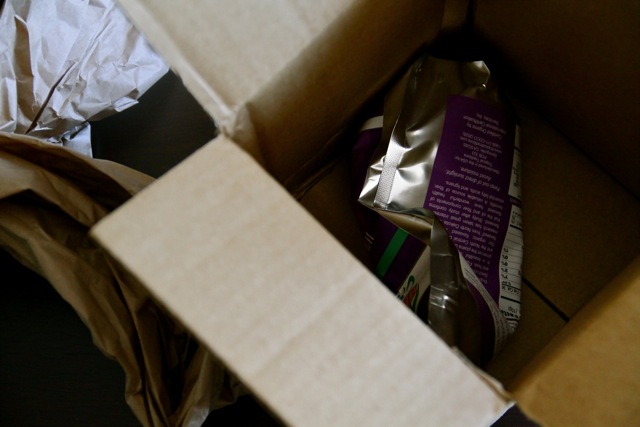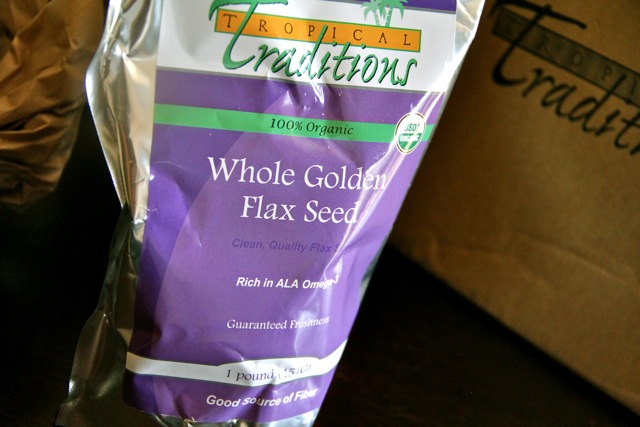 [Golden Flax Seeds from Tropical Traditions]
I love getting packages in the mail (who doesn't?!), but it rarely ever happens. Sad face. The only things I get in the mail on a regular basis are bills or speeding tickets, neither of which I enjoy. But boxes filled with goodies? Now that is something that I'd like to see on a more regular basis 😀
Another thing that's going to be making more regular appearances? Chia seeds in smoothies…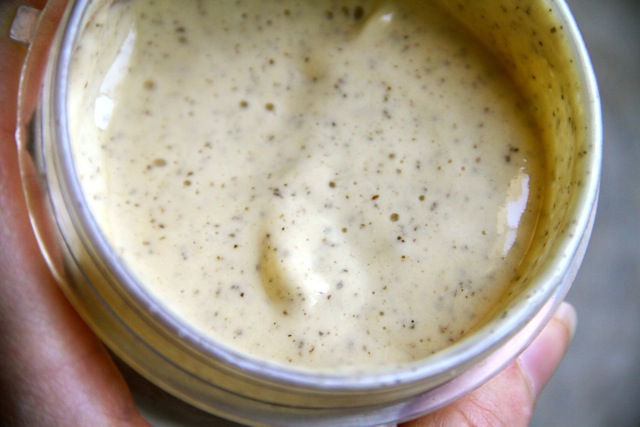 I know I've hated on the little buggers in the past, but I've gotta admit that I'm a big fan of them when they're all blended up. I decided to try something different with my vanilla tofu protein smoothie and added about a tsp. of chias added in. I loved the goopy-ness that the chias gave it. Big fan.
And with that, things pretty much went back to normal. My hunger returned…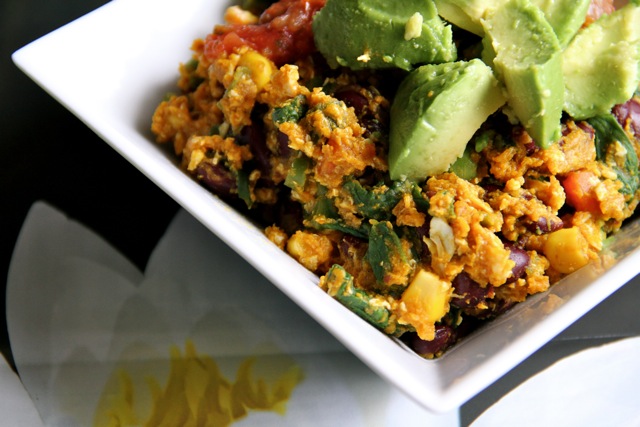 [Pumpkin Chili Mexican Scramble]
My chocolate craving kicked in…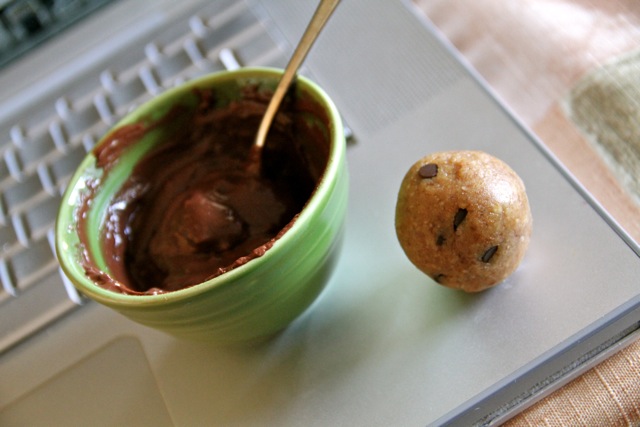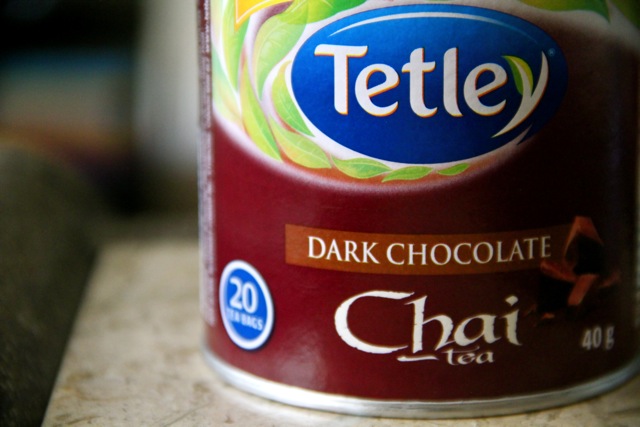 [Chocolate pudding & Cookie Dough Ball. Chocolate Chai tea]
Everything was right with the world once more; but who knows what tomorrow will bring.
. – . – . – .
What do you do when you find your hunger absent at times you would normally eat? Or when you find it absent for most of the day? I'd actually like to talk more about this in an upcoming post. I just have to get my thoughts sorted first.