You know what's creepy?
I was having a hard time coming up with an intro for this post (#storyofmylife), so I went back to see what I wrote for my Currently post in September of 2014 only to realize that my answers to the first two questions are eerily similar… And that's my favourite part about filling these out every month — being able to go back and see how much things have changed. Or how much they haven't 😆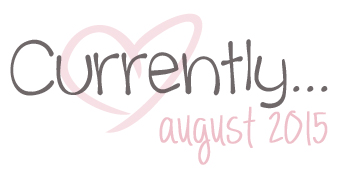 Current book: Queen of Shadows by Sarah J. Maas. It's the fourth book in the Throne of Glass series, and while I really enjoyed the first three books, I'm having a slightly harder time getting into this one. I'm only about 1/4 of the way through, though, so hopefully it picks up soon. I'll let you know!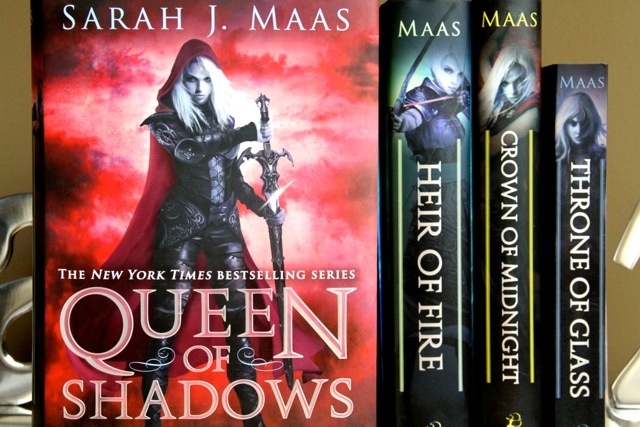 Current music: I Need Your Love by Timeflies. These guysssssss….
[youtube="https://www.youtube.com/watch?v=KEHc0y35yH4&w=640&h=427″]
Current [non]-guilty pleasure: My workouts. I'm in a really good place with exercise right now, and working out is seriously a pleasure. No guilt, no obligation… just straight up moving my body because it feels damn good to do so.
Current nail colour: Birthday suit… which isn't a cute name for a nude Essie or OPI polish, but a cheeky way to say that my nails are as naked as they were the day I was born. And I literally just broke one about an hour ago while fighting with the zipper to my hoodie. I know. Don't ask 😡
Current drink: Lots and lots of tea. I just ordered my yearly supply of my favourite Hot Cinnamon Spice tea, so hopefully that gets here soon because I'm starting to run low…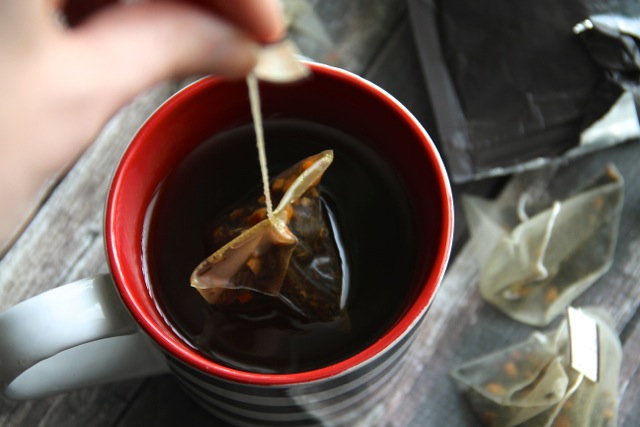 Current food: Oats! I took a bit of a break from oats over the summer when the smoothie obsession kicked in hardcore, but I'm back on the wagon and loooooving it. Makes my mornings all cozy.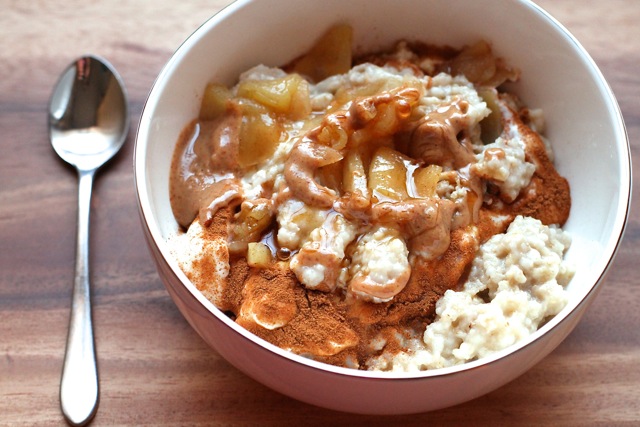 Current obsession: The sweet and salty combo. I wasn't kidding when I said it was the beginning of the end for me when I made those sweet & salty trail mix granola bars — I seriously haven't been able to get enough of the combo since then… hence following them up with those salted caramel pretzel bars. Both are gone, though, which means it's time for bar recipe #3?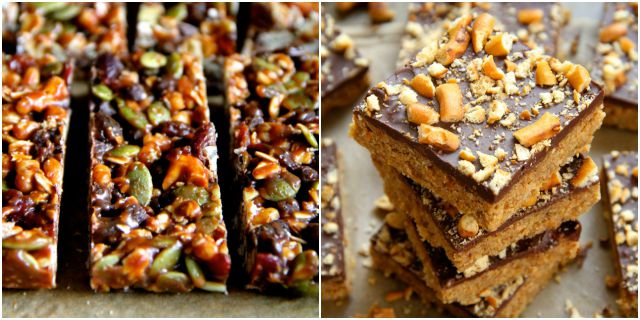 Current craving: A trip to the mountains. I haven't been since… April? May?… and I got that longing going on deep down in my soul… which I realize sounds 100% hokey and ridiculous, but there's really no other way to say it. Jo knows what I'm talking about.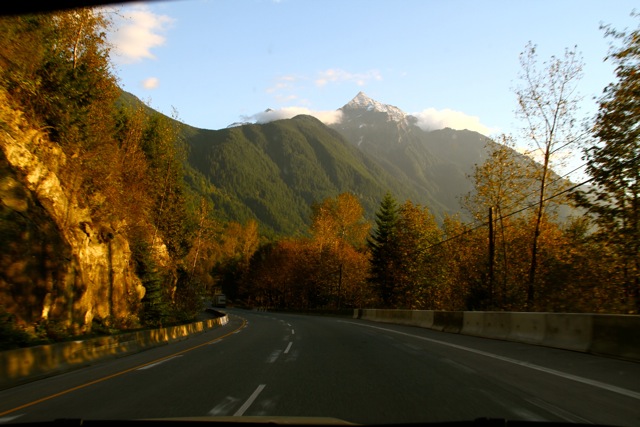 Current need: Besides a trip to the mountains? Hmmm… probably a leash muzzle for my sweet tooth. I don't tend to demonize sugar the way most of popular media does, but when it starts replacing more nourishing food on a pretty regular basis? Yeaaaaah, I could probably do with a small intervention.
Current bane of my existence: A wonky, non-existent appetite. I usually want to eat ALL the things, but my appetite has been pretty MIA for the past little while, which confuses the heck out of me and makes eating more of a chore than anything else. And I had to laugh because the first thing that came up in Google when I searched for "have you seen my appetite?" was this 😆 –>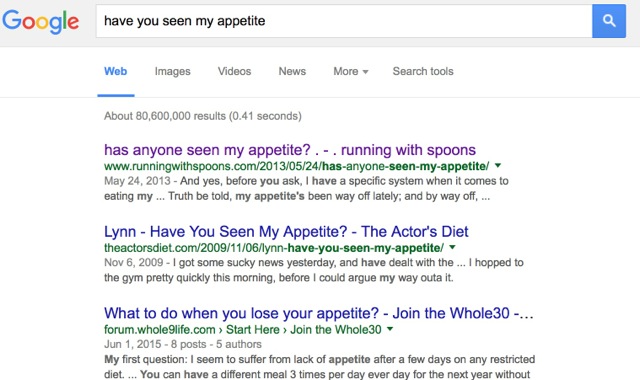 Current indulgence: Uhhhhhhm 😯 I might have to sack this question because I seriously draw a blank every.single.month. I just do things I like without seeing it as indulging?
Current procrastination: Laundry. I've been meaning to do it for… a week now? A week and a half? 😆 I've reached the point where I'm digging into my "last resort" wardrobe. Don't judge me — you know you've been there too.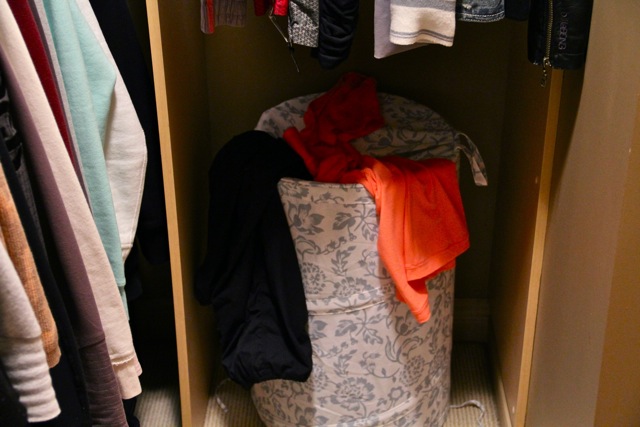 Current confession: I always miss going back to school around this time of the year. The kids here are heading back tomorrow, and I always feel a little pang when I see them standing at the bus stop or walking around with their backpacks. Then I remember staying up till 3 AM writing essays and studying for exams, and I think I'm okay with being all done.
Current quote: This one…

Current excitement: Is it too early to get excited about fall? Because I'm already getting excited about fall, and I'm pretty sure it's the cooler weather and darker mornings that are doing it. Bring on the [changing leaves, pumpkin, chunky sweaters, etc., etc.].
Current mood: A good one, because why the heck not?!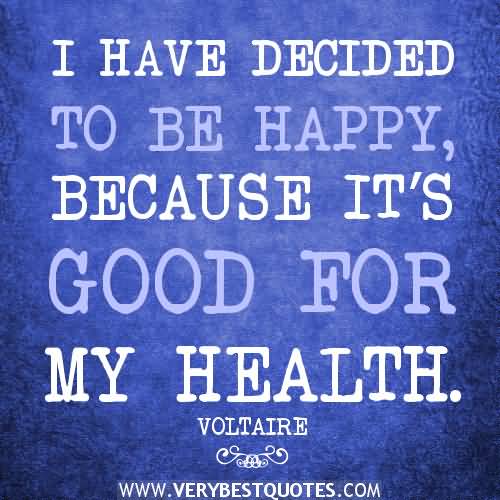 Alright, friendly faces — that's it for me. Hope you're enjoying your long weekend!

Your turn! Give me your current:
1) … song.
2) … food.
3) … bane of existence.
4) … confession.
5) … mood.
More places to find me!
E-mail — [email protected]
Twitter — runwithspoons
Facebook — runningwithspoons
Pinterest — runwithspoons
Instagram — runwithspoons
Bloglovin — runningwithspoons