The addition of granola gives these Chocolate Banana Granola Muffins the most amazing hearty texture! Pair that with cocoa, bananas, and Greek yogurt, and you've got a healthy way to enjoy chocolate for breakfast!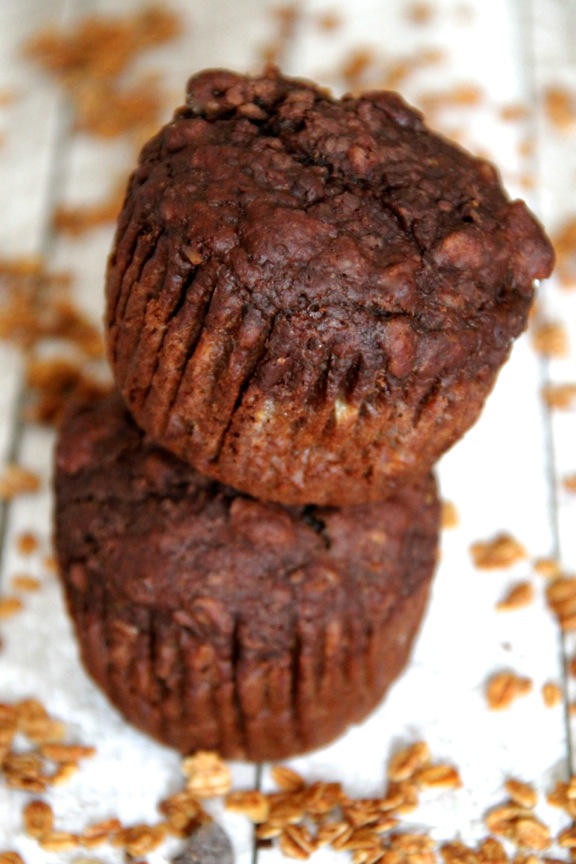 "Do you know… The Muffin Man?"
"The Muffin Man?"
"The Muffin Man."
"Yesss. I know The Muffin Man. Who lives on Drury Lane?"
"Well, she's married to… The Muffin Man."

"The Muffin Man?"
"THE MUFFIN MAN!!!"
Ten points if you can name that movie. Ten points and one of these Chocolate Banana Granola Muffins.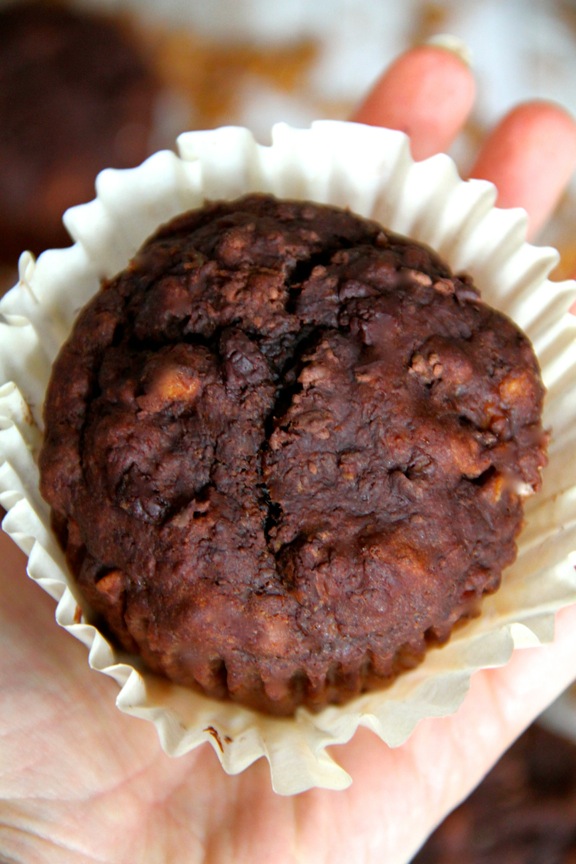 I know it hasn't even been a week since I posted my last muffin recipe, and that it's the season for all things cookie, candy, and cupcake, but I'm posting more muffins today because:
a) Muffins are delicious,
b) I love muffins, and
c) muffins are delicious.
I feel like I may have repeated myself, but we're going to let that slide because muffins are delicious, especially when they're loaded with bananas, chocolate, and granola.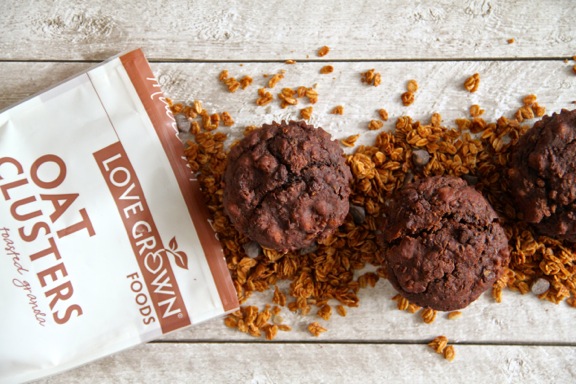 Yes friends, granola. See… the craziest thing happened to me the other day. I was in the process of making a batch of chocolate oatmeal breakfast muffins to take with me on my trip to the mountains this past weekend, when I realized that I didn't actually have any oatmeal on hand. I know. A girl who would argue that oatmeal needs to be its own separate food group, not even having any on her. In my defence, though, this is probably the first time that's ever happened to me, and it's mostly because I've been a little overly lax with my grocery shopping lately. Oops.
No, wait… that's not entirely true. I did come across one lonely packet of instant oats while I was digging through my pantry, but that was nowhere near enough. Thankfully, I also came across a baggie of Love Grown Cocoa Goodness Oat Clusters granola. So I improvised and used that instead. I mean, granola is basically oatmeal, right? Right.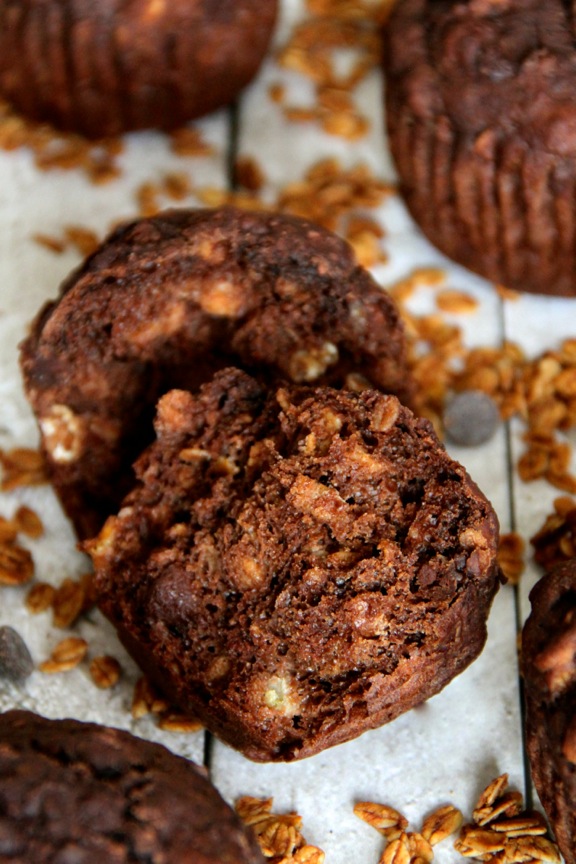 You guys! Look at that texture! If you've never tried baking with granola before then you're probably looking at me like I'm crazy, but I can promise you that it will rock.your.socks.OFF. The granola gets all soft and chewy, giving these muffins the most amazing texture. Pair that with some cocoa, bananas, and Greek yogurt, and you've got yourself a healthy way to enjoy chocolate for breakfast… or whenever the craving happens to strike.
And while I'd really love to spend more time talking about how much I love these muffins (because I do) and how I devoured the entire batch over the course of the weekend (because I did), I think it's time to share the recipe and spread some love with a little #lovebloggergiveaway…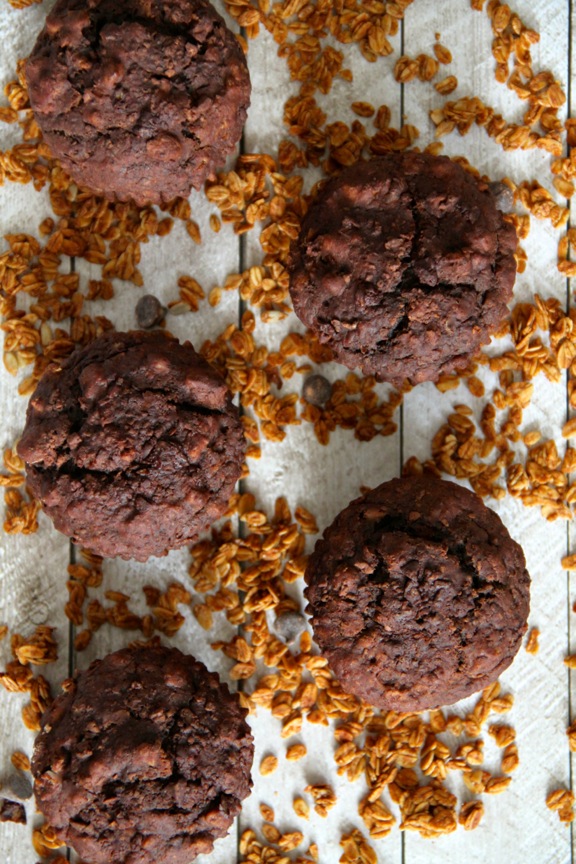 Chocolate Banana Granola Muffins
Author:
Prep time:
Cook time:
Total time:
Ingredients
1 cup whole wheat flour
1 cup granola (I used Love Grown Cocoa Goodness Oat Clusters)
1/4 cup unsweetened cocoa powder
1 tsp. baking powder
1/2 tsp. baking soda
1/4 tsp. salt
1 large egg
1/4 cup unsweetened applesauce
1/4 cup brown sugar
2 Tbsp. coconut oil
1/2 cup plain Greek yogurt
2 ripe bananas, mashed
1/2 cup chocolate chips
Instructions
Preheat oven to 400F and prepare a muffin pan by spraying cavities with cooking spray or lining them with paper liners. Set aside.
In a medium-sized mixing bowl, combine flour, granola, cocoa powder, baking powder, baking soda, and salt. Set aside.
In a large mixing bowl, whisk egg until it is slightly frothy. Add applesauce, brown sugar, coconut oil, Greek yogurt, and mashed bananas, mixing well until everything is fully incorporated.
Gradually add dry ingredients to the wet ingredients and stir until just combined. Do not overmix. Gently fold in chocolate chips.
Divide batter evenly among the muffin cavities, filling each cavity until it is about ¾ full.
Bake for 15-20 minutes, until the tops of your muffins are set and a toothpick inserted into the middle comes out clean. Allow muffins to cool in pan for ~5 minutes before transferring to a wire rack to cool completely. Store in an air-tight container for up to a week.
Tasty, right? Yeaaaaah. And now for some more tastiness!
I'm super fortunate to be an ambassador for Love Grown Foods, a company I seriously adore not only because they make delicious granolas, cereals, and oatmeal, but because of how generous, supportive, passionate, and loving they are. And today I wanted to share some of that love with you guys by hosting a giveaway for four Love Grown products of your choice. The rules are simple:
Mandatory

: Follow Love Grown Foods on Instagram and leave a comment telling me what you love most about the holidays.
Optional: vote for my muffins in the Love Blogger Holiday Recipe Contest by liking my recipe on Facebook and Pinterest.
That's all, folks! Be sure to leave a separate comment for each entry (for a total of up to 3 comments), and I'll be randomly picking a winner that I'll announce on Monday, December 15. The giveaway is open to those living in the US or Canada only (sorry international friends!!), and the winner will have his or her choice of four products. Good luck!

Disclaimer: As a Love Grown Foods LOVE Blogger, I did receive the bag of Love Grown granola free of charge. I was not, however, required to write this recipe, nor was I compensated for my time. All opinions are my own.
More places to find me!
E-mail — [email protected]
Twitter — runwithspoons
Facebook — runningwithspoons
Pinterest — runwithspoons
Instagram — runwithspoons
Bloglovin — runningwithspoons