I knew I needed an intervention when I came to the bottom of my bottle of molasses. I mean, who finishes an entire bottle of molasses?!? That's like finishing a bottle of nail polish — it just doesn't happen. Molasses is one of those things that hangs out in the back of your pantry for decades, waiting with bated breath every time you reach for a sweetener, only to be passed over in favour of its milder cousins, brown sugar and honey.
But there I was, standing in my kitchen clutching an inverted bottle of molasses as I impatiently waited for that last sluggish tablespoon to make its way down the side of the bottle and into my mixing bowl. Needless to say, I was standing there for quite some time. I needed it, though — needed my fix. After all, what good was trying to make a [third] batch of chocolate gingerbread brownies without the molasses? No good at all.
Now, I'm a firm believer that everything happens for a reason, so I took that as a sign that it was time to step away from the bottle [of molasses] and move on to a new obsession. Allow me to introduce you to it…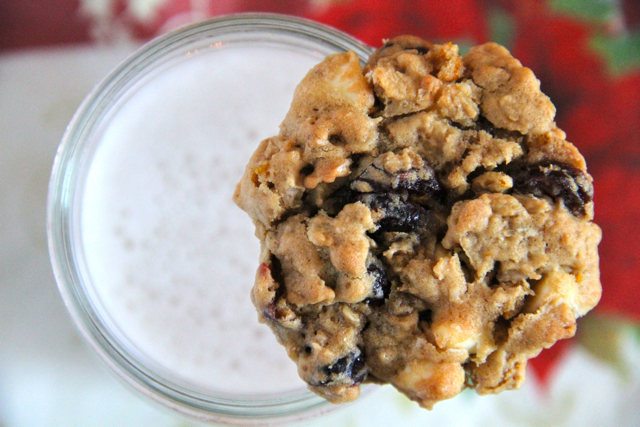 White chocolate and cranberries — a match made in heaven. You've got your slightly-too-sweet chocolate on the one hand, and your slightly-too-tart cranberries on the other. Put them together and you're left with that kind of perfect harmony that seems to only exist in the movies… but better because its edible. And I haven't even told you the best part…
While white chocolate and cranberries are good, what really sets these cookies apart is the addition of orange zest. I know they usually say three's a crowd, but in this case three's what takes things from "Man, this is delicious!" to "holy sh*t… fsssshaaaawlalalala." Exactly. So… white chocolate, cranberries, and orange — my newest downfall obsession.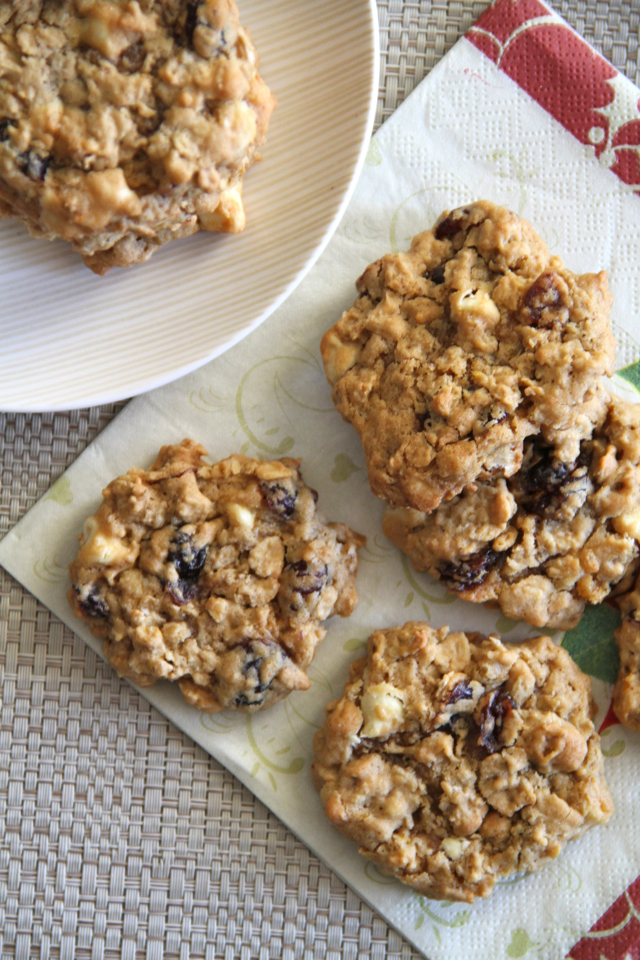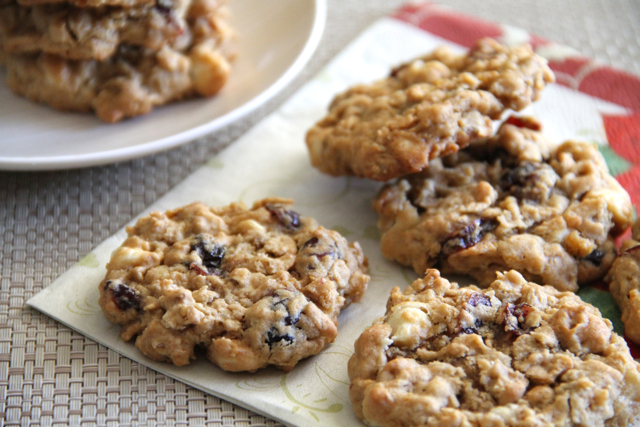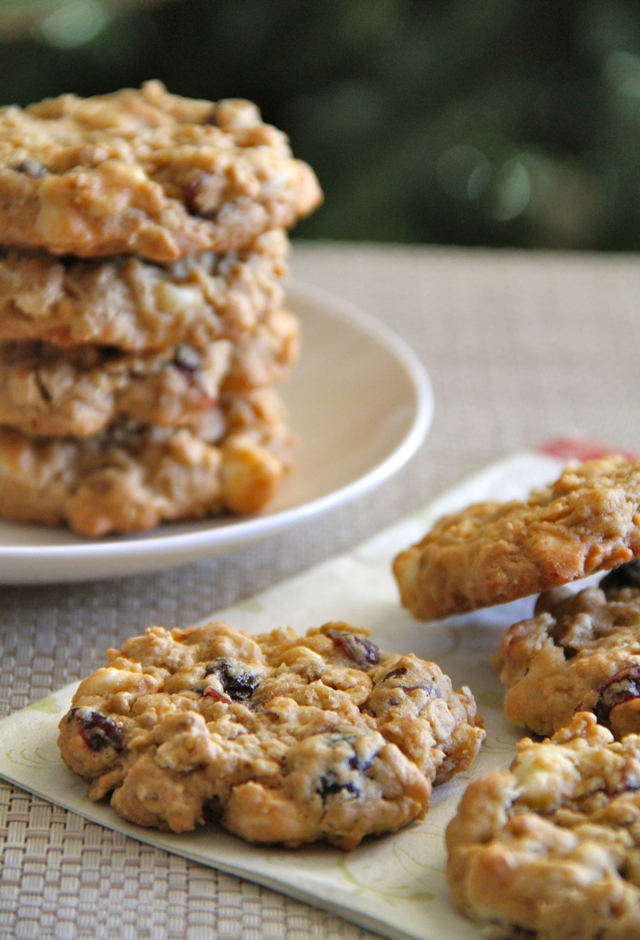 It took me three tries (and two meltdowns) to get this recipe right, but it was more than worth it. Batch #1 failed because I had a brain fart and somehow only ended up tossing in half the amount of oats that I was supposed to. Batch #2 failed because there was [apparently] too much butter in the dough and I was left with a solid tray of melted oatmeal cookie bark. But batch #3? Batch #3 was good…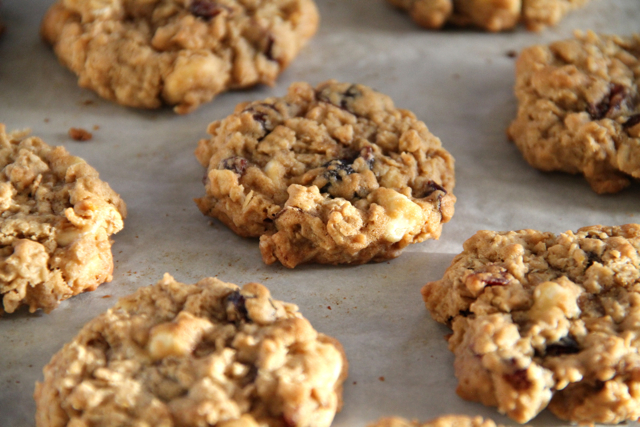 Slightly crisp on the outside while being soft and chewy on the inside, these guys are pretty much everything I look for in a perfect oatmeal cookie. Not only do they melt in your mouth in a way that only the most comforting of cookies do, but they offer up an absolutely amazing shot of flavour in the process. Sweet white chocolate and tart dried cranberries rounded out by an aromatic hint of citrus — feel free to swoon.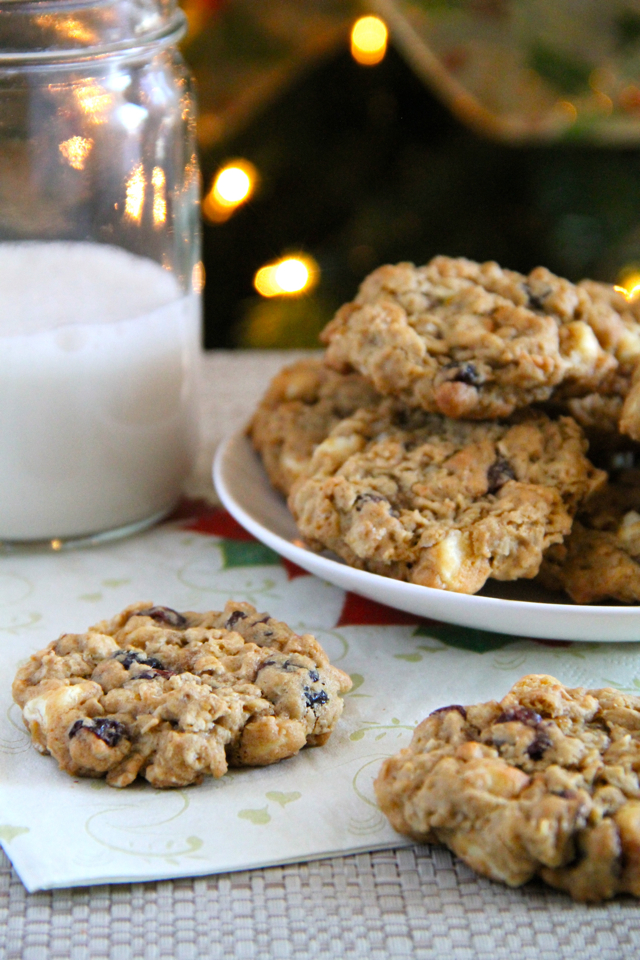 I'd love to know if you make this (or any!) recipe! Tag @runwithspoons on Instagram and Twitter, and be sure to subscribe to our mailing list to receive more healthy and delicious recipes straight to your inbox!
Print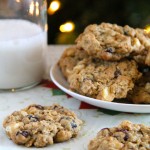 White Chocolate Cranberry Oatmeal Cookies
---
Author:

Total Time:

25 mins

Yield:

24

cookies

1

x
1/2 cup

(

1

stick) unsalted butter, softened

1/3 cup

dark brown sugar

1/4 cup

granulated sugar

1

large egg

1 1/2 tsp

. grated orange zest

1/2 tsp

. almond extract

1 cup

all purpose flour

1/2 tsp

. baking soda

1/4 tsp

. salt

1 1/2 cups

old-fashioned rolled oats

1/2 cup

dried cranberries

1/2 cup

white chocolate chips
---
Instructions
Preheat oven to 350F and line a large baking sheet with parchment paper. Set aside.
In a large bowl using a hand-held or stand mixer, cream together butter and sugars until smooth. Beat in the egg, orange zest, and almond extract, mixing until light and fluffy — about 2-3 minutes.
In a separate bowl, combine flour, baking soda, and salt. Slowly add to wet ingredients. Stir in oats, dried cranberries, and chocolate chips, mixing until evenly distributed.
Drop dough by rounded tablespoon onto your prepared baking sheet. Bake for 10 -12 minutes, until edges begin to turn golden brown.
After removing from oven, allow cookies to cool on baking sheet for 5 minutes before transferring them to a wire rack to cool completely.
Prep Time:

15 mins

Cook Time:

10 mins
Keywords: baking, cookies, cranberry, oatmeal cookies, orange zest, recipe, white chocolate