These blueberry almond oat bars are so tender and "buttery" that you'd never guess they're made without any flour or butter! A combination of oats and almond flour gives them an irresistibly tender crust, which pairs beautifully with an easy homemade blueberry chia seed jam. Gluten-free and vegan.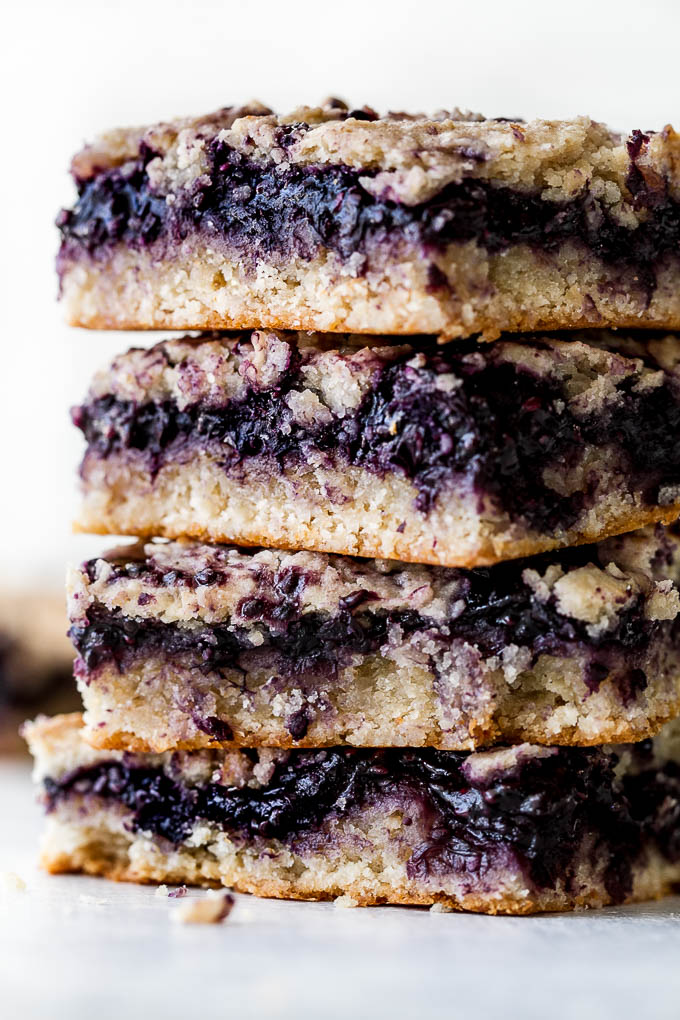 We're putting away the carrots today and busting out some blueberries!!
I know they aren't quite as spring-y, but I need to step away from the orange things for a while and I'm secretly hoping that putting some summer-ish vibes out there will help improve our weather, because… you guys… it snowed a couple days this week. Snowed! Never mind that it basically melted as soon as it hit the ground because we've still got a bunch of snow sitting around from winter, including 3 ft snowbanks that are going to create mini lakes on the sidewalks as soon as they start melting. Those'll go great with the mounds of grit left over from all the rocks and dirt they have to put on the roads.
Have I mentioned that I'm a big fan of spring? (read: I'm not at all)
BUT! I am a big, big fan of these blueberry almond oat bars.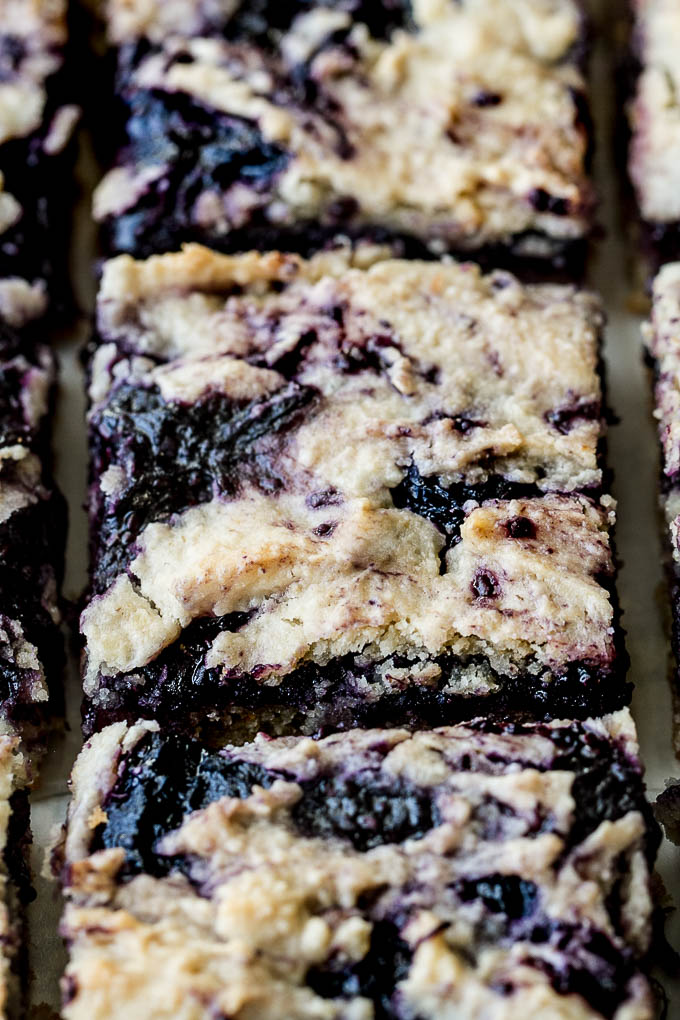 So let's talk deets.
This recipe is actually made up of two mini recipes that mesh together to create a batch of delicious gluten-free & vegan bars.
First up, we've got the blueberry chia seed jam. It's super easy to make, with the most difficult part being waiting for it to finish thickening up before you can actually make the bars. I've found the perfect way around this is to just make the jam in advance since it doesn't require much work. That way, you can let it sit and do its thing until you're ready to put the bars together. Or you can just use store-bought jam if you're short on time or don't have any fresh/frozen berries laying around.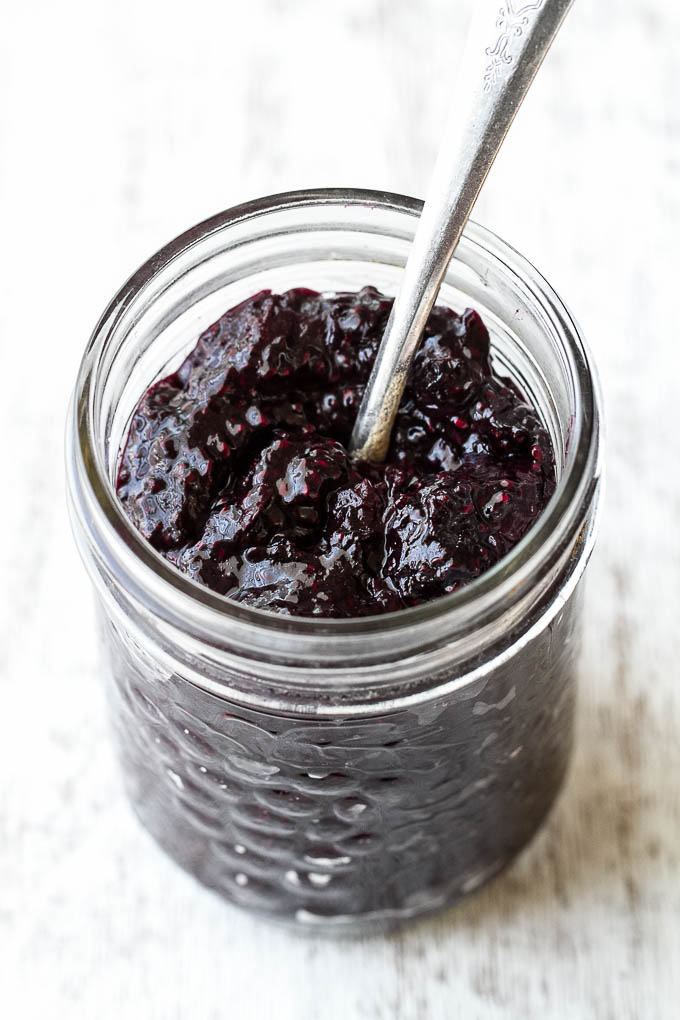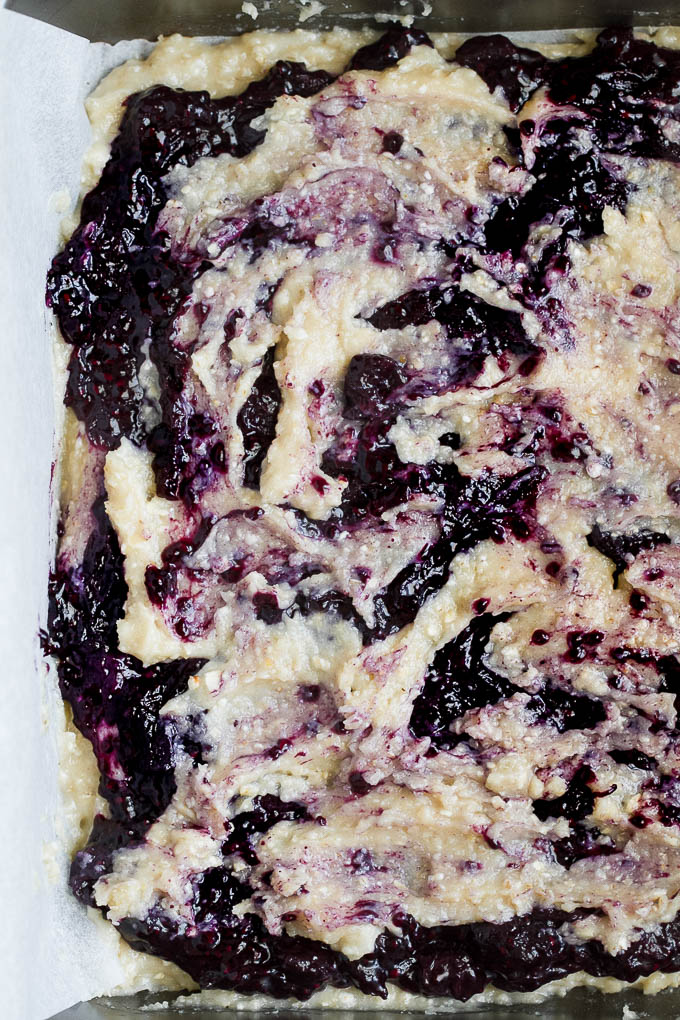 Next up, we've got the almond oat crust. You.guys. This crust is so.freaking.good that I'm pretty sure I came close to reaching the point of no return with how many spoonfuls I "taste tested" straight out of the blender. You know… the point where you eat so much of the dough that you're not sure you have enough left over to make the entire recipe anymore? Yeah. I was definitely toeing that line.
What makes it so good? Well, it tastes sweet and buttery, but it's made without any butter at all. The magic actually happens from a mix of oats (gluten-free if needed) and almond flour, with a little bit of coconut oil. I don't know what it is about this combination, but I've always found it tastes a lot like traditional doughs made with flour and butter. The only downside is that it can be a little tricky to spread out in the pan, but it's nothing a trusty spatula and a couple extra minutes of patience won't counter. Trust me – it's totally worth it.
Happy eating!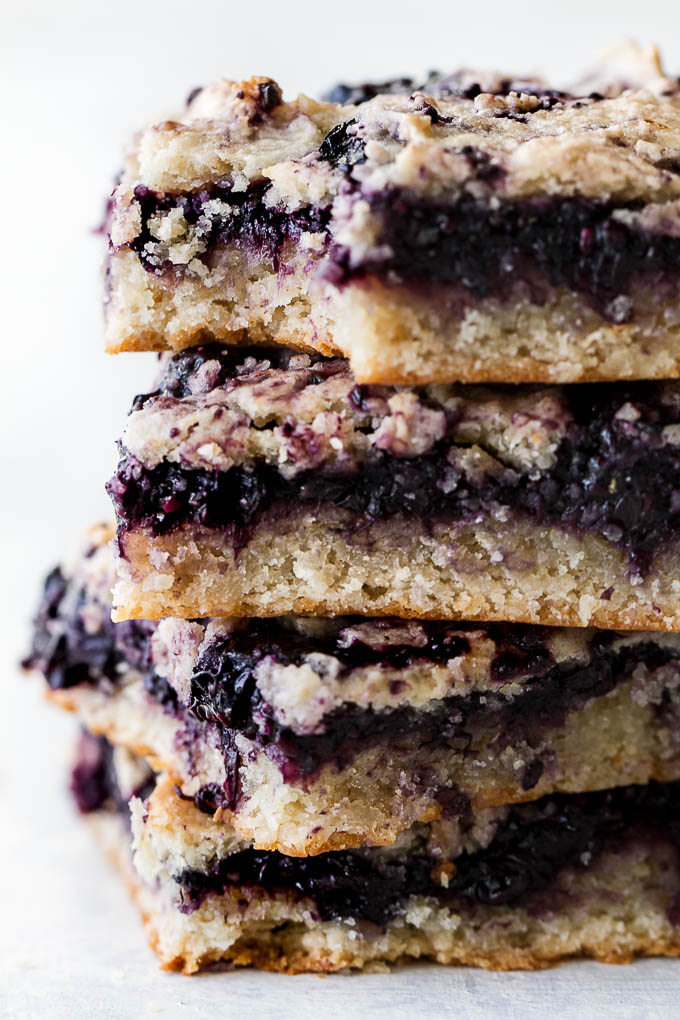 I'd love to know if you make this recipe! Leave a comment and rating down below to let me know what you think, and subscribe to our mailing list to receive new recipes in your inbox!
Print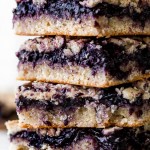 Blueberry Almond Oat Bars
---
Author:

Total Time:

1 hour

Yield:

12

bars

1

x
For the blueberry chia jam:
2 cups

(

280 g

) blueberries, fresh or frozen*

2 tbsp

(

30

ml) maple syrup

2 tbsp

(

20 g

) chia seeds
For the bars:
---
Instructions
Make the jam:
Add the blueberries and maple syrup to a medium saucepan set over medium heat. Heat until the berries begin to release their liquid, about 5 – 15 minutes depending on whether or not they were fresh, frozen, or thawed. Bring to a boil, stirring occasionally, until the berries begin to reduce and thicken, about 5 -10 minutes. Use your spoon to break them apart further if desired.
Stir in the chia seeds, continuing to cook for another 5 minutes. Remove the pan from the heat and allow the jam to cool. It will continue to thicken the longer it sits, which is why I usually like to make it the night before I'm planning on making these bars.
Make the bars:
Preheat your oven to 325F (162C) and prepare an 8×8 (20x20cm) baking dish by lining it with a sheet of parchment paper, leaving a few inches of overhang on the sides to allow for easy removal.
Add the oats and almond flour to a high-speed blender or food processor and process on high for about 10 seconds, or until the oats have broken down into the consistency of a fine flour. Add the remaining crust ingredients and continue processing for about 20 – 30 seconds until a sticky dough begins to form. Make sure to stop and scrape down the sides of your blender/processor as necessary.
Transfer 2/3 of the dough into your prepared baking pan, using your fingers or a spatula to ensure that it is pressed down tightly and evenly. It might be a little stubborn, so just take your time and spread it as best you can – it doesn't have to be perfect. Spoon the chia jam over the surface, and use a spatula or knife to spread it evenly, making sure to only go within 1/4 of the edge to prevent the jam from burning. Top with remaining dough by dropping it on top in in a few separate globs, and then using your spatula to spread them out.
Bake for 35 – 40 minutes, until the centre has set and the bars begin to turn golden brown. Remove from the oven and let them cool in the pan for about 15 minutes before transferring them to a wire rack to cool completely. Use a sharp knife to cut them into individual bars and store them in an airtight container at room temperature for up to 5 days, or wrap individually and freeze for up to 3 months.
Notes
* You can also use 3/4 cup store-bought jam if you don't have time to make your own. ** You can also use any other lightly flavoured oil. *** You can also use brown sugar.
Prep Time:

20 mins

Cook Time:

40 mins
Keywords: almond flour, baking, bars, blueberry, breakfast, gluten-free, healthy, oat bars, oats, recipe, snack, vegan

Looking for more healthy snack bar recipes? Try one of these!
Flourless Banana Bread Bars
Almond Butter & Jelly Banana Bread Bars
Blueberry Banana Oat Bars
Soft Baked Brownie Breakfast Bars
No Bake Almond Fudge Protein Bars

*Disclosure: Some of the links included in this post may be affiliate links, meaning I'll earn a small commission if you purchase through them, at no additional cost to you. I only recommend products I personally use and believe will add value to my readers. Thank you so much for helping support Spoons!