I rarely ever write a post in one sitting.
In fact, the longer I sit and try to write, the harder it is for me to do so. What usually ends up happening is that I'll start a post, get hit with a nice bout of writer's block, walk away, remember what it was that I was trying to say, sit back down, type away for a few minutes, get hit with some more writer's block… rinse, repeat. And the worst is when I think of the most perfect and brilliant line only to have it slip away because I couldn't get to a computer/notepad fast enough to write it down. Bugger.
I also rarely ever post pictures of myself.
But this one I really have no explanation for. I thought it was shyness at first, but I think it's really just that I feel like a goofball for taking selfies. The funny thing is that I enjoy looking at them when I read other blogs, but I feel narcissistic for taking them myself. Go figure.
In any case, you're probably wondering what the heck these two things have in common, and the answer to that very observant question is… this post.
Since I'm always writing on the go and I have an aversion to selfies, I thought it'd be fun to take you guys around with me and showcase my day through random selfies (to get over it) and the random thoughts associated with them (because those are my favourite). Enjoy!
. – . – . – .
As we speak, I'm… all of 20 minutes awake and starting my day with a cup of my favourite tea and some blog reading. Don't be fooled by my calm appearance — the morning blog rush can be a little stressful sometimes. Why does everyone have to post all at once?!?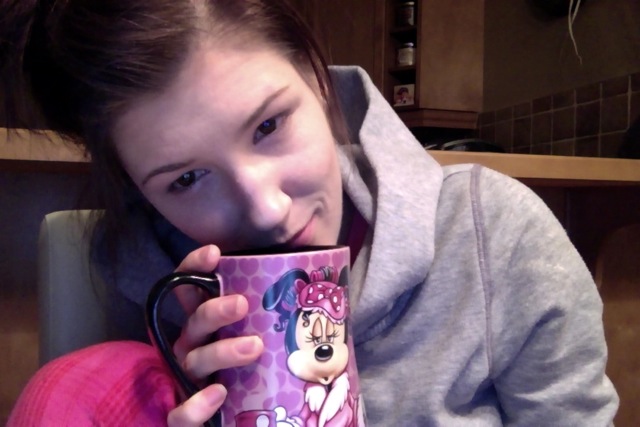 As we speak, I'm… making ridiculous faces while putting mascara on. And don't even try to tell me that you don't — I won't believe you.  This is why I could never be a makeup guru.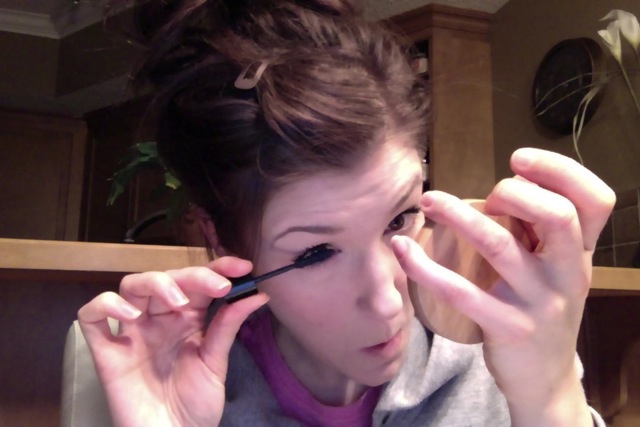 As we speak, I'm… about to run out the door, dressed like I'm headed to a funeral (I'm not). What can I say? I like black.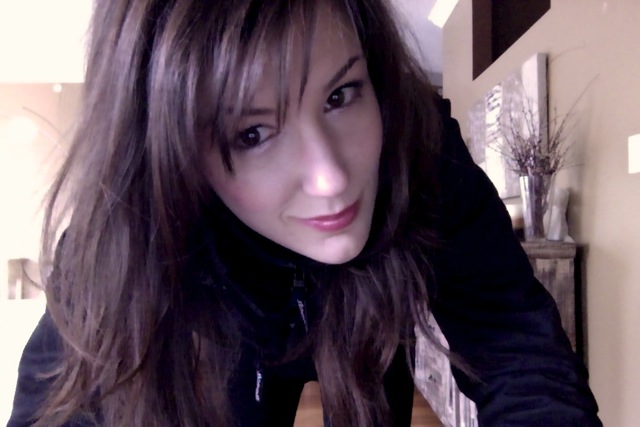 As we speak, I'm… enjoying a nice drive in the country. I decided to invest in a season's pass at the local ski hill this year so that I could get my boarding fix on a more regular basis without having to drive the 3+ hours to get to the mountains. Season starts on Friday. Can.not.wait. Note: I am not driving.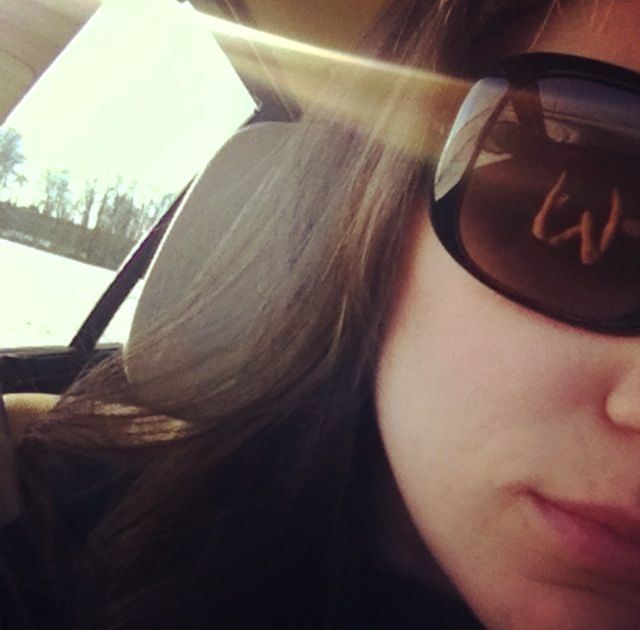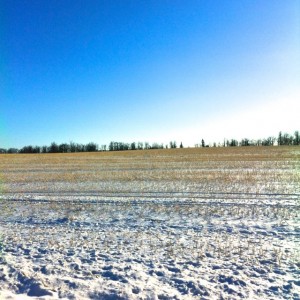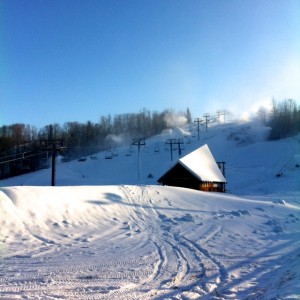 As we speak, I'm… magically back at home, studying procrastinating by taking ridiculous pictures of myself. Note: this isn't an accurate representation of my feelings towards studying — I actually love what I learn… as long as I have snacks 😉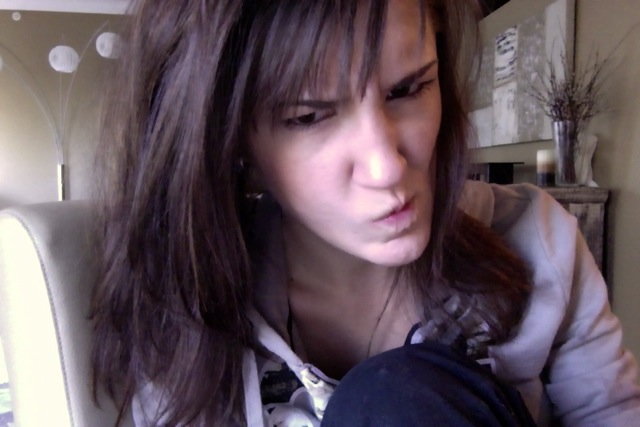 As we speak, I'm… magically out and about again, this time in one of my favourite places to be — Sephora. Note: I was trying to be sneaky about taking a selfie and completely failed. Approximately one second after I took this shot, a sales associate showed up behind me and asked me if I wanted to try some kind of walnut face scrub.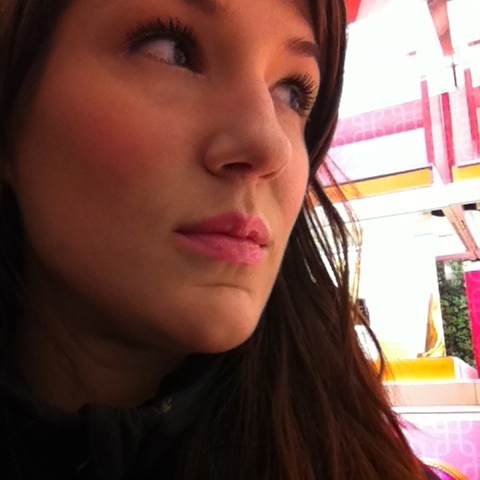 As we speak, I'm… actually… I have no idea what I'm doing. But I look cold.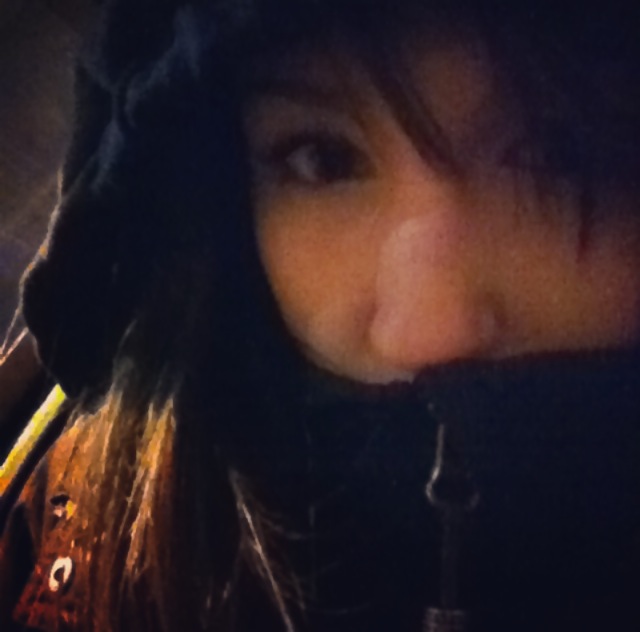 As we speak, I'm… taking the elevator home after a long day. I refuse to use stairs past 7 PM.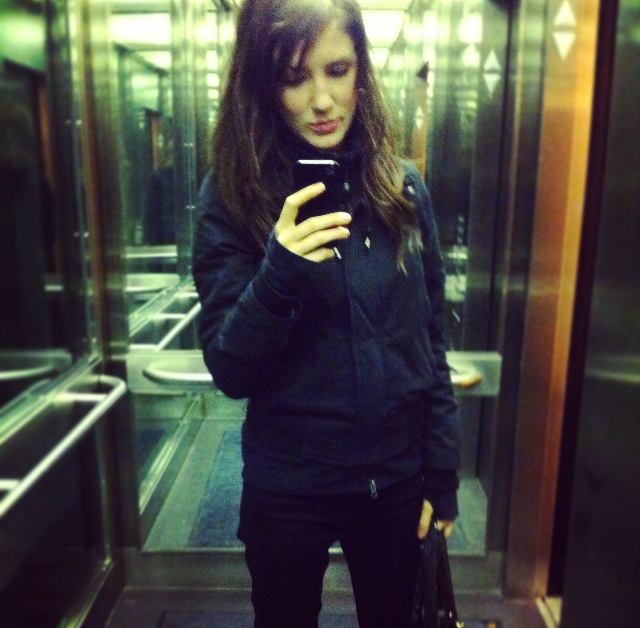 As we speak, I'm… doing you a favour by hiding behind a chair because I'm too frightening to look at 😯 😯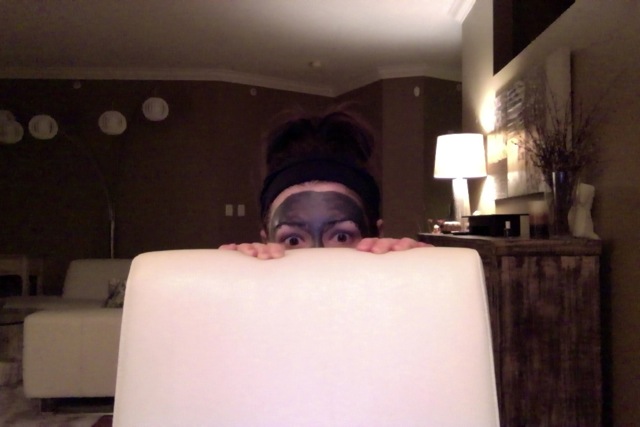 Juuuust kidding. I'm trying my best not to smile (failed) while I end the day with a clay mask [that I wasn't supposed to buy at Sephora 😉 ]. I have an at-home spa night about once a week, and it always feels nice to spend a little time pampering myself.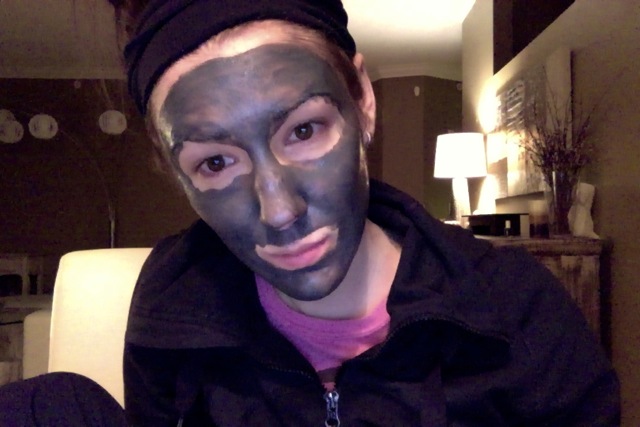 And there we have it! More selfies in one post than I've probably taken in the history of my blog. Confession: it was kind of fun. Question: should I do it more often?
Happy Monday Tuesday! (darn long weekend messing me up)
. – . – . – .
Your turn! As we speak, I'm… ____________.
What colour are you predominantly wearing right now?
How do you feel about taking selfies?