These ridiculously soft and tender muffins are made with NO oil or butter! Subtly sweet and bursting with apple flavour, they make for a delicious and healthy breakfast or snack.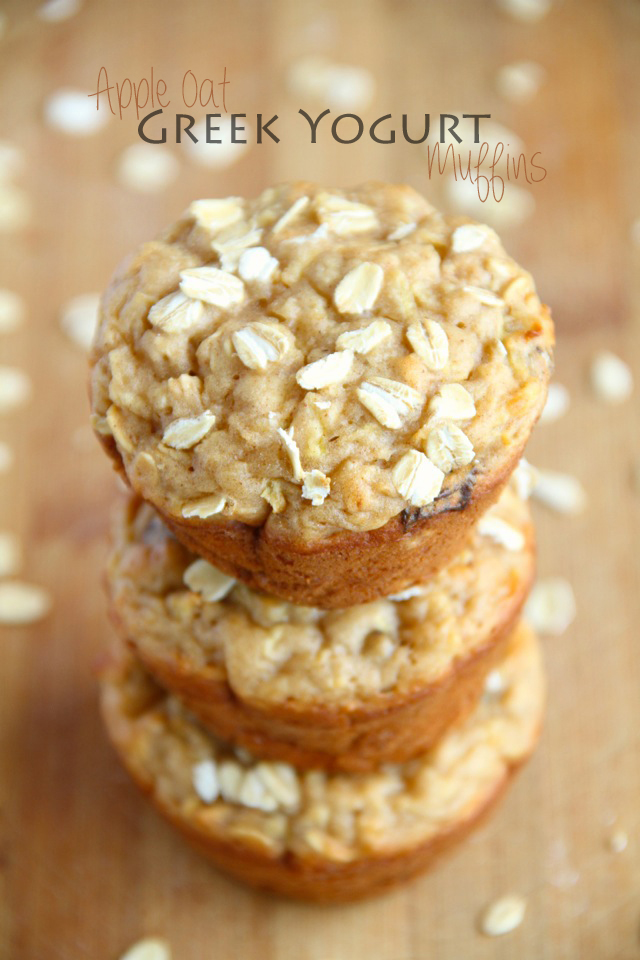 I think I just found my newest grab-n-go breakfast obsession.
But before we get into that, can we just talk about breakfast in general? Because in an effort to combat a serious case of the "durrrrr… what?"s (aka: writer's block), I figured I would talk about the first thing that came to mind, and… BAM… breakfast.was.it.
Why I'm thinking about breakfast at 3 PM on a gorgeous Tuesday afternoon is anyone's guess, but we're just going to roll with it. Keep rollin', rollin', rollin', rollin' (what!). Err. Sorry. Had a little Limp Bizkit moment there.
Anyways…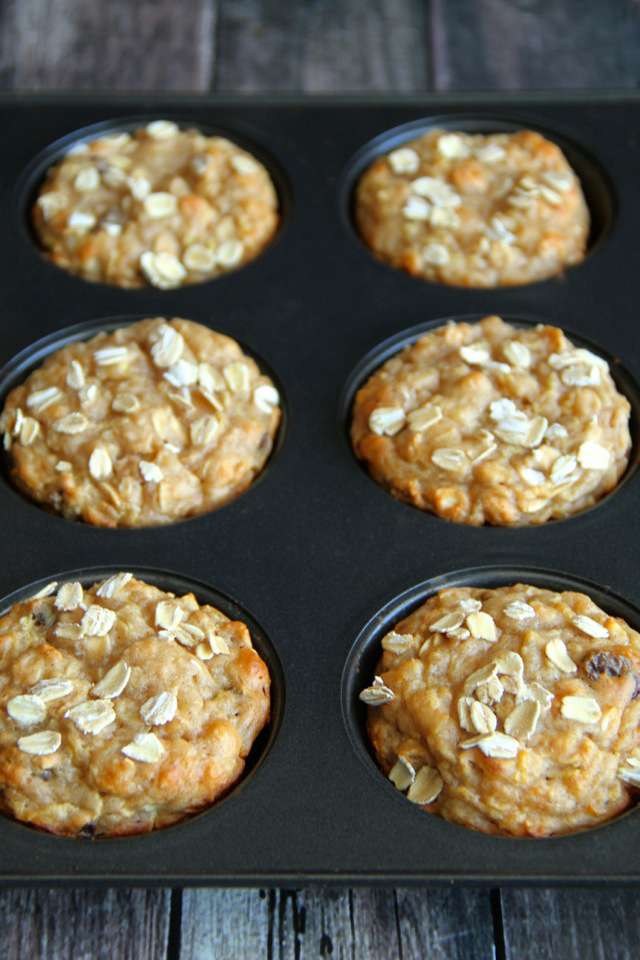 I love breakfast. Love. It's not rare for me to eat a breakfast-type food for all my main meals, and while I wouldn't say breakfast is the reason I get out of bed in the morning, it's definitely one of the highlights of my day. Which just makes it sound like I lead an incredibly dull life, but whatever… I'm going with it. No backspace in this post. Or "delete," as is the case on my Mac.
Ugh. See where my brain goes when I let it? All over the place. Back to the point…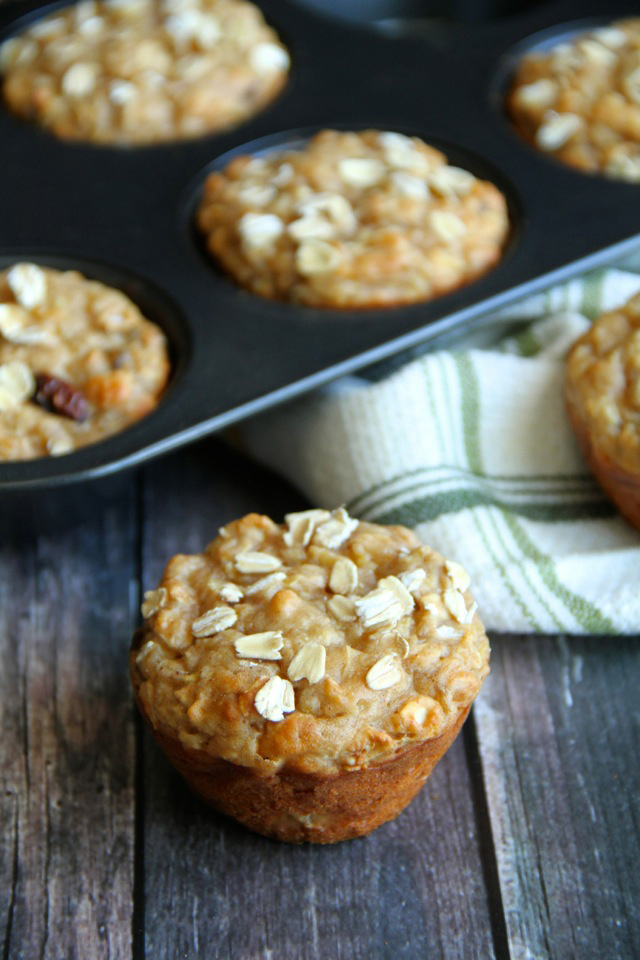 Truth be told, I'll never understand people who don't love breakfast (or who don't eat it at all 😯 ). I mean, I try to keep an open mind when it comes to different eating habits and dietary preferences, but… breakfast haters — you nuts! Oatmeal, pancakes, waffles, crepes, cereal, smoothies, muffins, coffee… be still my pounding heart.
And if you noticed that I left things like hash browns, eggs, and bacon off my list, it's because this girl likes her breakfasts sweet. The only exception to the rule would be cold leftover pizza, and that's only because it brings back fond memories of my late teens and early twenties. Memories that we're not going to get into in today's post. Brain! Move along *makes shooing motion with her hands*…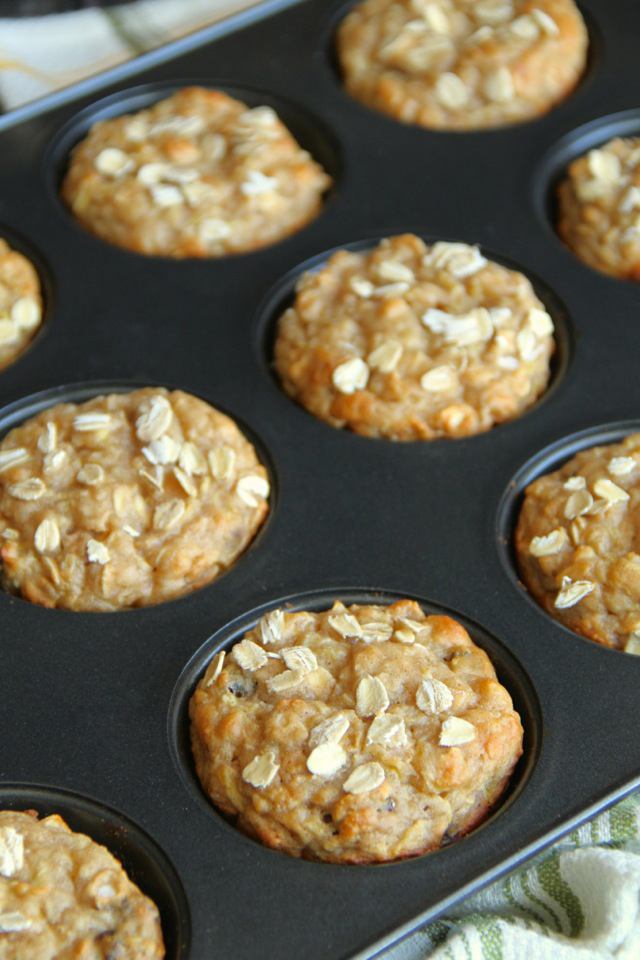 Where was I. Ahh yes.
I've been through a tonne of breakfast phases in my day. The kind where you fixate on one food and eat it every morning for months and months on end before moving on to your next obsession? There was a cereal phase. An Eggo phase. A Poptart phase. A granola bar phase. A muffin-as-big-as-my-head-phase. An oatmeal phase. And, most recently, a smoothie phase.
But that's assuming I'm at home with plenty of time to leisurely enjoy my noms (tell me I didn't just say 'noms'… ugh). If I [hypothetically] sleep in, need to get ready and leave home early, or I'm just feeling lazy and want to be in-and-out of the kitchen in less than 2.2, then these Apple Oat Greek Yogurt Muffins are perfection. Heck, they're perfection even without all of those conditions, but let's just keep the breakfast train going…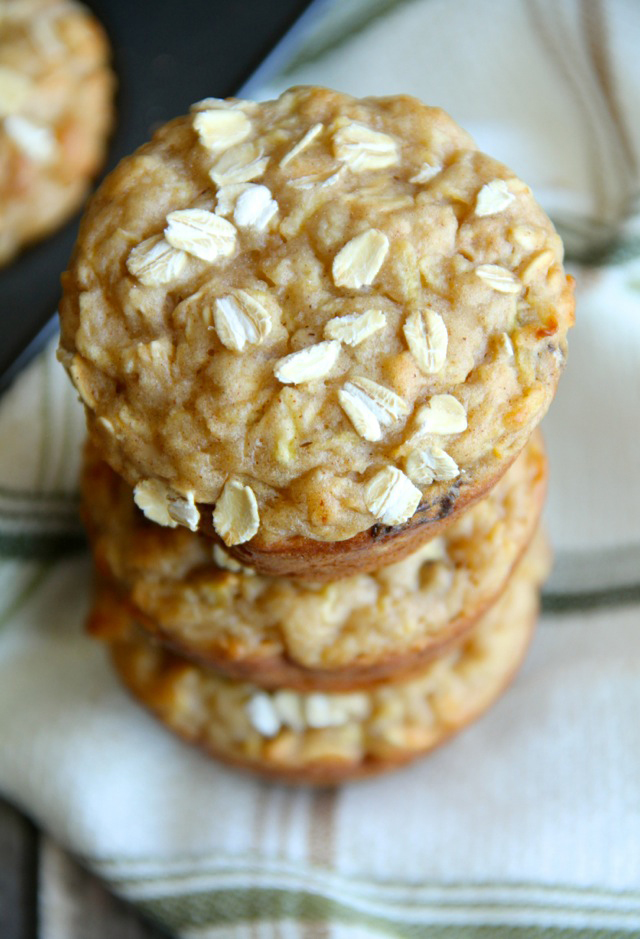 These muffins were inspired by my ever-popular Banana Oat Greek Yogurt Muffins… with a few changes.
First, apples instead of bananas. Obviously. Second, the inclusion of plain old flour. I tried making these muffins solely with oats, and while it still worked, it didn't work quite as well. I mean, they still tasted amazing, but they looked a little wonky and the texture was a bit off… Nothing serious, but denser than I wanted.
In any case, these apple muffins are good stuff. They're oil-free, contain a minimal amount of added sugar, and have a good amount of protein and fibre thanks to the yogurt and oats. But, more importantly, they taste fabulous. The combination of apples, yogurt, and oats is to.die.for, and the fact that they're soft and dense just makes them a pleasure to eat.
Happy eating!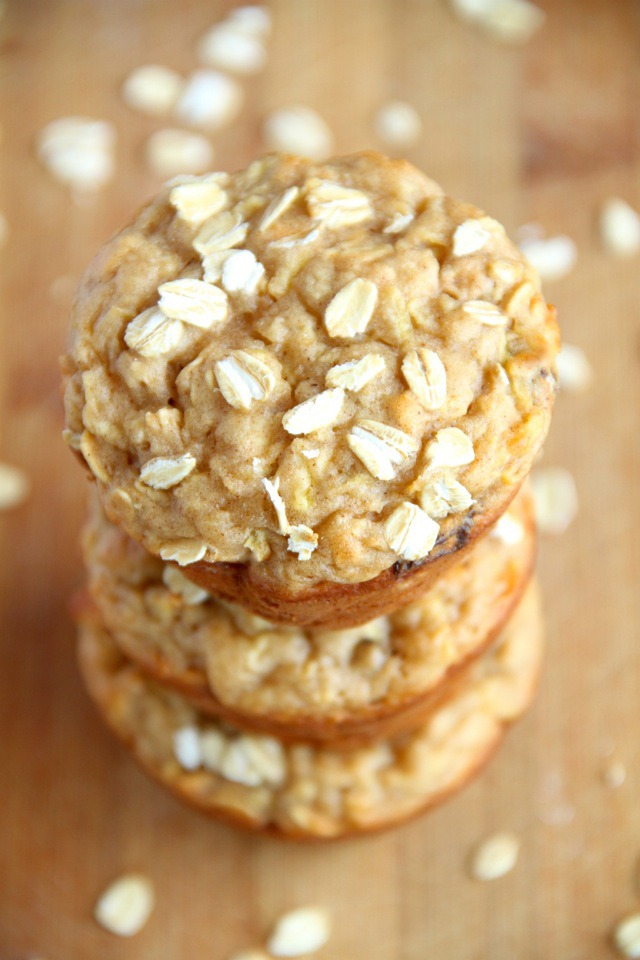 I'd love to know if you make this recipe! Leave a comment and rating down below to let me know what you think, and subscribe to our mailing list to receive new recipes in your inbox!
Print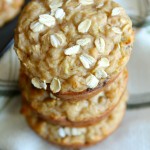 Apple Oat Greek Yogurt Muffins
---
Author:

Total Time:

30 mins

Yield:

12

muffins

1

x
1 cup

(

120 g

) whole wheat pastry flour*

1 cup

(

80 g

) old fashioned rolled oats**

1 1/2 tsp

baking powder

1/2 tsp

baking soda

1 tsp

ground cinnamon
pinch of salt

1

large egg

1 cup

(

225 g

) plain Greek yogurt

1/2 cup

(

120

ml) unsweetened applesauce

1/4 cup

(

50 g

) brown sugar

1 tsp

vanilla extract

1

medium-sized apple (

120 g

), peeled, cored, and grated

1/2 cup

(

80 g

) raisins
---
Instructions
Preheat your oven to 350F (176C) and prepare a muffin pan by spraying the cavities with cooking spray or lining them with paper liners. Set aside.
In a large mixing bowl, combine the flour, oats, baking powder, baking soda, cinnamon, and salt. Set aside.
Lightly beat the egg in a separate bowl. Whisk in the yogurt, applesauce, brown sugar, vanilla, and grated apple, stirring until well-combined.
Add the wet ingredients to the dry ingredients, mixing gently until just combined. Fold in the raisins.
Divide the batter evenly among the 12 muffin cups, filling them almost to the top. Add a sprinkle of oats if desired.
Bake the muffins for 20-22 minutes, or until top is firm to the touch and toothpick inserted into the centre comes out clean. Allow the muffins to cool in pan for ~10 minutes before transferring to a wire rack to cool completely. Store them in an air-tight container for up to 5 days, or freeze them for up to 3 months.
Notes
* You can also use a mix of all-purpose and whole wheat. I'd suggest 1/2 cup (60 g) of AP and 1/2 cup (60 g) of whole wheat. ** Do not use quick oats. They are too fine and will dry out the muffins too much.
Prep Time:

10 mins

Cook Time:

20 mins
Keywords: apple muffins, apple oat greek yogurt muffins, breakfast, Greek yogurt muffins, healthy muffins, healthy snack, oatmeal muffins, recipe

Looking for more healthy muffin recipes? Try one of these!
Flourless Apple Cinnamon Muffins
Applesauce Oatmeal Muffins
Banana Oat Greek Yogurt Muffins
Flourless Vegan Banana Muffins
Blueberry Oat Greek Yogurt Muffins