Sweet, salty, crunchy, and smooth. Satisfy all your cravings in a single bite with one of these delicious almond butter and pretzel truffles.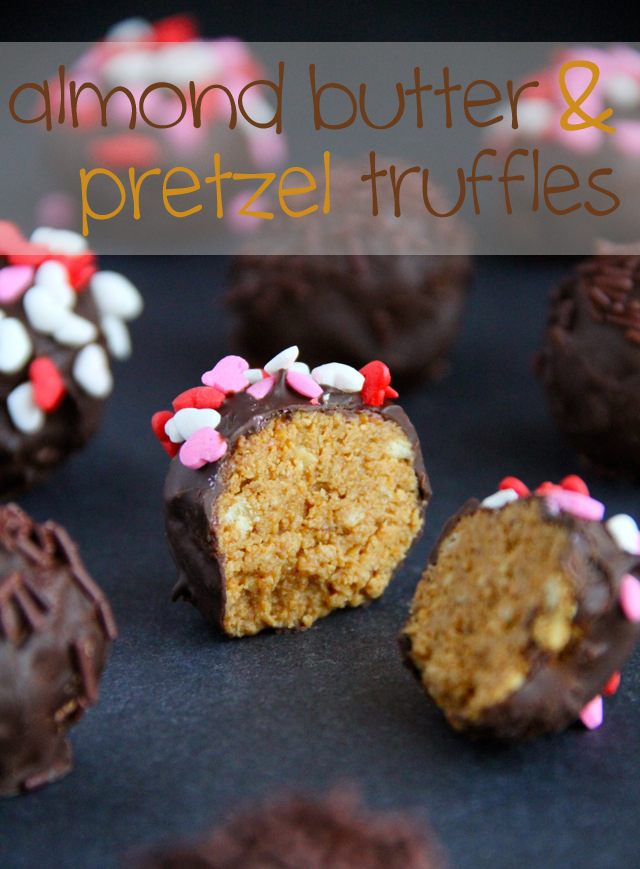 There are certain events that change how the course of your life plays out from that moment on. Buying your first car; moving out on your own; having a baby; dipping pretzels in almond butter…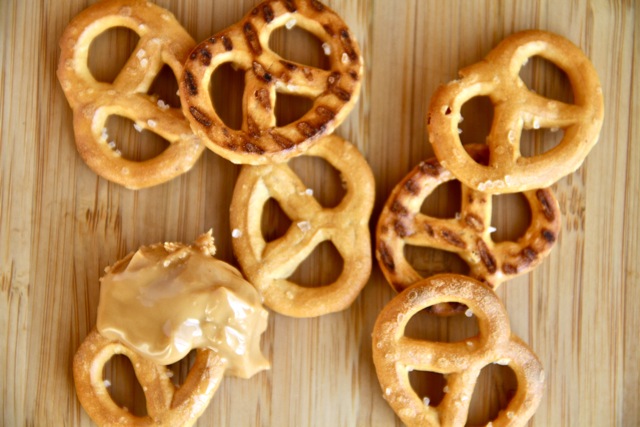 Okay, so that last one isn't quite on the same level as the other 3, but it sure is good. And when you throw in some chocolate? It gets even better…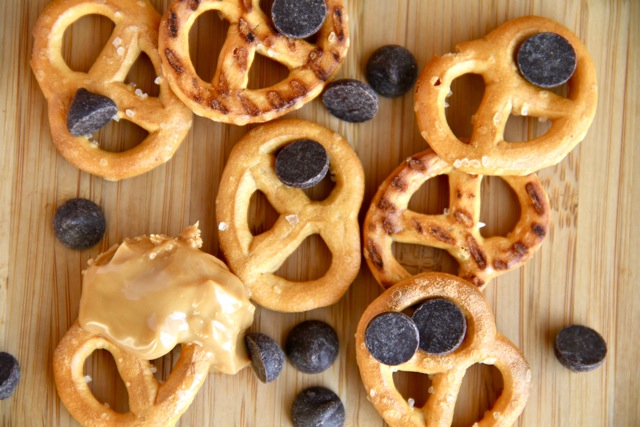 Let's rewind a bit and look at how this amazingness found its way into my life. So I was out of bananas… and when I say I was out of bananas, I mean I woke up yesterday morning without a single one in my fruit bowl.
This is not okay. I had every intention of ninjaing one from my parents when I was over there on Sunday night (to at least get me through Monday morning), but I ended up forgetting and leaving the poor thing lying on the kitchen counter. I know… I'm disappointed in me too. But I digress.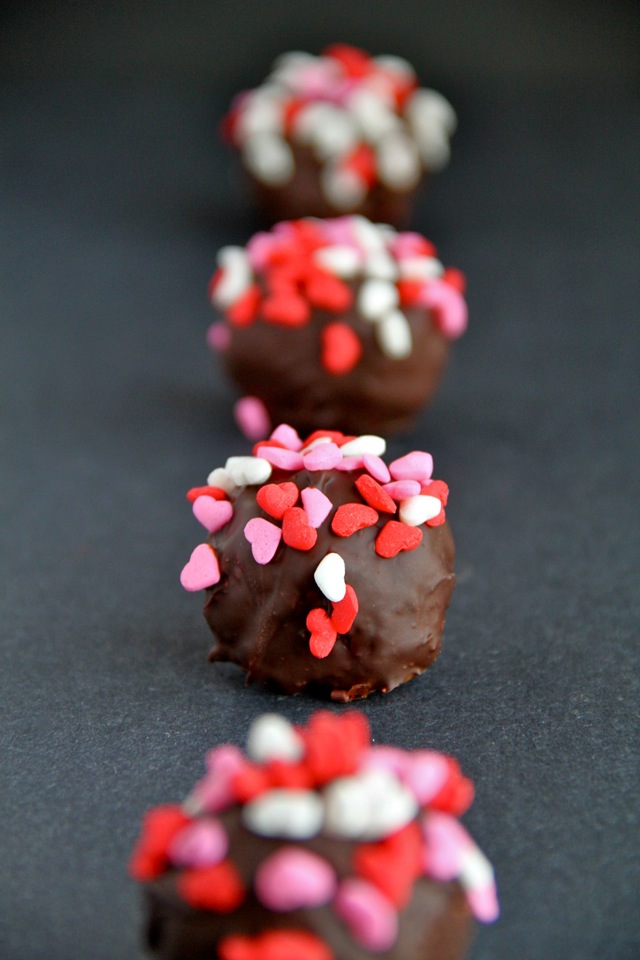 Monday morning, no bananas. No bananas, no smoothie. No smoothie, no good. Solution? Hit up the grocery store as soon as it opens at 7 AM. The only downside? Getting hit with -25ºC (-13ºF) weather as soon as I walked out the door. For bananas, though? Worth it. But I digress… again.
So I picked up my bananas and continued to do a little browsing since I'm incapable of walking out of a store with only one item. I stuck to the natural food aisle since I was kind of in a hurry to get home, and that's where I saw that Barney Butter on sale… and right next to it, pretzels. I hadn't had pretzels in a while and they sounded really good, so I picked up a bag and made my way home.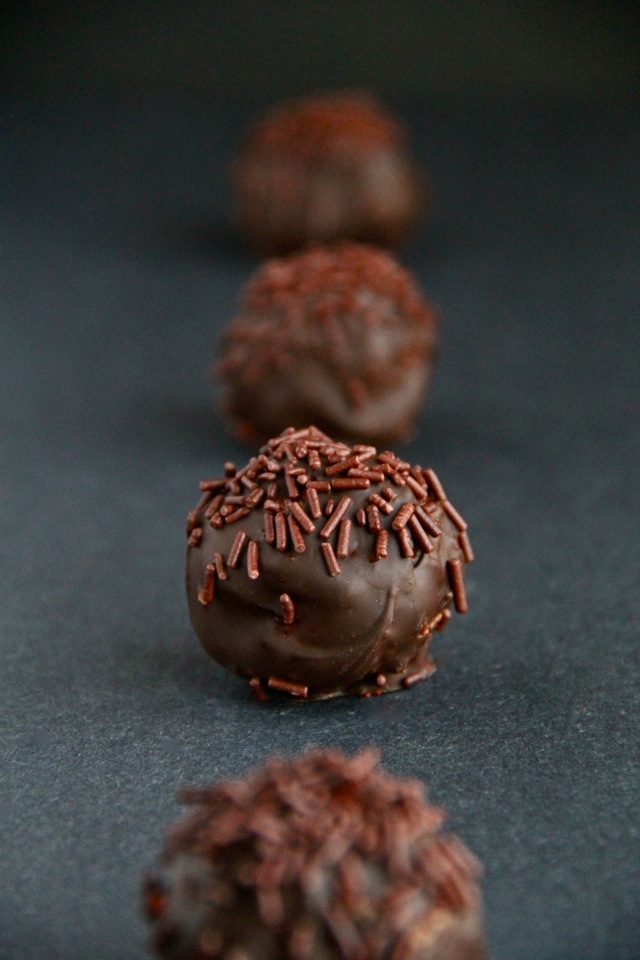 Fast forward to my kitchen. I was standing around waiting for my bananas to freeze — because everyone knows you can only make a smoothie with frozen bananas — when I got hit with the munchies. The bag of pretzels I bought was ever so conveniently sitting on my counter, so I decided to grab a handful to hold me over until my bananas were ready. And because the jar of almond butter was sitting right next to it… well… can you blame me?
So now you're asking yourself what all this has to do with truffles… I was planning on making a more traditional truffles recipe for Davida's Great Valentine's Day Bake-Off, but everything changed with that first almond butter pretzel bite… and that's how these almond butter and pretzel truffles were born…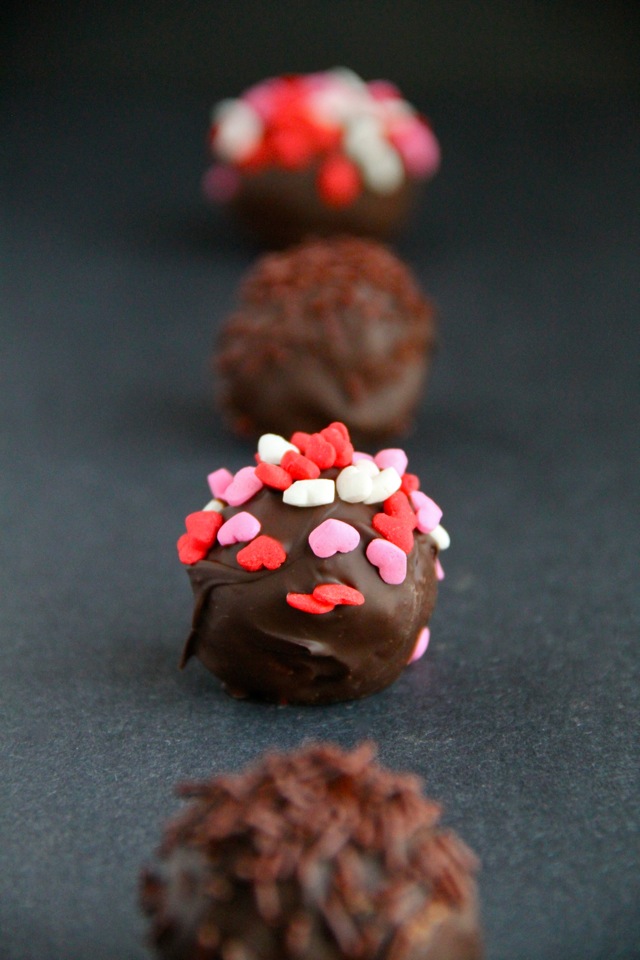 They're sweet and salty; they're crunchy and smooth… they're also covered in chocolate and sprinkles. Basically, they're perfection in bite-sized form. They also make a great Valentine's Day gift — either for yourself or that special someone. Hope you enjoy!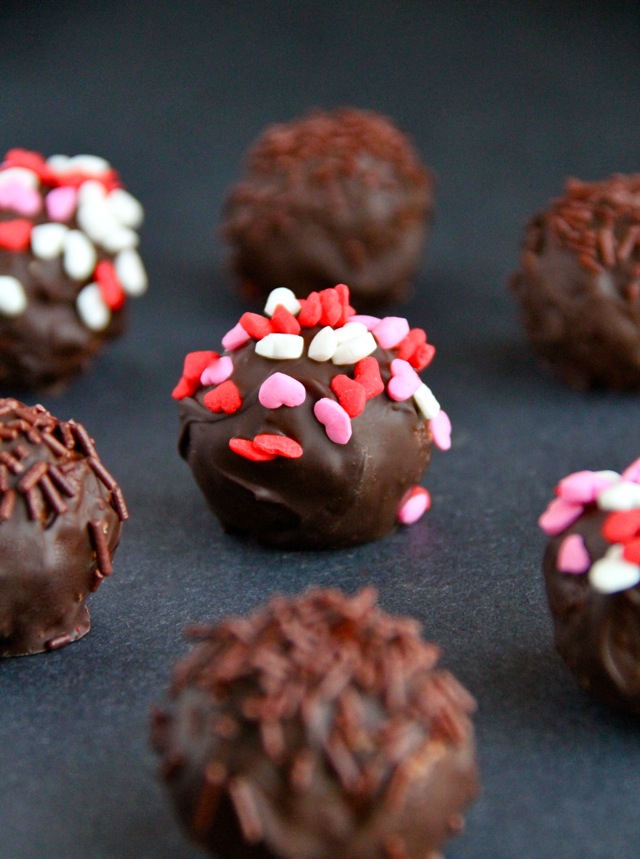 I'd love to know if you make this (or any!) recipe! Tag @runwithspoons on Instagram and Twitter, and be sure to subscribe to our mailing list to receive more healthy and delicious recipes straight to your inbox!
Print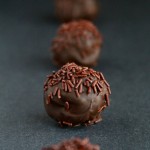 Almond Butter and Pretzel Truffles
---
Author:

Total Time:

15 mins

Yield:

12

truffles

1

x
1 cup

pretzels, crushed (measure after crushing)*

1/2 cup

creamy almond butter (or peanut butter)

2 Tbsp

. honey

1/3 cup

chocolate chips
sprinkles (optional)
---
Instructions
Line a baking sheet with parchment paper and set aside.
Crush pretzels by pulsing them in a food processor or placing them in a resealable plastic bag and using a rolling pin to crush them into very small bits. Some bigger pieces are okay.
Empty the crushed pretzels into a medium mixing bowl. Add almond butter and honey, mixing until fully combined. Place mixture into freezer for ~15 minutes to allow it to firm up.
Using a tablespoon, shape the dough into 1-inch balls and place onto parchment lined baking sheet. Place back into freezer for another 15 minutes.
Melt chocolate chips in a microwave-safe bowl in 30 second intervals, stirring periodically to ensure no clumps remain.
Using a toothpick, dip each truffle into melted chocolate, gently tapping side of bowl to remove any excess. Place back onto parchment-lined baking sheet and immediately top with sprinkles, if desired. Repeat until all truffles have been coated.
Refrigerate for ~15 minutes, or until the chocolate coating has set.
Notes
* use a gluten-free brand such as Glutino if needed.
Keywords: almond butter, almond butter and pretzel truffles, almond butter truffles, chocolate, gluten-free, healthy dessert, healthy recipe, healthy truffles, pretzels, sweet & salty, truffles, Valentine's Day recipe