Happy Saturday sweetlings! 😀
I hope you're enjoying a sunny one. We, unfortunately, are not. I think June is experiencing some kind of an identity crisis and has itself confused with, oh, March maybe? Needless to say, I wasn't all too pleased when I woke up this morning to temperatures like this…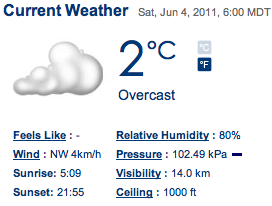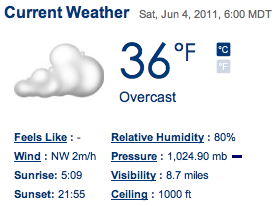 Gah! You're kidding me…
BUT, I felt much better after cursing like a sailor getting some breakfast in my belly…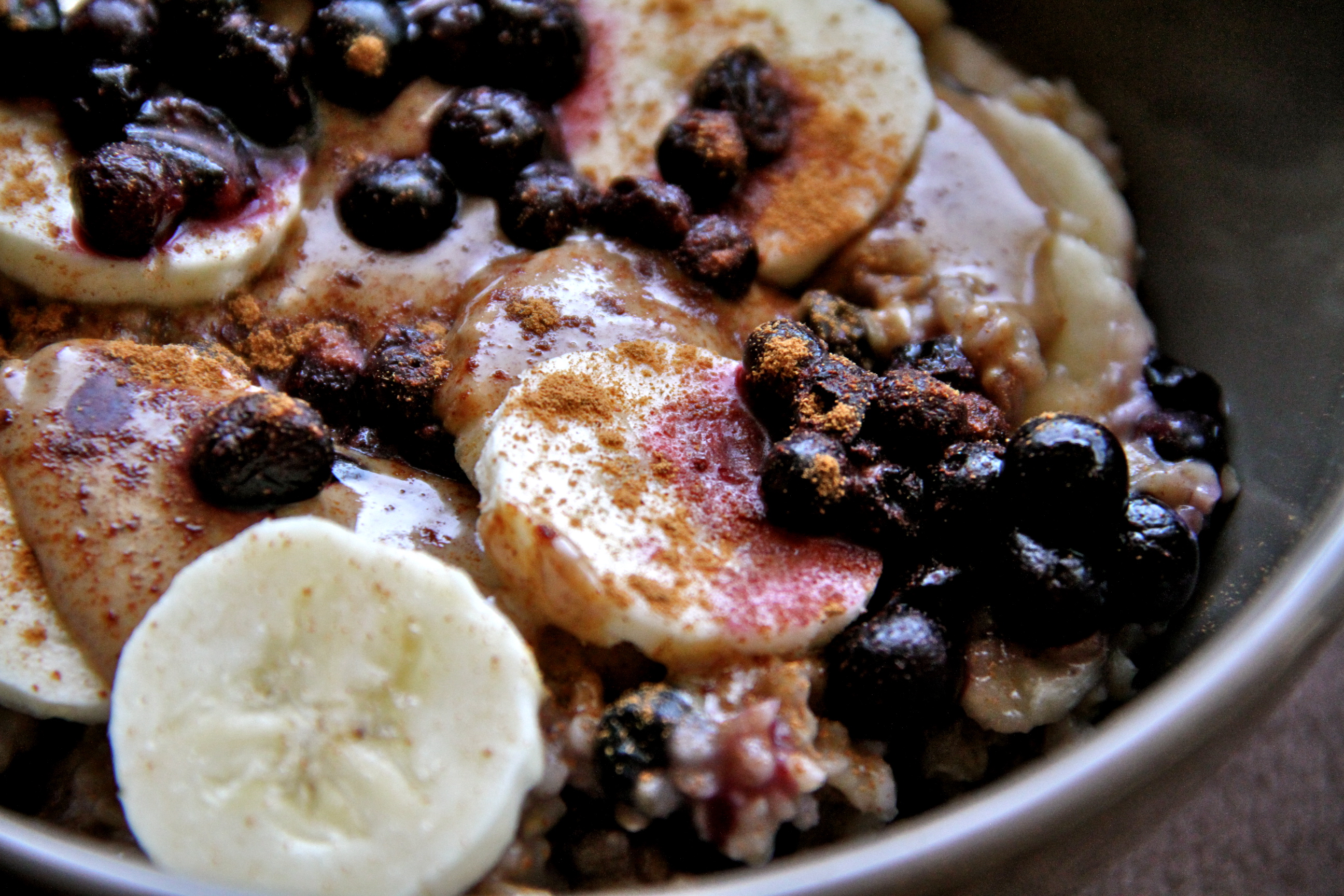 Eggified steel cut oats, banana, blueberries, cinnamon, almond butter.
Mmm comfort food, there's nothing you can't cure. Well, except Mother Nature's moodiness… and maybe cancer. But for everything else, you're an absolute godsend.
After satisfying the beast that lives in my belly, I decided to brave the elements and try to be at least a tad bit productive. I made it to the gym and the grocery store before calling it quits and coming back home. I don't know about you guys, but bad weather puts a serious dampener in my desire to do anything – all I end up wanting to do when the clouds come out is to curl up on the couch with a blanket and immerse myself in a good book. So, after whipping up a quick and tasty breakfast lunch, that's exactly what I did…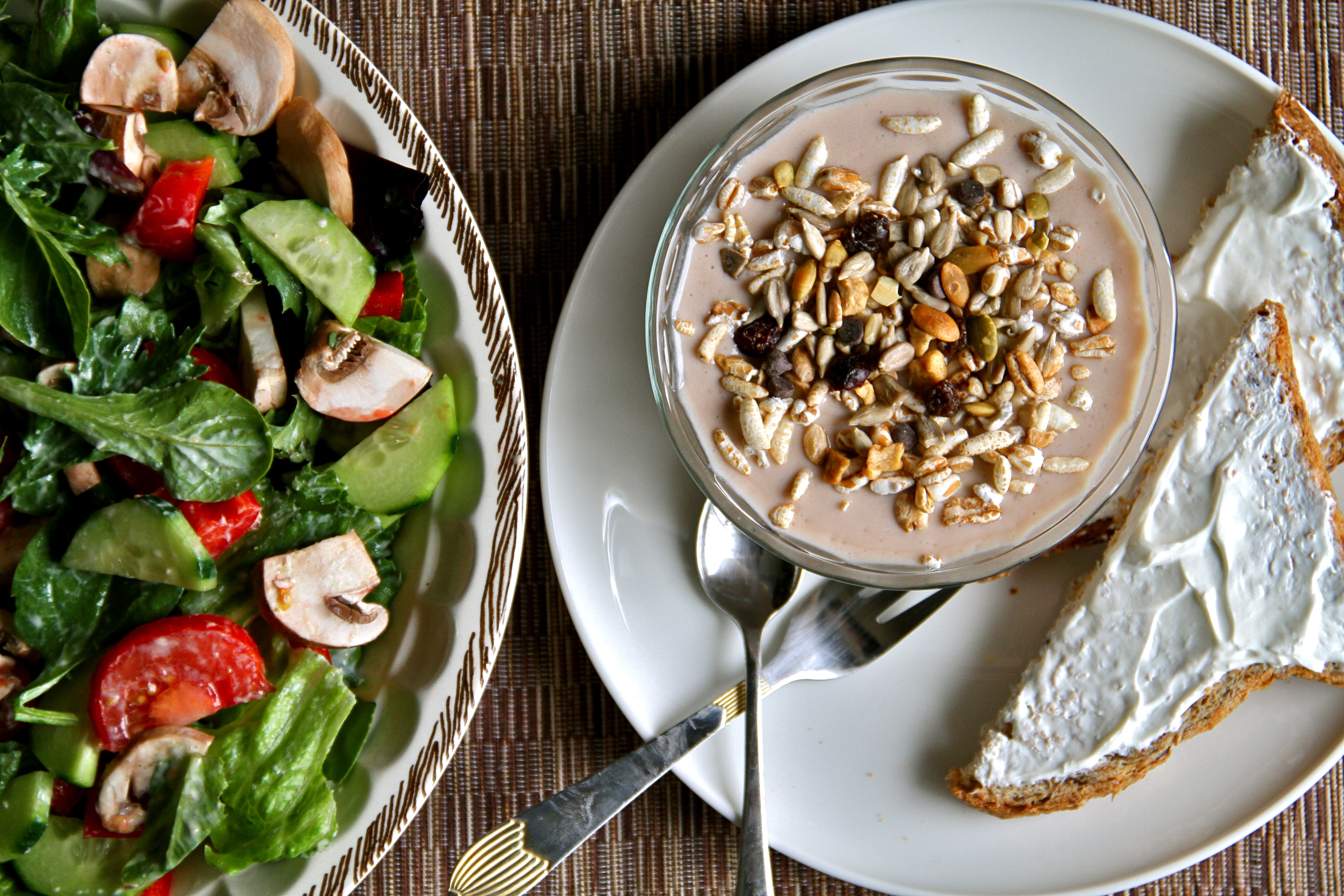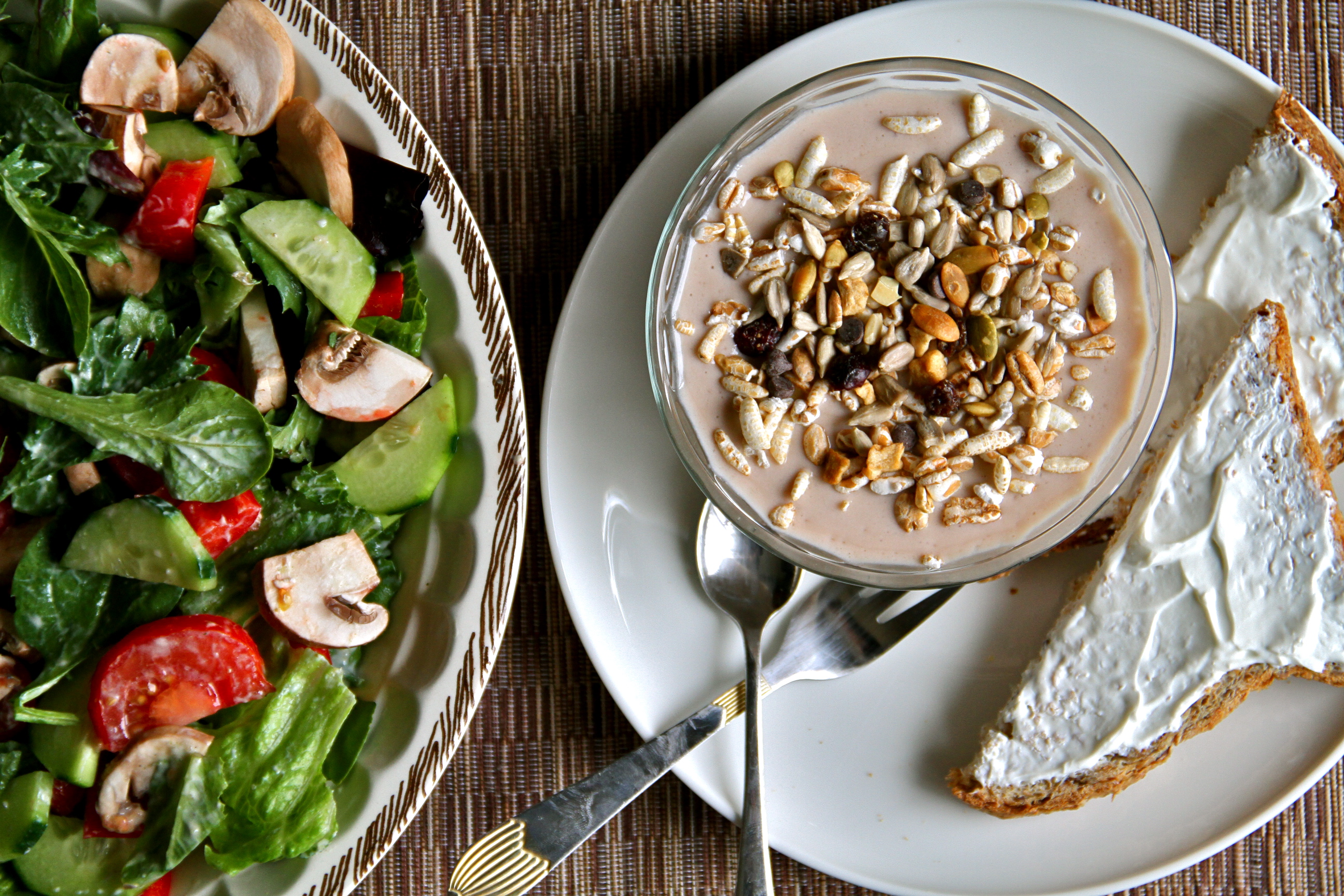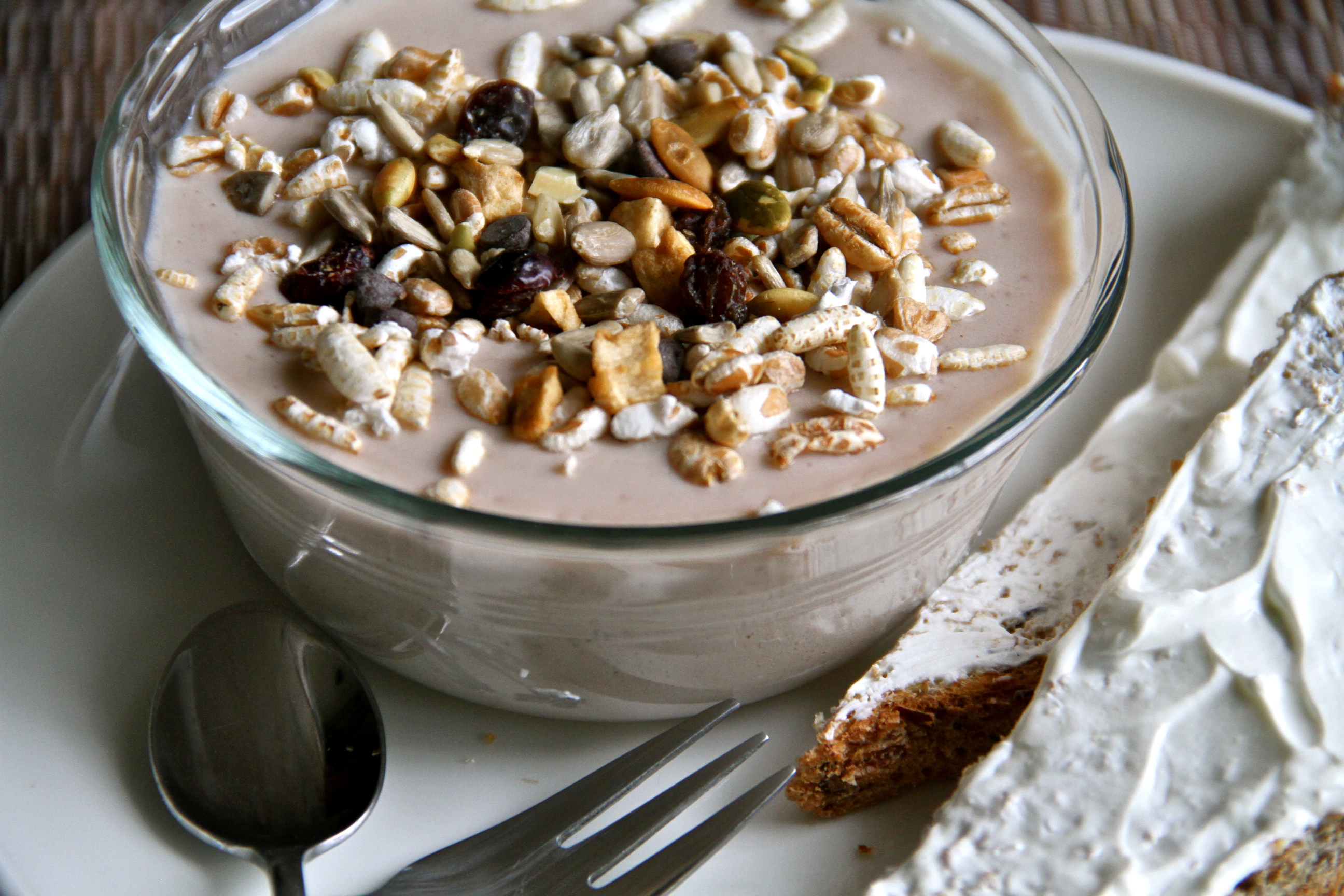 Salad beast; vanilla tofu protein pudding with trail mix and puffs; toast with cream cheese.
… except that the book was actually a laptop, and I immersed myself in the blog world instead; which, when you think about it, isn't all that different from getting lost in the fictional/fantasy world of a book.
The blog world is like an alternate reality – a separate world that closely resembles the one we live in but that also differs in some pretty significant ways. If we're not careful, it becomes all too easy to confuse the two – to look at what we see on blogs and believe it to be an accurate representation of the "real" world, when in a lot of cases, it's not.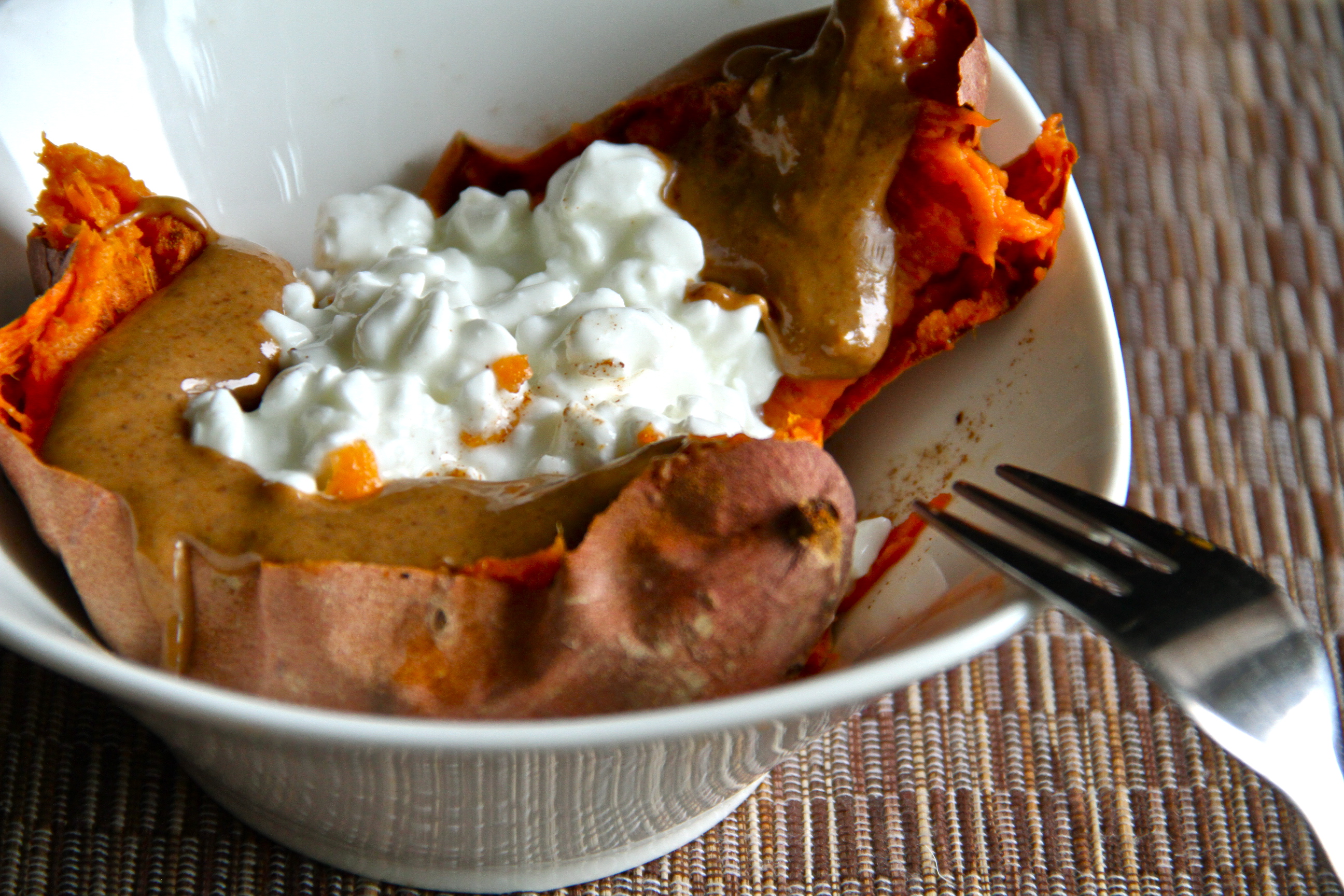 Baked sweet potato with maple syrup, cinnamon, cottage cheese, and almond butter.
Healthy living bloggers are a specific type of people – a small subset of the general population. They eat healthy. They exercise regularly. They're passionate about their well-being. And that's fine; there's absolutely nothing wrong with leading a healthy lifestyle. In fact, it's far better than the alternative.
Unfortunately, people forget that there is an alternative. When someone spends all their free time browsing through the pages of healthy living blogs, they begin to believe that everyone lives on superfoods and runs 8 miles a day. This, then, can lead to feelings of guilt and inadequacy…
Why am I craving sugar and pizza? No one else eats it…
Why am I only running 3 miles a few times a week? I must be lazy…
News flash. Not everyone lives that way. In fact, the majority of people don't. Take a look around. Do you see everyone running marathons and eating chia pudding? (I'm sorry for hatin' on you so much, chia) No – you see plenty of people who call taking the stairs instead of the elevator a good workout, and who have no problem eating burgers and fries on a regular basis. Now, I'm not suggesting that this kind of lifestyle is a good one, but it is the most common one, believe it or not.
And I know it's easy to forget. I know that it's easy to become blind to the rest of the world, and therefore to reality, when you spend all your time surrounded by the blog bubble. You start believing that what you see on blogs is the norm, and then feel pressured to live the same way. So you go out and buy all these superfood powders when you really have no idea what they're supposed to do, and your pantry becomes stocked with 15 different types of flours when you really only use 2. Believe me, I know…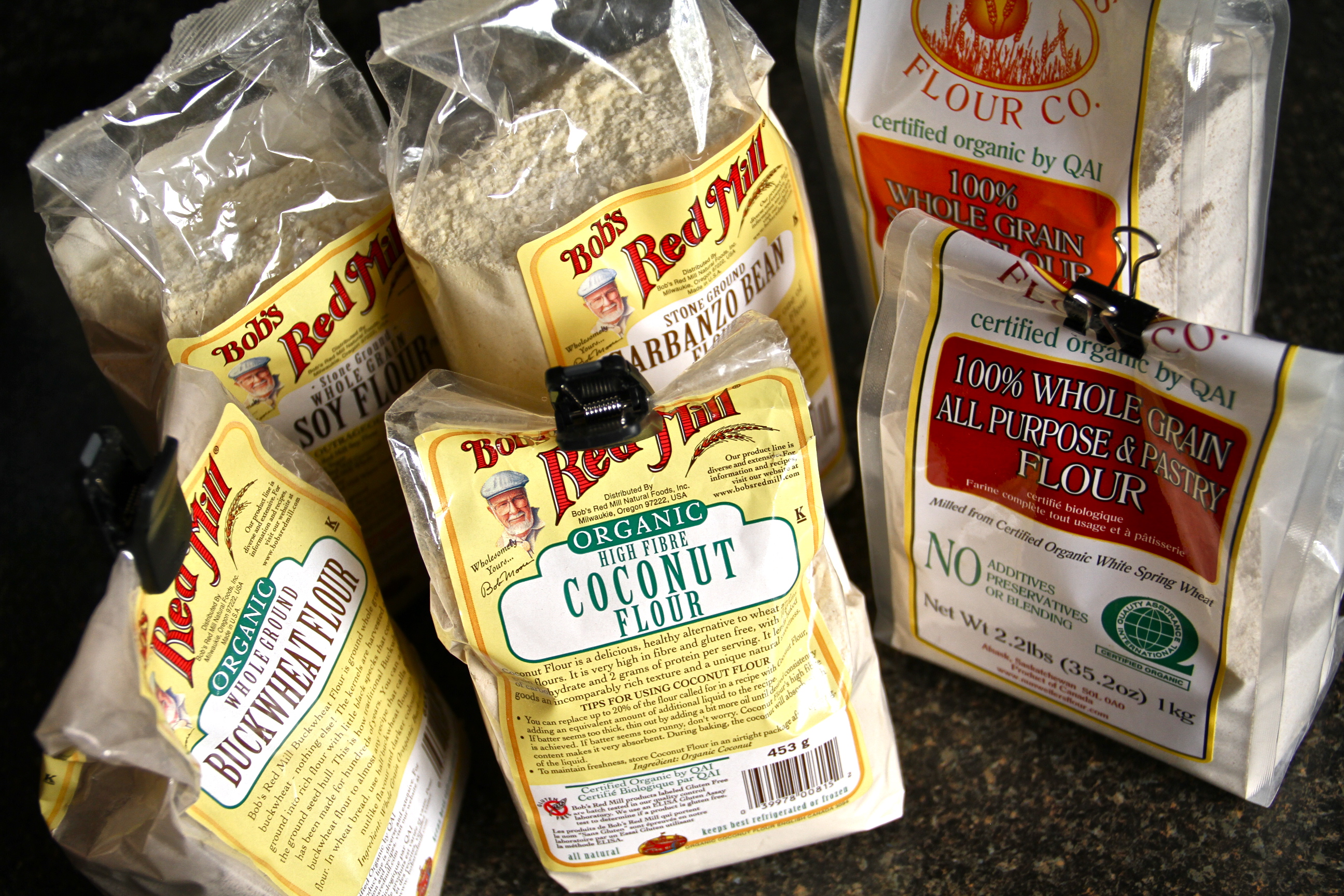 And that's not even half of it. But even worse than the hit that your wallet takes, is the hit that your self-identity and self-esteem take. You compare yourself to what you see on the computer screen, and instantly feel a tad bit worse because… well… you feel crappy on some days… you feel too tired to exercise on some days… you crave sweets like crazy on some days… and you feel all the more guilty for it because other people don't seem to be dealing with that kind of stuff.
But I'll tell you a little secret – they are dealing with it, they just don't let on.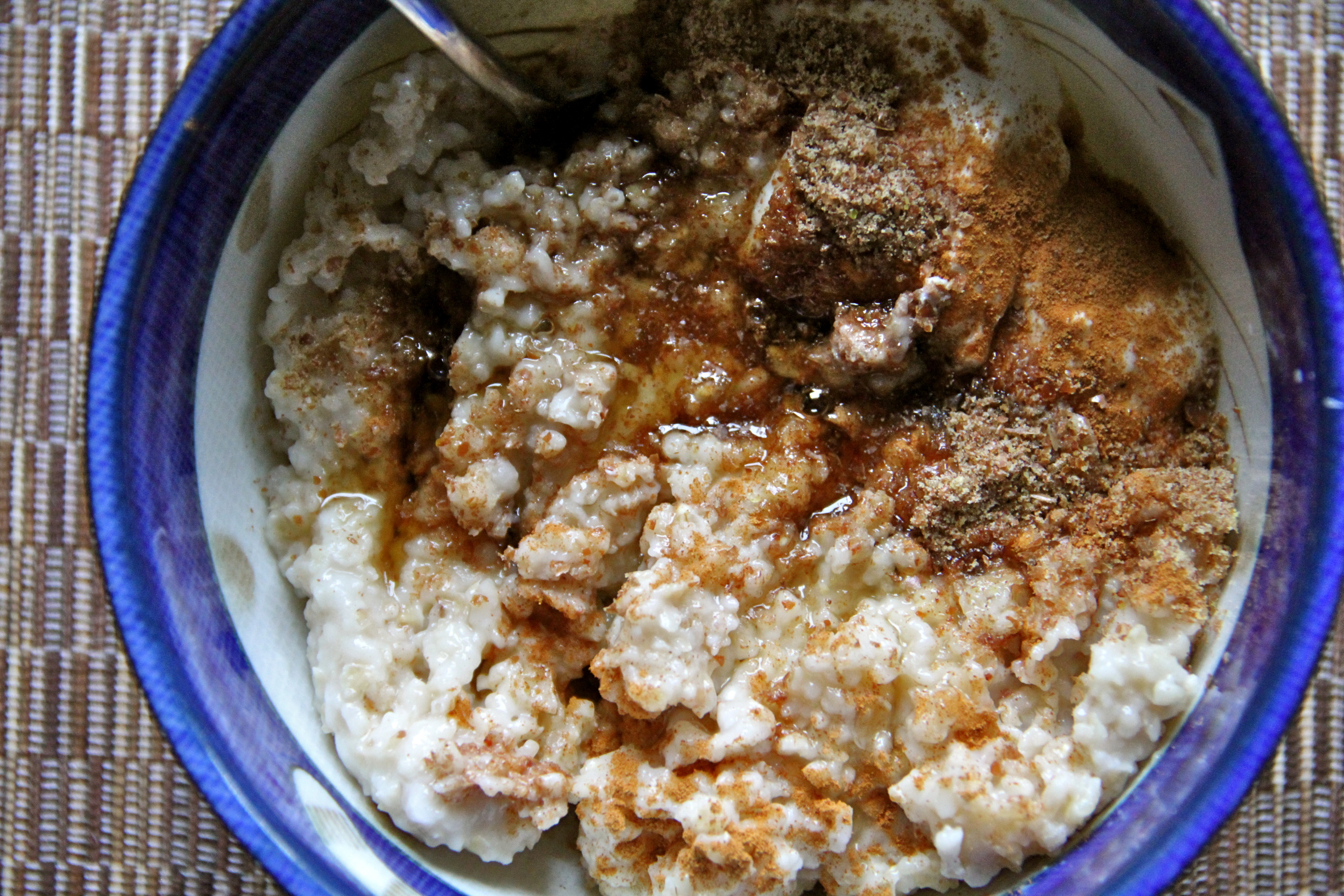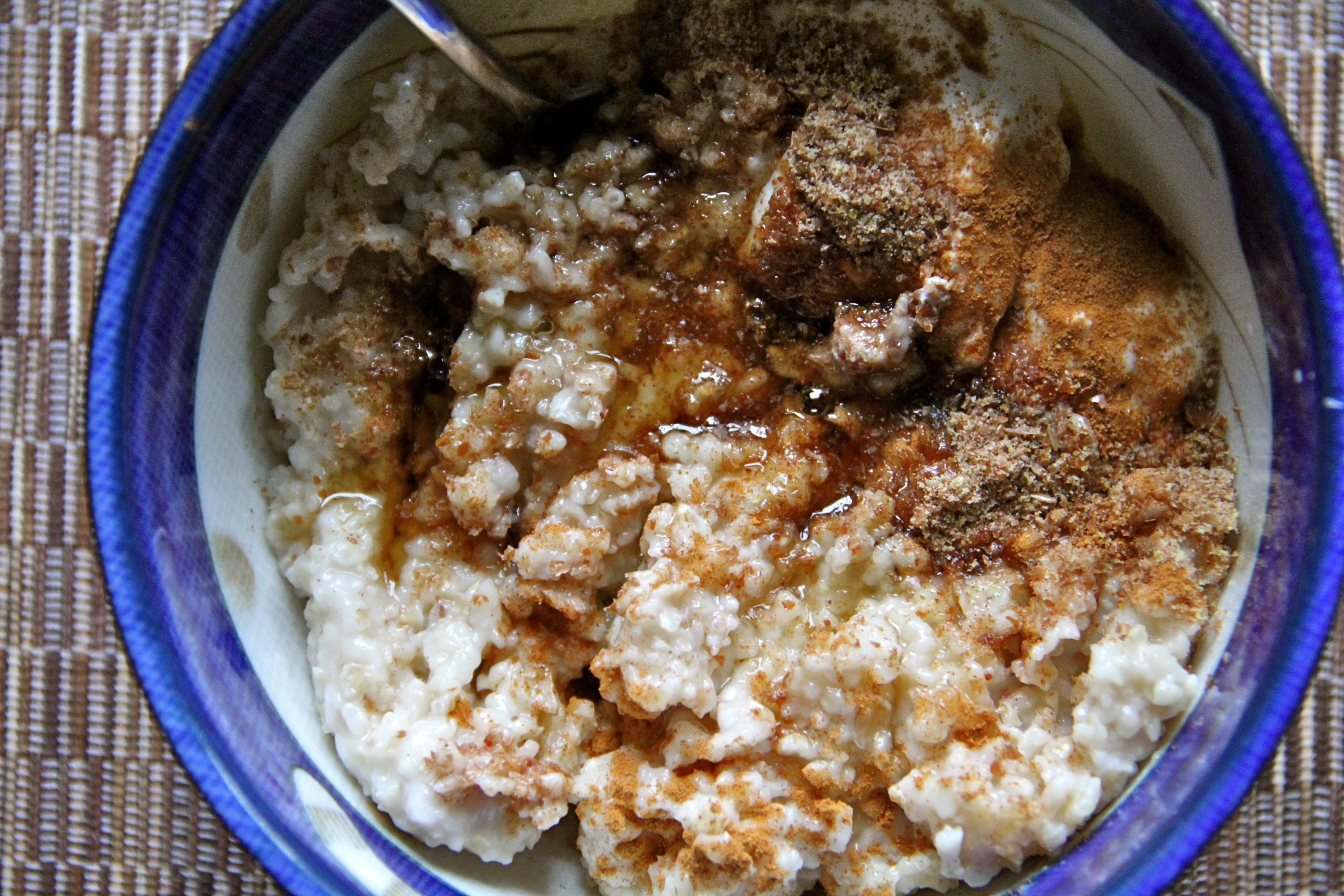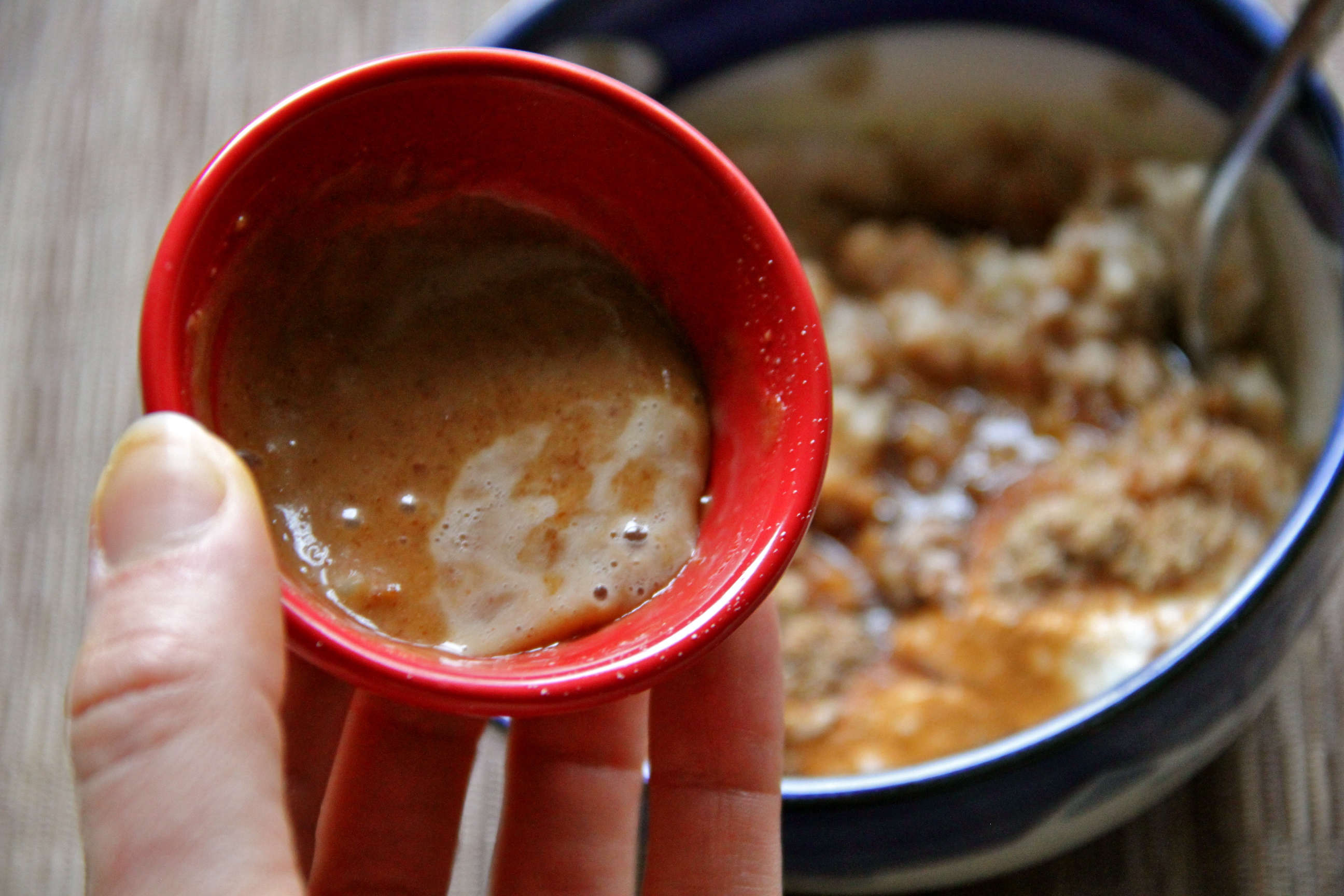 My nightly noshings! Vanilla oat bran with Greek yogurt, flaxmeal, maple syrup, and cinnamon; vanilla almond butter protein frosting.
Most bloggers put up a happy front – they talk about the good without ever mentioning the bad. And it's not as an attempt to be intentionally deceitful, but to give people what they want. Let's face it, no one really likes reading struggling and depressing posts – they'd rather read something positive and uplifting.
That's fine. But again, that's not reality.
Reality is waking up with a big zit on your forehead, craving chocolate like nobody's business, a day (or several) spent sitting on your butt, and sometimes being in such a bad mood that you want to kill everyone you see. At least, those are the kind of days that are a part my life, and if you don't experience anything like that, well then… consider yourself lucky and don't rub it in.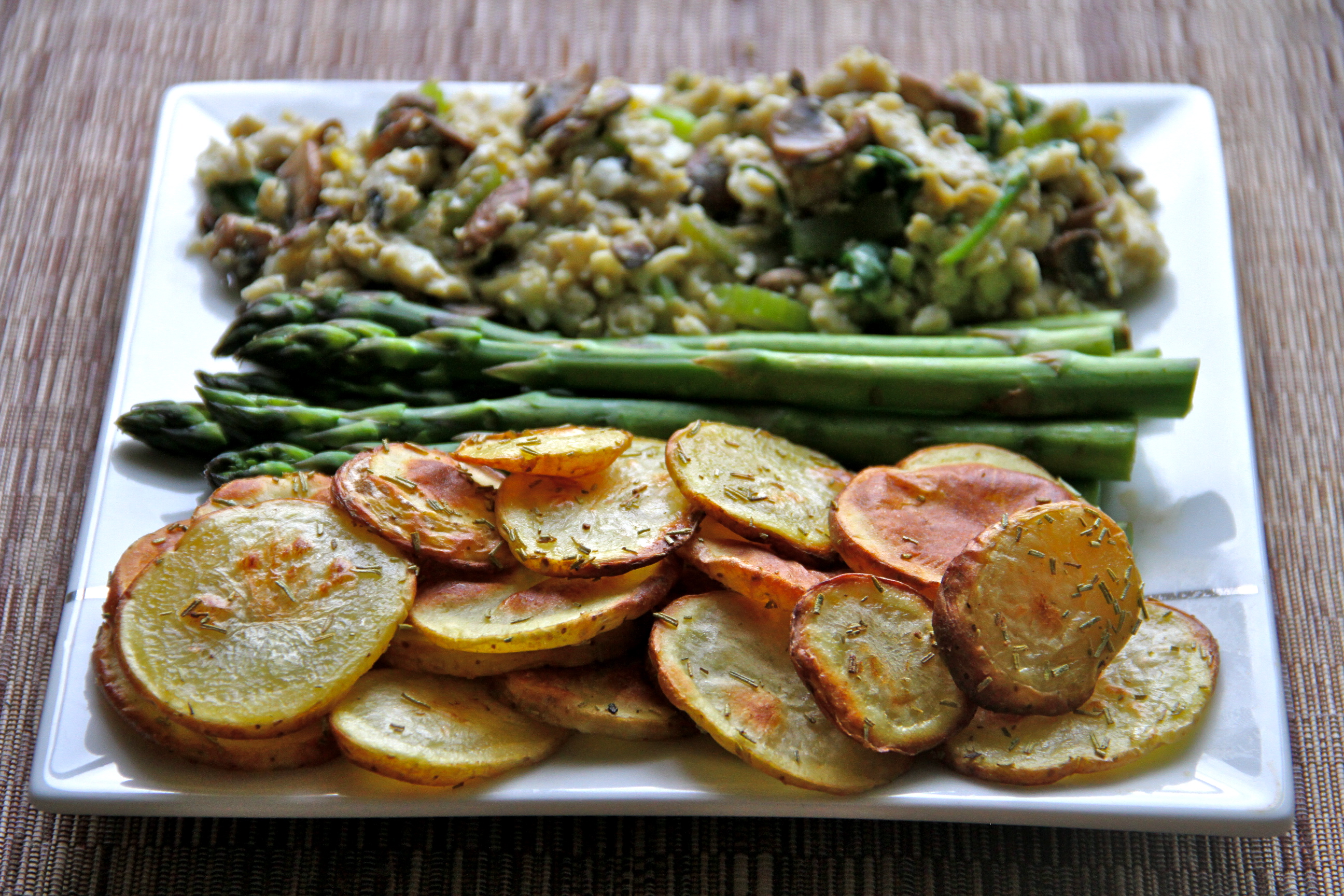 Potato rounds baked in olive oil and rosemary; steamed asparagus, scrambled eggs and veggies.
I guess what I'm really trying to say here is don't forget to keep yourself  grounded in the real world. Don't feel pressured to act/eat a certain way because of what you read on blogs, and don't feel guilty for the deviation. Remember that not everyone eats superfoods and runs marathons. If you do, then great; more power to you. If you don't, then that's great too; neither does the majority of the rest of the world.
What I think the blog world could use is a bigger dose of reality.
. – . – . – .
Do you feel pressured to live a certain way because of the blog world?
If you're a blogger, do you feel pressured to portray yourself in a certain way?