Hey, hey friends 😀
I'm feeling mucho better today. Thank you so much for all your well-wishes and advice regarding my mysterious foot pain. The good news is that, after icing and massaging like a madman woman, it's feeling a lot better – no more stiffness, cramping, or shooting pain (hoo-ray!). The bad news is that I'm still experiencing some soreness around my ankle and a little bit in my knee. But I can deal with that for now. I'll keep resting/massaging/icing, and hopefully it'll be as good as new in no time; especially because it's seriously cramping my style!
I really wanted to go shopping today to update my wardrobe for spring, but figured that spending hours walking around the mall probably wouldn't be the best idea given the fragile condition of my foot. How embarrassing would it be to admit that I re-injured myself by shopping. I mean, at least a running injury sounds legit; but saying that my limp is the result of trying to chase down that perfect summer dress or those cute pair of sandals? Ehhhh. I think I can hold off for a few more days…
So, I spent most of the afternoon soaking up sunshine and smoothies…
… and filling out the rest of that alphabet survey. Missed part 1? Check it out! If not, then on we go.
. – . – . – .
M: is for Milk, what kind do you like (flavor, source, etc)?… Here's a bit of random trivia for you – when I was younger I basically lived off dairy milk; I would probably average around 5 cups a day. Nowadays, my stomach doesn't tolerate cow's milk too well, so I stick to unsweetened vanilla almond.
N: is for Nuts, what kind are your favorite?… Almonds, no question. Funny story with me and nuts… I have a really severe allergy to peanuts, and because they were afraid that I'd get confused when I was younger, my parents raised me thinking I was allergic to all nuts so that I wouldn't make a mistake and accidentally… err… kill myself. It wasn't until a few years ago that I found out that it was only peanuts I was allergic to. Yes, I had my first taste of almond butter at the ripe age of 24…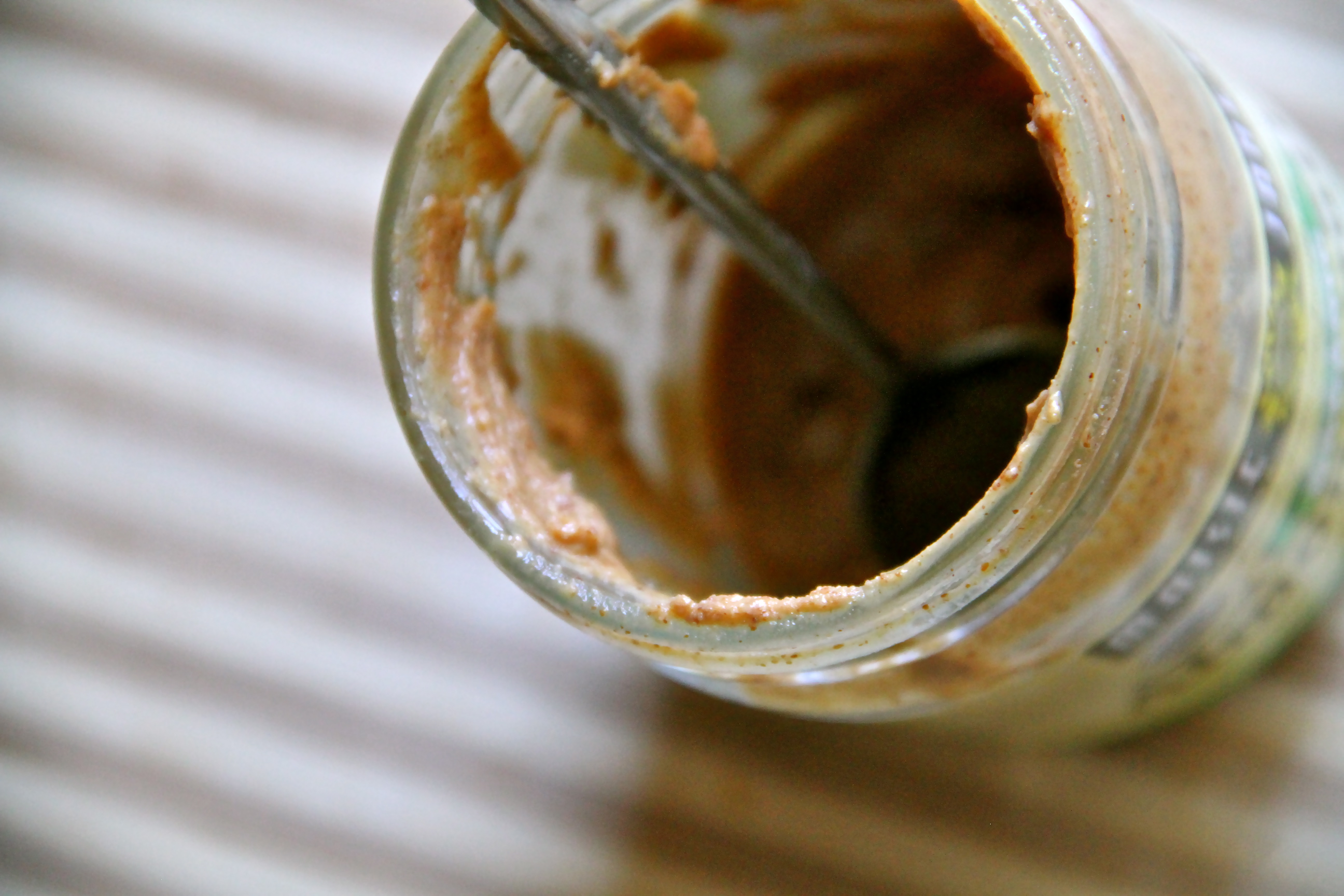 … and haven't gone a day without it since.
O: is for Onions, do you eat them?… Like apples! Ack, gross 😯 When I was younger, I hated onions with a passion and would always pick them out of any meal that my mom cooked. These days, I love the flavor that they add to a dish, but my stomach doesn't always agree so I tend to go easy on them.
P: is for Protein, what is your favorite source?… It's funny; protein is probably the macro that I enjoy the least – I'm more of a carbs and fats girl. I used to think that a meal high in protein would keep me fuller longer, but… it doesn't. Still, gotta get that protein in somehow, and my favorite way to do that is probably with beans, eggs, and Greek yogurt. Although, I've gotta say that cottage cheese has really been growing on me lately… especially when mixed with nutritional yeast. Don't knock it 'till you try it!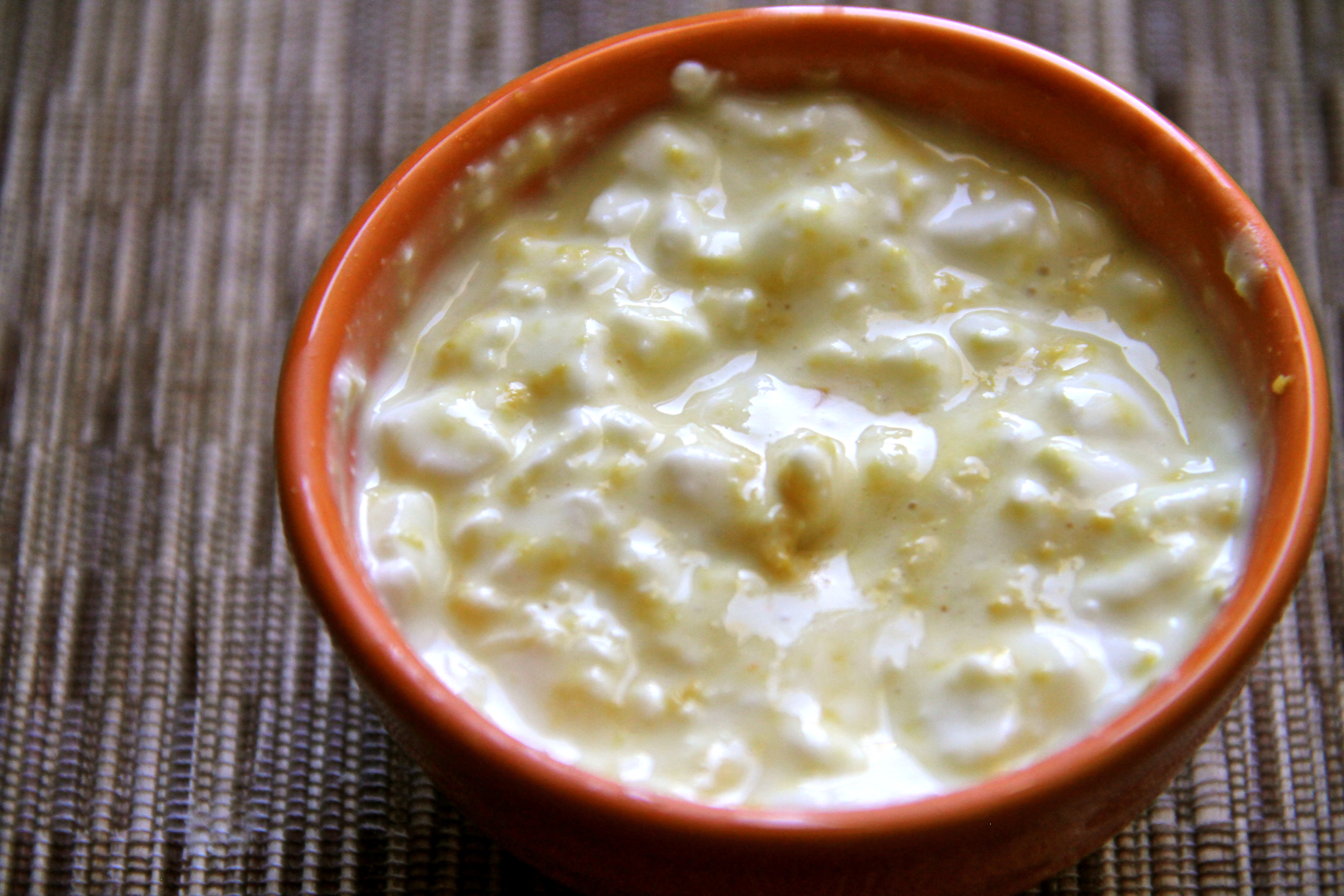 … looks like vomit, tastes like heaven.
Q: is for Quiche, what 4 ingredients would you like in yours?… Oh geez. Can I get some multiple choice options for this one? I've probably eaten quiche like 4 times in my entire life, so I really… uhm… okay. Spinach. Parmesan cheese. Bell peppers. Mushrooms. Thank you Google magic!
R: is for Restaurant, what's the name of your favorite and what type of cuisine does it serve?… Well after that quiche question, this is an easy one. My favorite restaurant is called "My Kitchen", and it serves a variety of cuisines – Mediterranean, Mexican, Italian, Chinese… anything you're in the mood for, really. But yeah, I've never been big on eating out – I prefer to cook at home.
S: is for Spices, name 4 that are in your kitchen right now that you have used in the past 5 days?… Well, the most obvious one would have to be cinnamon. I eat copious amounts of it everyday and have several shakers going at any given time – including one sitting by the computer, where I eat a lot of my meals. Whaaaaat? It beats having to get up and go to the kitchen every time I need a re-application (which is quite often). Other than that, nutmeg, curry powder, and… oh geez, I keep wanting to say thyme, but that's a herb (there's a difference!). Oh! And ginger.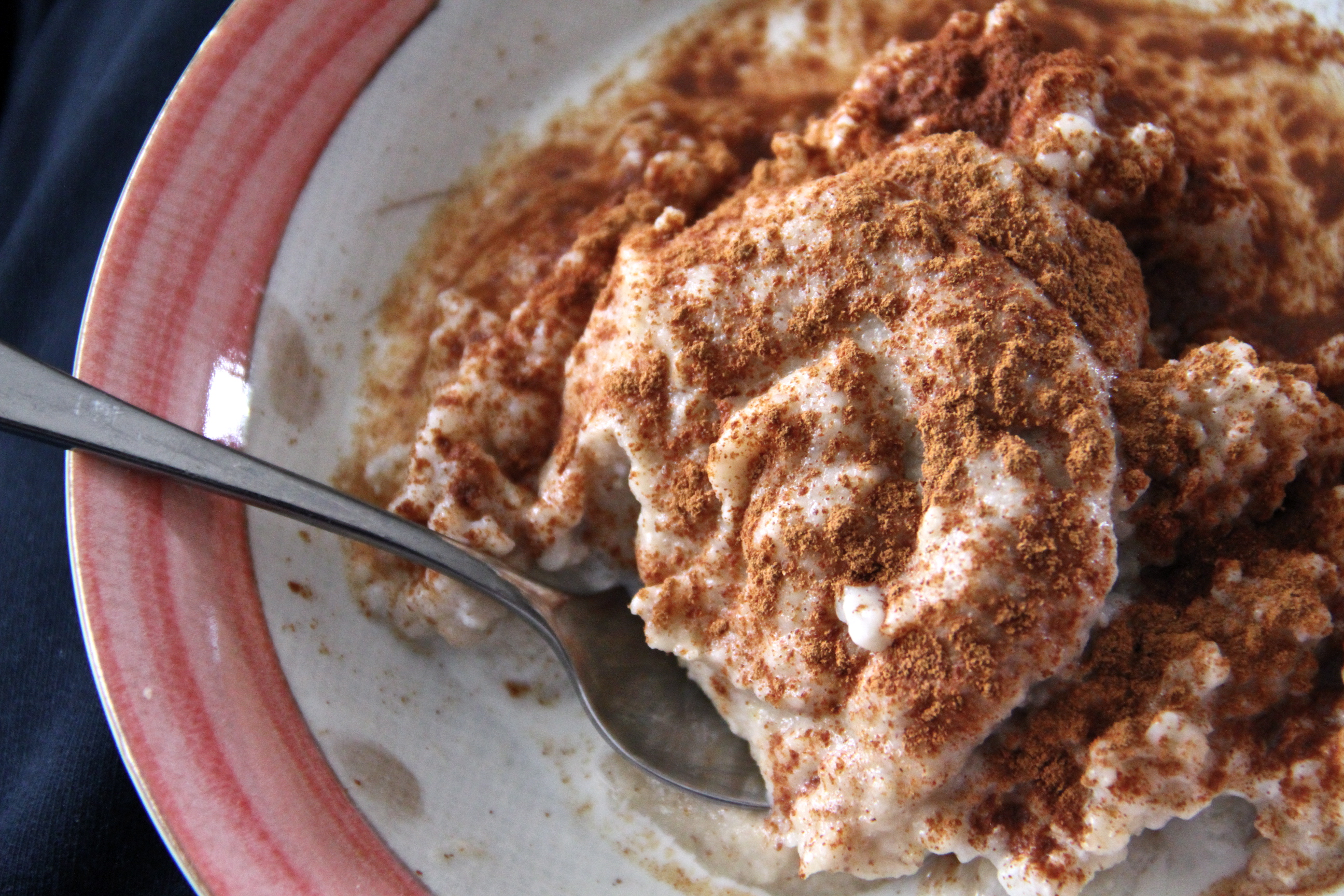 T: is for Trick or Treating, what 5 candies does your bag contain?… I've always felt kind of cheated for being tall as a child, because it meant fewer years that I was able to go trick-or-treating without getting the "aren't you a little old for this…" look. So, if you could just hand me some sour jelly beans, Skittles, KitKats, Mars, and Chupa Chups, I'll be on my way.
U: is for Universal, what is your favorite type of cuisine from around the world?… What cuisine do oatmeal, bananas, almond butter, and chocolate fall under? Because whatever it is, that would be it. But if I had to choose an actual cuisine, then probably Mexican – I die for the combination of salsa, guac, and tortillas. I've even been known to eat salsa straight from the jar with a spoon. No shame.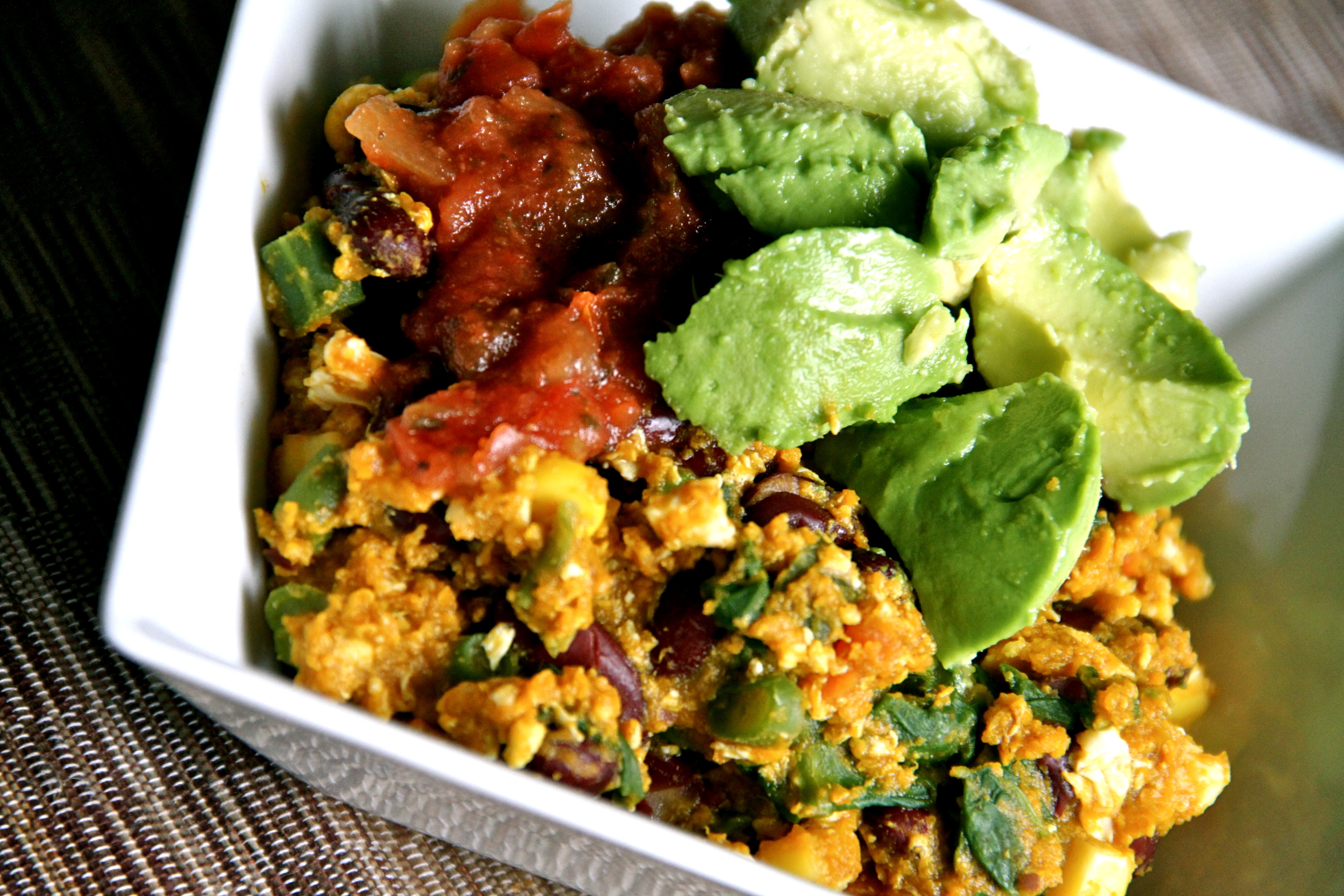 Pumpkin Chili Mexican Scramble
V: is for Vitamins, do you take them, and if so, what kinds?… I do. I take calcium/magnesium, a B vitamin, a vegetarian omega-3, and vitamin D in the winter months when I don't get much sun. I'm still not convinced as to whether or not vitamins are actually effective, but better be safe than sorry…
W: is for Water, do you drink bottled, spring, tap, sparkling, etc?… I probably drink enough water for 4 people. That being the case, I'd go broke if I tried to support my foodie habits while drinking fancy bottled water, so it's usually filtered tap water. But I do enjoy the occasional bottle of S. Pellegrino.
X: is for Xtra special, what food holds a special place in your heart?… Warm oatmeal cookies with a glass of cold milk. My mom used to make them for me all the time when I was little, and I have so many memories of being in the kitchen with her while she mixed the ingredients, and then impatiently sitting by the oven just waiting for them to be done. Love.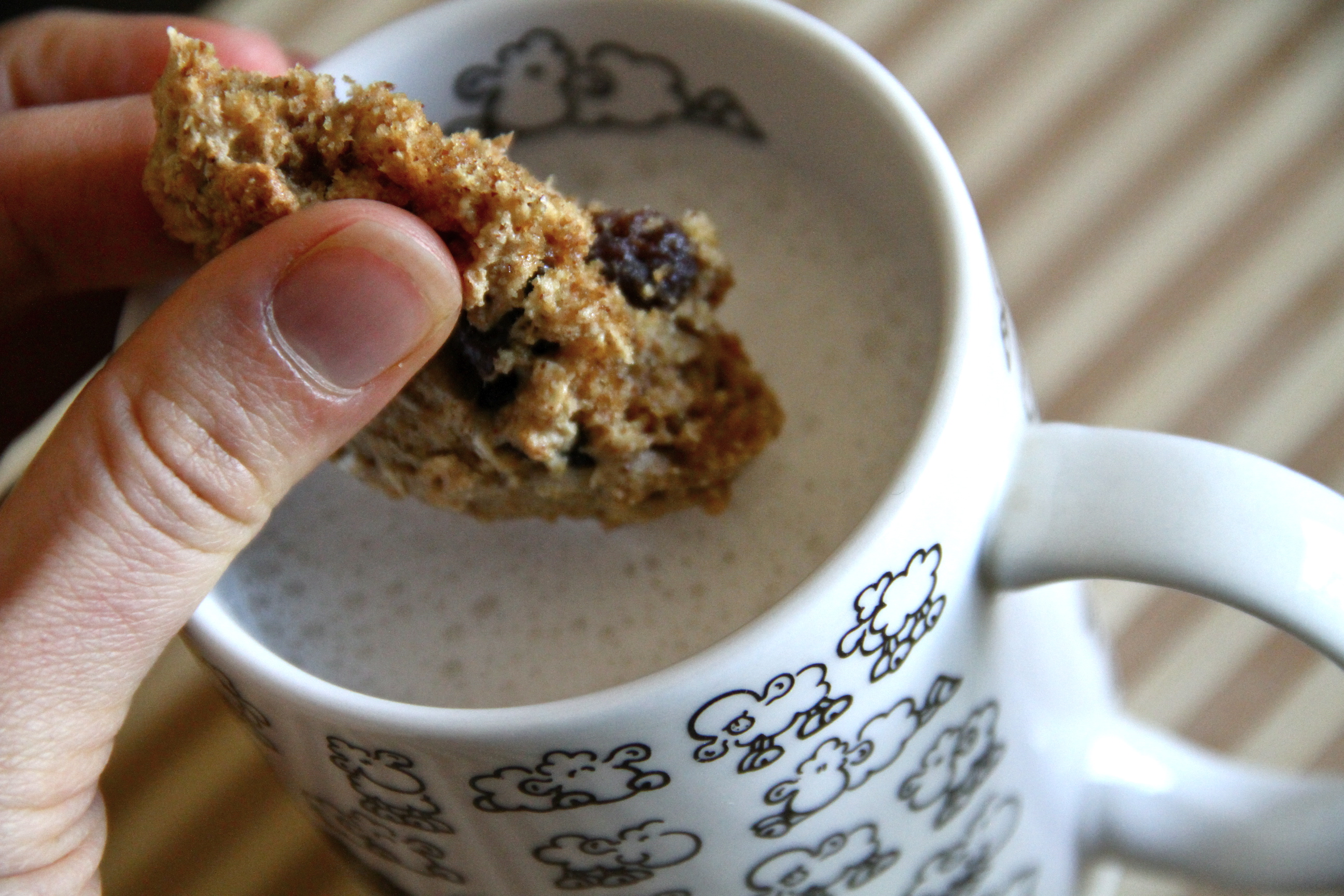 Y: is for Yogurt, you can only afford 1 cup, what kind do you purchase?… Only one cup?! Say it ain't so! How am I going to support my yogurt mess habit on rations like that? I'll have to work the streets! (call me for a good time 😉). But if this is just a clever way to ask what my favorite yogurt is, then the answer would be plain Greek… although I've been warming up to strawberry flavored as well.
Z: is for Zero guilt, what food can you enjoy over and over without any guilt?… Honestly, I think I've finally reached a place where I can say that I genuinely enjoy all my food guilt-free. Sure, it still feels "safer" to eat carrot sticks over cupcakes, but where's the fun in that? Life's too short not to enjoy the occasional indulgence, and you can bet that when I do enjoy it, I'm going to savor every bite and not let guilt ruin it for me.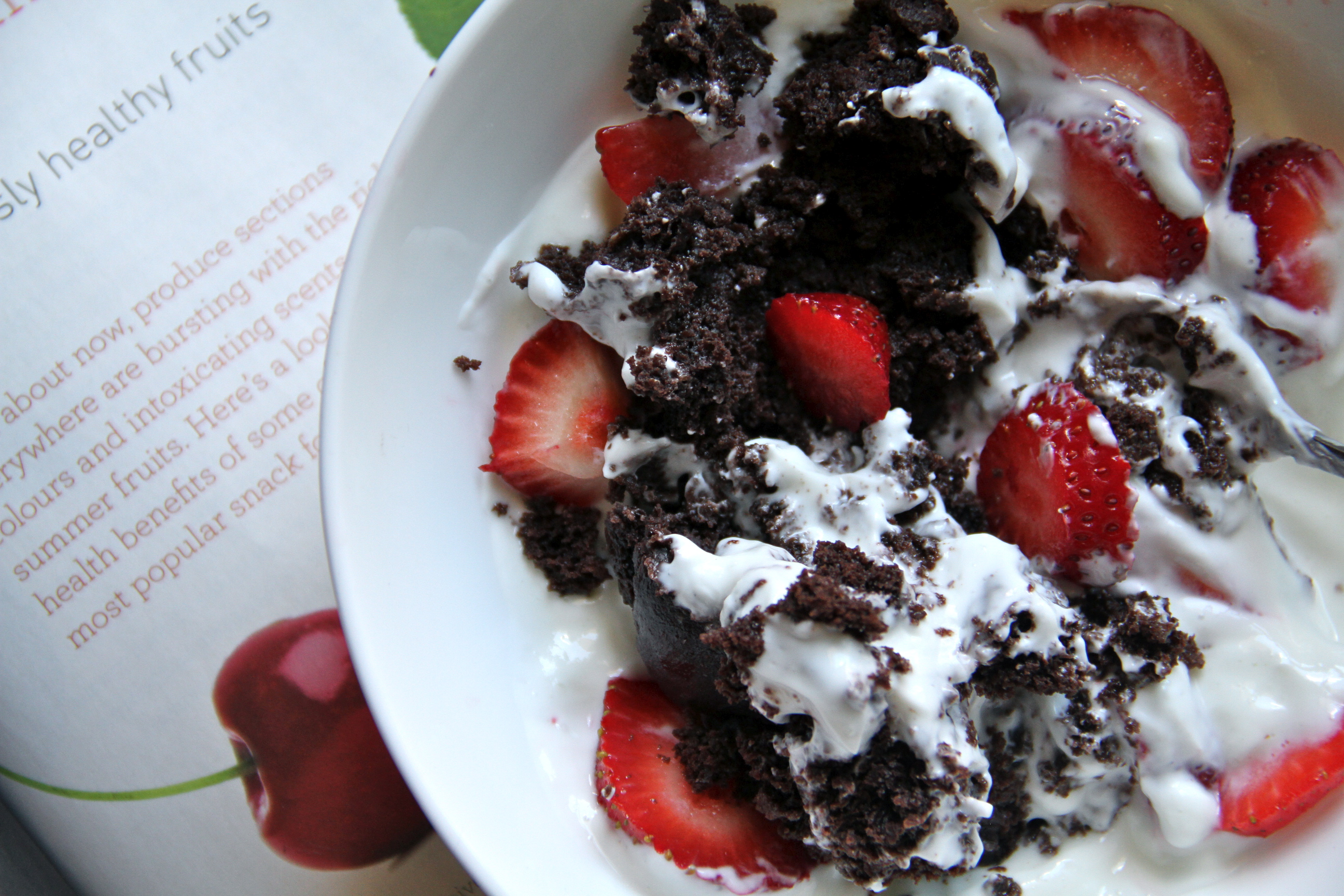 . – . – . – .
What's your favorite thing to do on rest days? I got so bored today, that I broke out the wax crayons and coloring books. Yes I'm a child at heart. Don't judge me.
And, one more time, pick a few letters and share your answers.