Good morning and Merry Christmas [Eve]! 😀
How the heck are you guys?! I missed you this weekend, but the last minute Christmas rush finally caught up with me and I spent all my time either in the kitchen [satisfying my craving for snickerdoodles]…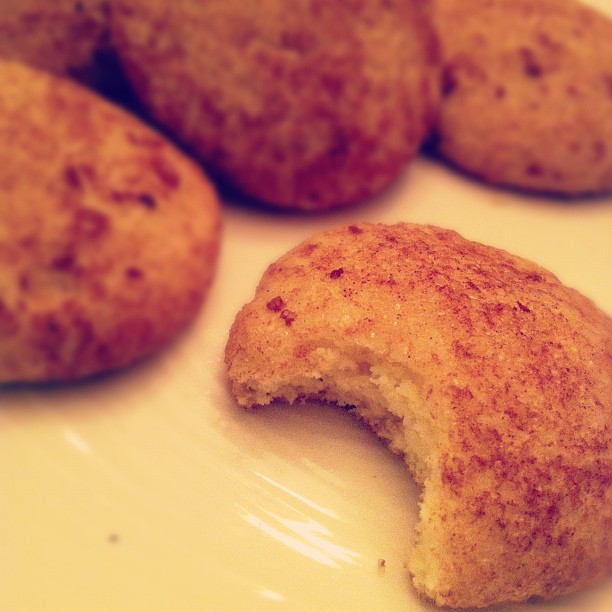 At the mall, picking up those last minute gifts…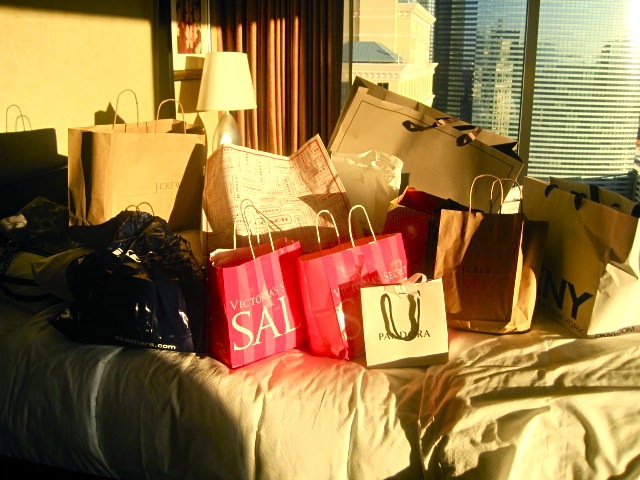 (note: note a picture from this weekend)
Or at home, up to my elbows in wrapping paper….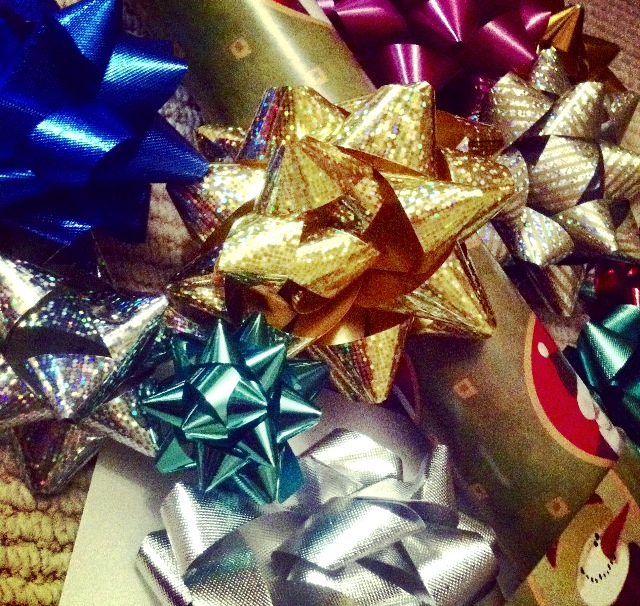 I was going to post last night, but since I've been planning on switching up my posting times, I decided to just wait it out a few more hours and post this morning instead. To be honest, it feels a little strange to be posting at this time, but I think I'm going to like it – I just need a little bit of time to adjust to the new schedule.
So here we are on Christmas Eve, my absolute favorite day of the year. My family celebrates the 24th more than the 25th, so I'm currently gearing up for a night of food, family, and fun. Good times 😀 I've still got a few hours to kill, though, so I figured that I'd go ahead and finish up Jenny's 25 Days of Blogging Christmas challenge. If you missed the previous ones, click here for part 1 and here for part 2.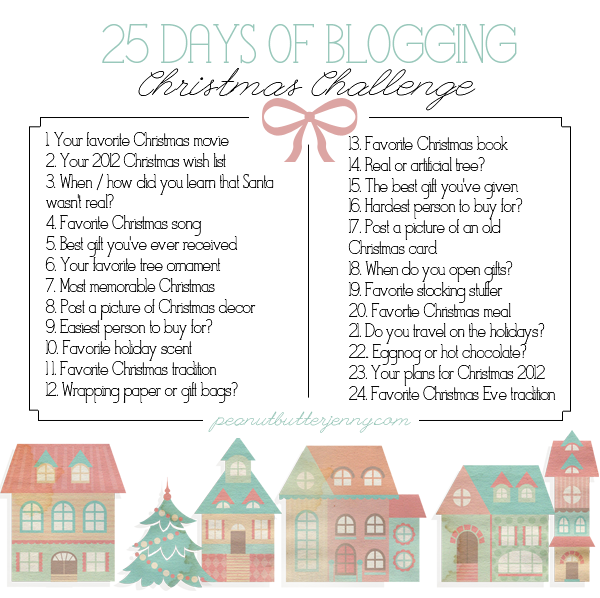 19. Favorite stocking stuffer. Hmm… this one is kind of tricky because I usually just get small, practical things in my stocking – chocolate, hand cream, notebooks, gift cards, lip balm, random trinkets… OH! Christmas socks 😀 I've been getting a pair [or two] of those suckers in my stocking every year for as long as I can remember, and I've got a pretty good collection happening now…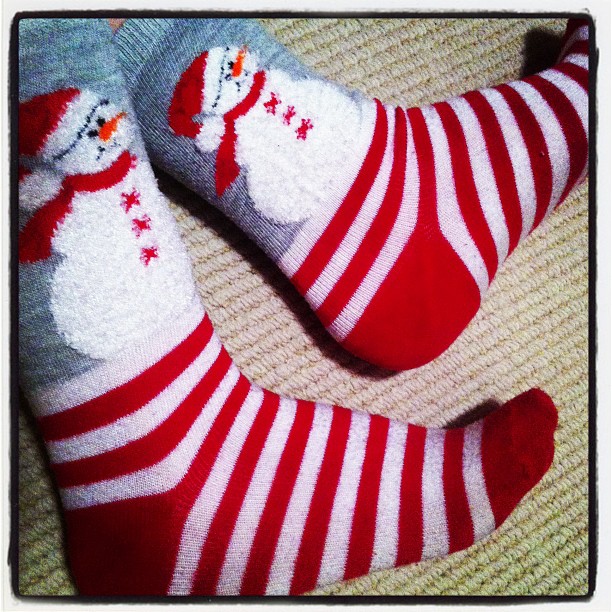 20. Favorite Christmas meal. Would it be incredibly cliche of me to say dessert? Because… dessert. As much as I love our Christmas Eve traditions, the actual dinner itself has never been one of my favorites. First of all, it's meatless and full of fish, which is problematic for those of us who aren't big fans. Pickled herring, fried fish, cream-baked fish, fish in oil 😯 I get queasy just thinking about it. Thankfully, there are things like beetroot soup, and potato and cheese perogies, so I don't go hungry… but yeah, the dinner itself has never been something I looked forward to.
21. Do you travel on the holidays? Nope! I'm lucky enough to live just a 20 minute drive from my family, so no airplanes or extended road trips for this girl (thankfully). We've always celebrated Christmas at home, which is part of what makes it feel like Christmas, but I've always wondered what it would be like to go somewhere else [and maybe get away from some of this cold].
22. Egg nog or hot chocolate? This one is a no brainer – hot chocolate, hands down. To be fair, I've only tried egg nog once or twice but I don't remember being a fan. I should probably give it another chance, seeing as my tastes have changed so much, but I honestly don't see myself choosing anything over a warm and creamy chocolate drink… especially when mini marshmallows are involved.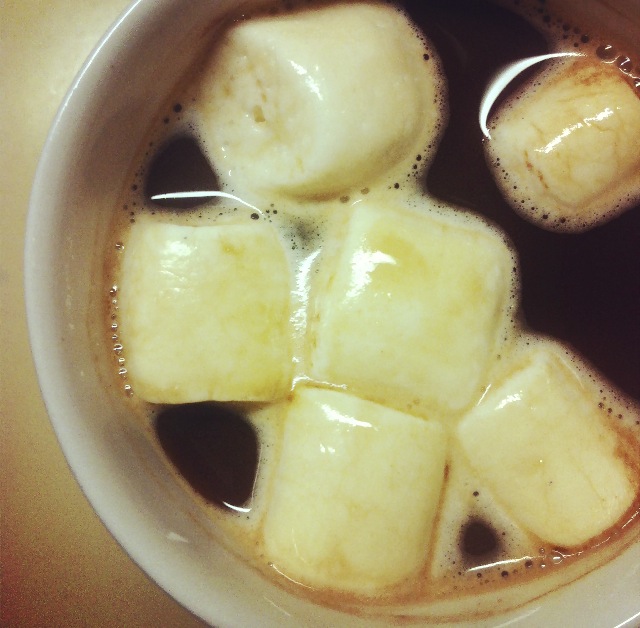 23. Your plans for Christmas 2012. To eat my weight in chocolate and cookies 😀 Kidding… sort of. I'll be heading to my parents' place tonight to celebrate Wigilia. We start with dinner and go on to open presents when everyone is done eating. Then we relax, sing carols, watch movies, play games, and pick away at food for the rest of the night until it's time for midnight mass. Christmas Day is usually pretty low key, with some kind of brunch in the morning and dinner in the evening.
24. Favorite Christmas Eve tradition. Midnight mass. We've been going every year since I can remember, and that's the time when the Christmas spirit hits me the hardest. I would fall asleep at church all the time when I was little, but thankfully it doesn't happen [much] anymore.
. – . – . – .
And that's that. I'm off to finish up a few random things before heading over to my parents' to help my mom with the cooking, and then it'll be time to start celebrating 😀 I hope you guys have a wonderful day!
Anyone else celebrating Christmas Eve tonight?
What do you usually get in your stocking?