I am SO excited to finally be getting this post up for you guys! It's my review of the 2016 Erin Condren Life Planner!*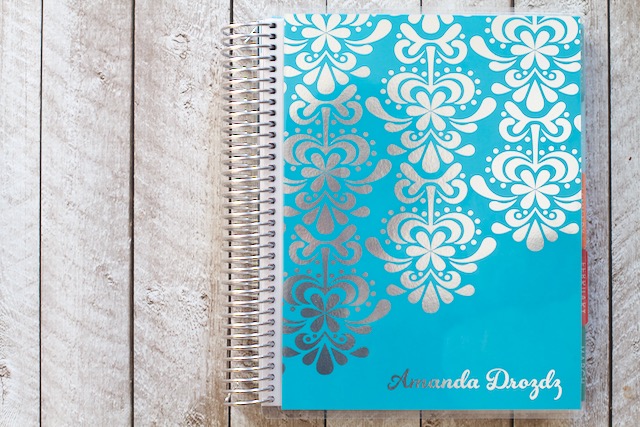 This is a post I wish I could have written well over a month ago so that you'd have ample time to grab one of these for yourself before the New Year [if you so desire], but it just wasn't in the cards thanks to lost packages and shipping delays. I'm ordering my next one as soon as they launch in June. Oi.
I don't think I've ever experienced this level of bad luck with any other order that I've ever placed, but even all the frustration wasn't enough to sour my opinion of the Erin Condren brand or turn me away from using their Life Planner.
Why? Because: a) this was totally out of the norm and I've never had any issues with their shipping in the 5+ other orders I've placed prior, b) I adored my 2015 ECLP and used it every.single.day this year, and c) there are so many great changes the 2016 version!
So what's say we take a look at some deets! And be sure to check out the link at the end of the post that you can use to sign up and get $10 off your first order!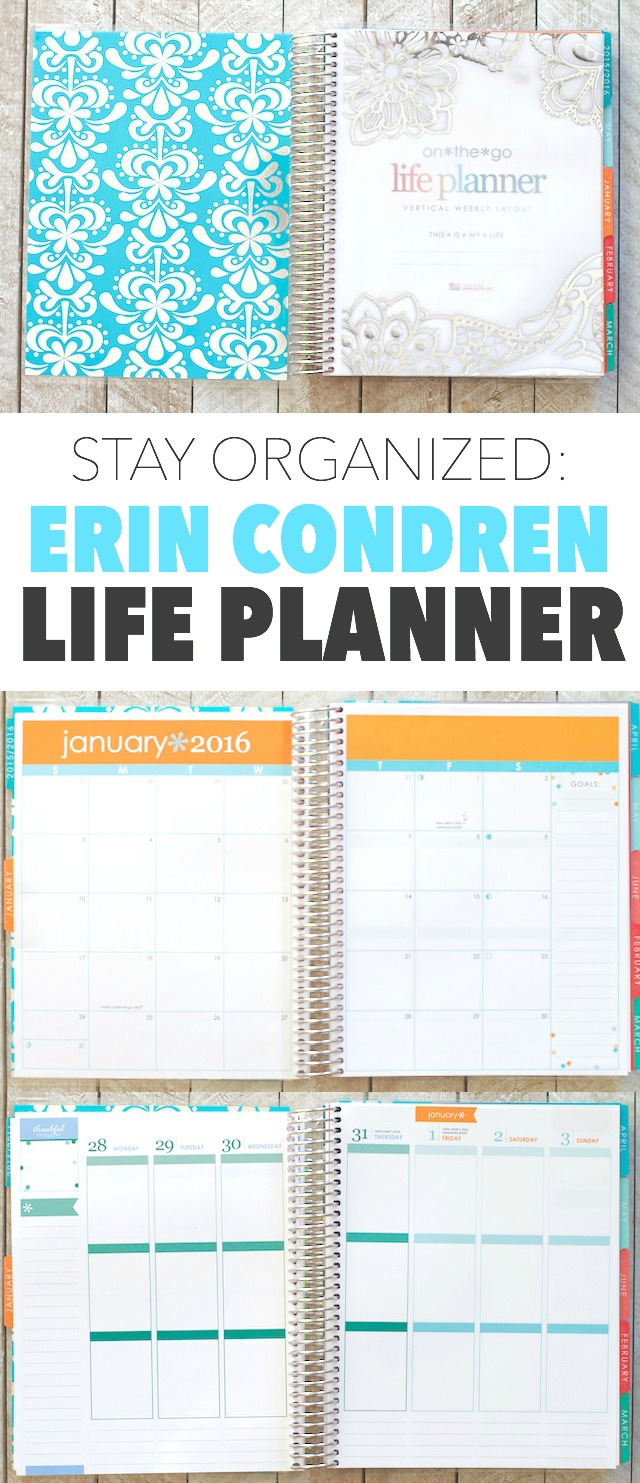 . – . – . – .
The Cover and Coil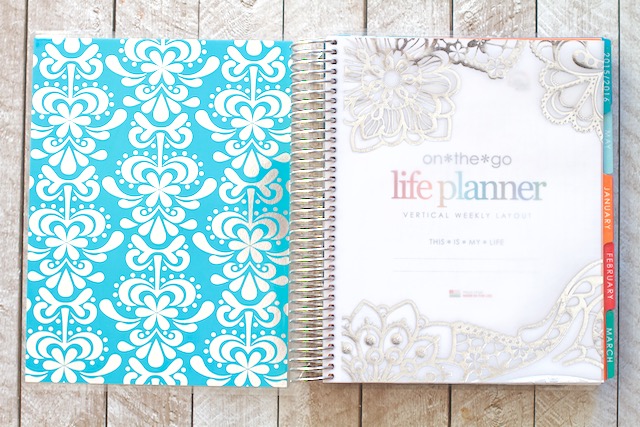 In addition to being gorgeous, this planner is definitely built to last. The front and back covers are made out of a durable cardstock and a really thick laminated plastic that snaps on to what is probably the sturdiest aluminum coil I've ever come across. After using my planner daily for all of 2015 (including carting it around with me a tonne when I was out), I'm happy to say that both the cover and coil are fully in tact, with minimal amounts of wear.
The one change I'm SUPER happy to see in 2016 is a larger coil: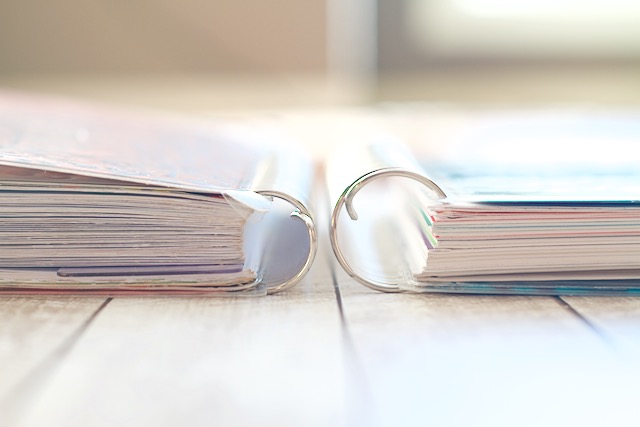 The coil in the 2015 was a little on the smaller side and I ran into a few issues by the end of the year where my cover kept partially popping off because of how bulky my planner pages became. This might not be an issue for someone who doesn't decorate their planner, but mine was full of washi tape and stickers, which add a little bit of bulk after 52 weeks.
And speaking of popping covers and customization, one of the great things about the Erin Condren Life Planner* is the fact that you can customize the covers to have them say whatever you want (I just went with my name), AND swap them out if you ever get bored and want a change. Yup! The covers are interchangeable, and there are tonnes of awesome ones to choose from, including beautiful gold/platinum foil editions, ones you can design yourself, and seasonal new releases to help you decorate for different holidays and times of the year.
. – . – . – .
Calendar and Layout
The Erin Condren Life Planner* comes with 3 different types of calendar pages. The year-at-a-glance (found near the very beginning of the planner):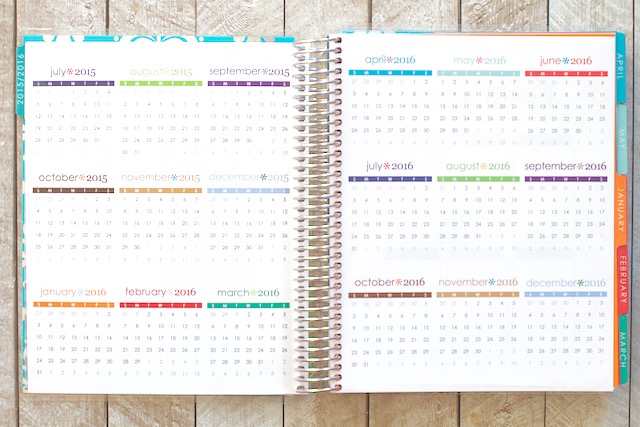 The month-at-a-glance (found throughout the planner at the beginning of each new month; easy to find thanks to a reinforced tab; each month has a different colour theme and follows a spread that has a blank note page and inspirational quote <– new for 2016)…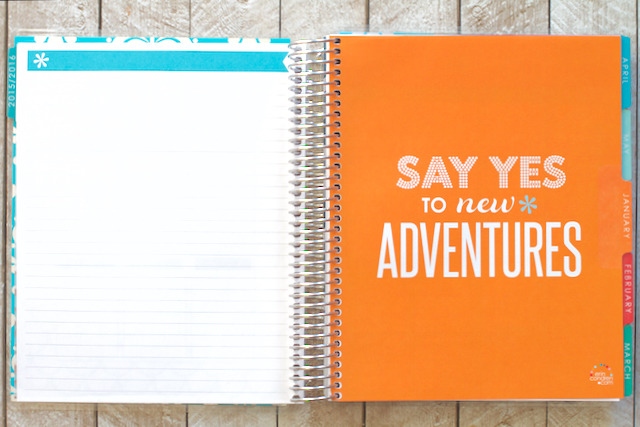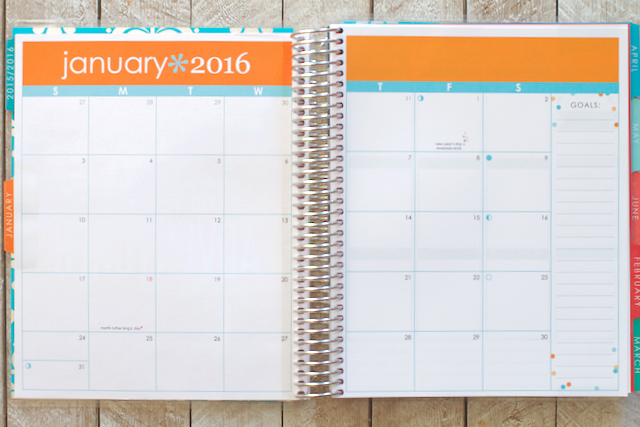 And the week-at-a-glance (found directly after each month-at-a-glance)…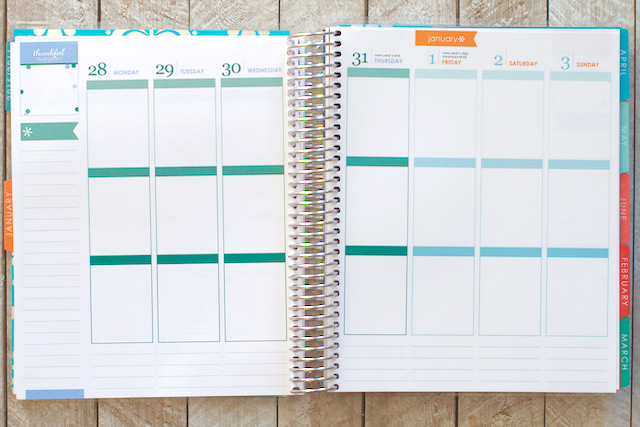 Now here's where things differ quite a bit from last year's version: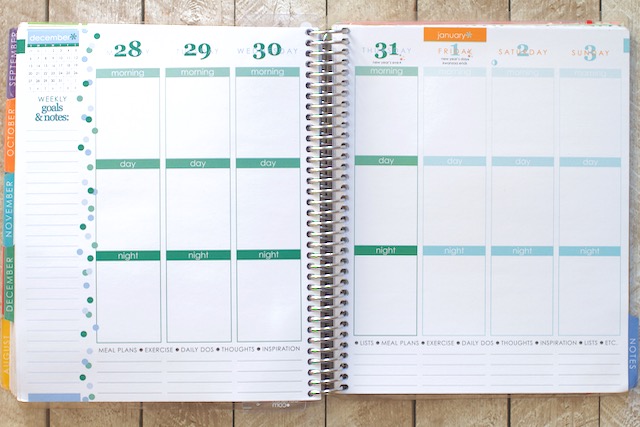 First, the little mini calendar in the top left-hand corner has been replaced by a blank space to write a "Thankful Thought," and some of the little bubble sidebar art has been taken out. The "Weekly Goals & Notes" label has been removed and replaced with a blank flag that you can fill in yourself based on what you want to track that week. The "Meal Plans, Exercise, Daily Do's, etc." label has been completely removed (YAY!!!), and the "Morning, Day, and Night" labels have been removed from each section, leaving a blank space for you to fill in yourself…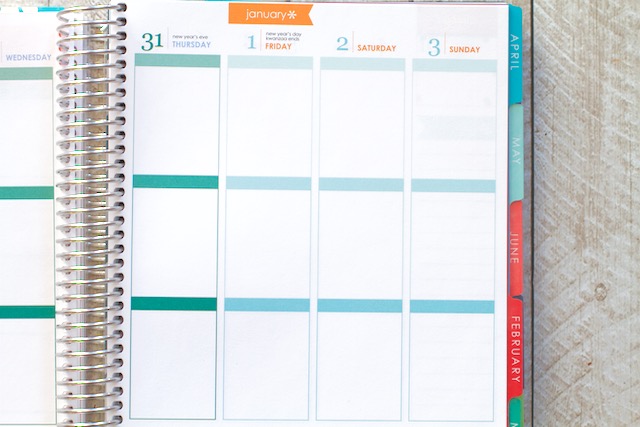 This is for the vertical calendar option. New for 2016, there's also an option to get a horizontal layout if you feel more comfortable organizing things that way. I personally love the vertical layout and how the days are divided into "chunks," even though I never really used them in a morning/day/night fashion. For me, they're: work/blog, errands/events, and misc/notes. It makes the most sense in my head since most of my work/blogging is done in the morning and my errands are run in the afternoon, while the evenings are generally not something that I need to plan for.
The paper is a nice heavy weight, and I never had any issues with ink bleeding through when I used Staedtler and Sharpie pens.
. – . – . – .
Odds, Ends, and Extras
In addition to all of that, you'll find a nice little assortment of goodies at the back of your planner. These include:
4 sheets of repositionable stickers (2 printed with different events and 2 blank)…

A "Keep It Together" folder and vinyl zip pouch to stash your things…

And a mini "Forget Me Not" perpetual calendar where you can keep track of birthdays and special events…

. – . – . – .
Overall Thoughts
I adore this planner. I really, really do. Is it pricey? A little. Is it worth it? Absolutely. I used mine daily for the entirety of 2015 and I can't wait to start using it for 2016. Not only is it a great tool to keep you organized, but it's just so visually appealing that it actually makes you look forward to planning.
Plus, the amount of decorating/customizing you can do with stickers, washi tape, scrapbook paper, sticky flags, coloured pens, stamps, etc. you can do is just too.much.fun. After all, accessories are a girl's best friend, right? ??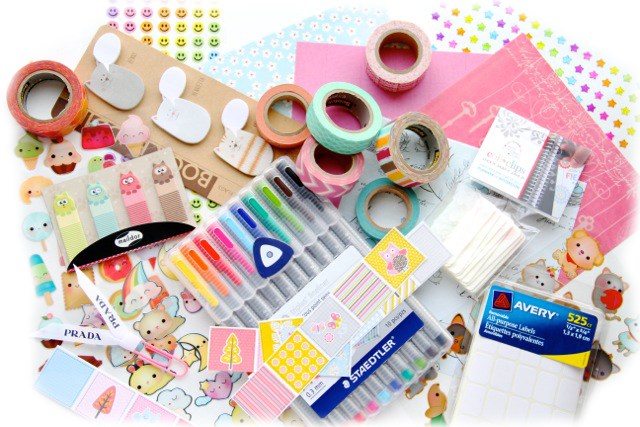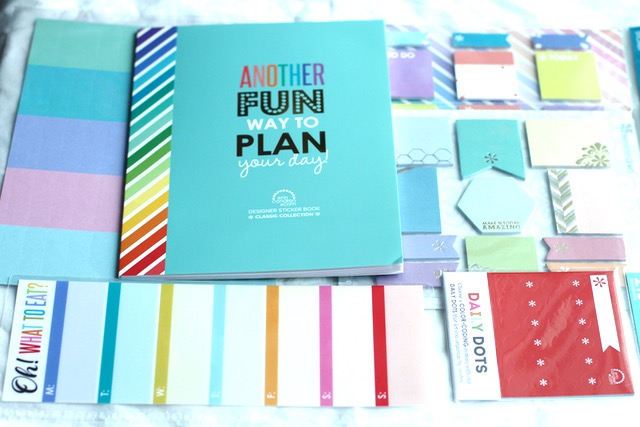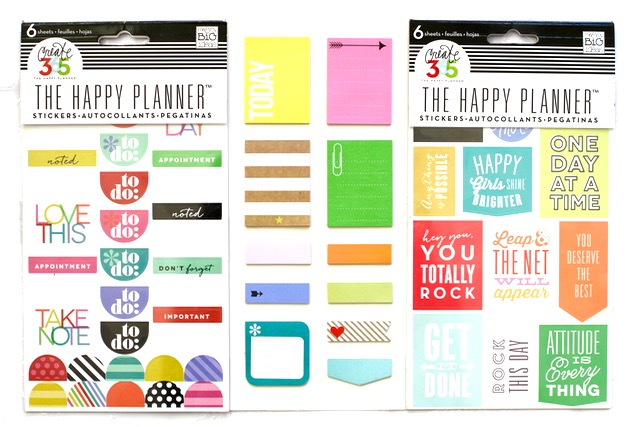 I basically treat my planner like ascrapbook, and I seriously get excited to sit down with it and decorate/plan out the upcoming week. I thought the price was a little crazy at first ($50 for a regular cover; $65-$75 for a foil cover), but I completely understand why it costs that much and I definitely think it's worth the investment. The quality is amazing, and the way it inspires you is just priceless.
. – . – . – .
For you!
And now that I've gone ahead and written over 1000 words about how much I love my Erin Condren Life Planner, I have a little something for you. If you like what you've seen and would love to have one of your own, you can click this link right >> here << to get $10 off your purchase. How it works is that if you sign up and make a purchase using my referral link, you'll get $10 off your order and I'll get $10 credited to my account. Everyone wins!
But enough of my rambling! I'm sorry this post was so epically long, but I'm kind of obsessed with this thing and just wanted to share the love ?

Do you use a planner? Is it paper or electronic?
If you have a paper planner, what kind are you using for 2016

More places to find me!
E-mail — [email protected]
Twitter — runwithspoons
Facebook — runningwithspoons
Pinterest — runwithspoons
Instagram — runwithspoons
Bloglovin — runningwithspoons
Snapchat — runningspoons
Disclosure: This post contains referral links. It is not sponsored, nor did I receive any kind of compensation for my time. I purchased the planner with my own money and chose to review it because I genuinely adore it.