3 ingredient cookie dough truffles that taste and feel just like a decadent dessert but are made with NO grains, oil, eggs, or refined sugars. They're gluten-free, vegan, and a healthy and delicious way to satisfy those chocolate cravings!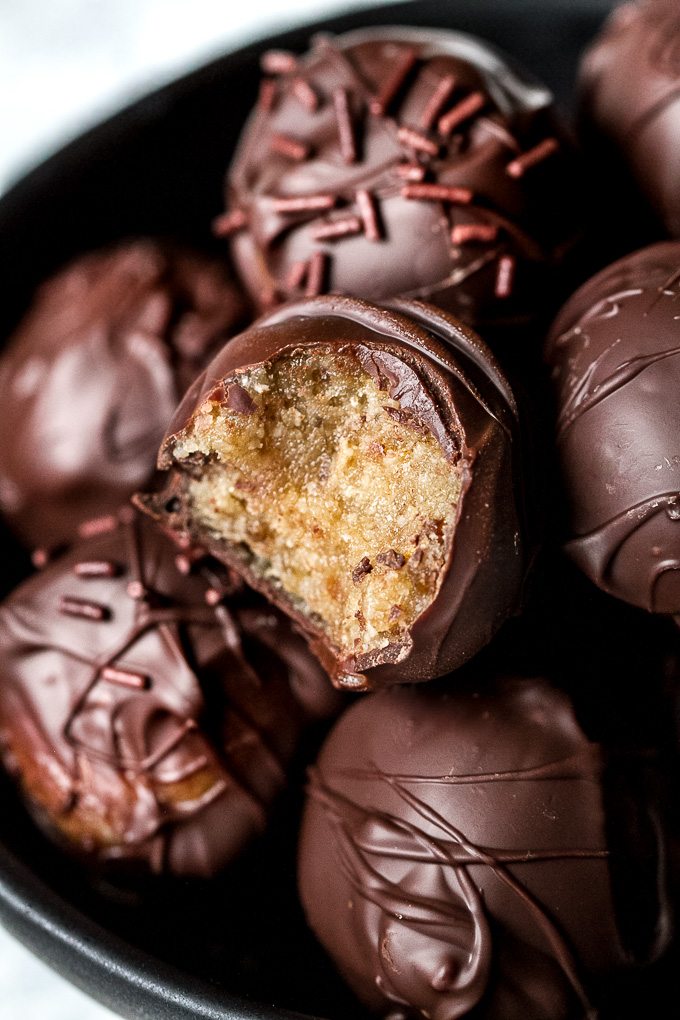 The best things in life are free covered in chocolate…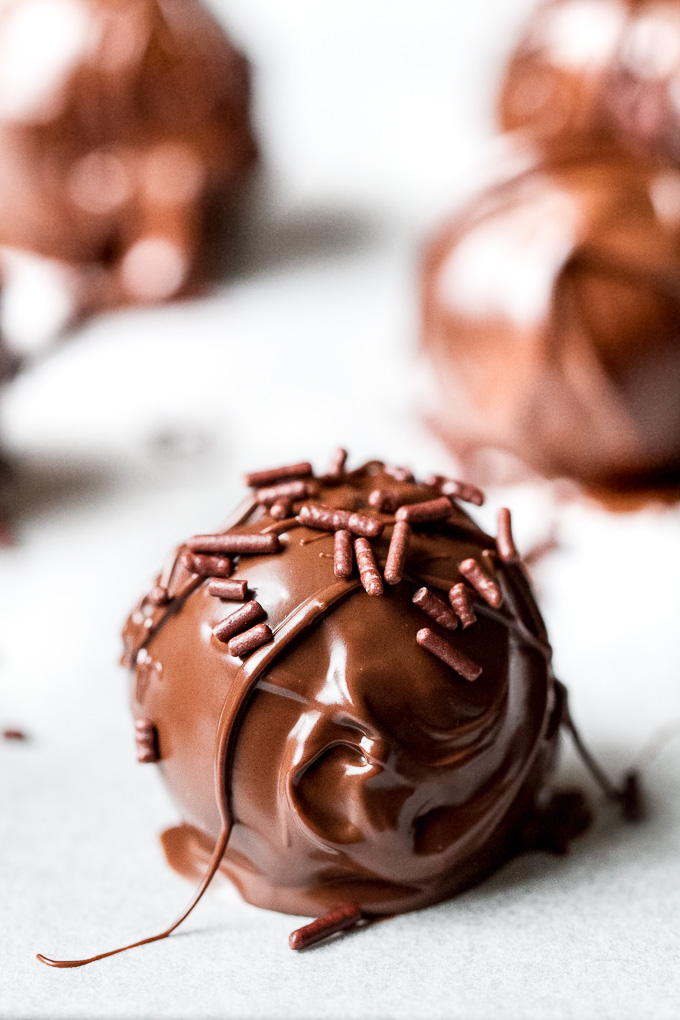 … and [chocolate] sprinkles…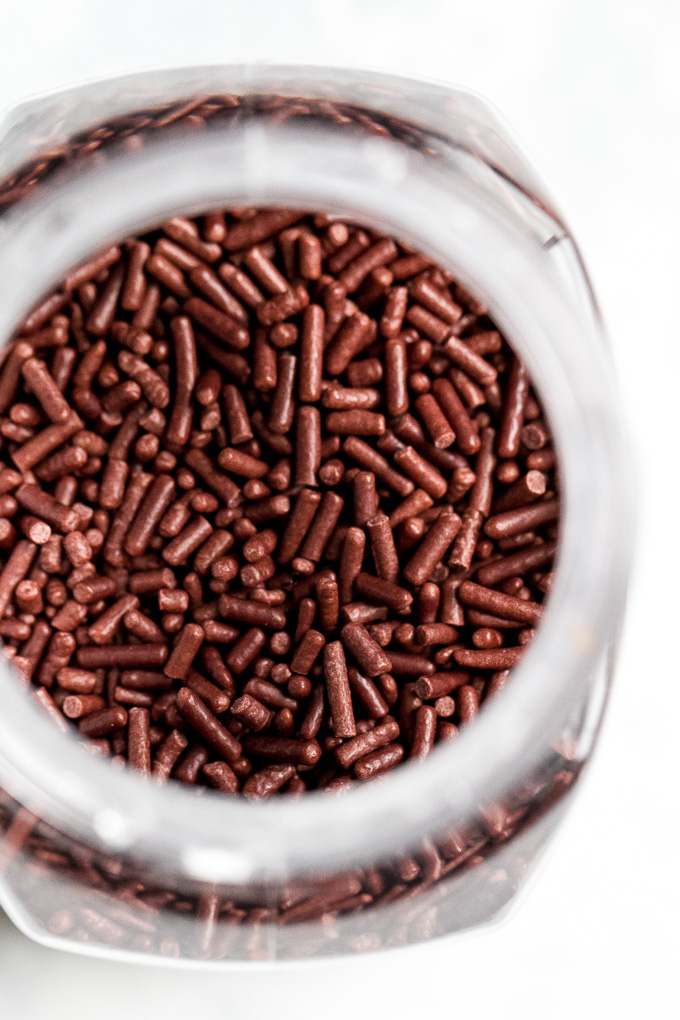 … and taste like dessert when they're actually made with only a few (read: 3) super healthy ingredients. Meaning that these 3 ingredient cookie dough truffles are basically one of the best things in life…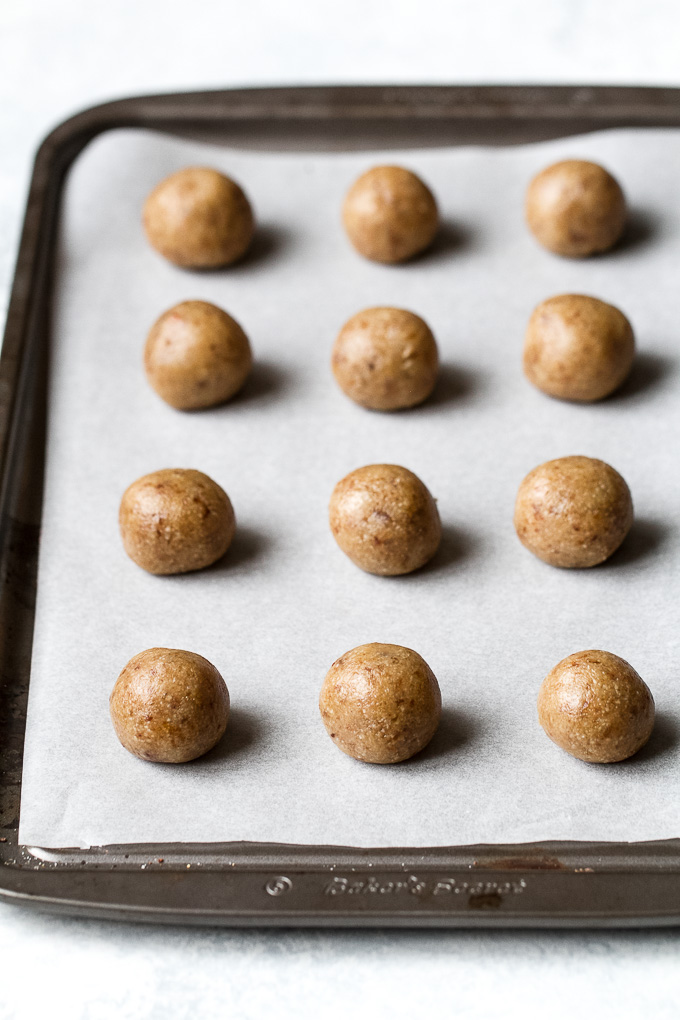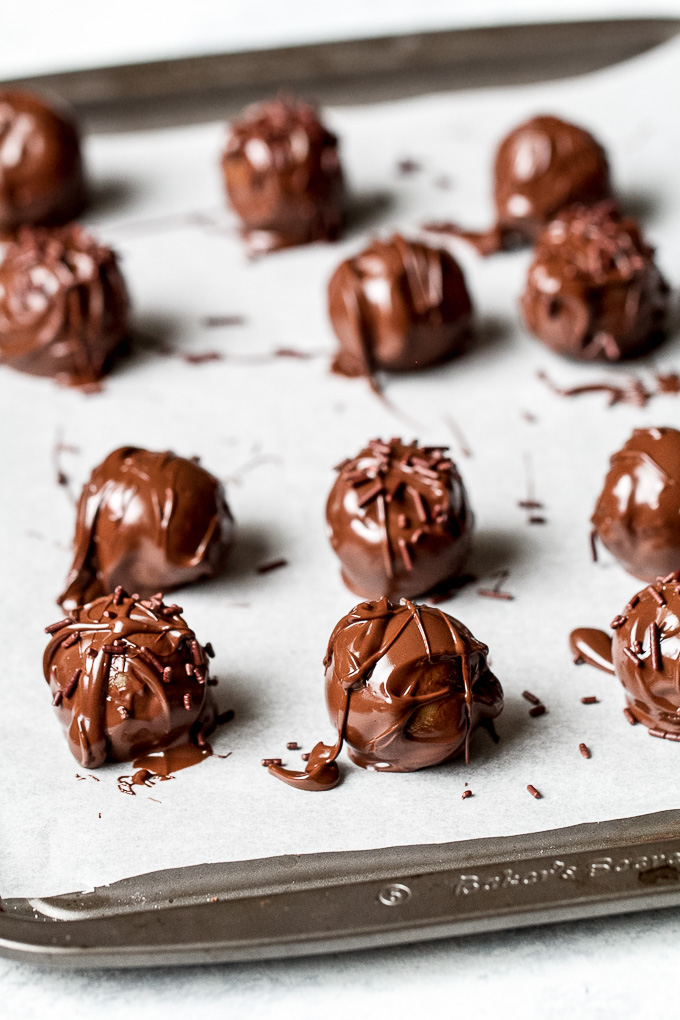 Especially since they're so crazy easy to make. Like, literally 3 ingredients.
First, dates*. Nature's caramel and the perfect sweetener. Not only because they help hold the base of these truffles together, but because they help keep them refined-sugar-free and add a nice touch of fibre and minerals. It's the little things.
Next, almond flour*. I usually make my bites with ground oats, but I wanted to try to keep these grain-free so I went the almond flour route… and it kind of knocked my socks right off. I don't know the magic behind it, but I always find that almond flour adds a slight buttery taste to whatever I use it in, without having to actually use any butter – perfect for when you want something to taste like cookie dough.
And finally, chocolate*… because, like I mentioned earlier, the best things in life are covered in chocolate and I hope you love these particular things.
Happy eating!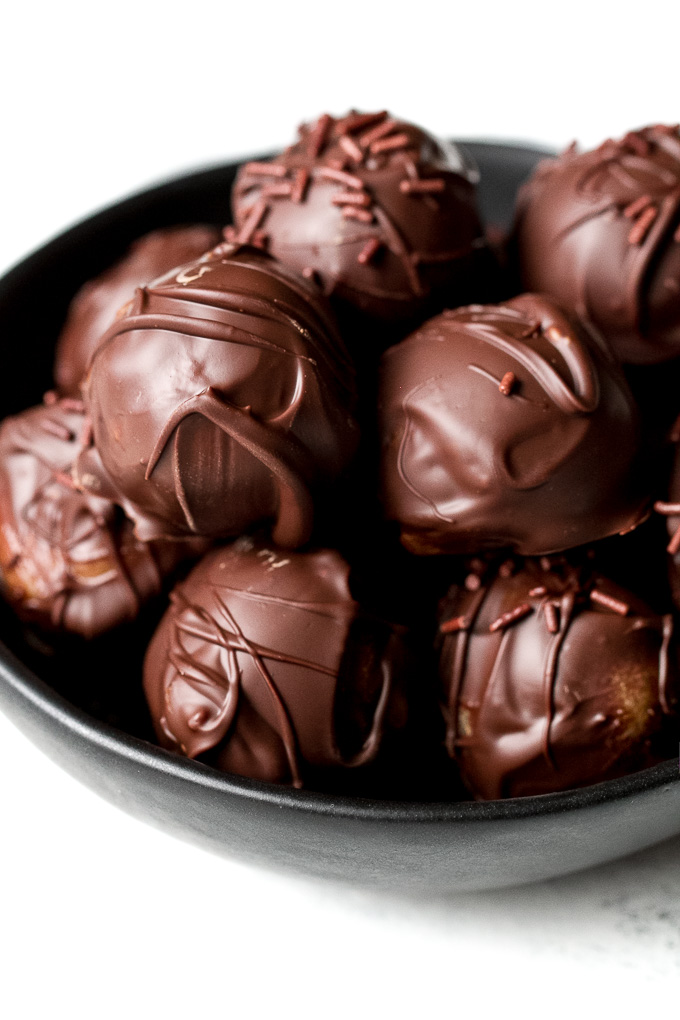 I'd love to know if you make this (or any!) recipe! Tag @runwithspoons on Instagram and Twitter, and be sure to subscribe to our mailing list to receive more healthy and delicious recipes straight to your inbox!
3 Ingredient Cookie Dough Truffles
Author:
Amanda @ Running with Spoons
Directions
Add the dates and almond flour to the bowl of a food processor or high-speed blender and process on high until they have fully combined to form a sticky dough. The mixture should stick together easily when pressed without being overly sticky. If you're having trouble getting it to stick, add a tablespoon (15 ml) of almond milk until the right texture is reached.
Using a tablespoon, roll the dough between your hands to form individual balls. Set them aside on a plate lined with parchment paper, and repeat with the remaining dough.
To prepare the chocolate coating, melt the chocolate in the microwave or over a double broiler, stirring periodically to ensure no clumps remain. Using a toothpick, dip each ball into the melted chocolate, gently tapping the side of the bowl to remove any excess. Place back onto the parchment-lined baking sheet and repeat until all truffles have been coated. Sprinkle with toppings, if desired.
Refrigerate for ~15 minutes, or until the chocolate has set. Store the truffles in an airtight container in the fridge for up to 2 weeks.
Click here for nutrition facts

Looking for more healthy no bake truffles/bites? Try one of these!
No Bake Brownie Batter Truffles
Healthy Chocolate Fudge Bites
No Bake Trail Mix Bites
No Bake Carrot Cake Energy Bites
Vegan Chocolate Chip Cookie Dough

Let's chat!
Whatcha been snacking on lately?
More places to find me!
E-mail — [email protected]
Twitter — runwithspoons
Facebook — runningwithspoons
Pinterest — runwithspoons
Instagram — runwithspoons
Bloglovin — runningwithspoons
Snapchat — runningspoons
*Disclosure: Some of the links included in this post may be affiliate links, meaning I'll earn a small commission if you purchase through them, at no additional cost to you. I only recommend products I personally use and believe will add value to my readers. Thank you so much for helping support Spoons!