Soft, doughy, and loaded with pumpkin flavour! This healthy pumpkin pie breakfast bake will make you crave the comforts of fall all year long!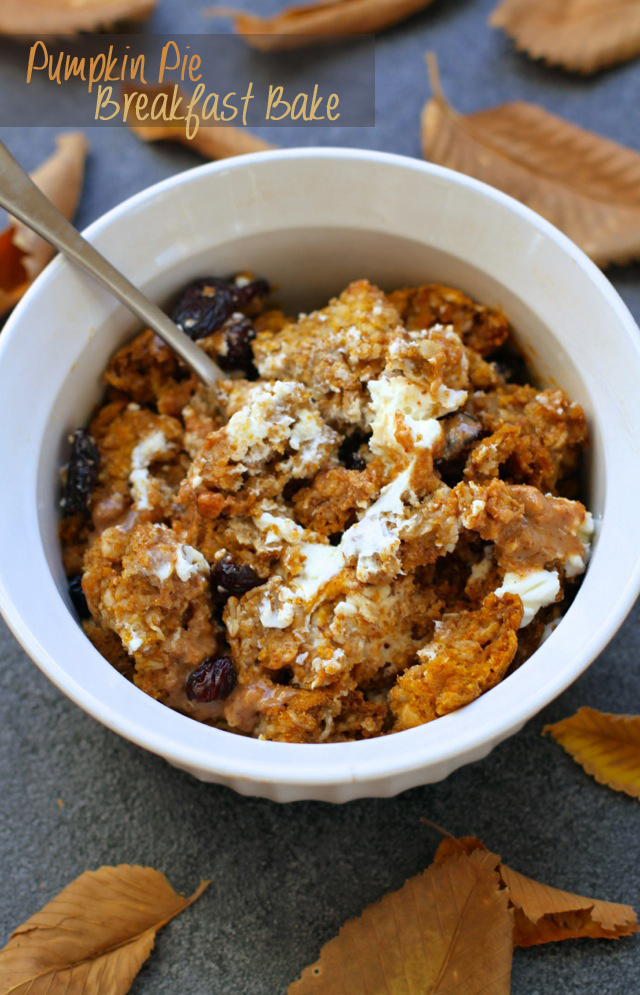 The wait is finally over! Tomorrow marks the official first day of fall, meaning I can start assaulting your lovely faces with all the delicious flavours of my favourite season of the year. Oh wait… I've already been doing that for about a month now, haven't I? Between these muffins, this smoothie, these pancakes, and these cookies, it's been looking tasting like fall around these parts since the middle of August. I did manage to hold off on the pumpkin until September, though, so I consider that a pretty big success.
Actually, I've only posted one pumpkin recipe so far, which has more to do with the fact that I haven't been able to find any in the stores than anything else… but still! It's high time to change that, starting with this recipe for a deeeeelicious pumpkin pie breakfast bake…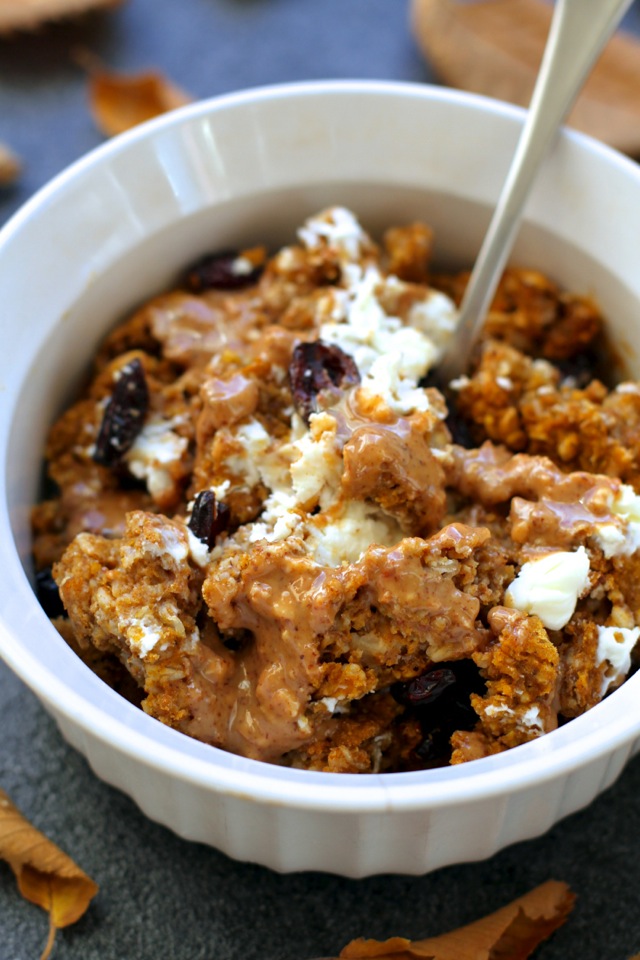 I know, right? In.sane. 
I'm going to be honest with you guys here; I'm not a huge fan of adding pumpkin to oatmeal… at least not if we're talking stovetop oats. It comes down to the same reason that I don't like pumpkin pie — the texture is just way too gloopy for me. I like my oats on the thicker, doughier, cakier side, and pumpkin can make that a little difficult to achieve
So what's a girl to do if she's craving some pumpkin action in her oats without the inevitable gloopiness that comes with it? Bake.that.sucker.UP. And I swear, autocorrect… if you change gloopy to gloomy one.more.time, we're going to have to exchange some unpleasant words… But I digress. Baked oats!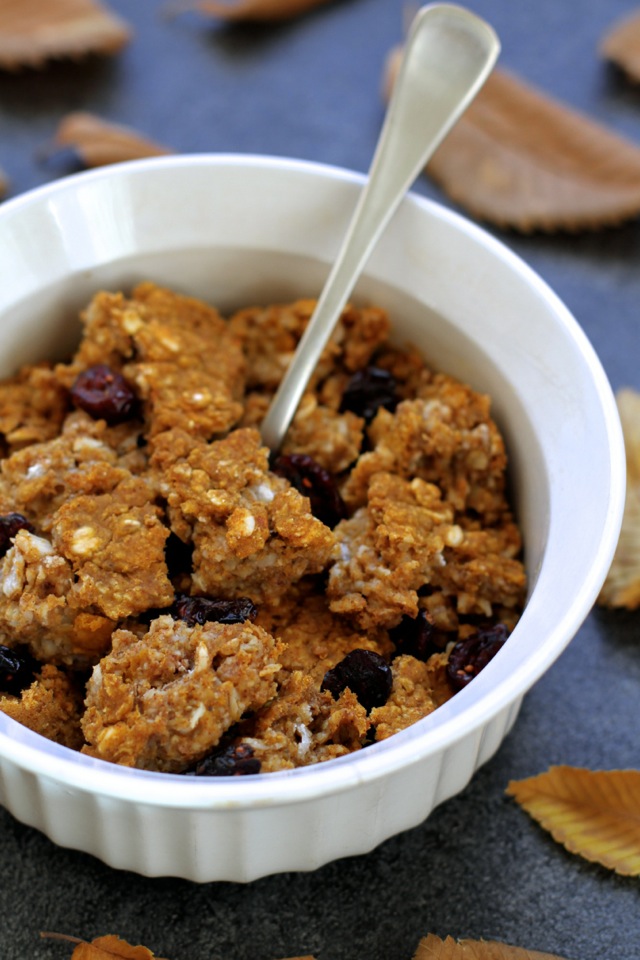 Well, sort of baked oats… I mean, they are baked, but they're not just oats — there's some flour in there too. I tried making this recipe using just oats, and while it was still good, it didn't give me quite the texture I was after. What texture is that, you ask? This one right here…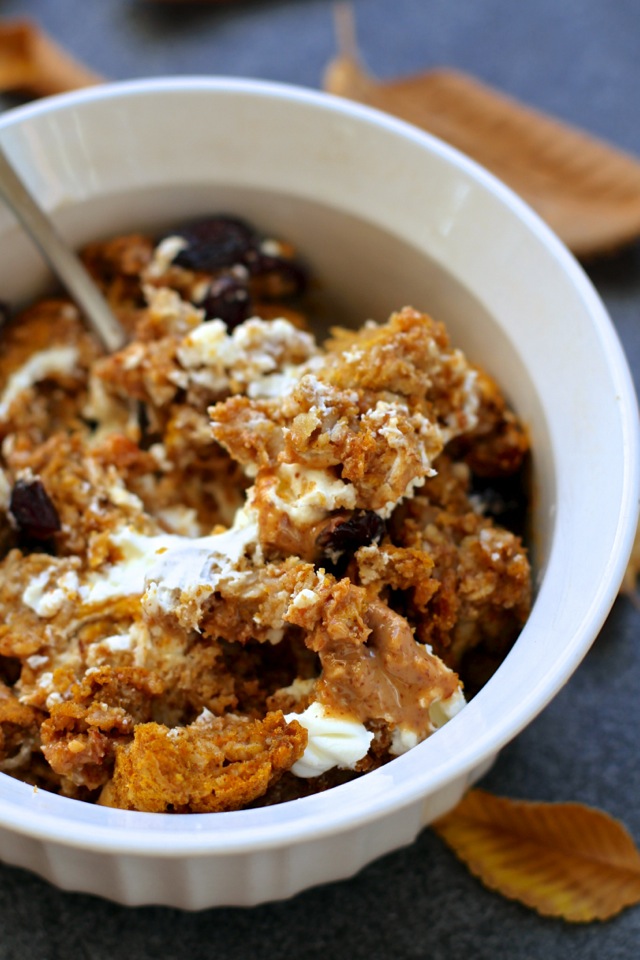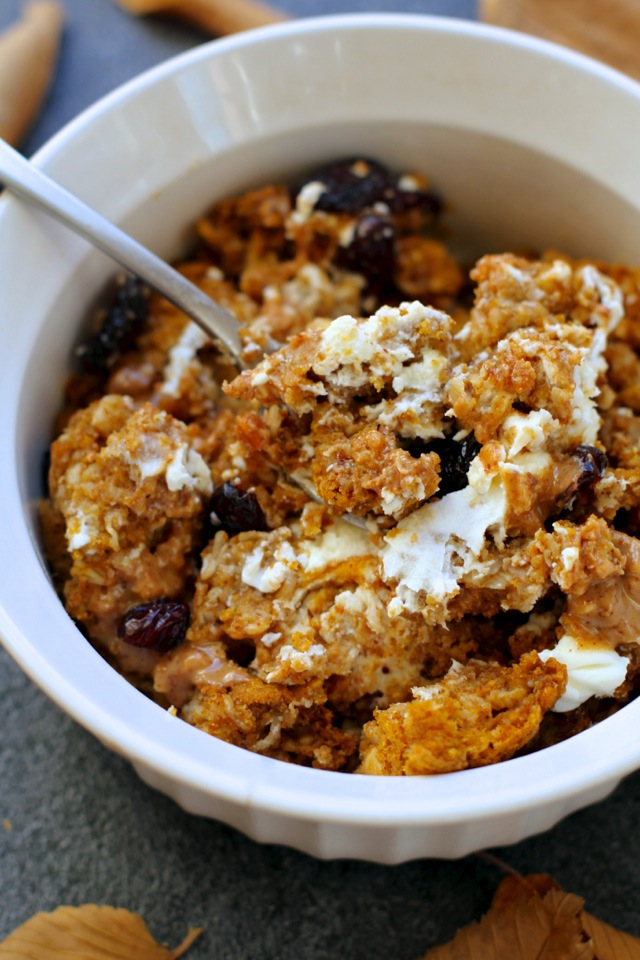 Dense.Doughy.Perfection… which honestly feels more like eating a giant pumpkin muffin than it does an oatmeal bake. A giant pumpkin muffin that also happens to be vegan and contain no added oil or refined sugar. Not half bad, eh? And you can easily make it gluten-free by using a gluten-free flour and certified gluten-free oats. Pumpkin pie breakfast bakes for ALL!
Other than that, all that's left to do is dress it up with whatever tickles your fancy. Toss in some walnuts or pecans, go the chocolate chip route, or try out my personal favourite — dried cranberries, cream cheese, and almond butter. No matter which way you decide to spin it, this dish is the perfect way to welcome in fall.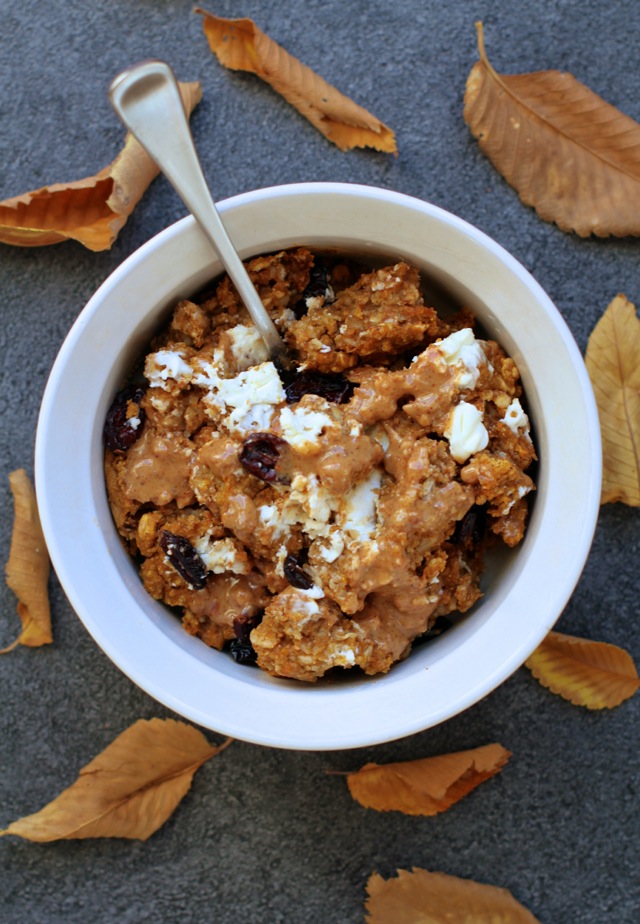 Pumpkin Pie Breakfast Bake
Author:
Amanda @ Running with Spoons
Ingredients
¼ cup rolled oats
2 Tbsp. oat bran
2 Tbsp. flour of choice*
¼ tsp. baking powder
½ tsp. cinnamon
¼ tsp. nutmeg
1/4 tsp. ground ginger
pinch of salt
1/4 cup canned pumpkin
¼ cup vanilla almond milk
1 Tbsp. maple syrup (or other sweetener)
2 - 3 Tbsp. add-ins of choice (cranberries, nuts, chocolate chips, etc.)
Directions
Preheat oven to 375°F, and lightly spray an individual sized ramekin with cooking oil.
In a medium bowl, combine oats, oat bran, flour, baking powder, spices, and salt.
In a separate bowl, combine pumpkin, almond milk, and maple syrup.
Add wet to dry and gently stir to combine. Fold in any add-ins and transfer to prepared ramekin.
Bake for 25 – 30 minutes, and allow to cool before adding toppings of your choice.
Notes
* Any flour will work. Use a gluten-free flour to make this gluten-free.

Looking for more breakfast bake recipes? Try one of these!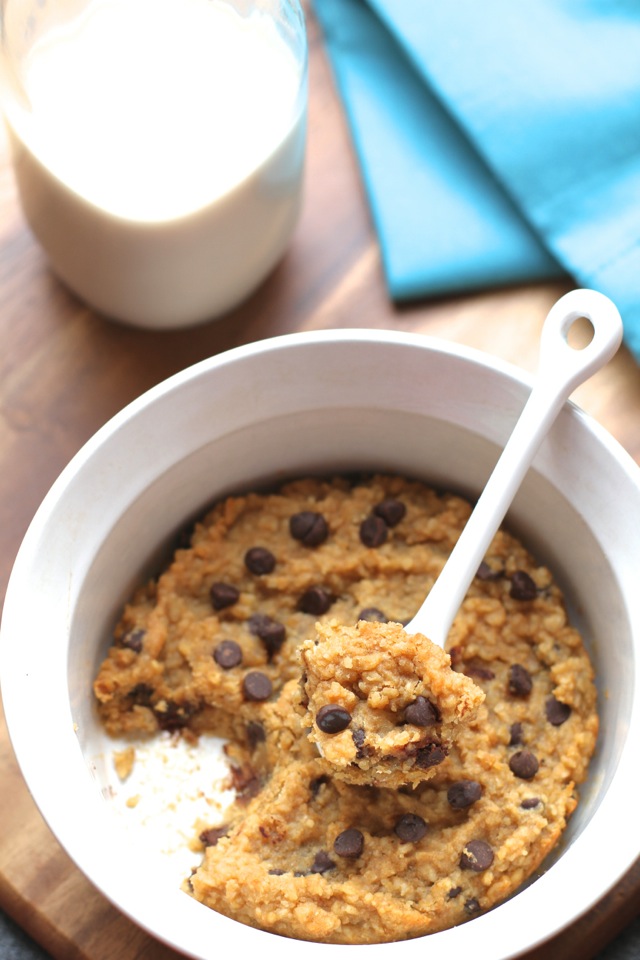 Oatmeal Cookie Dough Breakfast Bake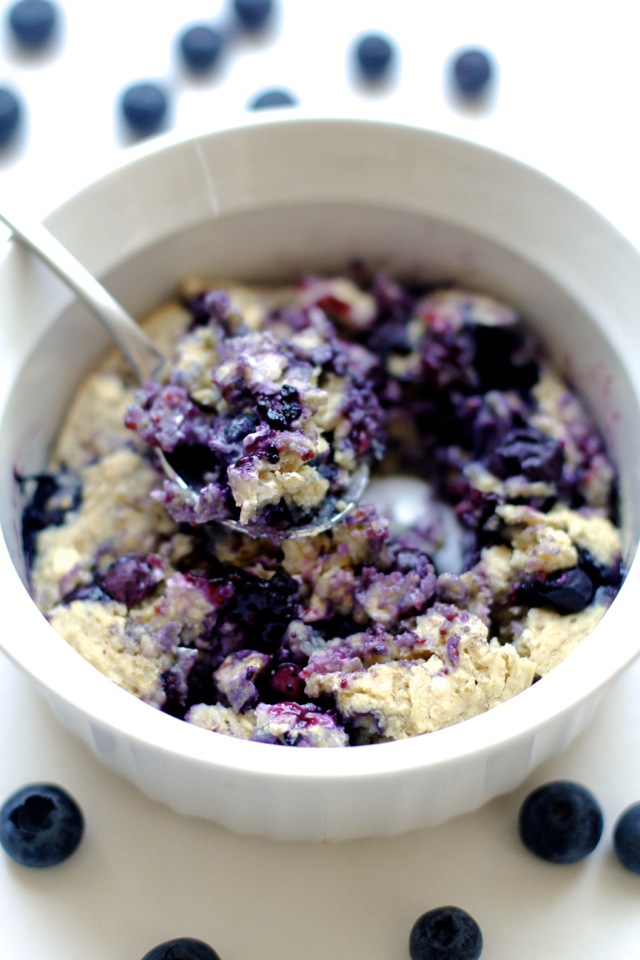 Blueberry Muffin Breakfast Bake

Are you a fan of pumpkin pie?
What's one thing you're really looking forward to doing this fall?
More places to find me!
E-mail — [email protected]
Twitter — runwithspoons
Facebook — runningwithspoons
Pinterest — runwithspoons
Instagram — runwithspoons
Bloglovin — runningwithspoons