You won't miss the flour, oil, or sugar in these flourless pumpkin pie muffins! Loaded with pumpkin, chocolate, and warming spices, they make the perfect fall treat!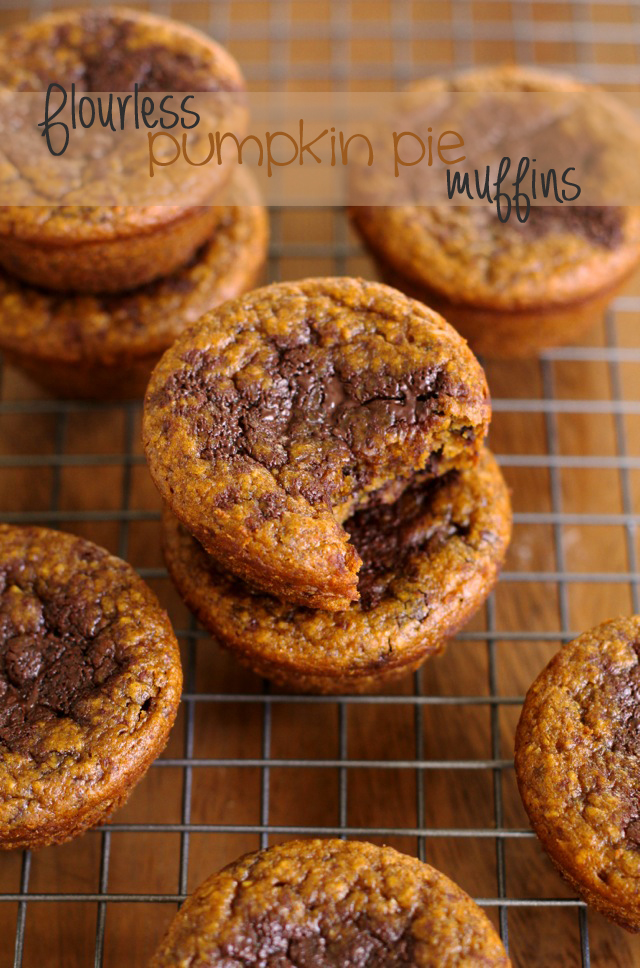 "These muffins are dangerous." <– Mum's words, not mine; although I can definitely back her up on that claim. These muffins are dangerous. They strike like ninjas and before you know what hit ya… they've vanished.
Seriously. I could've sworn I made an entire batch just yesterday, and now it's nowhere to be found. Poof. Gone. But before you start calling me a glutton and nailing me with your accusatory glances, I'll have you know that I wasn't working alone. No ma'am (or sir). The entire Spoons family was in on it. I brought the whole batch (minus one muffin which obviously needed to be taste tested first) with me for dinner on Sunday, and it pains me to say that not a single muffin survived the night. Not even one measly crumb.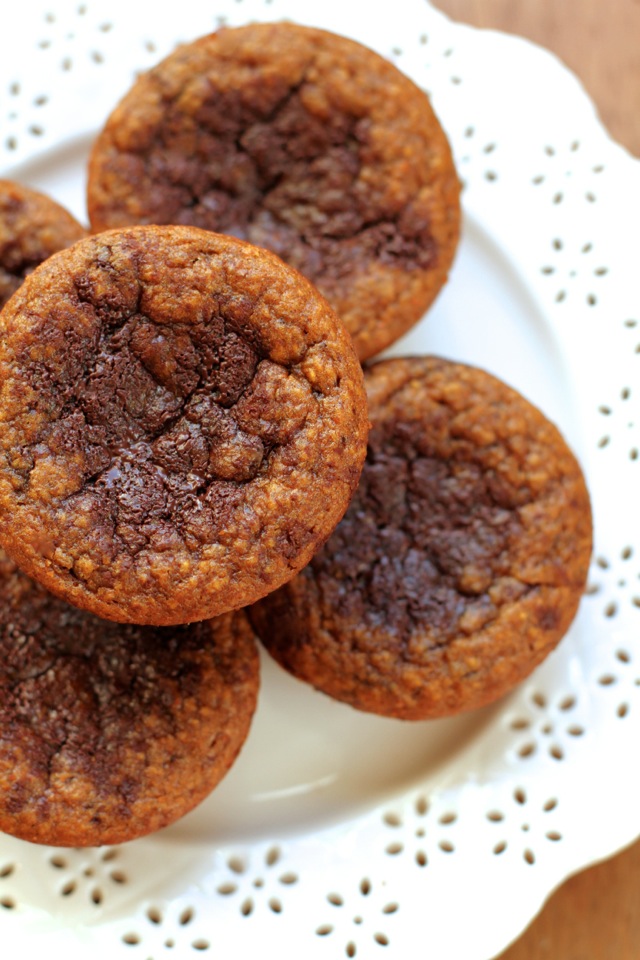 I should probably take that as a compliment — it just means they were freaking amazing. And I know this because I was obsessively gauging reactions. 
I like to think that I've gotten a little more subtle and sneaky over the years, but I'm one of those people that will watch you take your first bite like.a.hawk just so I can capture the exact moment when your brain registers what you think of my baked treats… especially because some people just don't say anything.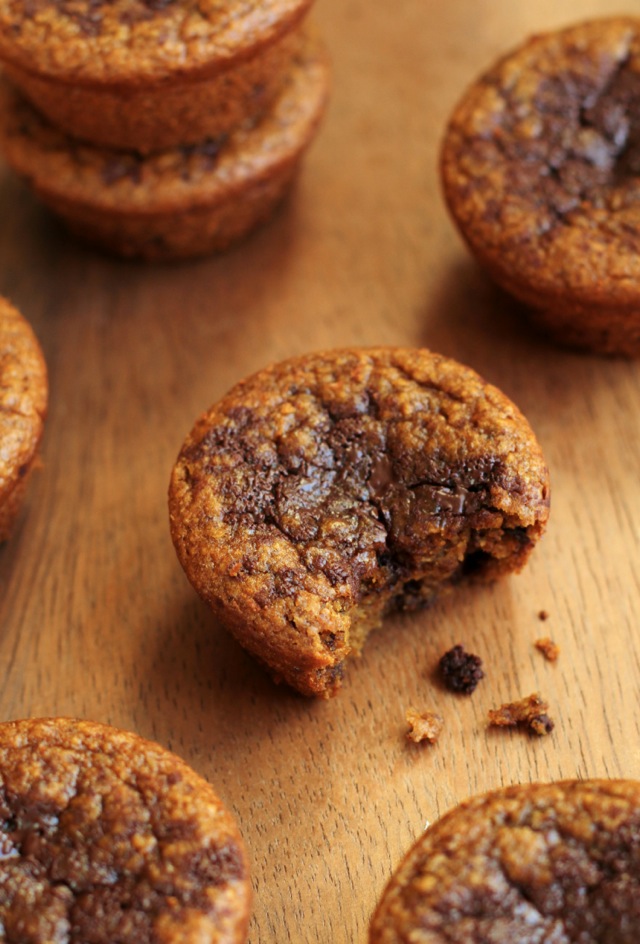 Men, I've found, are particularly bad for that.
"So… how did you like it?"
"What? Oh. It was great! Like always." *grabs another and walks away*
Pft. Like always. Like I'm just supposed to assume it was great. Actually, I usually do. I've been at this long enough to have built up a pretty decent amount of confidence when it comes to my baking, but I still like the extra reinforcement! Especially when I'm trying to make things healthier without seeming like they're healthier — ya know? Take these muffins, for example…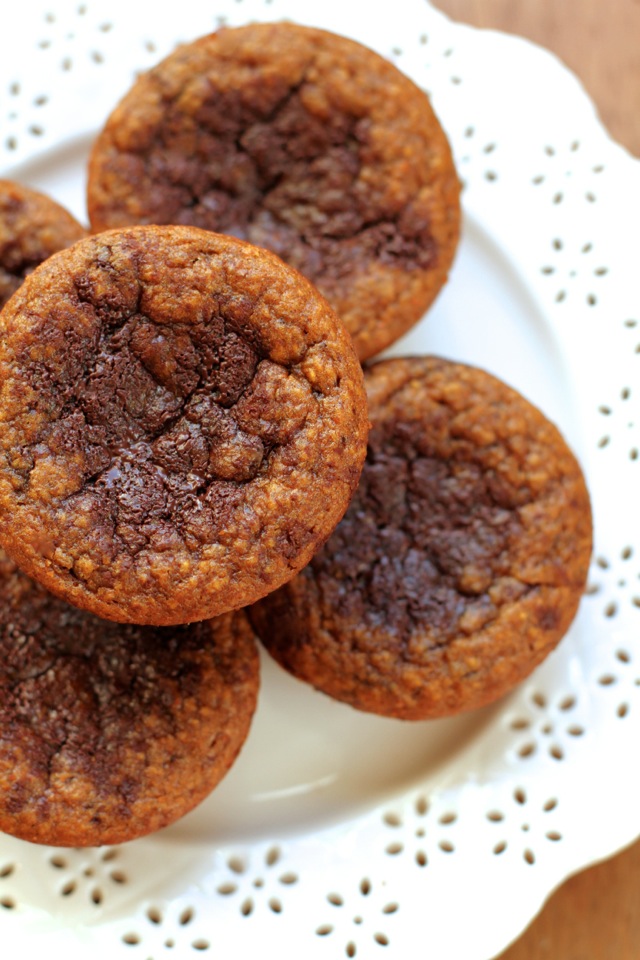 There's no flour, no oil, and no refined sugar, but you'd never guess it since they're just as moist, just as sweet sweet, and just as doughy as traditional muffins. That being said, they're not exactly like traditional muffins. The texture is slightly denser, which is why I called them pumpkin pie muffins — they fall somewhere in between. Still doughy, but a melt-in-your-mouth kind of doughy. And have I mentioned that you can whip them up in your blender in under 5 minutes flat? And that they make your house smell amazing? And that the combination of chocolate and pumpkin is to.die.for? You need to make these yesterday. I did, and they didn't even last 24 hours…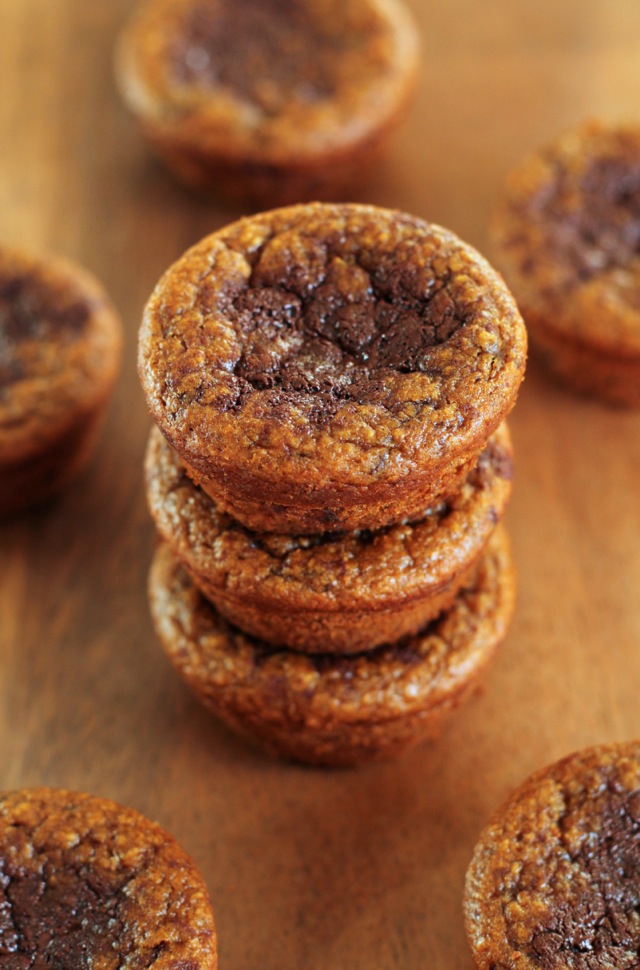 Flourless Pumpkin Pie Muffins
Author:
Amanda @ Running with Spoons
Ingredients
1/4 cup almond butter*
3/4 cup canned pumpkin
1 egg
6 Tbsp. honey
½ cup rolled oats
2 Tbsp. ground flaxseed
1 tsp. ground cinnamon
1/2 tsp. ground nutmeg
1/2 tsp. ground cloves
1 tsp. vanilla extract
½ tsp. baking soda
¼ cup mini chocolate chips, plus more for sprinkling
Instructions
Preheat oven to 375F and prepare a muffin pan by spraying 9 cavities with cooking spray. Set aside.
Add all ingredients except for chocolate chips to a high-powered blender** and blend on high until oats are broken down and batter is smooth and creamy. Stir in chocolate chips by hand.
Pour batter into prepared muffin pan, filling each cavity until it is about ¾ full.
Bake for 18-20 minutes, until the tops of your muffins are set and a toothpick inserted into the middle comes out clean. Allow muffins to cool in pan for ~10 minutes before removing. Store in an air-tight container for up to a week.
Notes
* Feel free to sub in with another nut/seed butter as well.
** If you don't have access to a high-powered blender, you can simply grind the oats into a flour and mix everything together by hand.

Looking for more pumpkin recipes? Try one of these!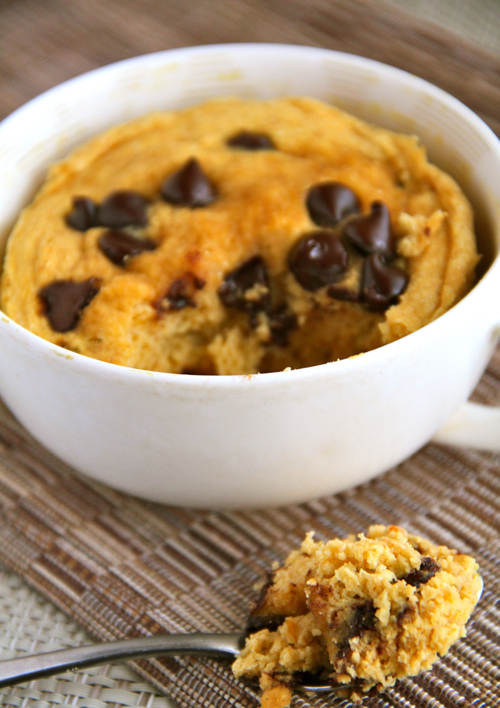 Chocolate Chip Pumpkin Mug Cake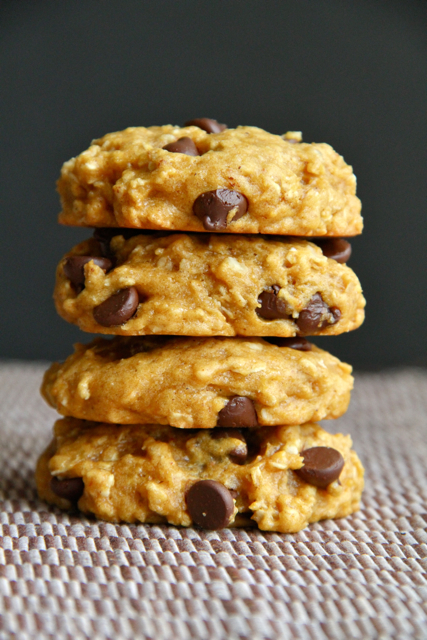 Vegan Chocolate Chip Pumpkin Oatmeal Cookies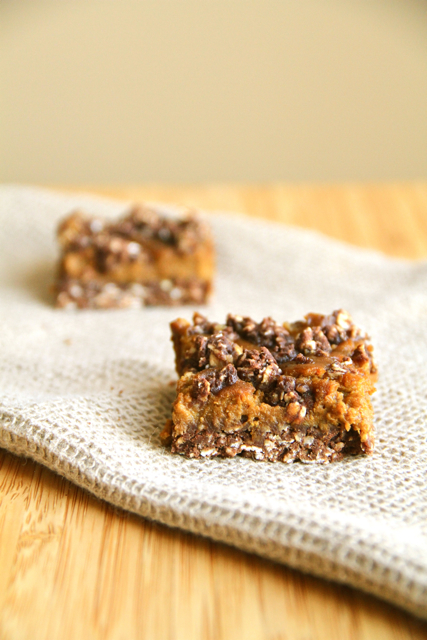 Pumpkin Pie Chocolate Oatmeal Bars

Are you a fan of pumpkin? Or does the fall pumpkin craze drive you crazy?
Have you done any fall baking yet this year?
More places to find me!
E-mail — runwithspoons@hotmail.com
Twitter — runwithspoons
Facebook — runningwithspoons
Pinterest — runwithspoons
Instagram — runwithspoons
Bloglovin — runningwithspoons