I'm currently writing this under the influence of caffeine, so apologies in advance if I come across as being a little crazier than normal 😯
I don't understand it. I only drink a cup a day in the morning, and it's half-decaf. Either the baristas at Starbucks are messing with me or I'm becoming more sensitive to caffeine in my old age (jokes). Or maybe I'm just in a good mood because the weather is gorgeous (we hit 17C/63F yesterday!) and I can enjoy my delicious chocolate smoothies without shivering uncontrollably afterwards. Winning.
So hey! Happy What I Ate Wednesday! If you're wondering about the title of today's post, rest assured that it doesn't refer to any fiascos involving self-tanner. It also has nothing to do with the book that uses 'grey' in place of 'orange,' as I haven't read it and don't really have any plans to. We're talking orange foods on the blog today, since I'm apparently somewhat obsessed with them. Yesterday in particular was quite orangey (the fact that this is an actual word boggles my mind), so let's take a look!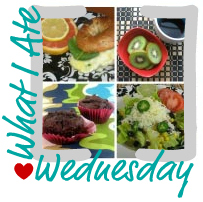 Breakfast… honey & Golden Delicious apples…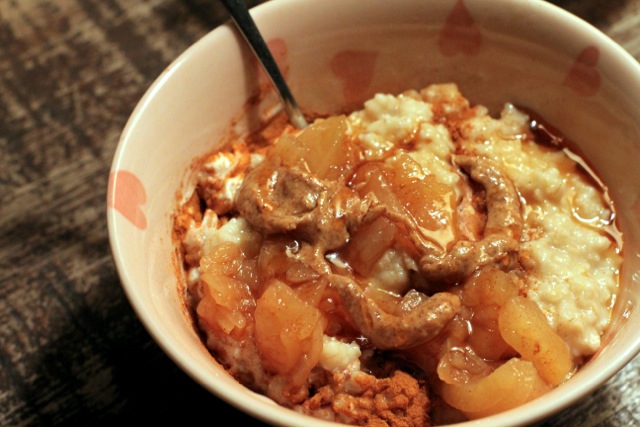 Eggy bananafied oats cooked in coconut milk, then layered with plain Greek yogurt and topped with homemade applesauce, honey, cinnamon, and almond butter.
Okay. So I know there isn't technically anything orange in my beloved bowl of oats, but I'm going to go ahead and argue that golden honey and Golden Delicious apples totally count. I know I could have done something like pumpkin oats, but… 'tis not the season, and to be honest, I'm not really the biggest fan. Ive tried adding pumpkin puree to my oats on a few occasions, and I'm pretty sure my body is just against the idea of eating vegetables before 7 AM. There are those times where I'll get hit with a craving for carrots at 7:23 AM, but it always happens after breakfast — never at or before.
Morning snack… dried persimmons…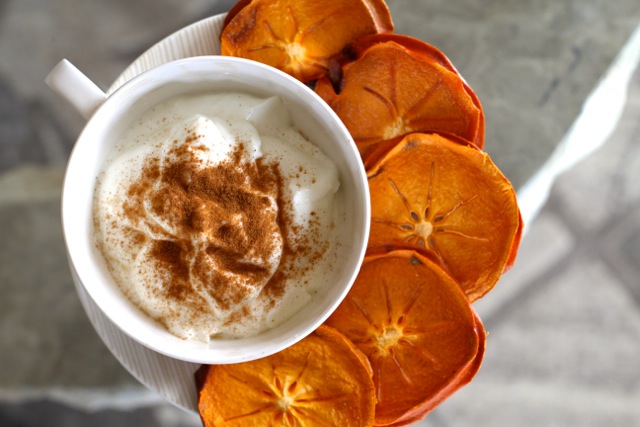 Plain Greek yogurt and dried persimmons.
I've only tried fresh persimmons on two occasions. The first one was delicious, and the second one tasted like licking a toilet seat (or what I'd imagine licking a toilet seat would taste like seeing as I've never actually tried it myself). That being said, I can't form a solid opinion of fresh persimmons until I have a few more trials to judge by. Until that happens, I can say that dried persimmons (I keep spelling this wrong!!!) taste sweet and delicious, especially when contrasted by the tartness of plain yogurt.
Lunch… macaroni and cheese… and approximately 5 pieces of chopped carrots! 😀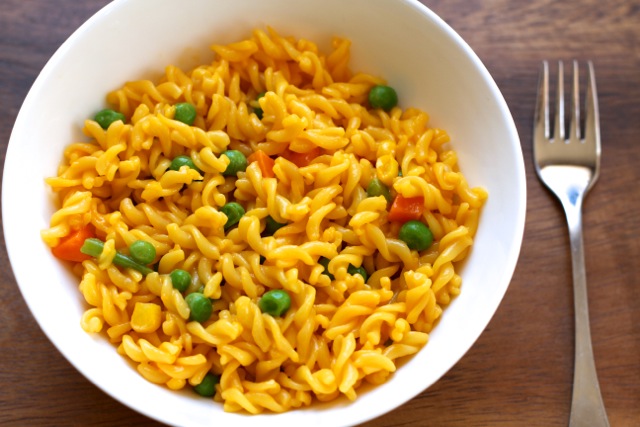 Classic mad and cheese with some frozen veggies mixed in.
For reasons unbeknown to me, I feel like I've been seeing mac and cheese all over the blog world lately. Actually, scratch that — I know exactly why that is. You know how when you want something you suddenly start to notice it everywhere? It was a sign that it's been far too long since I've had a fix…. and I fixed that 😉 I know there are healthier sources of orange foods out there, but not for the soul… Not for the soul.
Afternoon snack… roasted kabocha…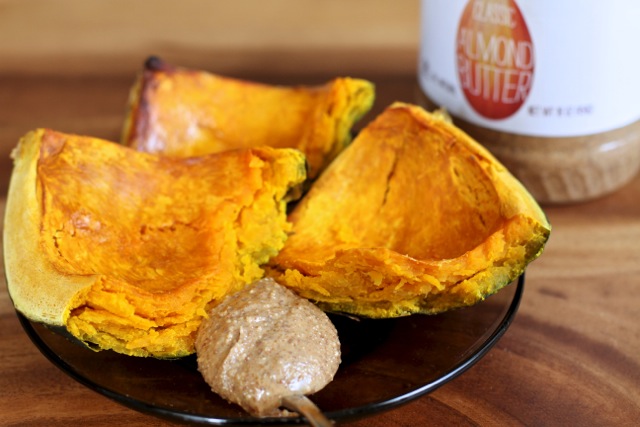 Roasted kabocha with Justin's classic almond butter.
I've pretty much come to terms with the fact that my kabocha addiction will never die. Fall, winter, spring, summer… I crave it no matter what kind of mood Mother Nature happens to be in. I will say that certain squashes are better than others, though. See how that squash up there looks almost flaky? That's my favourite texture — dry and crumbly. I'm really not a huge fan of the ones that are, for lack of a better word, wetter 😯
Dinner… savoury sweet potato…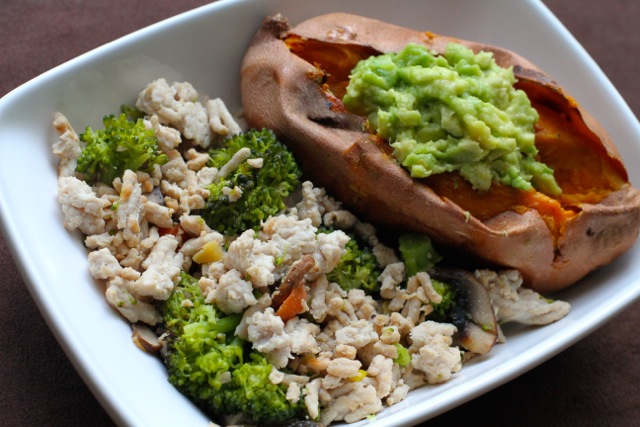 A sweet potato topped with mashed avocado alongside some ground garlic/ginger chicken and veggies.
When I broke my savoury sweet potato virginity last week, a lot of people mentioned how amazing it tasted when paired with avocado. Obviously I had to test this out for myself, and I'm going to have to go with the majority opinion on this one — it's delicious. My only complaint is that I was out of salsa and the only beans I had on hand were chickpeas so I couldn't make one of the fully loaded Mexican stuffed sweet potatoes that I've been seeing floating around the blog world. One day…
Evening snack… chocolate

…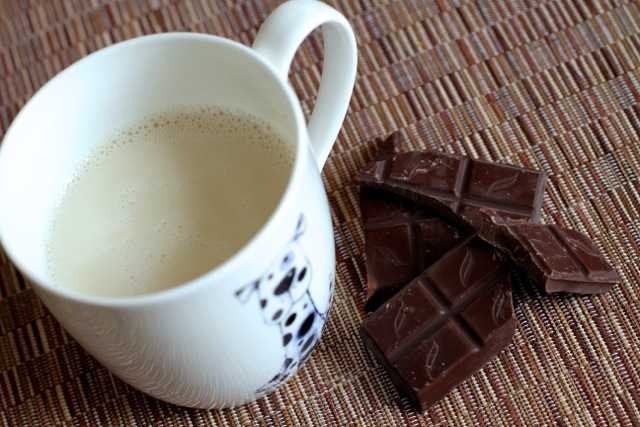 Green & Black's Maya Gold chocolate with a cup of warm vanilla almond milk.
I know what you're thinking… chocolate isn't orange! But there's a whole lot more to this little bar than meets the eye. It's the Maya Gold bar from Green & Black's, meaning it's laced with orange extract 😉 Sneaky… and delicious. The nutmeg and cinnamon add a nice touch, and make for a perfectly comforting snack before closing up shop for the night… especially when paired with a warm glass of milk.
And that's that! I'll see you guys tomorrow for Thinking Out Loud! 😀

What's your favourite food that's…
1) … orange? Kabocha.
2) … red? Watermelon.
3) … green? Broccoli.
4) … yellow? Bananas.
5) … white? Plain Greek yogurt.
6) … brown/tan? Oats.
7) … blue/violet? Blueberries.
More places to find me!
E-mail — [email protected]
Twitter — runwithspoons
Facebook — runningwithspoons
Pinterest — runwithspoons
Instagram — runwithspoons
Bloglovin — runningwithspoons