Hi friends! 😀
I have a secret to share with you guys today. Actually, make that two secrets.
Secret #1? (And Mom, if you're reading, please stop now…)
I'm a plant killer.
… it's true.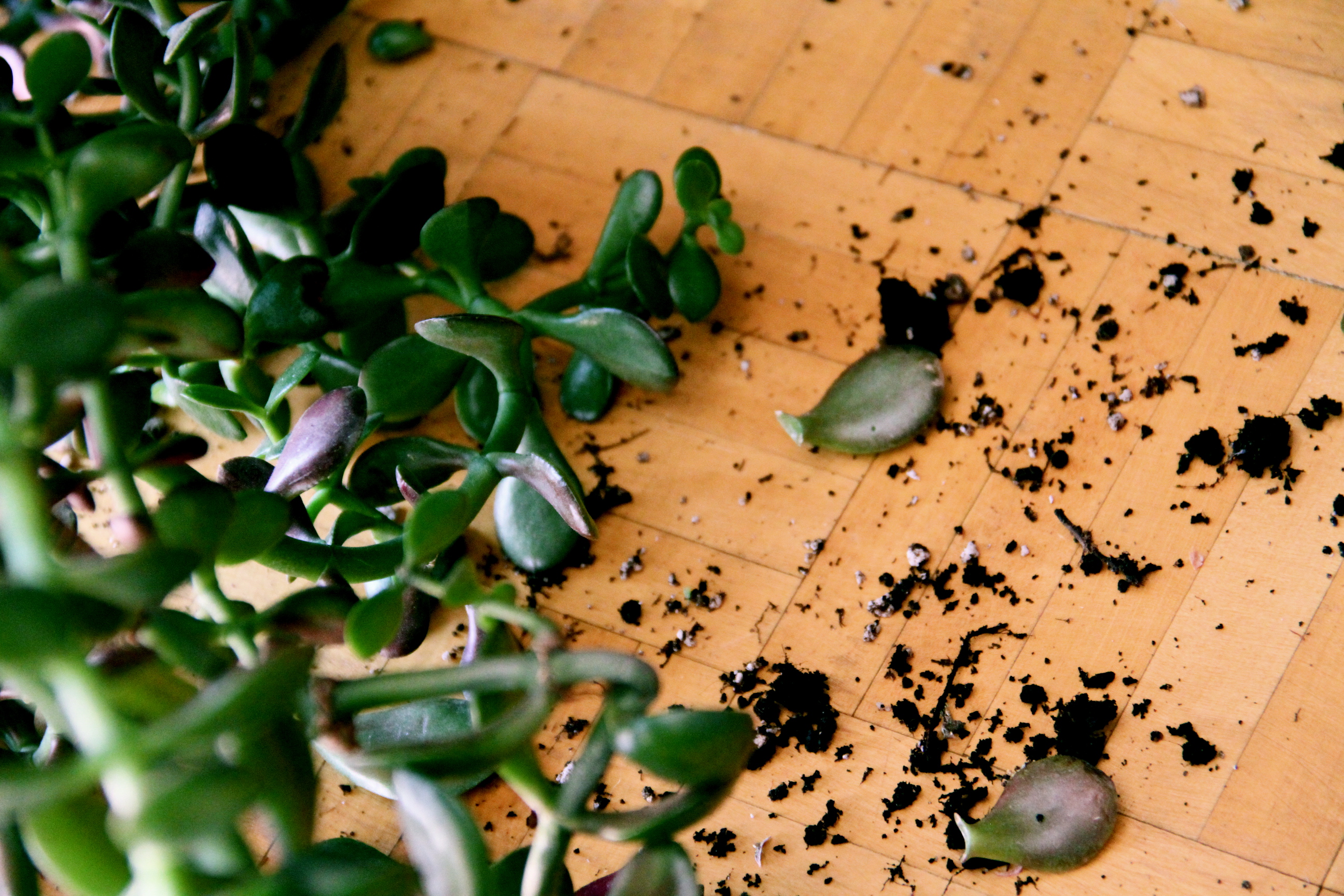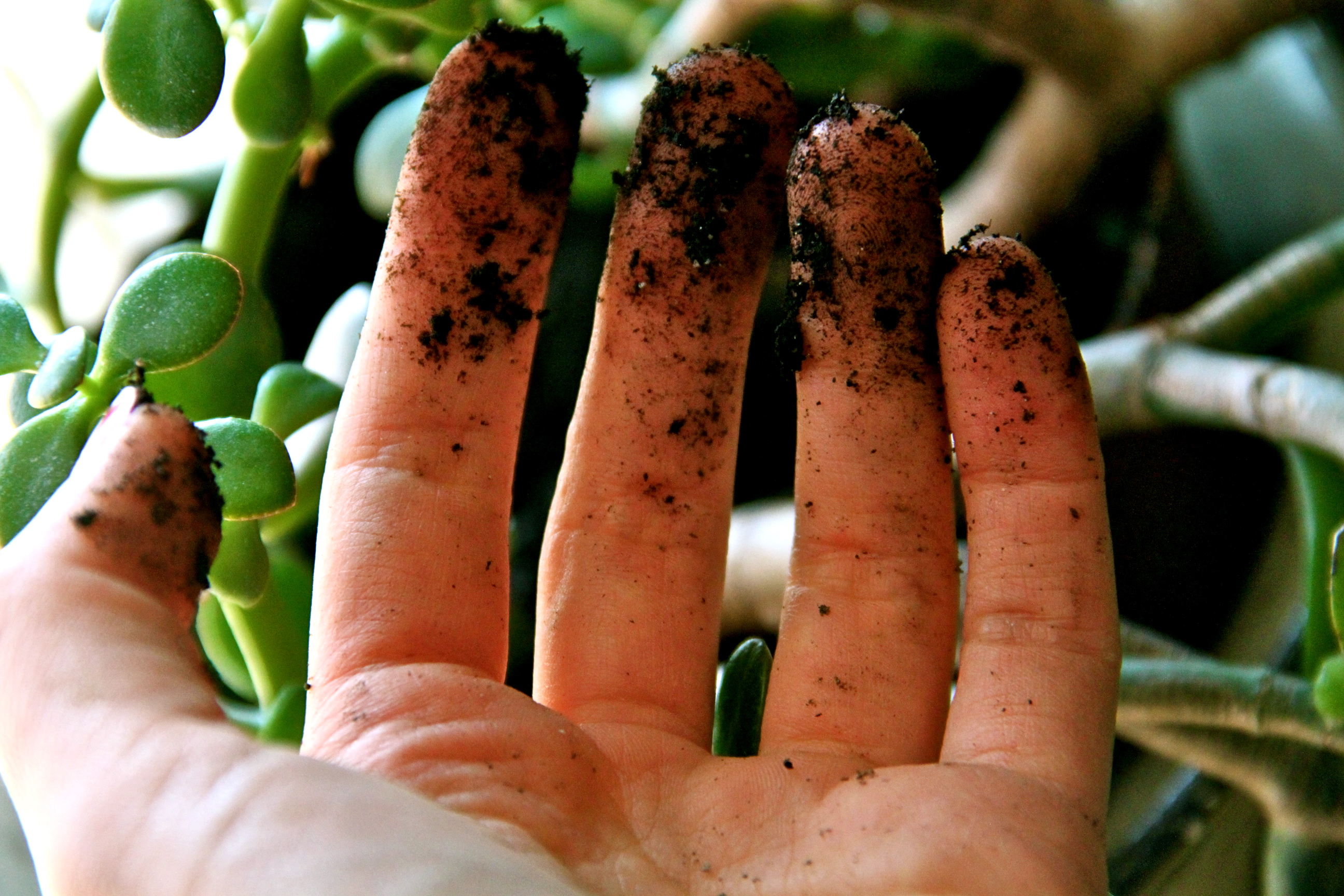 Caught red dirt handed at the scene of the crime….
With my mom gone for the summer, the care of our household plants fell onto my shoulders; their lives were in my hands. Now, I have nothing against plants – in fact, I actually kind of like them quite a bit – but taking care of them? Whooooole other story. Previous summers where my mom's been away, we may or may not have lost a few plants to uhm… dehydration. I would forget to water them, and unless it was a cactus, it would be either shrivelled up or hanging on to life by a thread by the time my mom came back.
This summer, I'm proud to say that I more-or-less kept on top of the whole watering thing, but I must have some sort of subconscious vendetta against plants, or something, because despite my best efforts, they die anyways. The other day, while I was on the last leg of my water-duty rounds, I walked into one of the plant stands, sending the poor thing crashing to the ground, leaves flailing and roots exposed.
It wasn't pretty.
In my defense, however, I did try my best to resuscitate it. Short of giving it mouth-to-mouth, I did all I could to keep it alive, including putting up with the extremely unpleasant feeling of dirt under my fingernails *shudder*. As of right now, the plant is on life support [read: an empty vase supporting it's hanging branches]; but I'm hoping that, with time, it'll re-root itself and pull through. Fingers crossed.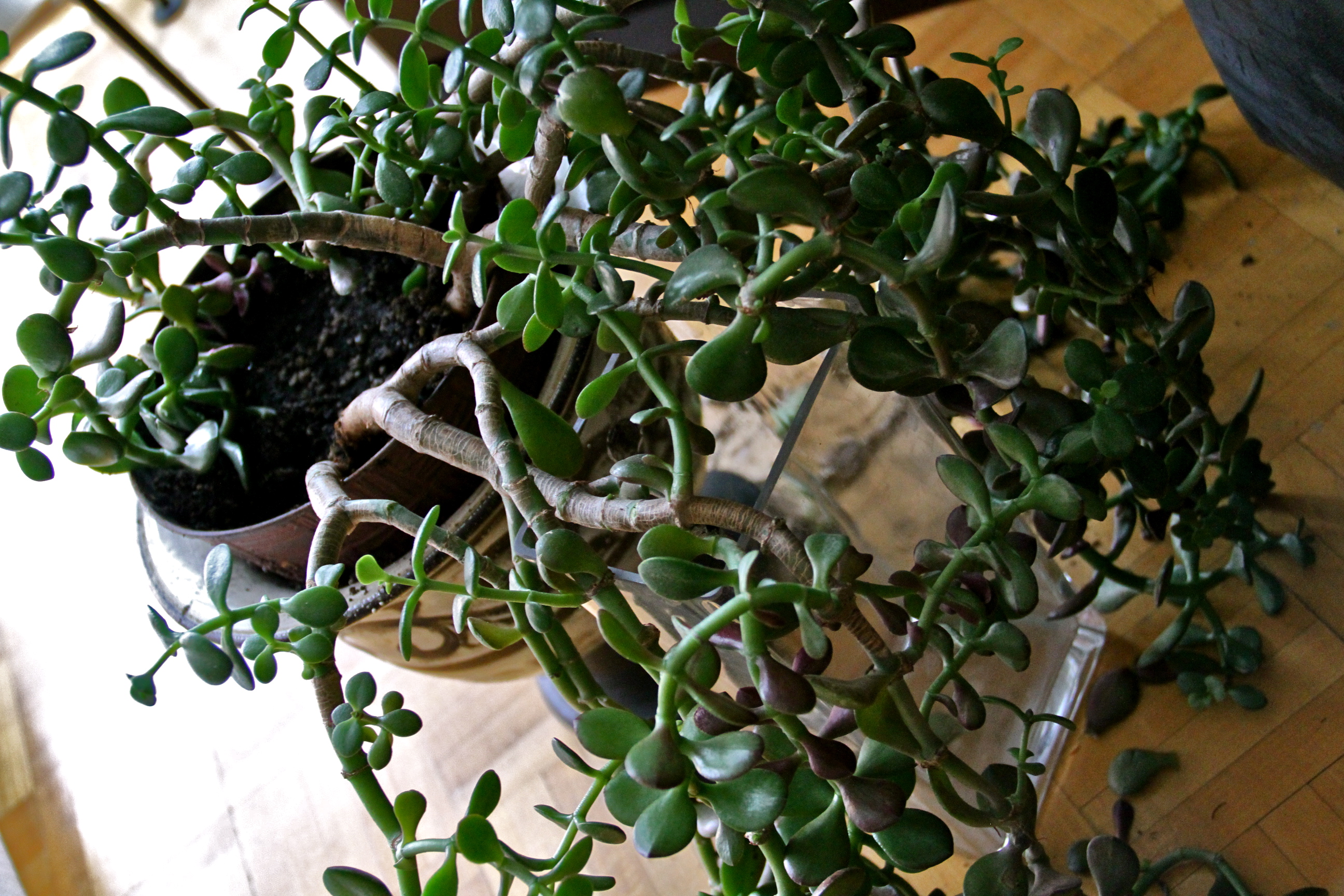 . – . – . – .
BUT… let's move on to happier subjects with Secret #2:
How to cook eggy-bananafied steel cut oats.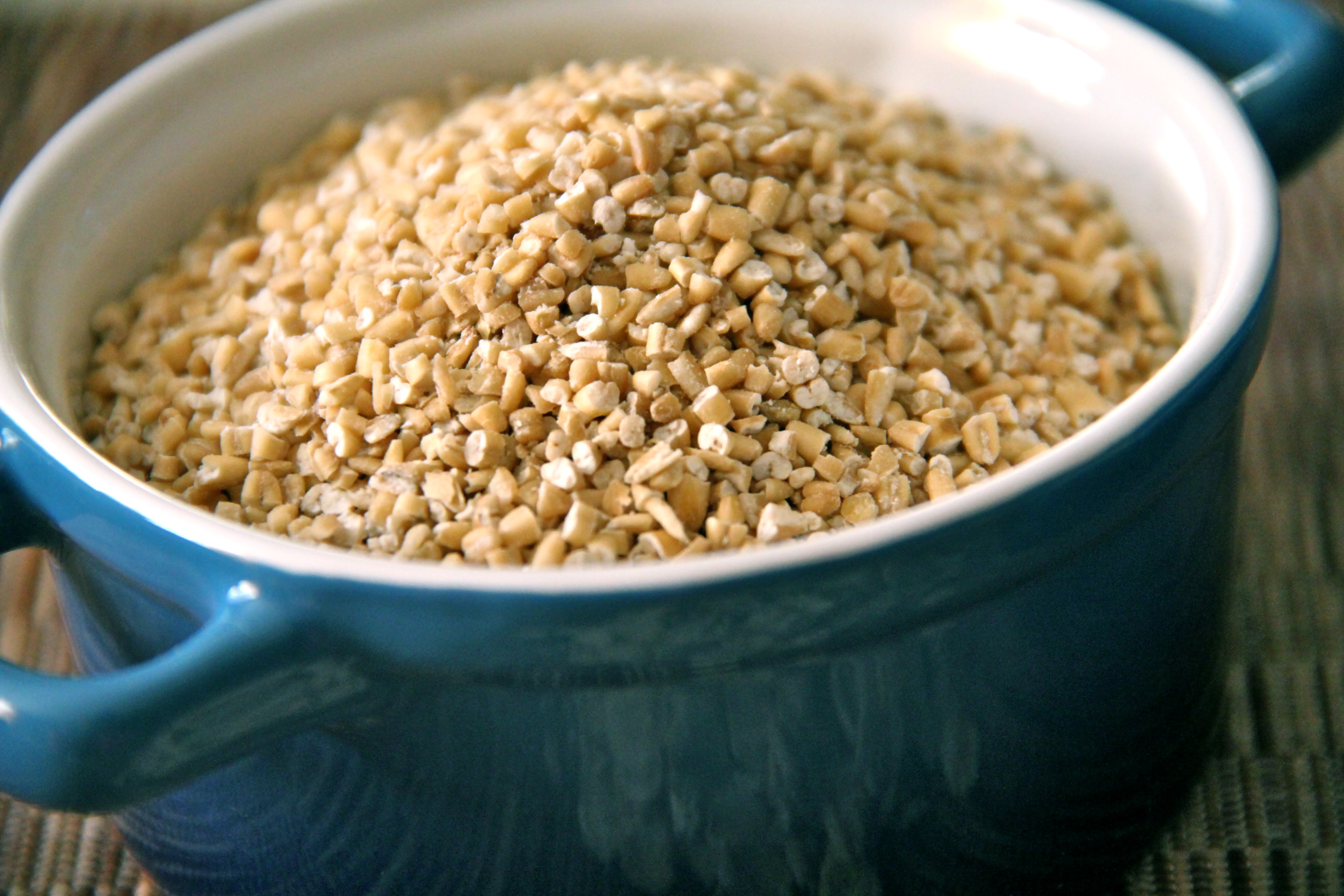 I've had quite a few questions as to how I make my oatmeal, so I figured it was time to spill the beans. Now, I'll be the first to admit that I'm a complete snob when it comes to my oats – I love 'em, but only when they're prepared just so. Not too runny, not too voluminous – just thick and dough-like perfection. I've experimented with a lot of different techniques over the years, and this one is by far my favorite.
. – . – . – .
What you'll need:
1 cup water (or milk)
pinch of salt
 ¼ tsp. vanilla extract
1 egg white
½ banana
3 Tbsp. steel cut oats + 1 Tbsp. scottish oats/oat bran
This yields one serving. Steel cut oats are more compact than rolled oats, which is why one serving is ¼ cup instead of ½. I prefer using steel-cut as opposed to rolled because of the crunchier texture… You can use a whole ¼ cup of steel cut instead of adding the scottish oats, but I find that the combination of the two leads to a slightly creamier consistency. I use Bob's Red Mill for both kinds: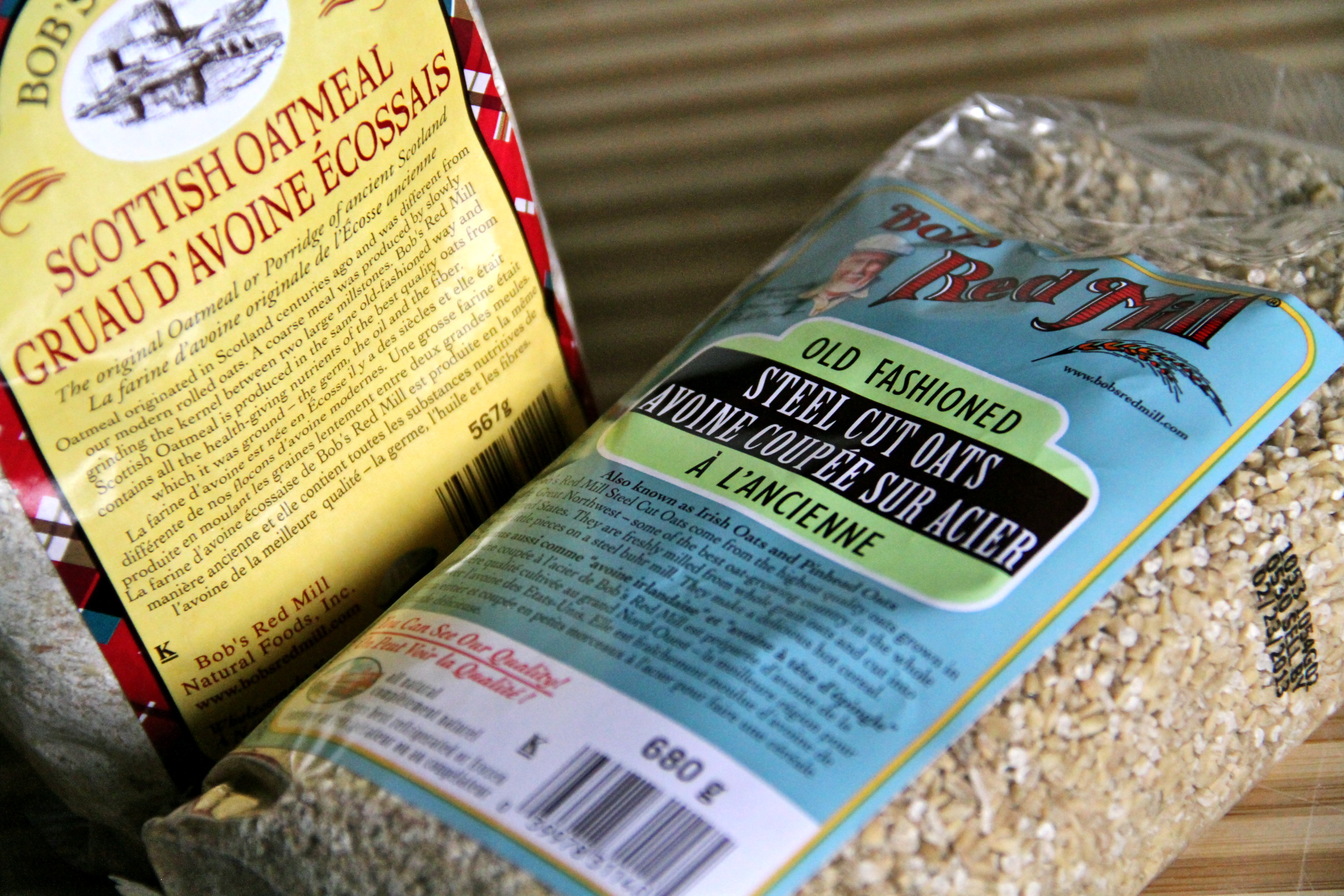 . – . – . – .
What you'll need to do:
1. Bring water and salt to a boil in a small pan over medium heat. When water is boiling, add oats.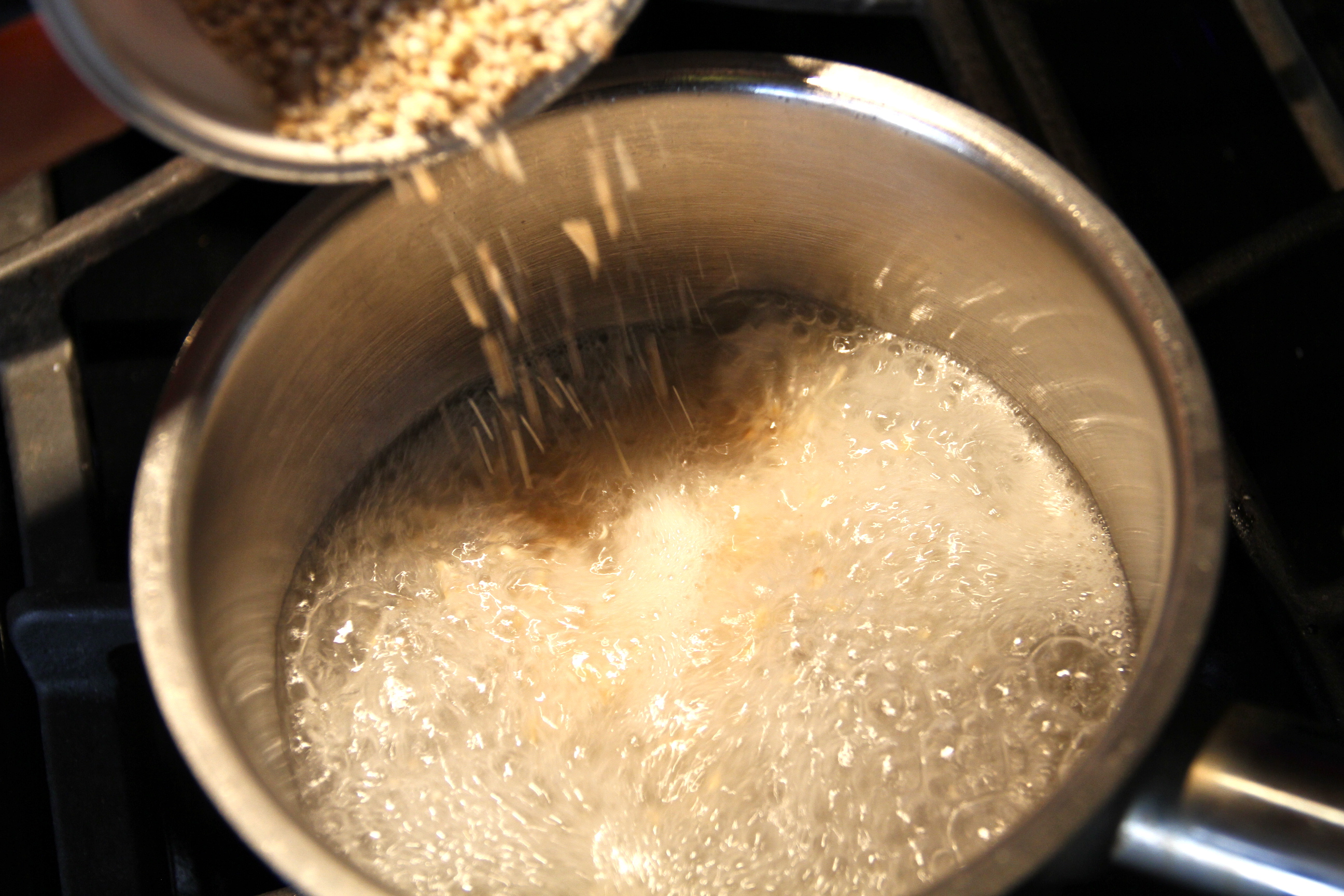 2. Reduce heat slightly just until oats are gently bubbling. Allow them to cook for ~20 minutes, stirring occasionally, until they begin to thicken and most of the liquid has been absorbed.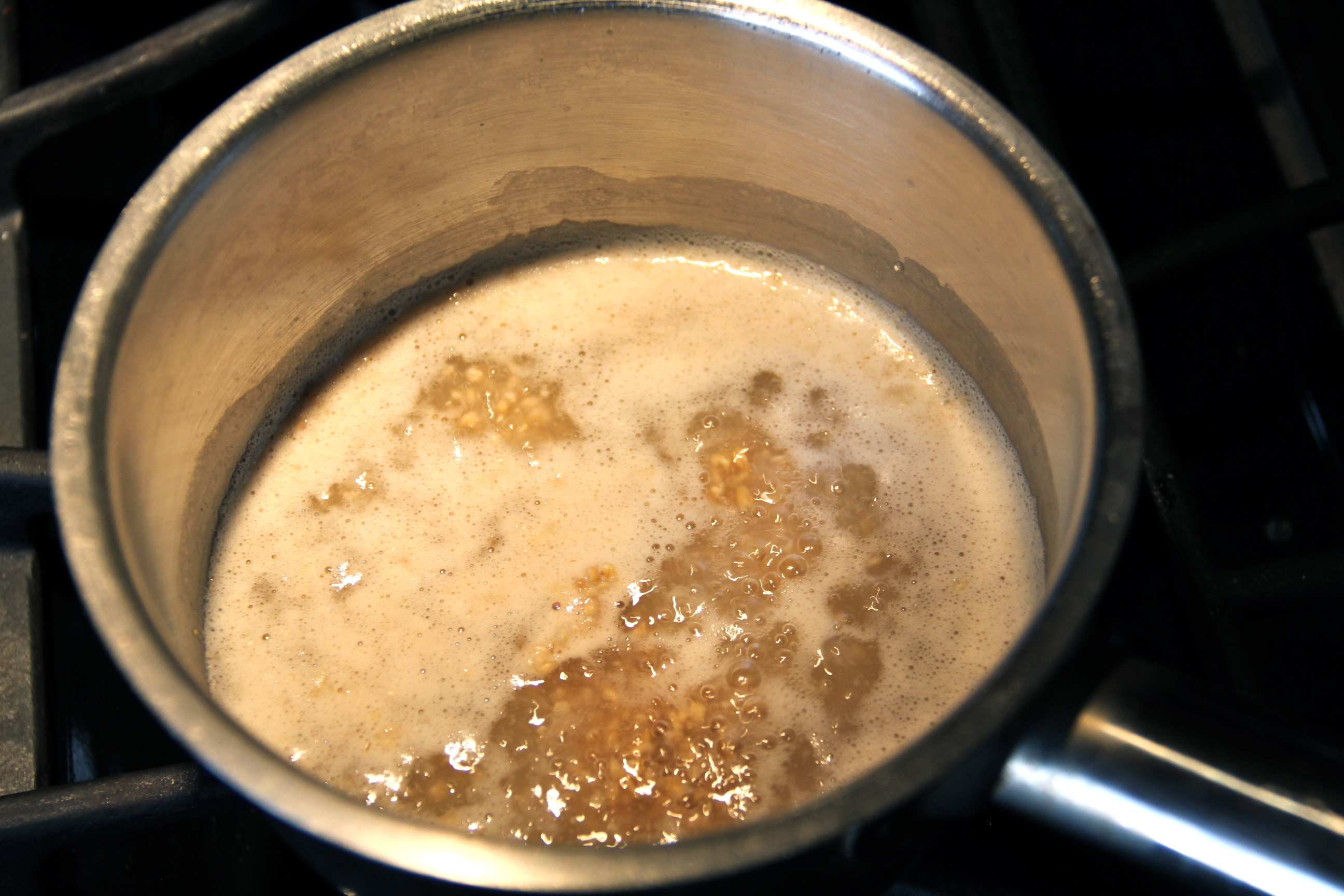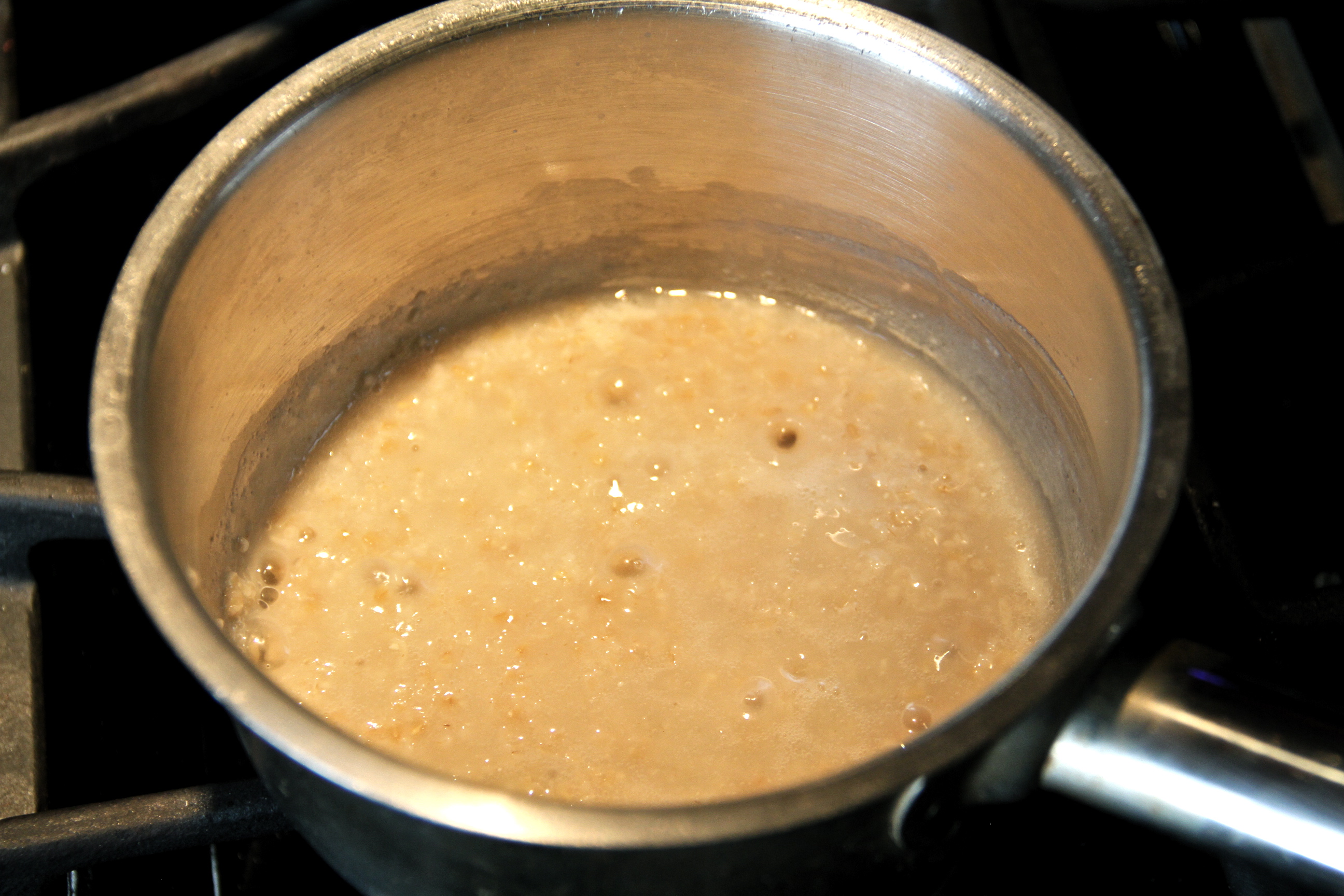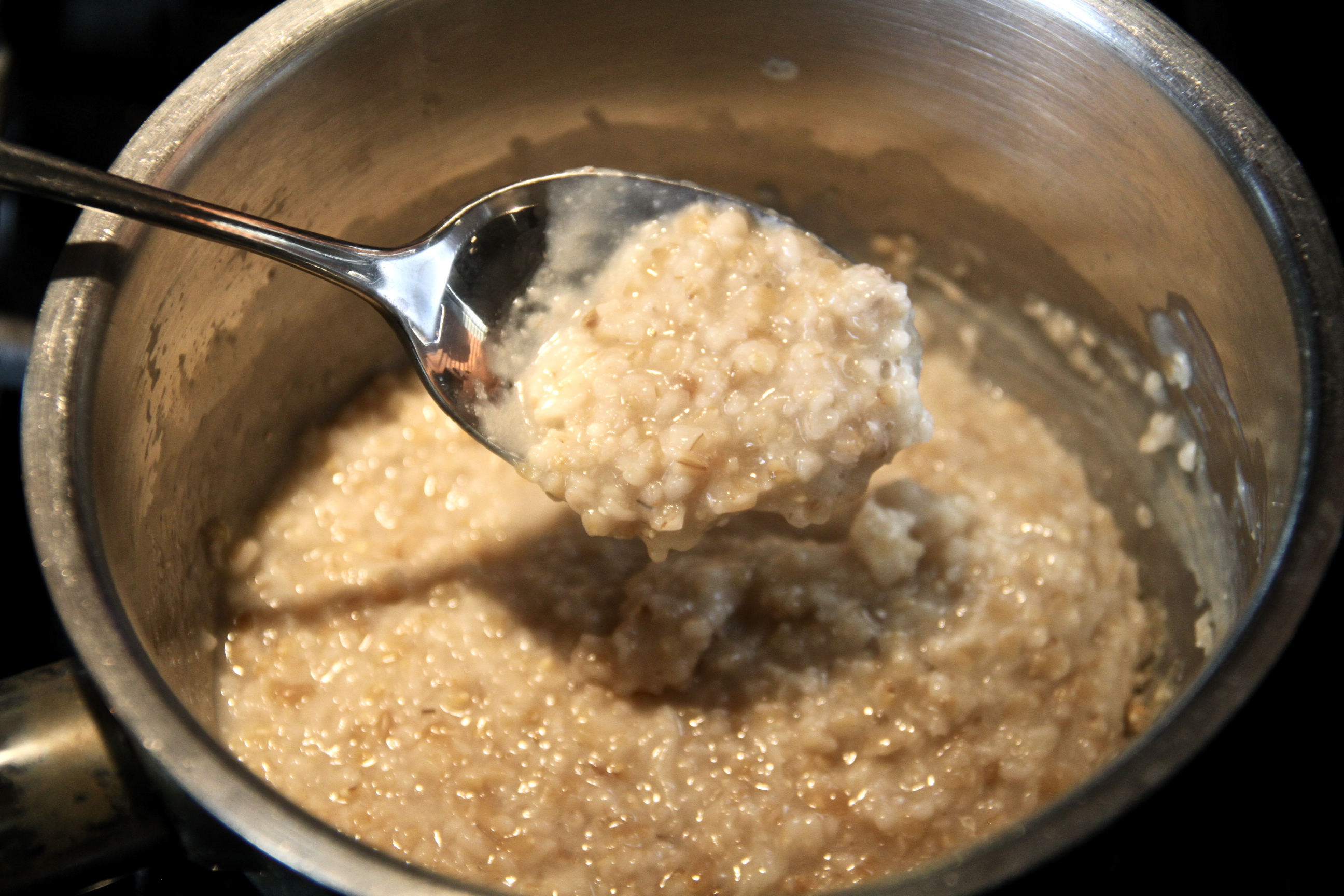 3. Reduce heat to low and slowly stir in your egg white. You'll need to pour and stir at the same time to prevent the egg from setting before it can be fully incorporated into the oats. The important thing to remember here is to add the egg white gradually and mix continuously. Allow it to cook for ~10 minutes.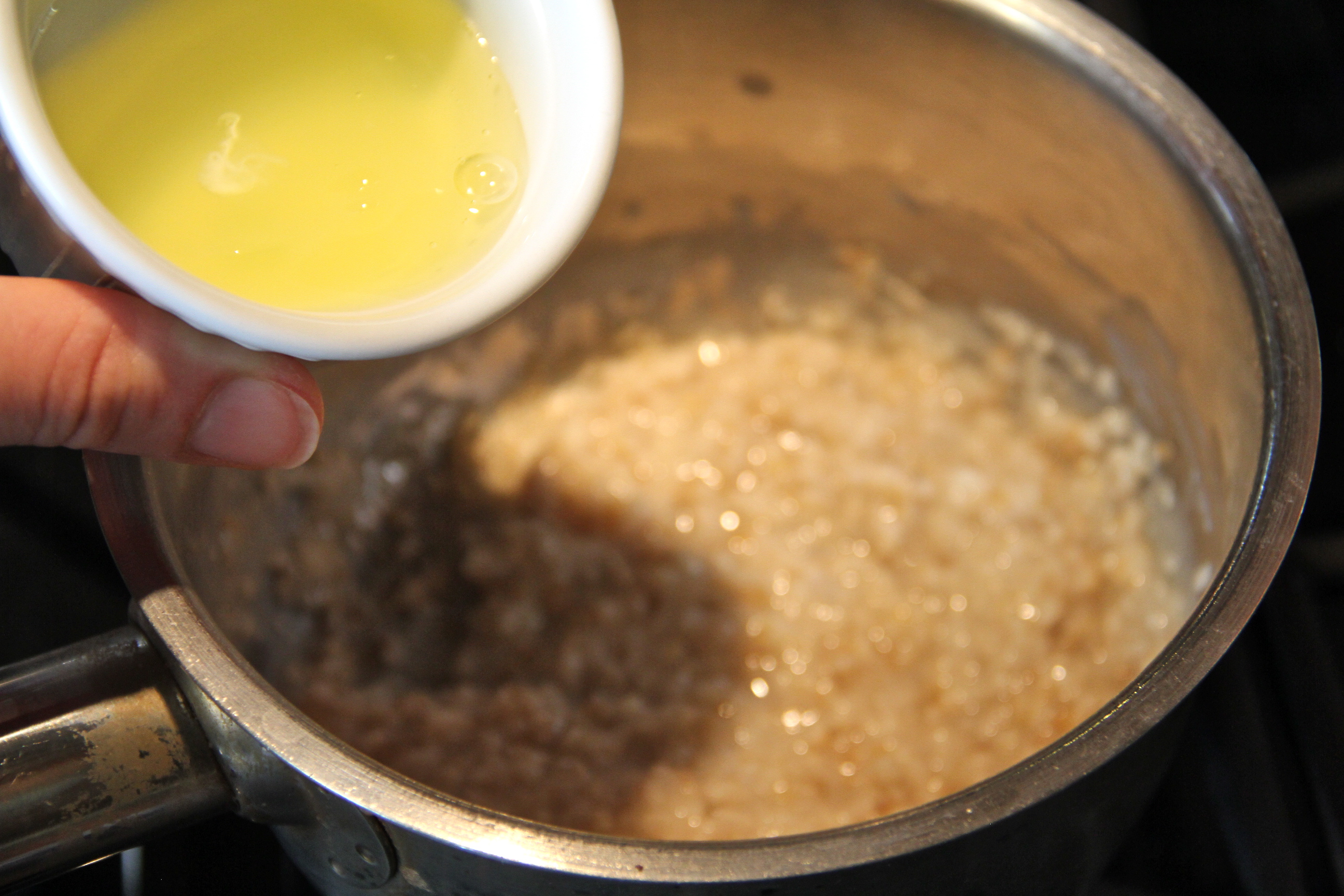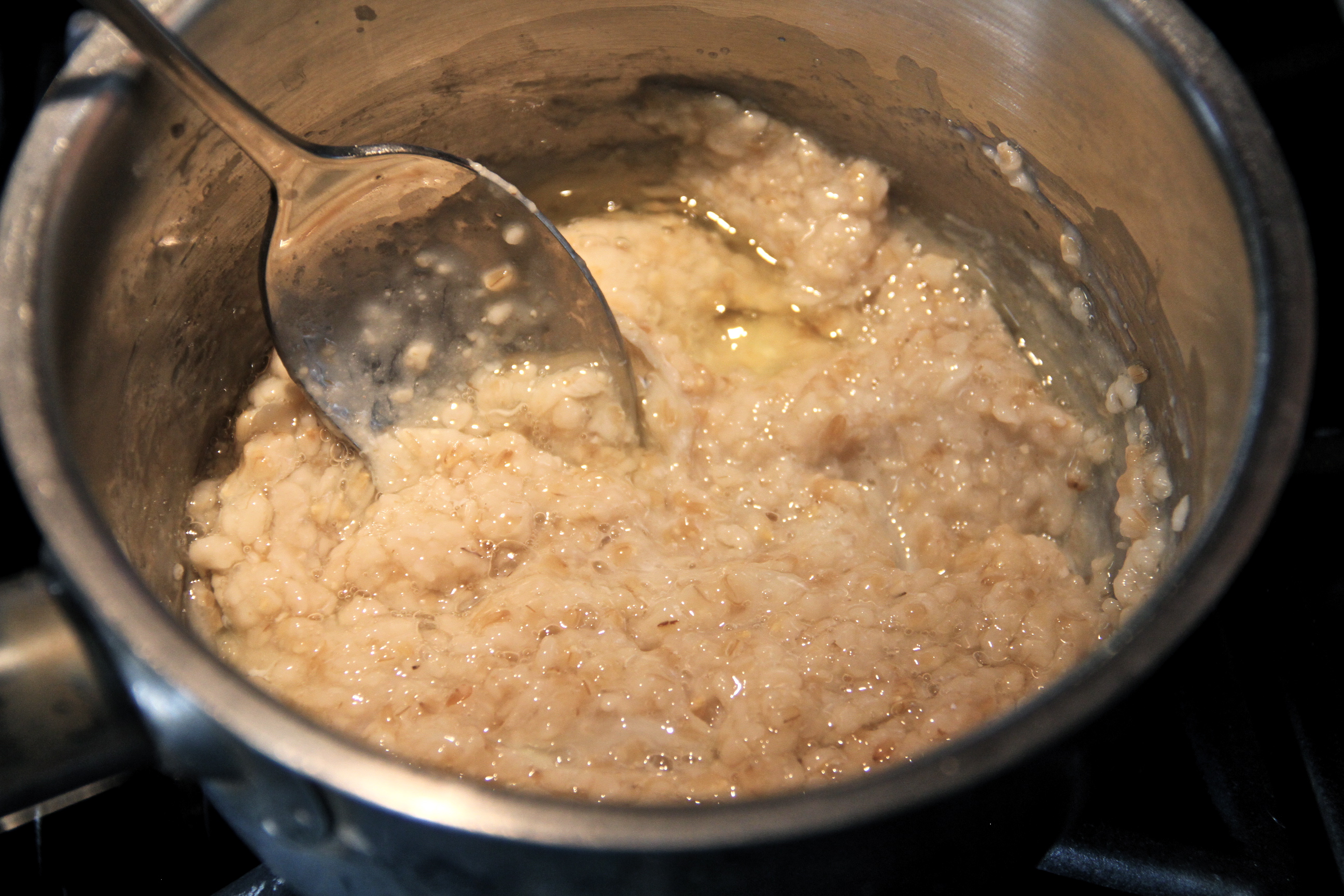 4. When the egg white has set and been fully absorbed by the oats, add in ½ of a thinly sliced banana and ¼ tsp. of vanilla. Stir like crazy before allowing to cook for an additional 10 minutes.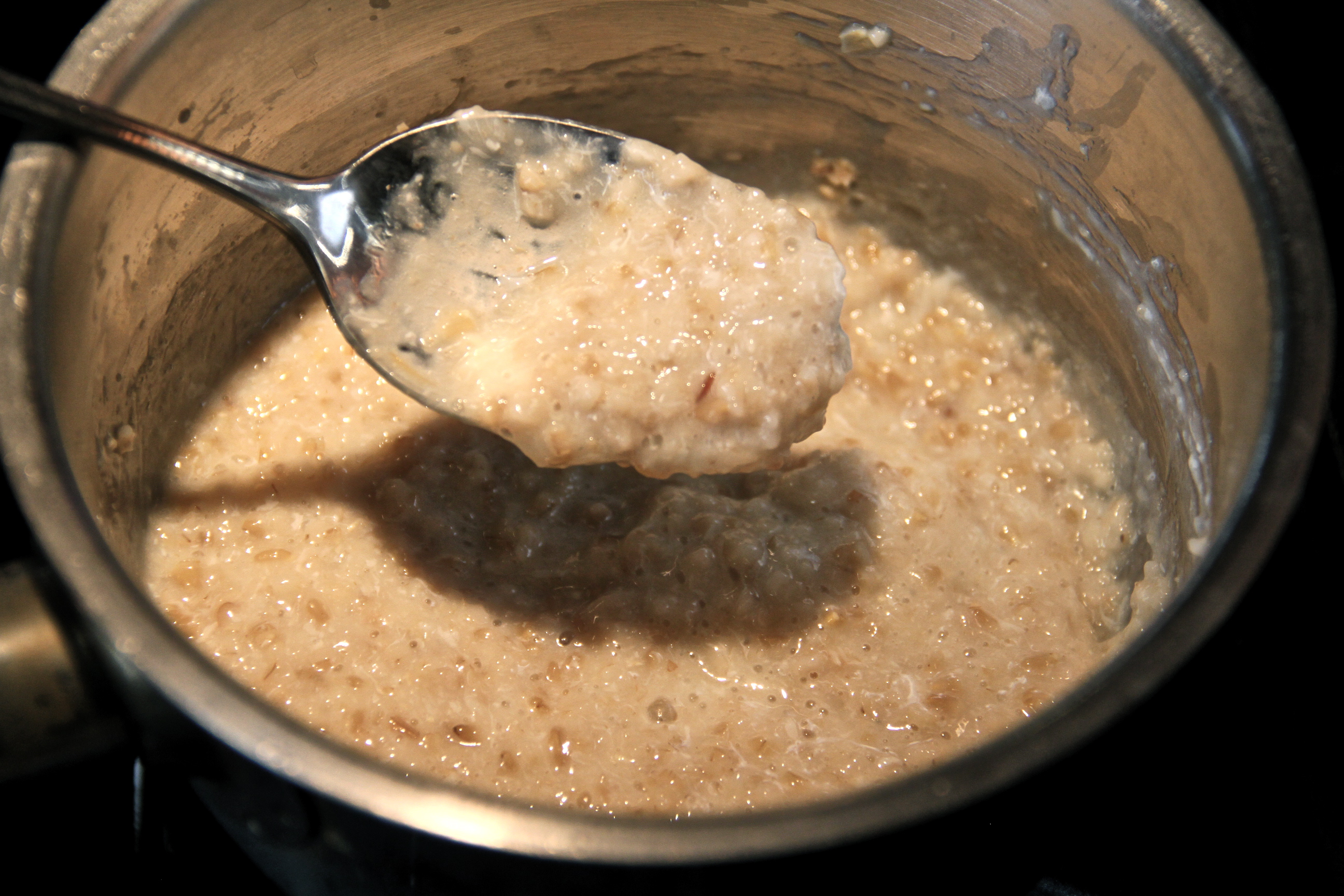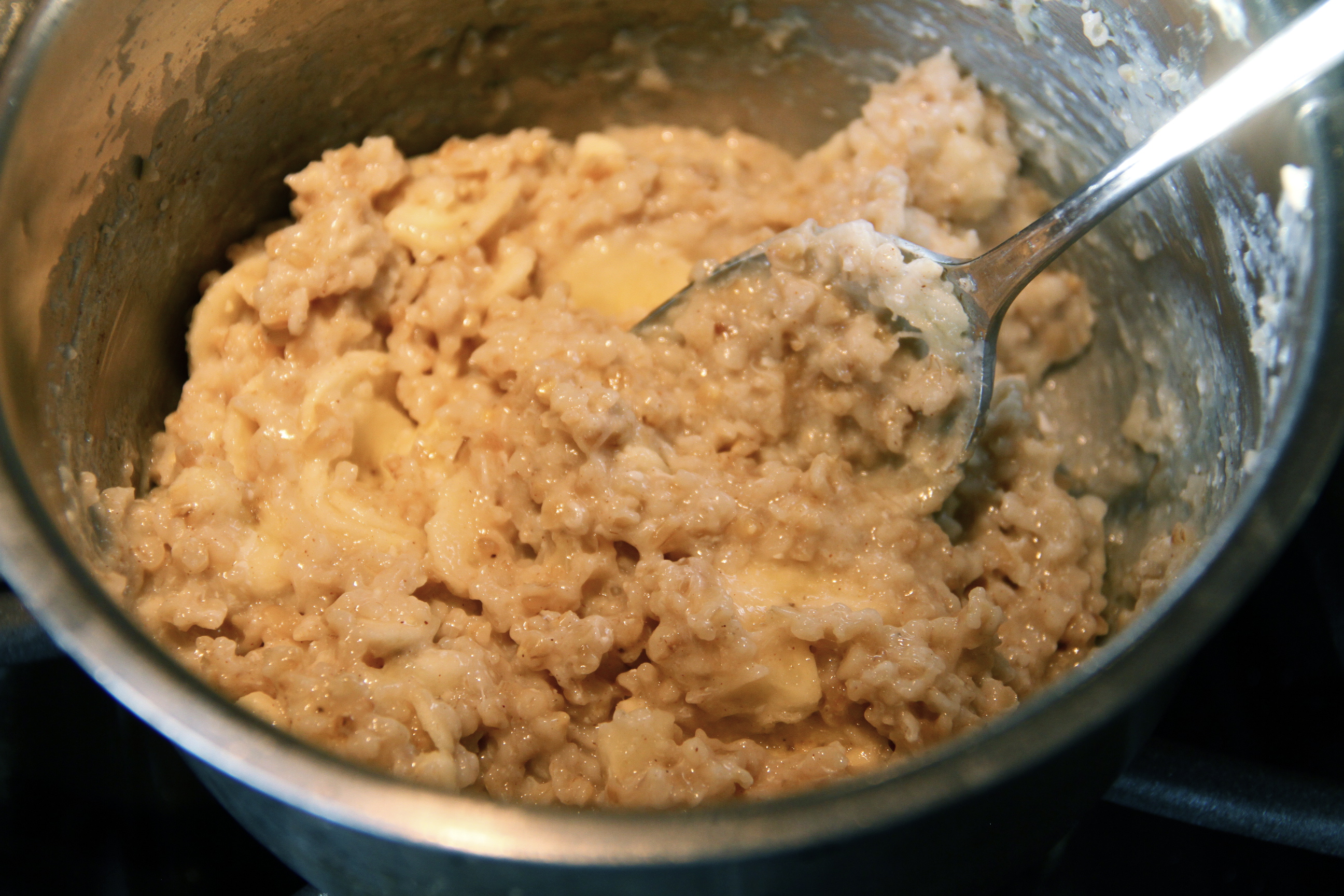 5. Remove oats from the heat and allow them to cool for a few minutes. This will allow them to thicken up a bit more and give them a more doughy/cakey/creamy consistency.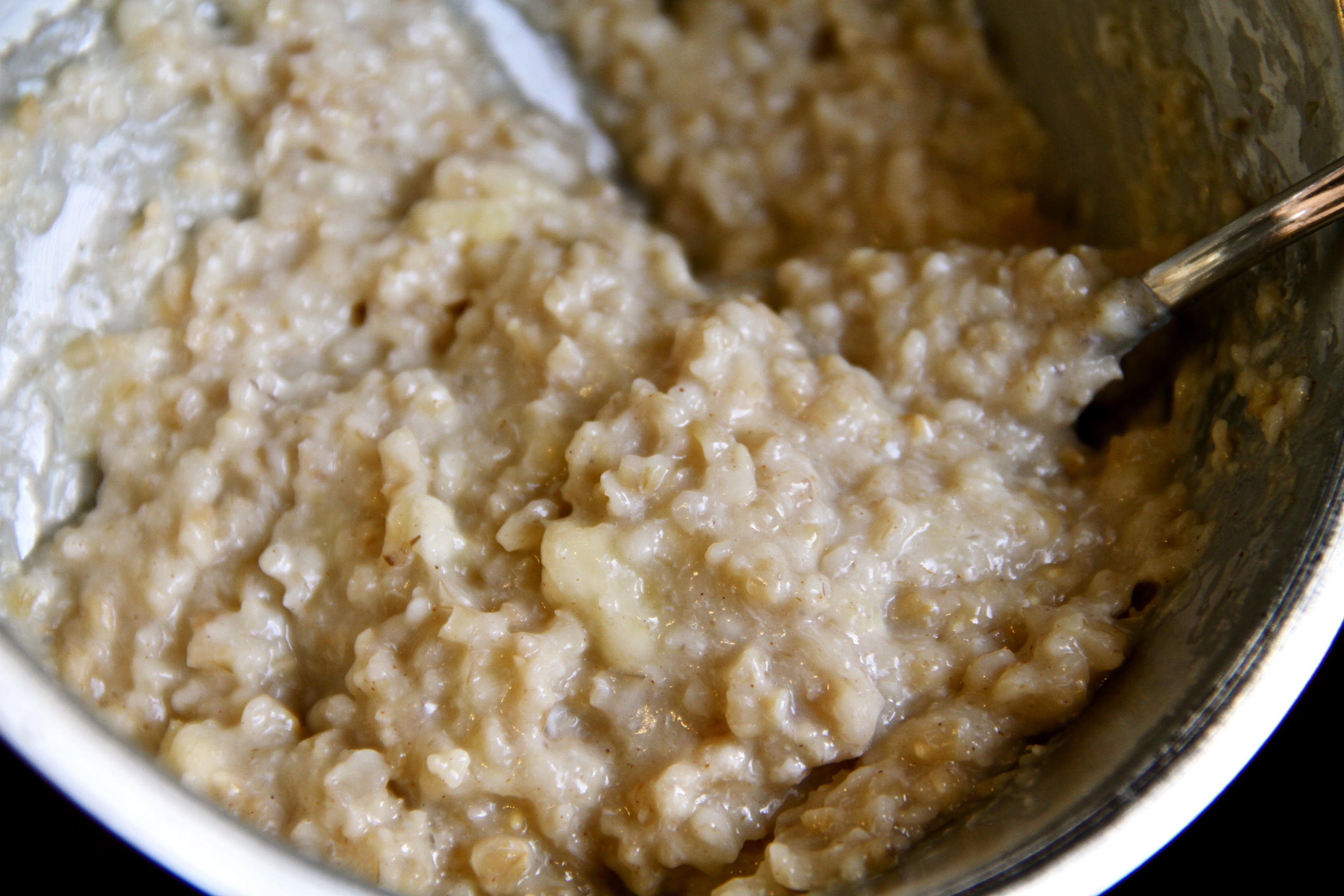 6. Transfer to bowl and garnish with the toppings of your choice!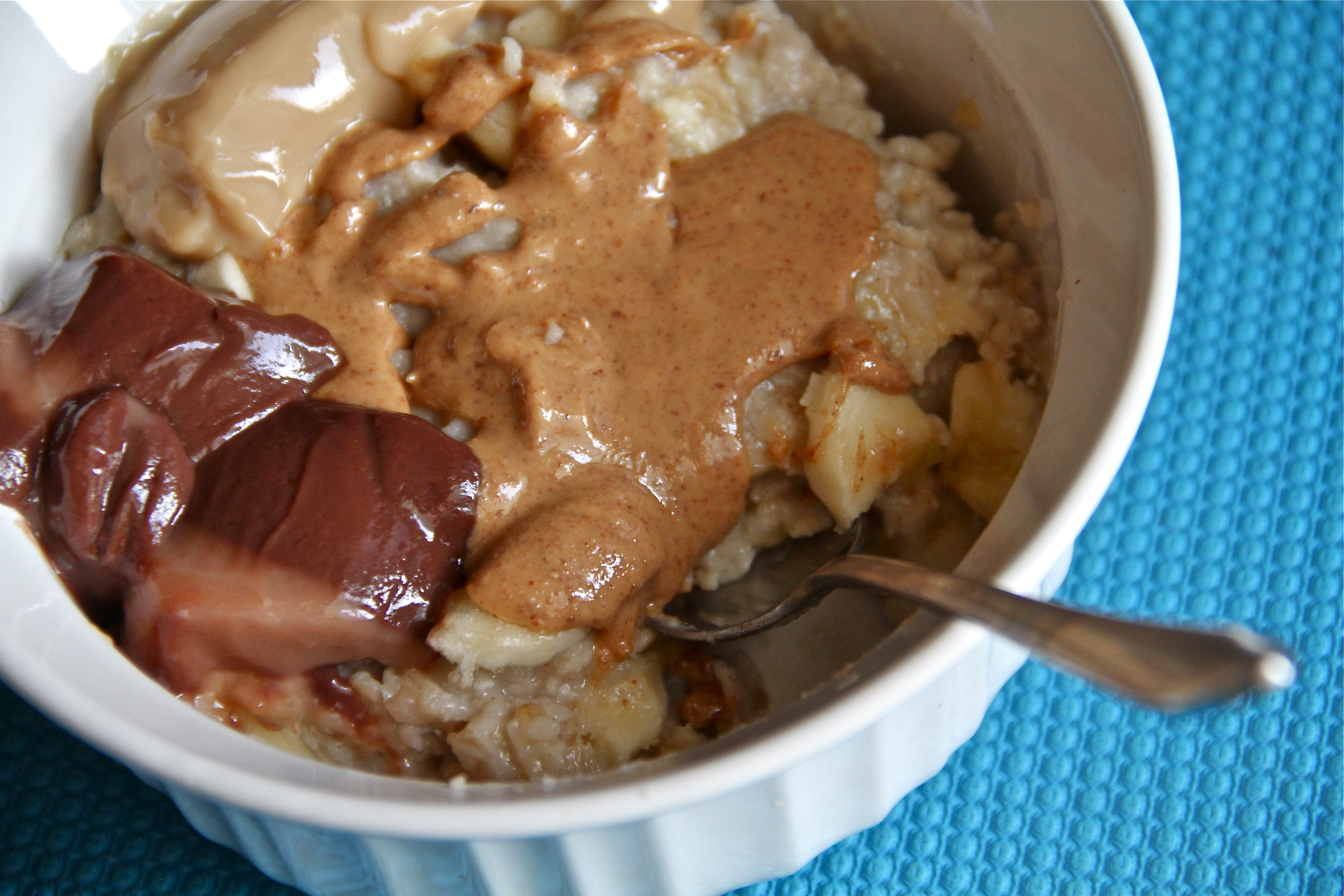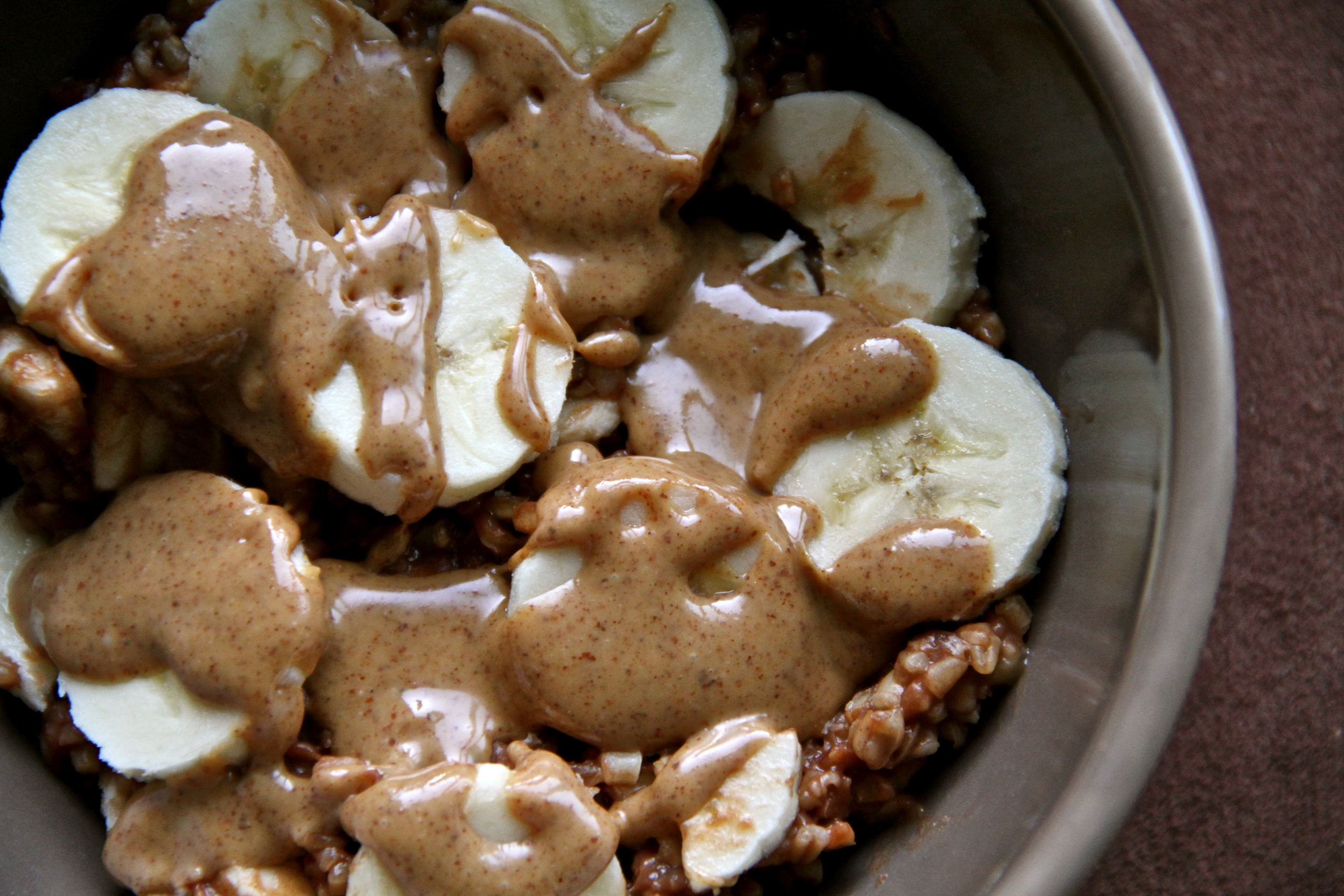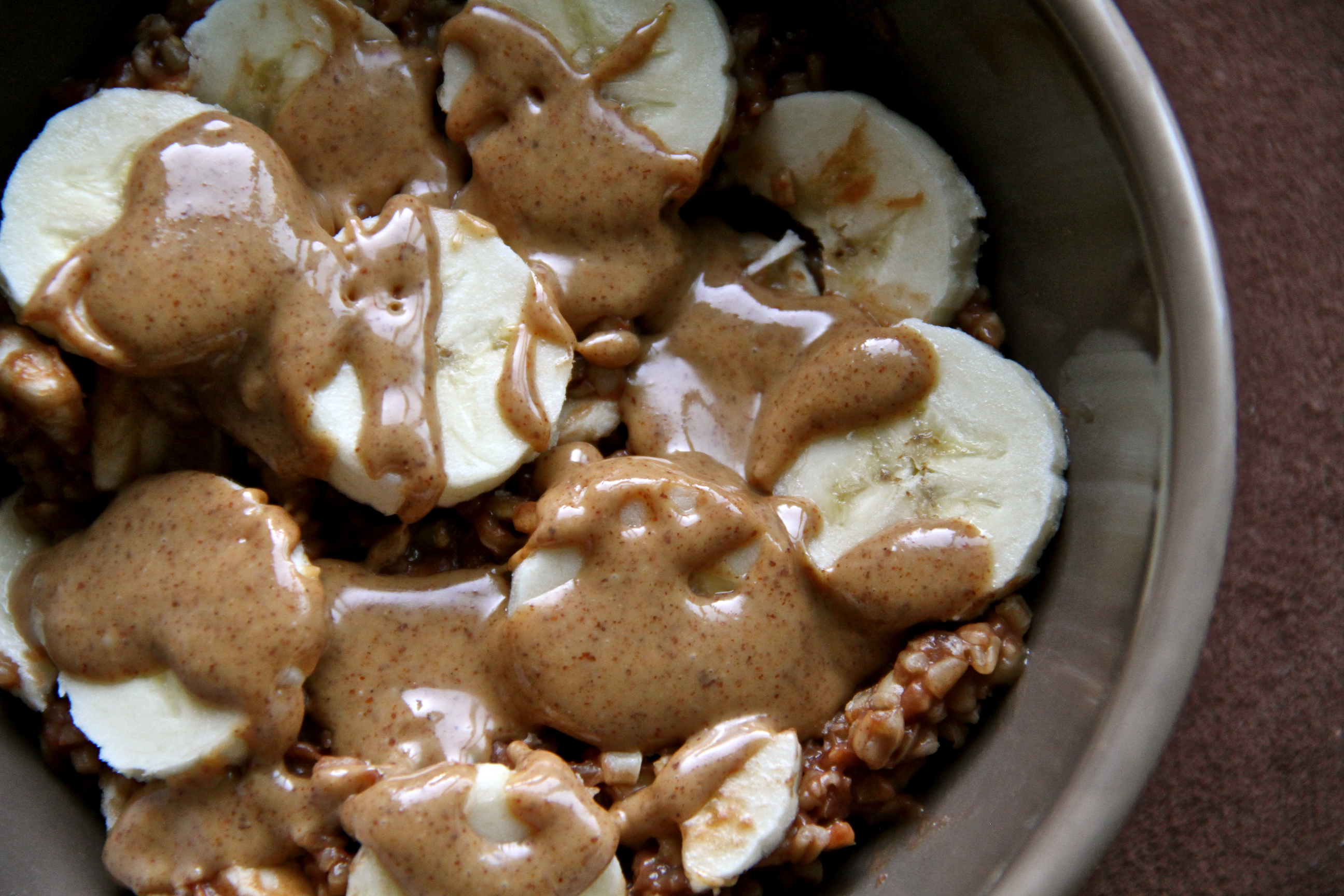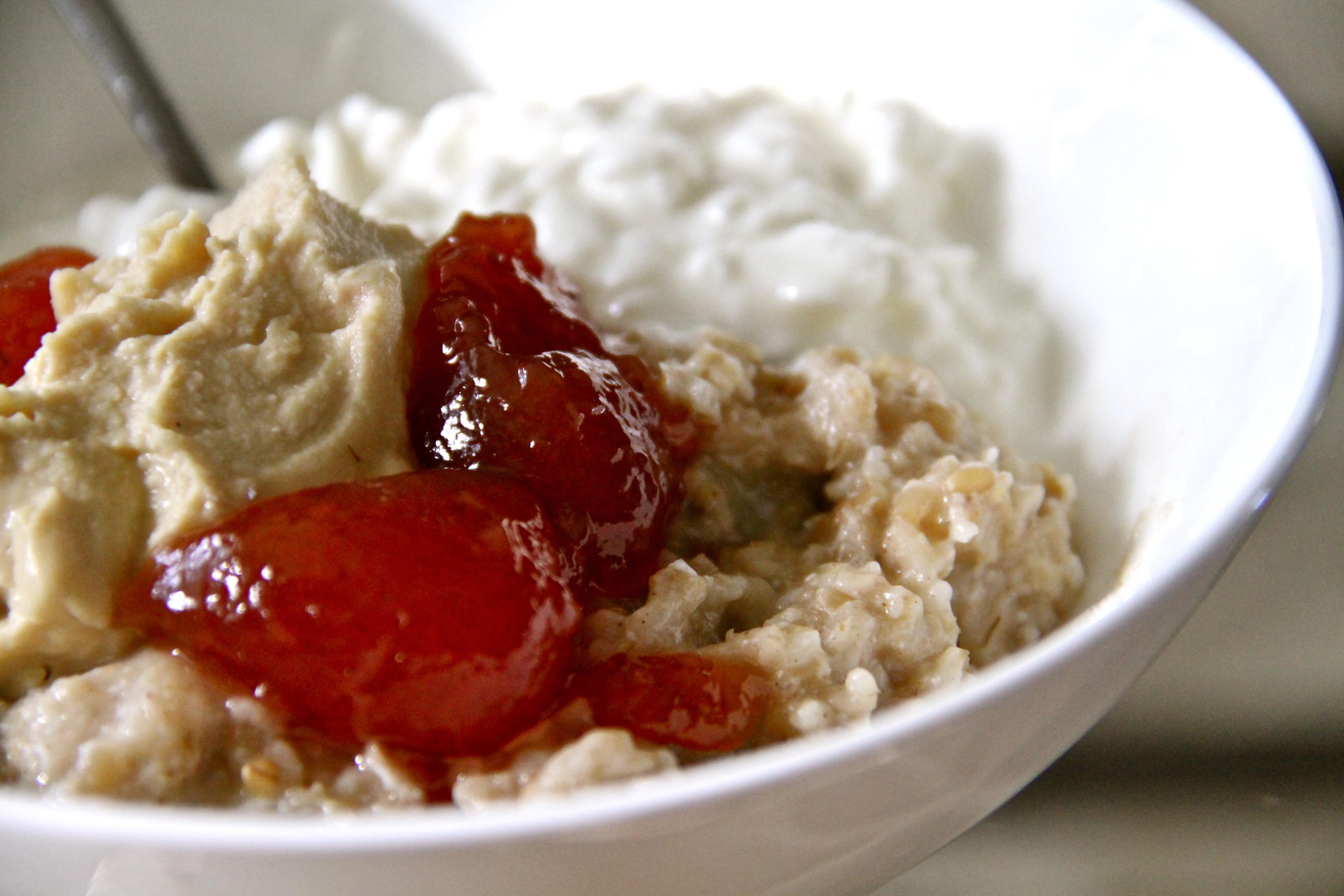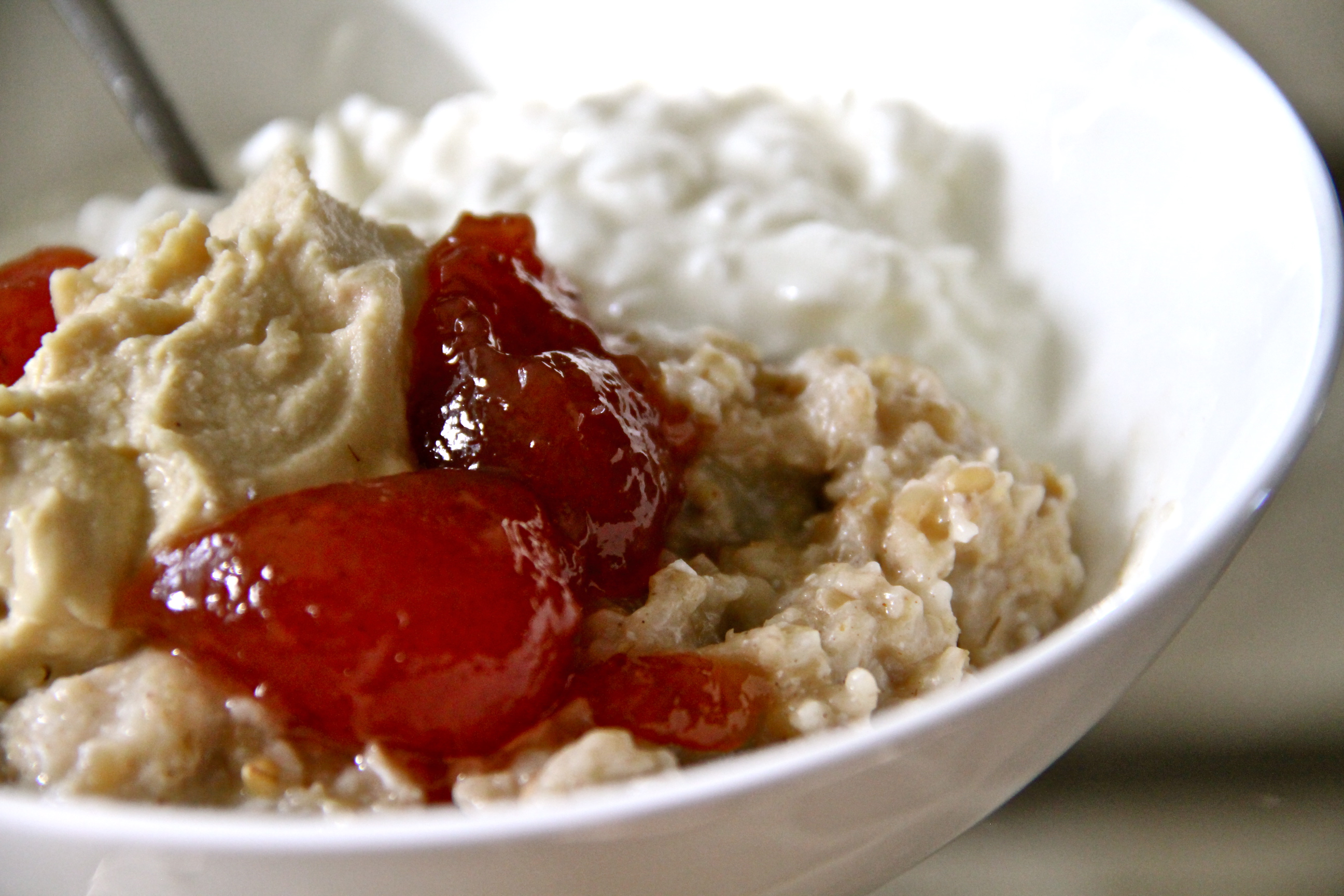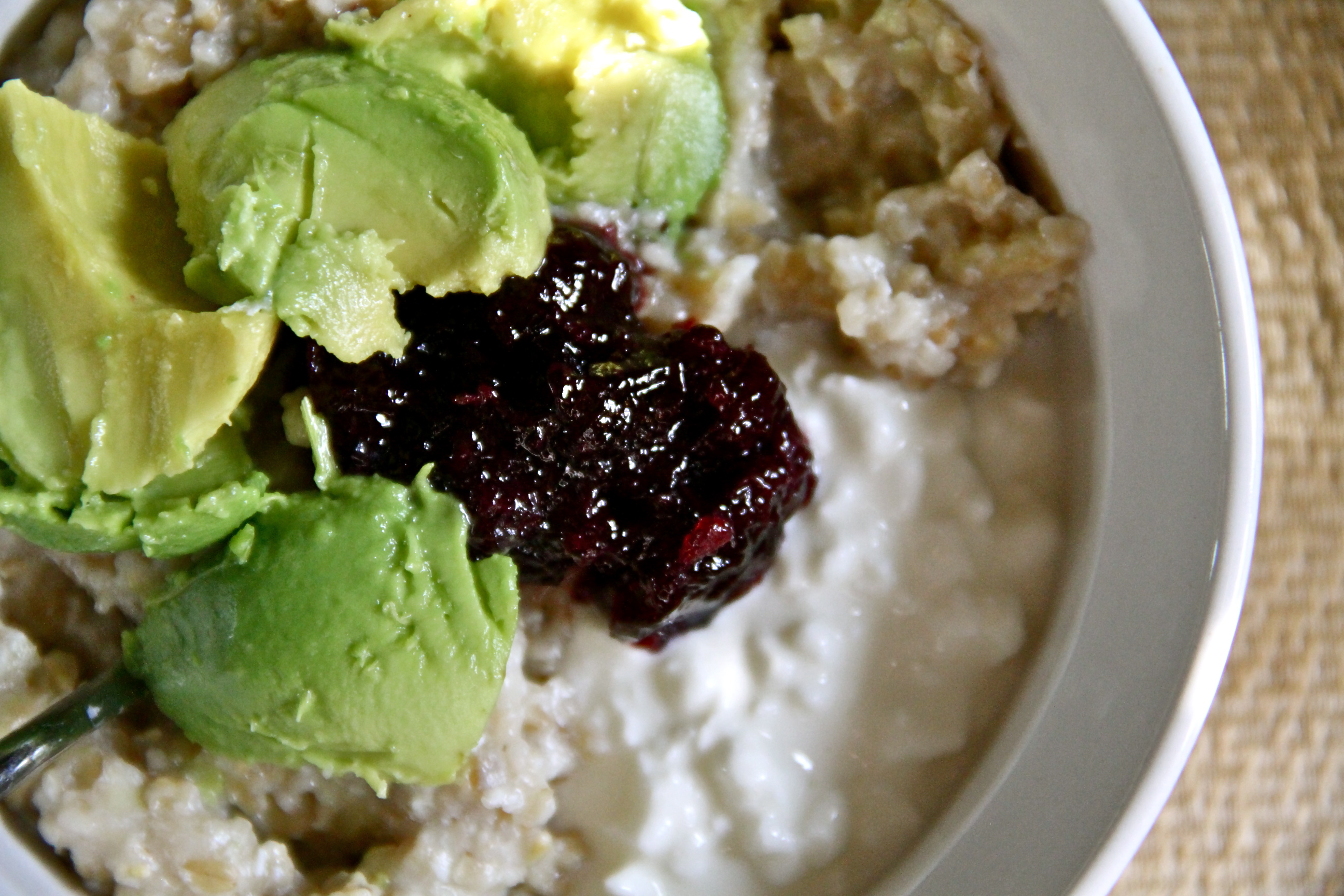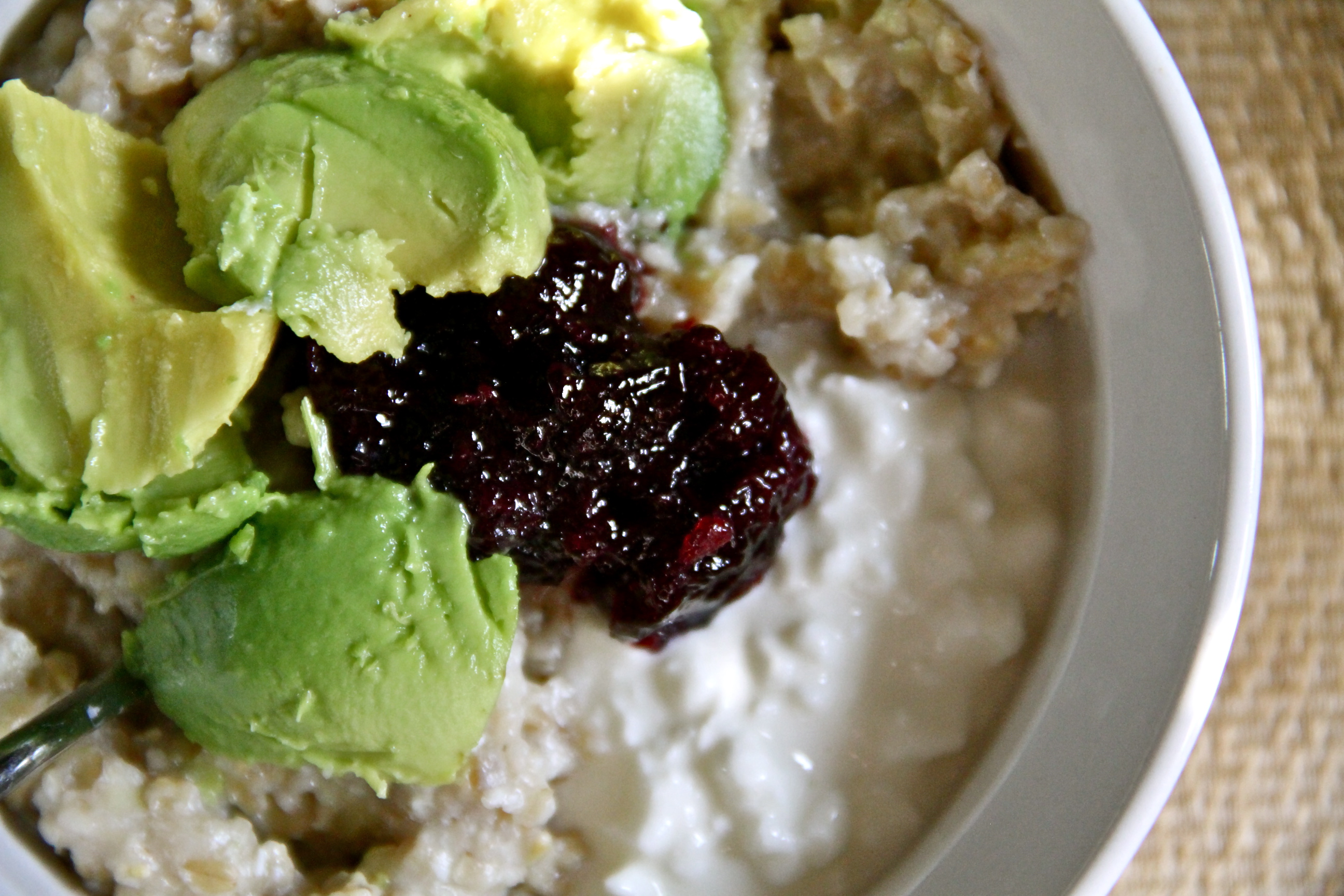 Happy Eating!
. – . – . – .
What did you have for breakfast today?
Are you good with plants?
Wow. Talk about questions that have absolutely nothing in common…
… unless you eat plants for breakfast….
… no judgment if you do…
… (but oats are better)