Enjoy the taste of dessert for breakfast with a single-serve chocolate zucchini breakfast bake that's loaded with fibre, healthy fats, and plant-based protein. Naturally sweetened with plenty of chocolatey goodness, it's a healthy and delicious way to start your day.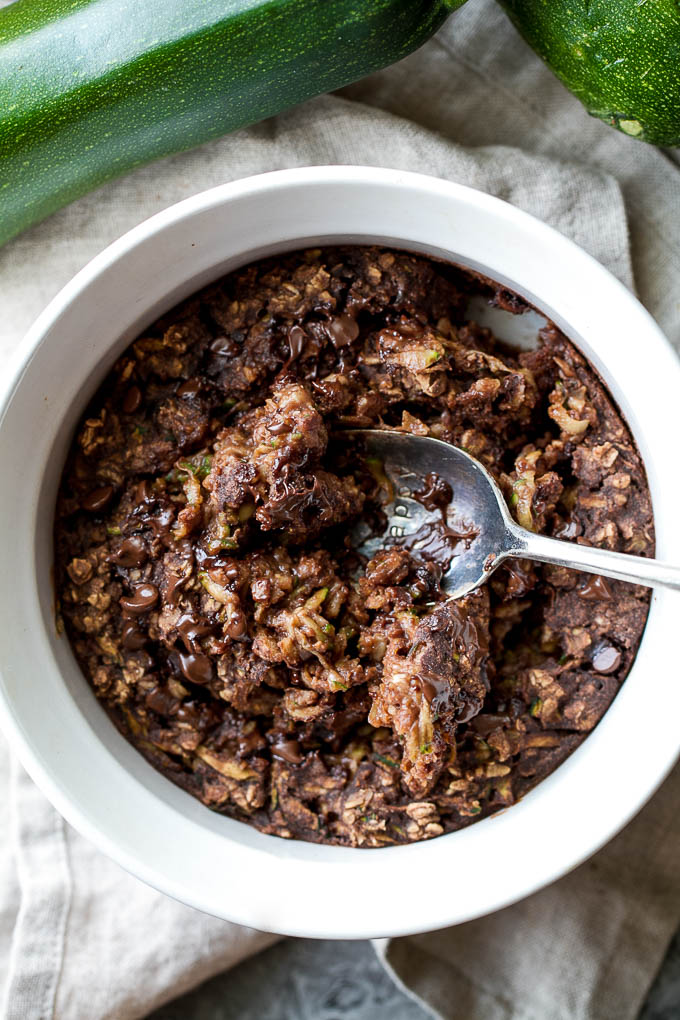 I wasn't quite sure what to think when the idea for this recipe popped into my head.
On the one hand, I'll gladly jump on any excuse to eat chocolate for breakfast – I'm all about that life. On the other hand, I'll gladly jump on any excuse not to eat zucchini at any time of the day, much less first thing in the morning… so I was a little torn.
Thankfully, I remember doing the whole chocolate zucchini thing before (a few times, actually) and being pleasantly surprised to discover that chocolate has this magical ability to completely mask the presence of zucchini; and that zucchini, despite how much crap I talk about it, has this uncanny ability to add that coveted moisture to baked goods.
And with that, the chocolate zucchini breakfast bake went from theory to execution…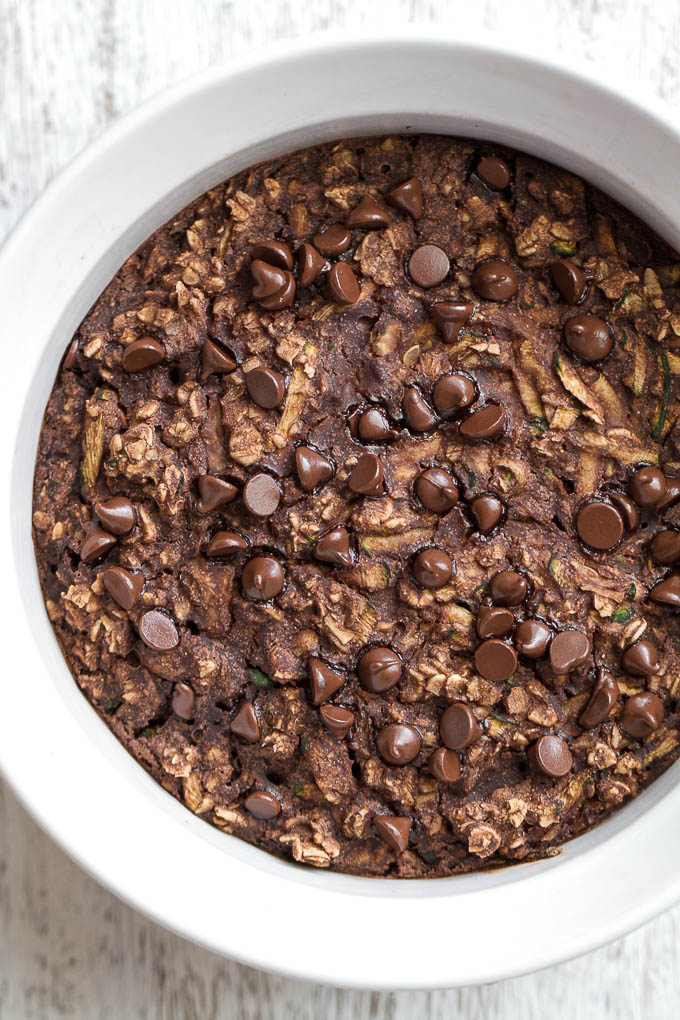 It's been a while since I posted a breakfast bake recipe, and I have no idea why since I freaking adore these things.
And for those who don't know, what I refer to as a "breakfast bake" is basically a single-serve version of baked oatmeal with a few spoonfuls of flour added to give it a lighter, fluffier texture. Only, in this case, we've got more of a chewy, ooey, gooey, and "ohhhh my god how is this actually good for me?" thing going on. That last one is a direct quote, by the way.
But, despite being hard to believe, this little guy really is healthy enough to enjoy for breakfast. Even with the chocolate chips; which I realize don't exactly scream health food, but I'd argue that they're good for the soul and therefore good for overall health. AND! treating your tastebuds to a little bit of chocolate first thing in the morning has actually been shown to help prevent junk food binges later in the day since you're satisfying your sweet tooth straightaway instead of spending the whole day thinking about it and letting the cravings build up to the point where you want to eat all the sweets in sight. Or you can just leave them out completely and enjoy the deliciousness of the bake on its own. Or add some nut butter <– always a good idea.
Either way! this little guy is packed with a good dose of fibre, healthy fat, and plant-based protein. It's vegan as long as you use dairy-free chocolate chips/milk, and can easily be made gluten-free by using a gluten-free flour* and oats*. I've made various breakfast bakes with all-purpose, whole wheat, spelt, rice, coconut, and almond flours before, and never really noticed a huge difference between them. It's all up to you and your individual needs.
Happy eating!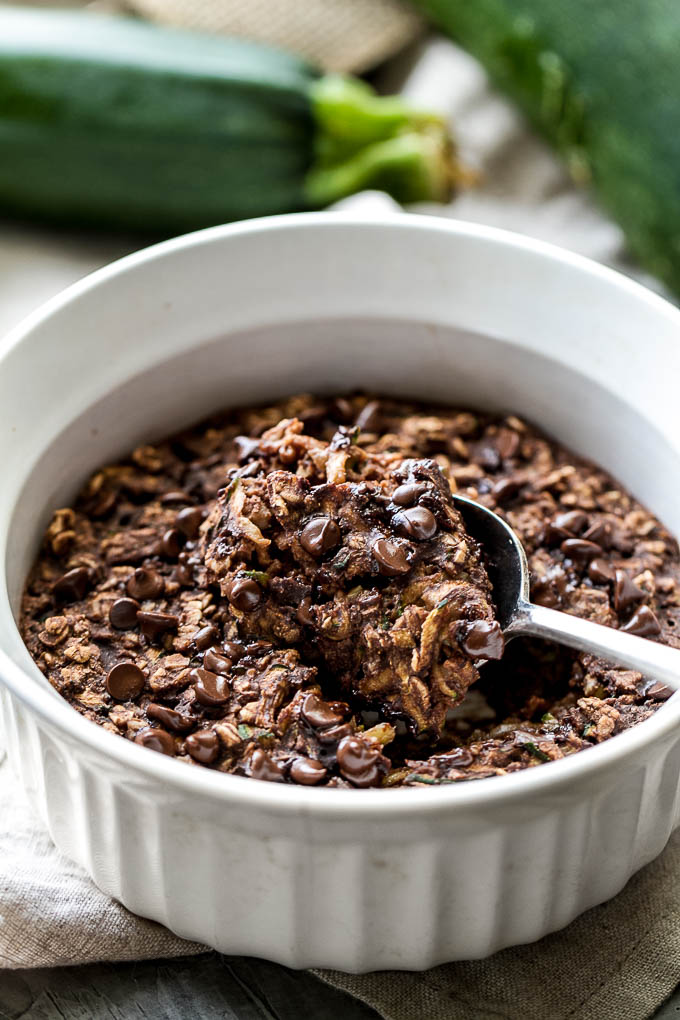 I'd love to know if you make this (or any!) recipe! Tag @runwithspoons on Instagram and Twitter, and be sure to subscribe to our mailing list to receive more healthy and delicious recipes straight to your inbox!
Chocolate Zucchini Breakfast Bake
Author:
Amanda @ Running with Spoons
Ingredients
1/3 cup (30 g) oats (gluten-free, if needed)
2 tbsp (15 g) flour of choice (gluten-free, if needed)*
2 tbsp (10 g) unsweetened cocoa powder
1/4 tsp baking powder
pinch of salt
1/3 cup (80 ml) unsweetened almond milk
1 tbsp (15 ml) maple syrup
1/2 tsp vanilla extract
1/4 cup (30 g) shredded zucchini, squeezed of excess liquid**
(optional) dairy-free chocolate chips, for topping
Directions
Preheat your oven to 350°F (176°C).
In an individual-sized (~16oz./500 ml) ramekin, whisk together the oats, flour, cocoa powder, baking powder, and salt. Add the almond milk, maple syrup, and vanilla, mixing until well combined. Fold in the shredded zucchini and top with chocolate chips, if using.
Bake for 15 - 20 minutes, until the centre has set and the bake has reached your desired consistency.
Remove the bake from the oven and allow it to cool for about 5 minutes before adding any additional toppings and digging in!
Notes
* I usually use an all-purpose or whole wheat, but this recipe works fine with most flours, including gluten-free and grain-free ones.
** I like to place a handful of shredded zucchini between two paper towels and squeeze it over the sink. This drains it of just the right amount of liquid to allow the muffins to cook properly.
Click here for nutrition facts

Looking for more healthy breakfast bake recipes? Try one of these!
Brownie Batter Breakfast Bake
Blueberry Muffin Breakfast Bake
Banana Oat Baked French Toast
Chunky Monkey Breakfast Bake
Cinnamon Bun Breakfast Bake

Let's chat!
What was breakfast this morning?
More places to find me!
E-mail — [email protected]
Twitter — runwithspoons
Facebook — runningwithspoons
Pinterest — runwithspoons
Instagram — runwithspoons
Bloglovin — runningwithspoons
Snapchat — runningspoons
*Disclosure: Some of the links included in this post may be affiliate links, meaning I'll earn a small commission if you purchase through them, at no additional cost to you. I only recommend products I personally use and believe will add value to my readers. Thank you so much for helping support Spoons!