The warming effects of curry, cinnamon, ginger, and cloves combined with the seasonal flavors of pumpkin and apples make this thick and hearty soup a perfect meal during the crisp Fall months.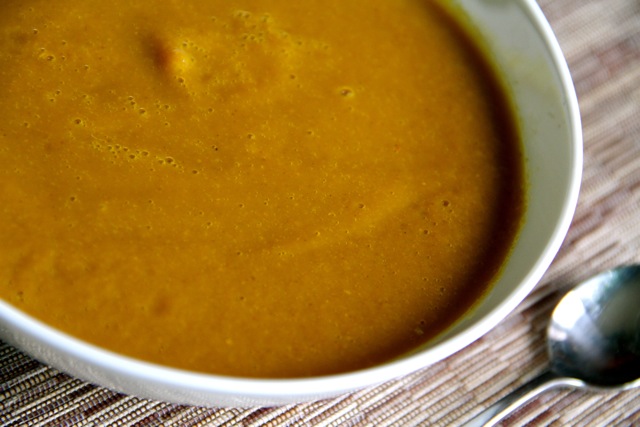 Ingredients (serves one ~2 cups)
1 cup vegetable broth
½ cup canned pumpkin puree
1 tsp. coconut oil
½ apple (any variety), thinly sliced
¼ of a white onion, sliced
1 tsp. curry powder
½ tsp. cinnamon
½ tsp. cumin
dash of ginger, cloves, nutmeg
Instructions
Begin by heating a small skillet over medium heat. Add coconut oil. When it melts and becomes hot, toss in the onions and cook until they begin to brown; ~ 3 minutes.
Stir in the apple slices. Cook until they begin to soften; ~3 minutes.
Add your spices, stirring well to ensure everything is evenly coated.
Reduce heat to low, cover the skillet, and continue cooking for ~ 5 minutes.
In the meantime, combine broth and pumpkin in a small saucepan set over medium heat.
When the broth begins to bubble, add the apple/onion mixture and bring the whole thing to a boil.
Once it begins to boil, cover the saucepan, reduce the heat to medium-low, and allow it to simmer for another 15-20 minutes, stirring occasionally.
After 20 minutes, remove the saucepan from the stove and allow it to cool slightly. Pour the contents into a blender and blend until smooth. An immersion blender would also work.
Empty into a bowl and enjoy!
You can visit this post for more detailed instructions.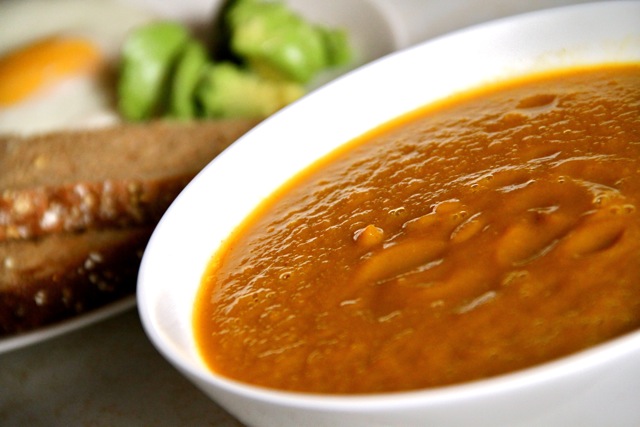 Happy Eating!