A healthy and hearty bran muffin that's packed with plenty of fibre and sweetened with natural sugars. Filling and deliciously satisfying, the perfect snack to grab at any time of the day.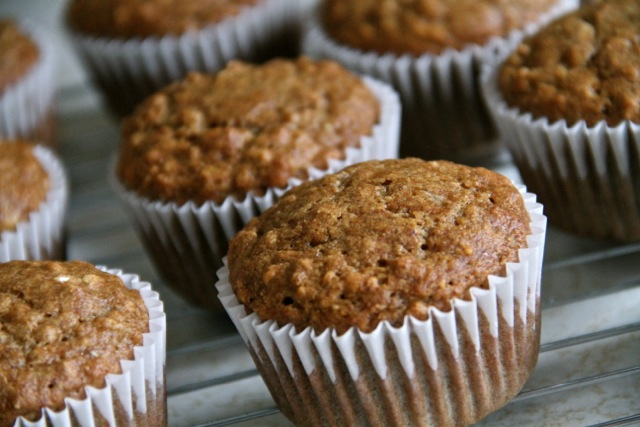 Ingredients (makes 10-12 muffins)
1 cup wheat bran
1 cup vanilla almond milk
¾ cup whole wheat flour
½ cup old fashioned oats
1 tsp. baking soda
1 tsp. cinnamon
½ tsp. nutmeg
1 egg
¼ cup honey or maple syrup
¼ cup almond butter
1 tsp. vanilla flavor
¼ cup raisins (or dried fruit of your choice)
Instructions
Preheat oven to 350° F. Lightly oil a muffin tray, or line it with 12 paper/silicone muffin cups.
In a medium sized bowl, combine the bran and almond milk. Set aside for ~ 10 minutes to allow the bran to soak up all of the liquid.
In a large bowl, combine the flour, oats, baking soda, cinnamon, and nutmeg.
Add the egg, honey, almond butter, and vanilla to the bowl containing the bran/milk mix, stirring until thoroughly combined.
Make a well in the center of the dry flour mix, and pour the liquidy bran mix into it, stirring gently until just combined. Do not overmix. Fold in the raisins.
Divide the batter evenly among 10-12 muffin cups.
Bake for 20-25 minutes, or until a toothpick inserted into the center comes out clean. Let the muffins sit in the tray for ~ 5 minutes before allowing them to cool completely on a wire rack.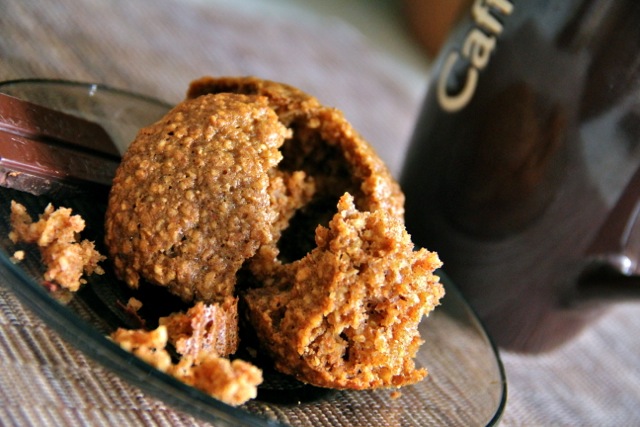 Happy Eating!