The combination of pumpkin, chocolate, and warming spices make this a perfect dessert recipe for Fall. Hearty, moist, and full of flavor, enjoy a slice alongside a cup of your favorite warm drink at any time of the day.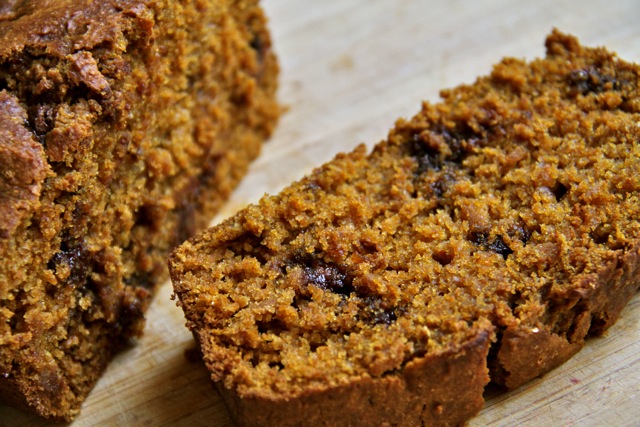 Ingredients (makes one 9 x 5 loaf)
1 cup whole wheat pastry flour
1/2 cup whole wheat flour
1 1/2 tsp. baking soda
1 tsp. cinnamon
1/4 tsp. nutmeg
1/4 tsp. ginger
1/2 tsp. sea salt
1/4 cup coconut oil, melted
1 cup canned pumpkin
1/4 cup plain Greek yogurt
1/4 cup maple syrup
1/2 cup brown sugar
1 egg, lightly beaten
1 tsp. vanilla extract
1/2 cup chocolate chips
Directions
Preheat your oven to 350ºF, and lightly grease a 9 x 5 bread pan.
In a large bowl, combine flours, baking soda, spices, and salt. Stir until well combined and set aside.
Melt your coconut oil by placing it in a microwave safe dish and heating for 15 seconds. Remove, stir, and repeat until no chunks remain.
In a medium sized bowl, combine the pumpkin, Greek yogurt, maple syrup, sugar, egg, and vanilla. Stir until well combined before adding the melted coconut oil.
Add the wet ingredients to the dry ingredients and stir gently. Do not overmix.
Fold in chocolate chips, mixing lightly.
Pour the batter into the loaf pan, spreading it out evenly, and bake for 50 minutes.
Remove from oven and let cool for about 10 minutes before transferring to a cooling rack to cool completely.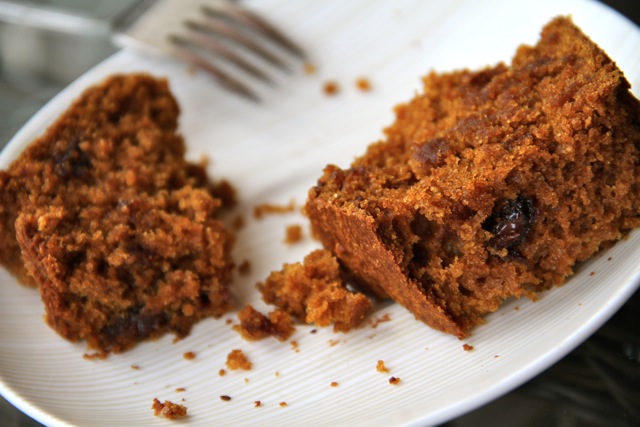 Happy Eating!