Perfect as a pre-workout snack, these little balls will give you the energy you need to kick some serious butt during your next sweat session. Or, enjoy them anytime you need to satisfy a sweet-tooth.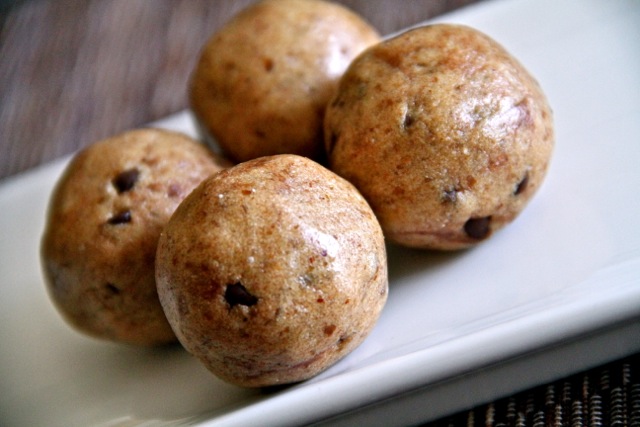 Ingredients (makes 4 balls)
1/4 cup raw, unsalted almonds
3 large dates
2 Tbsp. rolled oats
1 scoop vanilla protein powder
1 Tbsp. mini chocolate chips
Instructions
Throw almonds into a food processor/blender (I use the Magic Bullet short cup) and process until you reach the consistency of a medium-grain meal.
Add dates, and process until fully combined. This may take some patience and fiddling.
Add oats and protein powder, and process until fully combined.
Transfer dough to a small bowl, and add in chocolate chips. It will be a little crumbly at first, but work it with your hands until everything sticks together.
Divide into 4 equal portions and shape into balls.
Store any unused balls in a tightly closed container in the fridge.
You can visit this post for more detailed instructions.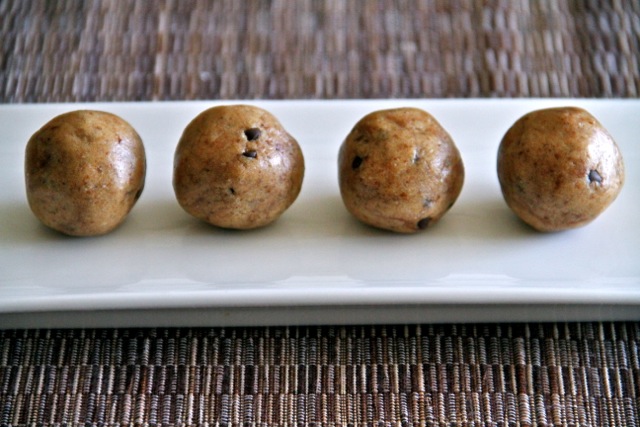 Happy Eating!